Vacation rental houses in Austin
Book unique vacation rental houses, apartments, and more on Airbnb
Top-rated houses in Austin
Guests agree: these stays are highly rated for location, cleanliness, and more.
East Austin - Cute and Comfy Room (#1)
Enjoy a private room equipped with queen-sized bed, personal desk, high-speed internet, closet with hangers and personal drawer. The bedroom shares a bath along with decluttered living space and kitchen. Guests can also enjoy Netflix and Amazon Prime. Free parking as well!
30 days Min Austin Parking Home Office Kitchen rm4
-Minimum 30 days LONG TERM pref. Discuss flat monthly rate. Check-in before 11am/past 9pm? call host. Live more like you do at home when you book a stay in this great value Austin house in a quiet suburb. Free parking, a private room with queen mattress, desk & chair, microwave & fridge, shared bathroom next to the room. There's a comfortable kitchen and laundry area, our place is near NVIDIA, Apple, IBM and Gogle Palmer offices, so an ideal place to stay if you're working in Austin long term.
Min 7 days stay AUSTIN Parking Office Kitchen 6
LONG TERM. Monthly rates HOME OFFICE NVIDIA- 5mins; Apple 15 mins IBM 20 mins GM 20 mins ggle 10 min Furnished, 3 min 'driving' distance to Malls and bus/train, commute to UT/ Downtown High speed internet single occupancy, visitors not allowed comfortable queen-memory foam mattress/Fridge /Microwave /Table /WaterHeater Modern Full bath( shared with 1 guest) gas cooktop ( shared) 3 mins drive to Train station: commute go to UT/Downtown 5 min drive to super Walmart/HEB/Macys/Indian Groceries etc
Stay near Austin's top sights
Texas Capitol
Capitol Building · 505 locals recommend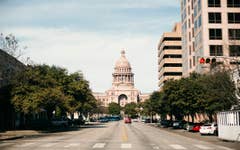 The pink-granite building is the centerpiece of downtown Austin, perched on a hill at 12th Street and Congress Avenue. Free guided tours are held daily, starting in the South Foyer, but brochures are also available on the first floor for self-guided tours. The Texas Legislature meets every two years, so you'll have to check the schedule if you want to see an actual session in progress. Tips from Austin locals
Get advice about the city from the people who know it best. Local hosts share their tips and recommendations for travelers like you.
"Always bring water Hopefully you don't buy plastic water bottles still, but definitely bring water wherever you go. i'd invest in a yeti - b/c they're cool and they stay cold for forever!"
What's the best way to get around?

"Uber/lyft and local favorite ride austin are all easy to catch from our house. Taxi service is less reliable. all very economical since we live so close to austin's main attractions. public transport consists of buses. go to capmetro website if interested in bus routes."

"Getting around -ride sharing would be the best way to get around if you don't have a car. -rent a car? download the park atx app so you can add time to the meter while you're out and about -the nearest metro (local bus) stop is 1.5miles from our hourse"

"Get to know the major street names in south austin. Manchaca, lamar, south congress, ben white (aka hwy 71) and mopac (aka loop 1 north) ---- if you get familiar with where these roads are on the map, you'll have an easy time finding your way around. also, it may be helpful to know "manchaca" is pronounced like "mancheck""

"Uber and lyft are great for austin Download the apps and start riding"
"The bats under congress bridge! Head down to the congress bridge, or rent a canoe and park it under the congress bridge around sunset any day and prepare to be amazed with hundreds of thousands of bats as they head out for the night to feast!"
How can I save money on this trip?

"Great travis county park (free!) Great primitive trails just ten minutes up 71 toward austin. southeast metropolitan park!"
What are some local customs?

"Matthew mcconaughey, famous austin native & resident says, "we don't honk in austin." We do drive very fast! so, plan ahead a little and it won't be too bad!"

"If you want to bbq on the porch, go to the food locker for farm fresh beef, pork & bacon.. They close at 6pm sharp.."

"If you see a tip jar, anywhere, it means the hourly wage is tragically low. please be generous. It's not just service staff. from sandwich-makers to counter clerks ($5/hour), tip jars alert you to the underpaid population of our town. don't forget the musicians!"
The Texas capital is a mecca of everything the state does best: inventive cuisine served from its food trucks; live entertainment celebrated at festivals touting music, tech, and extreme sports, and of course the all-essential SXSW; and plenty of outdoor experiences that call for biking, hiking cycling, swimming, bouldering, and kayaking year-round. Downtown Austin is the center of it all, with a thriving arts and shopping scene by day and lively nightlife after the sun sets, especially on Sixth Street and in the Warehouse District. Take a step back in time in South Austin, where beloved restaurants and classic architecture surround the biggest city park. The fast-growing neighborhood of East Austin, an eclectic enclave of food and boutiques, is another great spot to explore.
---
When is the best time to stay in a vacation rental in Austin?
Austin boasts 300 sunny days a year, but there's no denying that the city sizzles in the summer, with July being the hottest month. Average high temperatures are in the 90s Fahrenheit from June through September, with lows only getting into the 70s. Winter is a far more temperate season, with highs in the upper 50s to low 70s and lows dipping into the upper 30s. Spring and fall are the most pleasant seasons for a vacation, with highs usually in the 70s and 80s and lows in the 50s to 60s. The clearest skies arrive between July and November, with the highest average days of rain in May.
---
What are the top things to do in Austin?
Texas Capitol
The Texas state house is as grand in stature as the state is in size, earning a spot on the National Register of Historic Places in 1970 and being declared a National Historic Landmark in 1986. Made of sunset red Texas granite, the three-story capitol building is the largest in the nation — yes, it's more than 14 feet higher than the U.S. Capitol in Washington, DC. But the true beauty is in the details, such as the ornate oversized brass door hinges and chandeliers with light bulbs that spell out "T-E-X-A-S." Take a free half-hour tour or pick up a map to take a self-guided tour.
Congress Avenue Bridge Bats
No bat signal needed! One of the most stunning sights in town is this fascinating natural phenomenon as between 750,000 and 1.5 million bats — the largest urban colony on the continent — fly out from under the Ann Richards Congress Avenue Bridge every night at dusk.
Lady Bird Johnson Wildflower Center
Founded by Lady Bird Johnson and actress Helen Hayes in 1982, the 284-acre University of Texas at Austin Lady Bird Johnson Wildflower Center is committed to preserving the state's native plants, with more than 900 species on site. There's also an arboretum with more than 70 kinds of Texas' native trees.