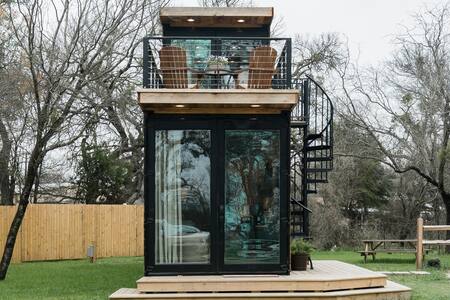 PLUS
Tiny house · 6 guests · 2 beds · 2 baths
The Helm—2-Story Container Home close to Magnolia Market
Step from the upstairs suite to the well-lit rooftop deck for an evening cocktail. A fusion of 2 shipping containers, 20' and 40', the interior of this unique home is insulated and paneled in pine shiplap and trimmed in 100+ year old barn wood.
What guests are saying:
"The Helm is TRULY a wonderful RELAXING place to stay when visiting the Waco area! If you are traveling to this area, you won't be disappointed if you stay here! It's perfect if you want a place out in nature or want to experience a tiny home, and yet just a short drive to be right in downtown. Kenneth and Amanda have thought of everything to make the place accommodating - earning their 5 star rating! The only thing we regret is that our trip wasn't longer - we are already wanting to go back! Some may think the only thing in Waco is the university, but that's not true. There are quite a few things to see - and some wonderful restaurants. With all that can be done on a trip, however, accommodations can make it memorable or miserable. A stay at The Helm makes your trip a memory you enjoy looking back on! Wonderful, wonderful place! Thanks for everything, Kenneth and Amanda!!"
Walk to the Silos and Downtown from the Steps of the Shotgun House This distinctive house, popularized by appearing on Fixer Upper, stands just a block from the Silos and Waco's vibrant downtown scene. The sunny space contains large windows and beautiful hardwood floors that lead from the front door, past the gourmet kitchen, to your cozy sleeping quarters. Conveniently located near great dining and wonderful shopping opportunities, allows you to take in all Waco has to offer.
What guests are saying:
"If you are looking for an amazing Fixer Upper home to stay in, The Shotgun House is the place to stay. It is located within walking distance to Magnolia, The Silos, The Press and so many downtown stores and restaurants. The home is so stylish and the bedroom is super cozy. My favorite part of the whole house is the gorgeous bathroom. The shower is so cool. Very open and all glass on one side. You will not be disappointed with Cameron and Jessie's lovely home 😁"
Try out container home living in this unique tiny home! Sleeps 2 people in the custom Murphy® bed with a super-comfy Tuft & Needle™ queen size mattress. Kitchen and dining area features induction cooktop, fridge and custom knotty alder tabletop. Hang out on the spacious rooftop deck that lights up beautifully at night with the color-adjustable LED rail lights. Full-size, custom tiled shower and spacious bathroom completes this fascinating container home.
What guests are saying:
"I give this place my own ratings and it would be 10 stars ⭐️! The most adorable area, creative, warming, cozy, clean, genius creation, top notch movies, convenient, beautiful and exceptional fast service if ever in need. And they will check on you to make sure everything is working properly and if you are doing good. My 12 year old son and I really enjoyed our adventure moment at this tiny house! He even wanted to sleep on the patio which is on the roof :))) the breeze was so nice! But we slept inside this round. If we stayed longer most likely would have done that. Now I see why tiny homes are awesome!! I'm an outdoorsy person anyways, so this was a great mix of the two. And Hawaiian Falls is only 12 minutes away from that area! Everything was amazing! Thank you so much! ☺️🙌🏼🥂"