Vacation rental houses in New Orleans
Book unique vacation rental houses, bed and breakfasts, and more on Airbnb
Top-rated houses in New Orleans
Guests agree: these stays are highly rated for location, cleanliness, and more.
Private room in Central City - Garden District
Tropical Getaway with Private Entrance
*Please read neighborhood/room description before booking* Tucked away in Central City this private room has a separate entrance, en suite bathroom and king sized bed. There is a spacious closet, microwave and coffee/tea pot. The room is on the second story of a charming old New Orleans house and has access to a shared back yard with magnolias and banana trees. The house is blocks from the St. Charles streetcar line, Garden District and Mardi Gras parades. COVID 19 precautions detailed below.
Home in Uptown and Carrollton
Nola Creole Cottage By the Street Car line
Ideal for Couples.......Quite & Private. Elegant architectural gem situated in the heart of Uptown New Orleans, just three blocks from the streetcar line, upscale dining and shopping, blocks from Tulane/Loyola universities. This spacious and sunny shot-gun style creole cottage has been comfortably furnished and lovingly decorated. 12 ft ceiling, hardwood original floor, Persian rugs, fire places & much much more....
Home in Marigny
Creole Cottage Suite by the Streetcar
You'll love the feel of our newly built private studio suite. Like a hotel but with more comfortable and cozy amenities including a king-size bed, spa-like bathroom, and washer and dryer. Just a block away from the N. Rampart Streetcar and Frenchman Street and a short walk to the French Quarter. Perfect for a couple who needs a quiet space to return to after a long day exploring. Entry to and from the suite
Where to stay in New Orleans
Locals share their top neighborhood recommendations to help you find the one to call home for your trip.
French Quarter
Neighborhood · 334 locals recommend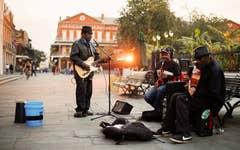 History and mystery, the French Quarter is filled with a million details you have to visit multiple times to even get a glimpse of. If you must see Bourbon Street, walk down one block then return to the more civilized areas like Chartres, Royal, or Decatur Streets.
Bourbon Street
Cocktail Bar · 36 locals recommend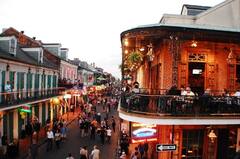 This is where the party never ends in New Orleans. It gets very crowded on weekends and even more so on holidays and Mardi Gras. A lot of drunk people. And a lot of weird things happen here. Be safe, and always have a buddy system.

Tips from New Orleans locals
Get advice about the city from the people who know it best. Local hosts share their tips and recommendations for travelers like you.
"Bring solid walking shoes! Our streets and sidewalks are old - our entire infrastructure is old! if you're spending time walking around, i highly suggest sturdy tennis shoes rather than flip flops or anything dressy."

Natalie

Lives in New Orleans
What's the best way to get around?

"Lyft is my transportation of choice, especially when heading to the quarter. We have every mode of transportation that a typical city has, from rental bikes to buses and street cars."

Natalie

Lives in New Orleans

"Take the bus The subway is also very easy but it gets crowded during rush hour."

"Lyft is my transportation of choice, especially when heading to the quarter. We have every mode of transportation that a typical city has, from rental bikes to buses and street cars."

Natalie

Lives in New Orleans
Your guide to New Orleans
New Orleans offers a round-the-clock festive spirit 12 months a year. Live music, particularly jazz, rings through streets lined with buildings dating back to the early 1800s. That's when the city's trademark Creole architecture, a mix of influences from the French, Spanish, and Caribbean was developed, adding a distinctly New Orleans touch. While the lively French Quarter gets all the attention, also explore the Marigny and Bywater, which have a more artsy vibe, and Audubon — surrounding Audubon Park — which is known as the University District thanks to Tulane and Loyola Universities. If you're looking to visit more of the New Orleans metro area, Metairie is just to the northwest, Chalmette about 10 miles east, and Slidell about 34 miles northeast.
---
When is the best time to stay in a vacation rental in New Orleans?
February through May is prime time to stay in one of NoLA's vacation rentals, when highs are in the mid-60s to mid-80s Fahrenheit and lows hover between the 50s to 70s — it's also perfectly timed to celebrations such as Mardi Gras and the French Quarter Festival. December and January are also pleasant months — with the bonus of fewer crowds — when highs are in the 60s and lows typically don't fall below the mid-40s. Summer and fall can be more challenging, as stifling heat, mixed with humidity, reaches the 90s. June usually has the highest precipitation, and hurricane season lasts from June through November.
---
What are the top things to do in New Orleans?
French Quarter
The legendary Bourbon Street is the most popular street in this historic neighborhood, and indulgence is a way of life here. But the district is also known for its majestic Jackson Square (where local artisans often display their work in an open-air market), jazz clubs, steamboat cruises, and fresh beignets with chicory coffee.
Garden District
A streetcar ride away from the French Quarter is a visual juxtaposition to the French Quarter — a chill suburban neighborhood dominated by grand mansions. Also stop at Lafayette Cemetery No. 1, which houses the tombs of early settlers from Ireland and Germany, or opt for one of the city's cemetery tours to learn more about the history of this great city.
Mardi Gras World
Experience New Orleans' most famous festival any time of year at this facility, where 80 percent of the Mardi Gras floats are built.