Renovated April 2016- This 2 Bed 2 Bath Beach Villa gives you all the resort amenities with out the hefty price tag! This villa overlooks the indoor pool/ hot tub/ fitness area in building 3. Short walk to the Ocean via boardwalk over a beautiful scenic tidal marsh. Resort includes 3 pools, hot tub, running track, gym, 6 tennis courts, sunning deck, pool side bar & grill, beach front bar, and family grilling area. Gated community with 24 hour security, mid island next to Palmetto Dunes.
Book By The Week (7 or more nights) for weekly discount of 10% Off the nightly rate. Come stay at the wonderful beach front Hilton Head Resort in the heart of Hilton Head Island! We Purchased Our 2 Bedroom, 2 Bath Villa in 2016. It has been renovated, redecorated, and it is waiting for you. 2 bedrooms 2 full baths and fully equipped kitchen, 3 flat screen tvs, dvd player, 4 beach/pool towels. Top floor has no noise from overhead units. Walk over our private boardwalk to the wide ocean beach and to our oceanfront bar and grill. Swim in 3 pools 1 which is inside. If you happen to have a rainy day, our unit is located in the inside pool facility which also features a steam room, sauna, game room, hot tub, running track, vending machines, and gym. No pets allowed sorry resort rule. No smoking inside unit. Private wireless internet is provided. New mattresses in all bedrooms, All furnishings are brand new this year (2017). This villa is just a short walk to the beach using the private boardwalk that crosses the scenic saltwater marsh. Enjoy the abundant wildlife along the way or catch the complimentary shuttle service at the boardwalk. There are elevators in each building as well as laundry facilities on each floor. -ABOUT THE RESORT Hilton Head Resort is a gated community with a 24 hour guardhouse located mid island next to Palmetto Dunes. The resort consist of 4 buildings each with their own unique courtyard feature. Building 1 Offers an outdoor pool with a bar, cafe, and general store. Building 2 offers a serene garden setting with a sundeck, great for relaxing in peace. Building 3 is enclosed with an indoor pool, kids pool, hot tub, sauna, gym, and indoor running track. Building 4 offers 4 tennis courts. There is a second outdoor pool between building 3 and 4. The resort offers its own private boardwalk to the gorgeous beach. Next to the beach sits a sand volleyball court and COCO'S on the Beach. COCO'S is your very own beach bar and grill. Come visit us in paradise! *The Resort Does Not Allow Pets.
This Villa is located mid island next to Palmetto Dunes. We are located at Mile Marker 7 at 663 William Hilton Parkway. We are convenient to Restaurants, Shopping, and Grocery Stores.
Room Type
Entire home/apt
---
Property Type
Villa
---
Accommodates
6
---
Bedrooms
Hilton Head Island, SC, United States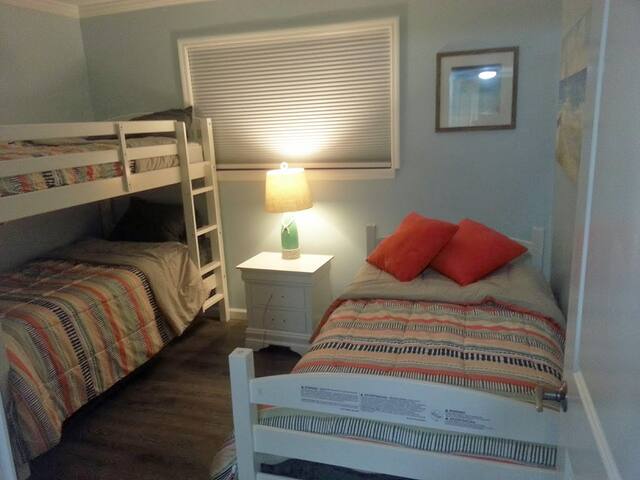 Enjoy incredible ocean views and fresh ocean breeze from the most desirable elevated 1st floor oceanfront corner unit. This totally renovated condo is footsteps to the beach and by foot minutes away from shops and restaurants.
Our condo accommodates two people only. The condo will embrace you in a warm atmosphere of modern Scandinavian style. From the condo you will enjoy a wonderful 180 degree view of the Atlantic Ocean. The fully renovated condo will include amenities such as highspeed Wifi, Apple TV and cable TV with local TV + TWC TV app . The kitchen is fully equipped with large microwave, coffee maker, toaster and everything else you may need to cook and serve a meal. Granite counters and stainless steel appliances. The bedroom features one queen size bed. The sofa in the living room folds out into a full size sleeper bed. Pillows and bedding for the sofa is in the closet. For privacy the bedroom and living room/hallway can be separated by the pocket door. The bathroom is fitted with a large tiled shower with Kohler glass door, and Kohler toilet and pedestal sink. - From the bedroom there is direct access to the bathroom and another access from the hallway. The A/C system is one of the newest available on the market and it is very quiet. It is imbedded in the ceiling and has a climate remote control in each room - Our condo is one of the few that provide such a convenient comfort.
Hilton Head Island is ideally located between the historic cities of Savannah, Beaufort and Charleston. South Forest Beach on Hilton Head Island has one of the best beaches in the US. Nearby you will find some great golf courses. For golfers check out (URL HIDDEN) for T-times, fees and courses. Excellent shopping and a variety of good restaurants. Many restaurants will feature "Happy Hours". There is a short walk on the bike path along the road or on the beach to Coligny Plaza with shops, restaurants and a Piggly Wiggly super market. 5 minutes drive away you will find the more upscale super market Harris Teeter.
Lars and Merete were very gracious hosts. They were responsive and communicated often. They wanted to make sure we had a good time and we truly did. HHI is a beautiful place and we can't to visit again! The accommodations were exquisite.
Dan
2015-05-11T00:00:00Z
Our stay at Lars and Merete's oceanfront condo could not have been any more perfect. My husband and I traveled to HHI to celebrate our one year wedding anniversary. We were looking for a seaside getaway, close to restaurants and activity. Our stay here was just that! This condo was the perfect size for the two of us and even more beautiful in person. We walked right out the front doors to the beach, hopped on our bikes and rode around town. The location is perfect. Lars and Merete even provided beach chairs which were excellent for our afternoons by the ocean. We also caught sunrises and sunsets on the condo porch. It was perfect. We will definitely be returning! Lars and Merete were amazing hosts. From the moment we booked, we communicated about arrival and other details. They even left a bottle of wine chilling for us when we arrived. They made us feel quite at home - in their home. We cannot speak highly enough about our experience. Thank you!
Claire
2015-10-13T00:00:00Z
We really enjoyed our stay at Lars' and Merete's place. It is a lovely apartment, everything was very new, clean, and thoughtful. Merete was very good to correspond with. the position on the beach was perfect. It exceeded our expectations. Thank you
Steve
2016-11-02T00:00:00Z
We absolutely loved our stay in Lars and Merete's condo. Merete was prompt with our booking and kept in touch all along the way, even checking in with us during our stay to see how everything was going. This was our first visit to Hilton Head, and we explored the entire island. We came to the conclusion that this complex is in a prime location to everything Hilton Head has to offer. The condo itself is just perfect for 2 people, and the furnishings and decorating are beautiful. There was a big book in the living room with suggestions for restaurants and activities that was extremely helpful. Merete also sent her own suggestions, and instructions for everything well ahead of our arrival time, which made everything so easy. It was immaculately clean when we arrived, with a bottle of white wine chilling in the refrigerator from the hosts. We felt pampered and spoiled every minute we were there, and sitting out on the balcony watching the ocean just footsteps away was a special treat. From the minute we walked in we felt immediately at home, and we are already planning our next trip to this wonderful place. Thank you Lars and Merete for your hospitality, and for allowing us to experience Hilton Head in such a fabulous way. We can certainly see why you have earned the status of "superhost!"
Sharon
2016-08-06T00:00:00Z
Our anniversary vacation to Hilton Head Island was perfection! A big part of the trip's enjoyment came from Lars and Merete's fabulous condo. The location was awesome and the condo was everything they promised and more. Merete's communication from the time we booked to the time we left was timely and accurate. She let us know what to expect on arrival and checked in with us during the week to make sure we had everything we needed. The condo itself was well appointed and immaculate. The size is perfect for two people. Everything in the condo is top of the line. We cooked breakfast and lunch in the condo everyday and had everything we needed. No detail has been overlooked. Lars and Merete have really put some thought into needs and wants of their guests. The location of the condo on the island is convenient and the beach is literally right outside the door. We took advantage of the beach chairs and umbrella that were provided with the condo every day! I enjoyed reading on the balcony and taking nightly walks along the beach. I can't say enough nice things about the condo or Lars and Merete. We can't wait to go back!
Rian
2016-09-19T00:00:00Z
Lars and Merete were great hosts. They were very helpful with everything. The listing was very accurate. If anything, the place was nicer than what we expected.
Assem
2016-03-13T00:00:00Z
Lars and Merete are wonderful hosts, and this condo has gorgeous views of the beach, particularly at sunrise. Perfect for getting away while still close to Coligny Plaza and other shopping/restaurants. The water has a sulfur smell.
Erica
2016-12-11T00:00:00Z
What can I say? The condo had an ocean front view, a fantastic location and was so homey. It was beautifully decorated with updated kitchen, bathroom and WIFI. I would highly recommend it. Lars and Merete were readily available if I had any concerns or questions. Thanks so much for a great time Lars and Merete!
Yvonne
2015-08-01T00:00:00Z
Room Type
Entire home/apt
---
Property Type
Villa
---
Accommodates
2
---
Bedrooms
Hilton Head Island, SC, United States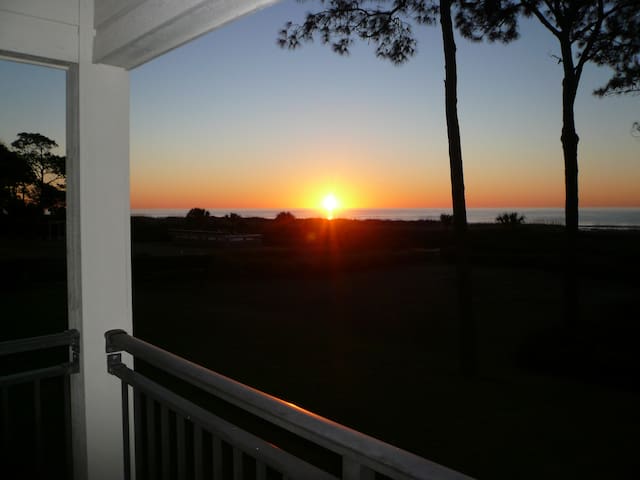 The sloop is clean, comfortable, and everything works. It's anchored in Broad Creek near three great restaurants, and the there's always some dolphins swimming. It has solar power, a two burner stove, sink, and USB charging. There's two long main salon berths, one quarterberth, and the veeberth. I have a solar shower/boil some water. Cozy, effective. I've lived here for almost four years.
The boat is a compact 30' seaworthy, ocean racer/cruiser. around 1500 were constructed in Sweden and have an avid following in Northern European countries. (SENSITIVE CONTENTS HIDDEN) the Albin Ballad. This is exactly like camping out on a sailboat anchored out! No dock. Agility and balance is a plus aboard.
Other boats (mostly moored). Osprey. Grackles. Dolphins. More birds. tour boats, the Dafuskie Island Ferry. Houses and Apartment complexes on shore. It's a broad creek (Broad Creek). Palmetto Bay Marina was destroyed during Hurricane Matthew, so we'll be using the Cross Island Public Launch Facility beneath the Cross Island Bridge. The Restaurants next to the old marina (The Black Marlin, The Carolina Crab Co., and the Sunrise Cafe) are lively and musical.
What a unique AirBnB! Clay is super flexible and his communication was almost instant all the time. The sailboat is everything you would imagine it to be. Do yourself a favor, make coffee and watch the sunrise in the morning. Worth every penny.
jarrod
2017-04-03T00:00:00Z
Clay was beyond great, super helpful & accommodating. The boat was super cozy and comfortable. Really enjoyed staying here!
Jasmine
2017-03-26T00:00:00Z
Absolutely amazing trip! The boat was very clean and it is the perfect type of vacation for anyone adventurous. Clay was very helpful and provided the dinghy whenever needed.
Christian
2017-04-05T00:00:00Z
Clay is the nicest person ever! He's always available for a ride from the boat to the marina and he took us on a sail tour during our stay, we loved it! The boat adventure is like glamping, the bed is tiny but comfortable and you have the minimum necessities on board! Thanks Clay for this great experience :)
Emilie
2017-04-02T00:00:00Z
Everything was perfect, great, cozy little boat. Clay was an awesome host!
Chio Cho
2017-03-21T00:00:00Z
Clay's sailboat is wonderful! My husband and I loved it! A stress free, relaxing stay. Nothing like being on the water with some jazz music in the background. We will definitely come again.
Chinta
2017-03-27T00:00:00Z
Super fun time, be prepared for the dingy ride to the boat since it is not docked. Clay is an excellent host super hospitable!
Daniela
2017-03-18T00:00:00Z
We had an awesome time staying out on Clay's boat. He was always avail to bring us back and forth when we wanted. The sunset cruise was probably our favorite part of the whole trip. It is definitely like camping so if you don't like to rough it then this probably isn't the ideal AirBNB for you. The restaurants at the marina are great breakfast-dinner options. Clay hooked it up with bikes through his friend's business and we explored the whole island. Overall, a great experience!! Suggestions: pack snacks that don't need to go in the fridge. We also brought champagne, wine and beer and filled a cooler with ice and that was perfect
Tricia
2017-04-09T00:00:00Z
Room Type
Entire home/apt
---
Property Type
Boat
---
Accommodates
3
---
Bedrooms
Hilton Head Island, SC, United States
The perfect place to relax, this first-row, ocean front, ocean view condo has it all.
The building has a private pool, sun deck, and barbecue area. Your stay includes free access to a nearby fitness center with exercise equipment, an indoor heated pool, and a hot tub. There are stairs and an elevator in the building. The kitchen is fully equipped. There is a coin-operated laundry.
South Forest Beach is the best part of Hilton Head! The beach is perfect, it offers easy access to Hilton Head's miles of bike trails, it's close to the best tennis and golf, and Coligny Plaza has all the restaurants and shopping you could want.
This was my first time using Airbnb and this place exceeded my expectations! It's a cozy condo in a fantastic location! There is beach access and it's walking distance from a number places and biking distance from most everything else! Nicole was quick to respond to questions and was very accommodating!
Kim
2017-03-30T00:00:00Z
Nice condo with ocean view. Clean. Easy booking and check-in.
renay
2017-03-18T00:00:00Z
Nicole was a great host and great with communication. The condo was just as described with a nice Belcony and view of the ocean! Perfect weekend getaway! I would definetly stay here again!
Suzette
2017-03-12T00:00:00Z
Abby
2017-03-09T00:00:00Z
Room Type
Entire home/apt
---
Property Type
Condominium
---
Accommodates
4
---
Bedrooms
Hilton Head Island, SC, United States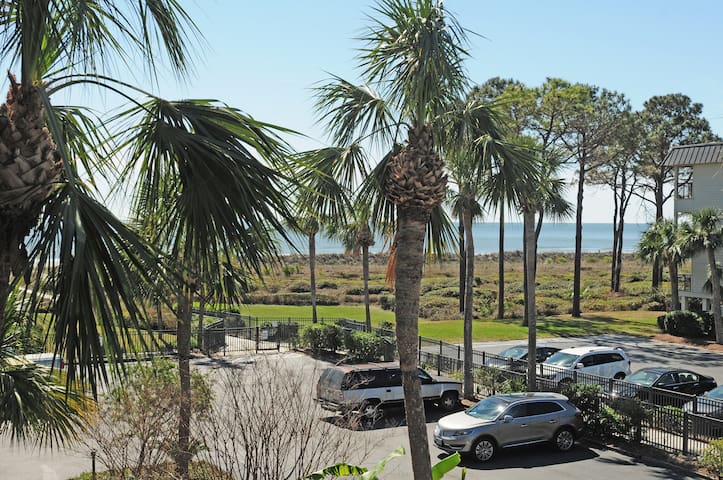 3 minutes to the private beach and 10 minute walk to Coligny Plaza for all your shopping & dining. The apartment & neighborhood are charming, you will want to make it a regular destination. We offer basic cable because we have found most folks are more interested in being out and about.
Cozy, comfortable (12' x 24') with a fully equipped kitchen, bathroom (shower). The private entrance has a free parking space. Minutes to the beach, shopping, dining in the original Hilton Head "cool" neighborhood. No smoking or pets permitted. (2nd room available next door if you want more room, to travel with friends or the dates you want are booked listing/(PHONE NUMBER HIDDEN)) Upcoming holidays & local events: -The 34th Annual Hilton Head Island St. Patrick's Day Parade March 12th, 2017 - Sunday, 3 pm -RBC Golf Tournament April 10-16, 2017 Harbour Town Golf Links. - Easter Sunday, April 17, 2017 -Mother's Day, Sunday May 14, 2017 -Father's Day, Sunday June 18, 2017 -Independence Day, Tuesday July 4, 2017 -Labor Day, Monday September 4, 2017 -Columbus Day, Monday October 9, 2017 -Lowcountry VegFest, Saturday, Octob(PHONE NUMBER HIDDEN) Shelter Cove Community Park 10am - 5pm -Veterans Day, Friday Novemb(PHONE NUMBER HIDDEN) -Thanksgiving, Thursday Novemb(PHONE NUMBER HIDDEN) -Christmas, Monday Decemb(PHONE NUMBER HIDDEN) -Memorial Day, Monday May 29, 2017
The original cool neighborhood! A quiet neighborhood where you can see many neighbors headed to the beach on the weekend. The street has many resident cats, dogs, deer and children so drive slowly. Our property is Xeriscaped, which reduces or eliminates the need for supplemental water from irrigation. Plants whose natural requirements are appropriate to the local climate are emphasized. Xeriscaping is different from natural landscaping, because the emphasis is on selection of plants for water conservation, not necessarily selecting native plants. Some of the benefits are: Lowered consumption of water: up to two thirds less water than regular lawn landscapes. Makes more water available for other domestic and community uses and the environment. Reduced maintenance, waste and pollution. Less cost to maintain particularly due to the absence of lawn areas.
Mira was very sweet and welcoming. She had a ton of ideas and tips for my husband and I to enjoy our time in Hilton Head. The apartment was exactly as pictured and in a nice neighborhood, with only a 3 minute walk to the beach and about a 10 minute walk on footpaths to Coligny. We would love to come back in the future!
Laura
2015-06-08T00:00:00Z
Loved staying here! So close to the beach, convenient, and Mira was so welcoming!
Olivia
2016-10-23T00:00:00Z
Mira is the perfect host and the location couldn´t be any better with only a few minutes walk to the beach. We loved our days at Hilton Head Island and we can only give the strongest recommendations for renting from Mira.
Jonas
2016-08-11T00:00:00Z
Awesome place! With a great location and host. Mira really makes you feel at home. Thanks for everything and we will definitely be back for another stay in the future.
Jawaan
2015-09-29T00:00:00Z
This is a great place! Just a short walk from the beach. Lovely neighborhood and a gracious host. Very comfortable and peaceful. I hope to be back soon.
James
2015-05-23T00:00:00Z
Was a great location on HHI. Apartment offers everything you need to have a great beach vacation.
Austin
2016-08-15T00:00:00Z
We had a great stay at Mira's place! Short walk to the beach and great location to restaurants. Mira was easy to communicate with, had great recommendations for food, things to do etc. Thanks for everything, will definitely have to come again :)
Allison
2016-11-30T00:00:00Z
My GF and I have never traveled through AirBnB so we had our reservations. That said, Mira was a wonderful and knowledgeable host! She had wonderful recommendations for Hilton Head dining and always made sure we were comfortable. She even brought us breakfast! The accommodations were excellent. Very clean and comfortable and well equipped. If we ever make it back down to Hilton Head, we'll definitely try to stay with Mira again. Thanks again for a wonderful stay!
Tam
2015-05-13T00:00:00Z
Room Type
Entire home/apt
---
Property Type
House
---
Accommodates
2
---
Bedrooms
Hilton Head Island, SC, United States
This top/3rd floor, corner unit is spacious and serene. Villa is bright and pristenely kept. Adjacent to Fiddler Cove's Olympic sized pool and a 5 minute walk to the beach. Take a day trip to Savannah, Charleston or the local island preserves. Convenient to Hilton Head's attractions, restaurants, & shopping. Sequestered in a private, gated community for maximum rest and rejuvination. A perfect vacation spot for your Hilton Head vacation.
This third floor unit is a top floor, corner unit. It is peaceful and quiet - no noise from above or around the unit. Our villa is completely remodeled with new kitchen appliances. We also have a washer and dryer for your convenience. The large deck spans the width of the unit, opening from the master bedroom and living area. Enjoy relaxing, or having dinner or drinks on the deck with a full size patio set.
The Folly Field neighborhood is in a lovely area of Hilton Head, removed from the congested, hustle and bustle of other areas on the island, yet convenient to all shopping, restaurants and activities in Hilton Head. A short 5 minute walk puts you on one of Hilton Head's most beautiful beaches. Bike and walking paths wind through Folly Field and into Port Royal Plantation for a scenic ride, walk or run along the golf course or on the beach.
Room Type
Entire home/apt
---
Property Type
Condominium
---
Accommodates
5
---
Bedrooms
Hilton Head Island, SC, United States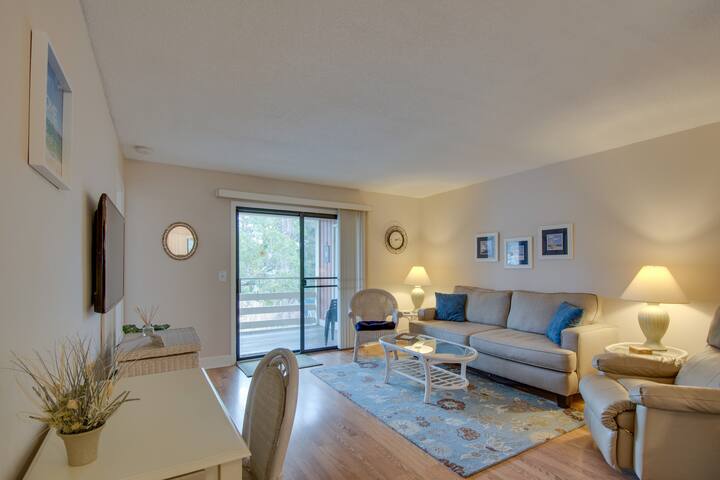 Located across the street from South Forest Beach in OceanWalk villas is this beautifully decorated, recently renovated 2BR/2BA condo located in the back of the complex, overlooking the outdoor pool. This condo is located on the second floor and the complex features an indoor pool and jacuzzi in addition to the outdoor swimming pool. We have 2 separate balconies each overlooking the pool. We are across the street from the ocean, and a five minute walk to the beach once you leave the complex.
Room Type
Entire home/apt
---
Property Type
Condominium
---
Accommodates
6
---
Bedrooms
Hilton Head Island, SC, United States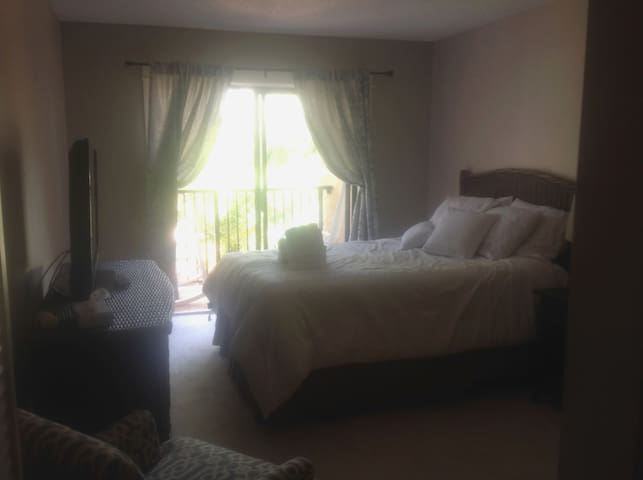 Walk to the beach! Excellent ocean/pool views from your private balcony. Our 1 BR condo is a cozy & cool beach retreat on Hilton Head Island. Located in a family friendly gated resort with an ocean side pool, onsite dining, tiki bar, and recreation.
One bedroom open floor plan with kitchenette and living room with queen sleeper sofa. Sliding glass doors open up to a spacious balcony with exceptional ocean views.
Very quiet, affordable, clean, homey space for a family to vacation. Terry was very helpful with my reservation changes and kept me well informed throughout the whole process. I recommend it to anyone.
Ashley
2016-04-07T00:00:00Z
The host responded to messages very quickly and was happy to answer any questions I had. He even included a list of recommended restaurants while in the area which was very helpful! This is a cozy condo with a great location, the building is right on the beach, and the beach is visible from the balcony in the unit. Very short walk down to the beach. The unit would be perfect for two people, and can fit up to two more if you use the sleeper sofa (but I would suggest an air mattress instead if you are staying for more than a few nights as its not the most comfortable, but it works for just a night or two!)
Amy
2016-05-12T00:00:00Z
This was our first trip to HHI and this condo was perfect for my wife and I. The description was spot on. The condo is in excellent condition and is very clean. We enjoyed sitting on the balcony in the morning and early evening, looking out at the pool and ocean. We spent the entire time on the beach, walking for miles and miles. Although there is a full kitchen, we choose to eat out at many of the local restaurants. We used Yelp ratings and reviews. Dennis provided us with all the details we'd need, prior to arriving. We were even able to get into the condo a couple of hour early, which was great! He also checked in on us to make sure that everything was good and if we needed anything. Dennis is a great host! We'll be back next year for sure.
Tom
2016-08-27T00:00:00Z
Had a great vacation! Very nice 1 bedroom condo on third floor and we loved the balcony. Spent our mornings with coffee and looking out over the ocean, even did our happy vacation dance out there a few times! :) (when we were not actually walking the beach, it's very close! I highly recommend a few sunrise walks) The pool at the resort was huge and a great place to chill with a nice beach bar for drinks and lunch right there. Dennis was excellent to work with and made sure we were taken care of from start to finish. Communication was top notch. Check in and check out couldn't have been smoother. When we decided to stay another day, that was flawless also. Stephanie and I are already saving and planning for our trip next year. This was our first experience with Airbnb and we will definitely use again. Thanks to them and to Dennis for sharing your condo.
Ron
2016-05-02T00:00:00Z
The condo is in a great location and has a very cute nautical theme -- perfect for a solo stay or for a small family. Dennis was very easy to work with and provides very prompt responses.
Diana
2016-06-29T00:00:00Z
Dennis is a wonderful host! His response time to messages is impressive, and it certainly helped my mom and me feel right at home, even following up to make sure we were doing well! The condo is exactly as described. The main door opens to the bedroom, which did not bother us one bit, but I did not expect it. Nothing that should stop you from booking this place! You can enjoy seeing the ocean from the balcony (my favorite!) or be at the ocean or the pool within minutes. We did not partake in any tennis or bike riding, but those are also available through the resort, which I think sets Dennis' place apart from other condos on the island. Also, it was very quiet around the resort, which makes it very family friendly! I feel very positive about my experience, and this place feels like home. If we are ever back in Hilton Head, we would love to stay again in a heartbeat!
Rebecca
2016-08-06T00:00:00Z
We loved our stay at this condo! This was our first experience using Airbnb and we loved it! We definitely plan on returning and renting out the condo again! The kitchen had everything you need, the bathroom was equipped with towels and bar soap, bedroom was soooo cozy and the place had a lot of closet space and drawers, the balcony had high chairs, they had enough blankets for everyone, i loved the big sliding door mirrors in the bedroom, and most of all we loved the feeling we got when we were there! Our only disappointment was leaving! We wished the minimum stay was longer than three nights.
Amy
2016-03-18T00:00:00Z
The Terry's place was the ideal setting for our mini vacation. It was exactly as described in photos. The personal touches were awesome. Being able to sit on balcony in the morning and a real short walk to beach made our day. Location on HHI is excellent, central to everything. Dennis was excellent host at all times. Would love to stay here again!
Vanessa
2016-05-09T00:00:00Z
Room Type
Entire home/apt
---
Property Type
Condominium
---
Accommodates
4
---
Bedrooms
Hilton Head Island, SC, United States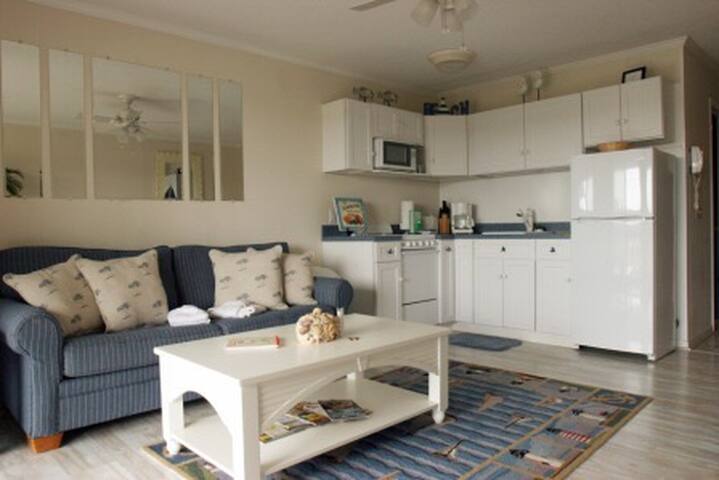 Stop thinking about work and spend your time drinking in the tranquil garden views from this 2 bedroom, 2 bath villa located in the popular South Beach Area of Sea Pines Plantation.
Recently renovated, this immaculate and serene unit is perfect for your next adventurous getaway with its quick bike ride or walk to numerous shops and restaurants, renowned golf courses, and the Atlantic Ocean. The cheerful foyer takes you pass the dining room, home to a wood-top dining room table and six chairs, and into the comfy living room, which is impressively decorated in blues with a touch of yellow, red, and green. The living room is home to a wraparound sectional sofa, hardwood floors, an area rug, a flat screen television, and a sliding glass door that leads out to the deck. The deck houses two relaxing chairs, the perfect spot for your afternoon cocktails. The very open kitchen features all new silver and black appliances and plenty of cabinet storage space. Also located in the kitchen is a compact washer and dryer combo for all your laundry needs. The master bedroom has a king size bed, a flat screened television, and windows that provide an awesome landscape view. The spacious master bathroom was also recently renovated and has a tiled walk-in shower, as well as, all tiled floors. The guest bedroom features a full-sized bed, a flat screen television, and a small desk area. The full-sized bed has a twin bed beneath it and it can be conveniently converted into a trundle bed if additional bedding is desired. The guest bathroom is also tiled and features a walk-in shower. The location, comfort, and décor of this unit will leave you boasting about it to your family and friends.
Please specify # of security gate passes are needed at time of reservation; 1 pass per car $15/week. + Tax. We will contact you after the reservation has been made to confirm the number of car passes and arrange payment. If you would like you can send us a message before you book the property and we can send you a special rate with the car passes included so you may make one payment through Airbnb. The Bluff Villa complex is not equipped with elevators, use of stairs would be required. Sea Pines Plantation is Hilton Head Island`s original and largest planned resort. While it is currently the home of the annual Heritage Golf Tournament, it is the abounding natural beauty that beckons one to return again and again. Five miles of white sandy beach offer swimming, sailing, parasailing, kayaking, and fishing. For the land lovers there are 14 miles of bike paths, 3 golf courses, tennis, and a broad range of shops and restaurants that will please every vacationer. All beach distances are measured from the center of the complex.
Room Type
Entire home/apt
---
Property Type
Villa
---
Accommodates
6
---
Bedrooms
Hilton Head Island, SC, United States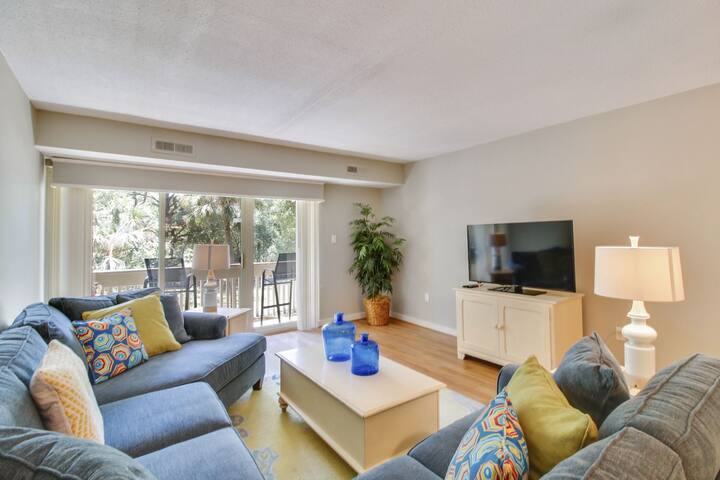 Beautiful 2 bedroom, 2 story Hilton Head condo within Shipyard Resort, known for it's world class tennis and golf. It's located on the golf course and within walking or biking distance to the beach and the pool. The private beach access is one mile inside the community through beautiful walk or bike paths. A free pass is on the desk in the condo. A public beach is across from Coligny Plaza and has free public parking and is 1.4 miles from the condo.
This two story condo has everything you need for a relaxing getaway! The main level has the fully equipped kitchen, living and dining room (with sliding doors to the beautiful patio and propane grill). The upstairs has two bedrooms, each with their own bath. The main bedroom has a queen bed and sleeps two. The second bedroom has a queen bed and also a bunk bed (with a pull out trundle), which can sleep 5 total. The couch can sleep another person, for a total of 8 people.
Shipyard resort has everything you need! There are sidewalks/bike paths, two restaurants, swim, golf and tennis. The swimming pool for our area of the neighborhood is about 100 yards from the condo. There is beach entry within the resort near the Sonesta Hotel. You can walk/bike to the beach along pathways or you can drive and park in the assigned parking area (we will leave you a car pass for beach parking). Coligny Square, Shelter Cove and the beach are just a few areas of interest within miles of the condo that have great shops, restaurants, nightlife and family friendly activities.
This is a great place to stay for a family! There were multiple beds, multiple bathrooms, and a cute little porch outback. It was great to have a boogie board and other beach items to take with us to the beach! Access to the beach was very easy and we loved having the bikes available to ride around town! We will beds, multiple bathrooms, and a cute little porch outback. It was great to have a boogie board and other beach items to take with us to the beach! Access to the beach was very easy and we love having the bikes available to ride around town! We will be back again someday!
Jenell
2017-03-27T00:00:00Z
We had a great stay and enjoyed our time in Laura's condo. Would definitely recommend to friends or others interested a trip to Hilton Head! Unit was well furnished and had everything we needed. The bikes with the unit were an unexpected bonus.
Bob
2017-04-08T00:00:00Z
The host canceled this reservation 77 days before arrival. This is an automated posting.
Keela
2017-03-31T00:00:00Z
Room Type
Entire home/apt
---
Property Type
House
---
Accommodates
8
---
Bedrooms
Hilton Head Island, SC, United States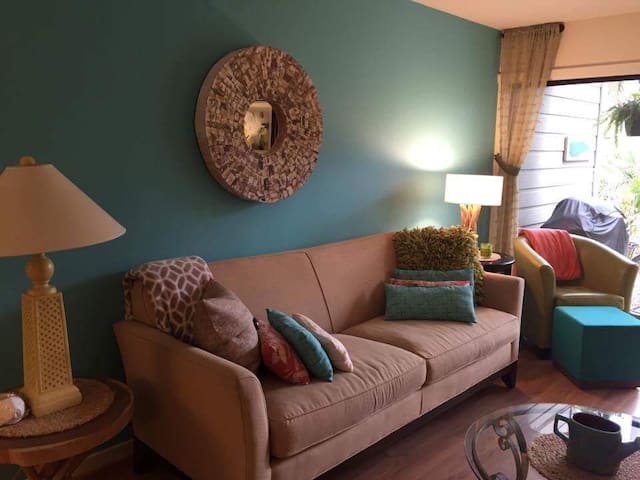 Only Steps from the beach with Free WiFI, family-friendly activities, The largest Oceanside Pool on the Island, nightlife, public transport, and the airport. You'll love my place because of the coziness, the views, and the location. My place is good for couples, solo adventurers, business travelers, and families (with kids). Everything you need is either on site or readily accessible. Bike rental available and quick access to Rideshare Services such as UBER and LYFT.
This Condo is completely updated, fresh and clean.
Nice comfortable place
Jack
2017-04-08T00:00:00Z
The condo was in a great location on the beach and had convenient and very reasonable bike rentals on the property. Brian was very accommodating with an early and late check out, and his house had everything we needed for our stay. The location is great on the middle of the island with many restaurants and shops in both directions. We had a great trip!
Melanie
2017-04-03T00:00:00Z
This condo was extremely nice and cosy! A perfect place to stay while visiting Hilton Head or even Savannah. Being right on the beach is super convenient and the oceanfront view is hard to beat. Brian really takes care of you and is extremely accommodating; always available to answer any questions or requests you may have. Can't recommend a better place to stay!
Geoffrey
2017-03-18T00:00:00Z
Brian's place was perfect for a weekend getaway. It was clean and comfortable, and it looked exactly as it was advertised. We were very pleased!
Forrest
2017-04-11T00:00:00Z
Nice beach access and nice pool facility
Jude
2017-03-24T00:00:00Z
Brian was very hospitable and responsive in our stay at his condo. Although we didn't need to contact him, he appropriately made himself available and reached out to make sure our stay was great. His condo is comfortable and very close to the beach. It is located in a perfect spot in reference to Hilton Head activities and in close proximity to fun things to do across the island. Brian's place is on a resort that has (at least) two restaurants and a bar that stays open late.
Chris
2017-03-12T00:00:00Z
Had a lovely weekend stay. The condo was perfect for all our needs and just steps away from the beach! I would definitely recommend Brian's place for your trip to Hilton Head Island
Rachel
2017-03-28T00:00:00Z
Room Type
Entire home/apt
---
Property Type
Condominium
---
Accommodates
6
---
Bedrooms
Hilton Head Island, SC, United States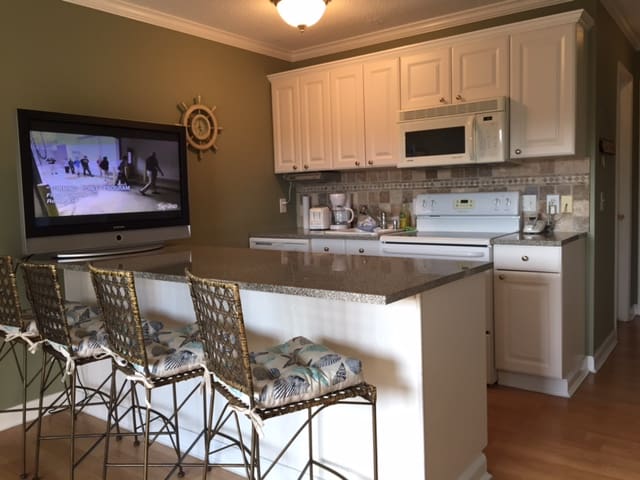 Wonderful Condo with everything you need for a very special getaway or vacation. Only steps to the beach on Port Royal Sound and to one of the three pools on the property. Quiet gated community, 24hr security, tennis and wildlife galore.
You get the whole place to yourself. There is a full kitchen and all the comforts of home. You have total privacy, yet I am only a phone call or text away, should the need arise. If you stay long term, I will check in with you periodically, but basically leave you alone unless you contact me.
The Spa on Port Royal Sound was built before there were building restrictions regarding distance from the water. As a result, the complex is extraordinarily close to the Sound. This unit is literally less than 50 feet from the high water line. (FYI-Low tide does go out about 1/2 a mile, but high tide is extremely close to the property line.) The complex is flanked by two public parks laden with Spanish moss covered live oaks, and resides at the end of a dead end road. There is little to no traffic noise, except the occasional airplane taking off or landing. We enjoy an abundance of wildlife and embrace the opportunity to go fishing, crabbing, shrimping and clamming. I have personally seen other amazing wildlife including dolphins, eagles, hammerhead sharks, stingrays along with the more common egrets, ravens, jellyfish, crabs and horseshoe crabs. Amateur and professional photographers alike enjoy spectacular sunsets, cloud formations, storm fronts, rainbows, etc. with amazing 360 degree views (especially at low tide when you can walk way out.) I have thousands of sunset pictures on my iPhone, each distinctively different and beautiful in their own way.
We had a wonderful stay here. Everything was ready for our arrival and it was a smooth process. We enjoyed the quiet beach and it was a short drive to a traditional beach. Hilton Head is a fun place to visit.
Denise
2016-04-12T00:00:00Z
My Mama and I had a very relaxing stay. The condo and the grounds were absolutely beautiful! I would definitely recommend this place to others!! Oh, and thanks Jancine for the phone charger!! It really is the little things
Donna
2016-09-09T00:00:00Z
We had great time at Nana's Condo. Beach was just at 2 minutes walking distance. We could go to beach any time. The condo was fully equipped. Jancine had thought well all the required things for our stay. She responded promptly every time. I would like to visit Nana's condo again. :)
Chitra
2016-08-28T00:00:00Z
Nice location right in front of a beach. Jancine was an awesome host and had everything we needed. Condo was a little more dated and had less privacy than I was hoping, but still a wonderful place
Christian
2016-05-27T00:00:00Z
Directions to the property and access to entry were very clear and easy. The property has a security guard entrance. Friendly guys. The condos are older. The grounds are well kept. A small pool was just steps away from the condo. The condo is basic in it's provisions. The furnishings are not updated in style but functional.
Beth
2014-09-29T00:00:00Z
Jancine was great, there when I needed her but mostly gave us privacy (which I appreciated). She was very timely in responding and accommodated our needs.
Husna
2015-05-25T00:00:00Z
We have stayed here numerous times this year and love it! It is super clean and cozy with a beautiful view. The host, Jancine has been very helpful with everything.
Jennifer
2016-08-12T00:00:00Z
Jancine was the perfect hostesses!! She was quick to respond to any questions and the condo was incredibly clean, comfy and cozy! My daughter and I had a wonderful time and I would highly recommend this listing for anyone looking for a special place to stay in Hilton Head.
Cindy
2016-11-14T00:00:00Z
Room Type
Entire home/apt
---
Property Type
Condominium
---
Accommodates
4
---
Bedrooms
Hilton Head Island, SC, United States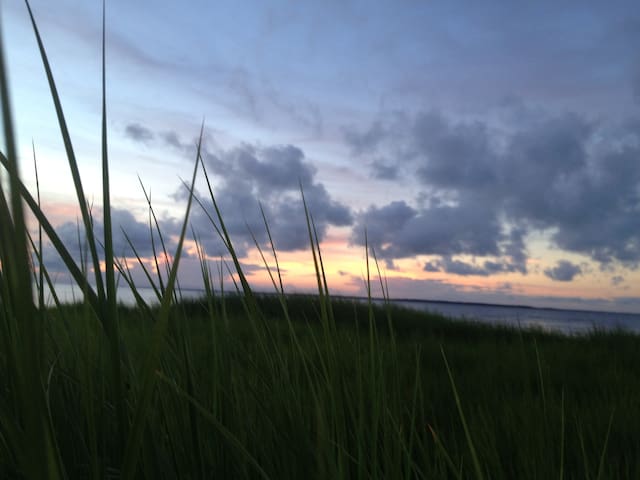 My place is close to Coligny Beach, Coligny Plaza, night life, Tanger Outlet Mall, restaurants, Harbor Town, Bluffton, golf courses, bike paths and so much more!. You'll love my place because of the location. My place is good for couples, solo adventurers, business travelers, and families (with kids).
Beach Villa close to everything! Enjoy a vacation getaway to South Forest Beach, Hilton Head Island. 2 miles to beach, restaurants, groceries, theater, mini golf and over 60 shops (including Coligny Plaza). 2 mile Bike path directly from community to Coligny Plaza. Fenced in back yard for added privacy with charcoal grill. Stay here and you will be steps away from our gorgeous community pool. First floor condo with only one neighbor. 2 Queen Beds (both are adjustable beds for added comfort) and 1 Full Size pull out sleeper sofa to sleep 5 adults. Free high-speed internet, wi-fi, cable, and dvd player included. Microwave, stove, oven, coffee maker, toaster, fully equipped kitchen - utensils, pots, pans, glassware, etc. Towels, linens, and starter supply of bath/face soap, toilet tissue, and dish soap are provided. Washer and dryer available at condo. Condo also includes pack and play and plenty of toys for the kiddos. It is designated as a non-smoking unit. Enjoy all Hilton Head Island has to offer in this adorable and chic beach condo!
The home is beautiful equipped with everything you need and a few extras they have thought of everything it was a very tranquil place definitely would go back and my 15 year old daughter loved it also
Anna Marie
2017-03-29T00:00:00Z
Room Type
Entire home/apt
---
Property Type
Villa
---
Accommodates
5
---
Bedrooms
Hilton Head Island, SC, United States
Do you love nature? Walking on the beach? Birding? Photography? Tennis? Golf? Shopping? Wonderful restaurants? This is our beautiful new Villa that is located in Port Royal Sound directly on the most unique and natural beach on the island. On both sides are public parklands and nature preserves to walk and view the wildlife. A perfect location to enjoy all that Hilton Head has to offer, yet it is quiet, serene and away from all the crowds. It's why we love it, and we're sure you will too.
Our Villa is in the H building which is closest to the beach. Please note this is on the 3RD FLOOR and there are no elevators.
The Spa connects directly to Hilton Head's miles of bike trails which cover nearly the entire island. Within a short car ride from The Spa there are over 20 public golf courses, too many great restaurants to count, movie theaters, discount shopping, and other exciting vacation activities. And in less than an hours drive of Hilton Head Island are many attractions in the Low Country and Savannah.
Room Type
Entire home/apt
---
Property Type
Villa
---
Accommodates
5
---
Bedrooms
Hilton Head Island, SC, United States
30 foot boat that has a queen bedroom berth in back and a lounge area that may sleep potentially 2 more. Docked in the picturesque Shelter Cove Marina on Hilton Head Island. Take this unique opportunity to live the "Sailors Life" for nights or a week, glamping on the water.
This boat does NOT leave the dock for cruises, dolphin watching or any kind of boat tour. We can put you in touch with charters that do so. This unique space allows for you to spend time "in" a marina, instead of "around" a marina in a hotel or timeshare. The boat has a small layout with a lounge area with 2 on board TVs/DVD players if needed but since you are on the water take advantage of all of the upper deck areas to maximize your experience. The sink will accommodate all routine bathroom needs, i.e. ; brushing teeth, washing face. For onboard toilet needs, a 3 gallon camping potty is provided for emergencies when you are unable to utilize the marina toilet which is approximately a 1 minute walk and the marina shower facility which is about a 10 minute walk. Two bikes are also included in the price for your stay and will make the time just a couple minutes to the shower/laundry area at the Ships Store. The boat is also fully Air Conditioned or Heated in the cabin if you desire for maximum comfort.***Currently the downstairs table is configured in the sleeping mode to accommodate additional sleeping space or a lounge area for TV/Movies etc. The table cannot be converted to a dining area at this time. The upper deck dining space is still available. The Wifi at the boat can be spotty based on marina wifi connections. The wifi at the ships store is very reliable.
Shelter Cove Marina is literally located in the heart of Hilton Head Island and is the perfect spot to experience all the island has to offer. From world class dining, water sports and shopping you can stay on our boat and be within an easy stroll of all these amenities. For arrivals set your GPS to Scott's Fish Market for a boat arrival. We will make every attempt to personally greet you as well. There is closer parking in the main Shelter Cove lots. Our boat is slipped at H dock, slip 6 Please reference the attached marina map for detailed description of our location in proximity to bathrooms and showers.
We had a great stay! Its a lovely boat an a awesome experience
Thomas
2016-11-27T00:00:00Z
Our first time staying on a boat, and it was positively charming! There's something very unique and refreshing about opening up the door first thing in the morning to the dock's fresh air. Holly took care of us well and was extremely responsive. I will say that not being able to use the on-boat bathroom was a bigger inconvenience than I had anticipated. But that is in no way the hosts' fault. Just something for others to consider!
Mia
2017-03-11T00:00:00Z
The boat was amazing! Such a fun and unique way to spend a couple days in HH. Holly was able to meet us to check in and explain everything about the boat. She also checked in later in our stay and was willing to bring us more blankets for our unusually chilly night in HH. Great place, with great hosts!
Anastasia
2017-03-14T00:00:00Z
Great time and perfectly located!
Lizzie
2017-04-05T00:00:00Z
Wow...what a beautiful setting! And what truly warm and pleasant hosts! Chris and Holly are so incredibly nice and accommodating! The marina is perfect as well - fabulous bakery, restaurants, shops. Very clean bathrooms that are easy to get to and quite honestly, are worth the walk when you take in the view. The marina's proximity to bike paths and the plantations is just superb. Honestly, it's such a perfect place to truly get away from it all. Chris and Holly made our stay so enjoyable, and their boat is very nice and relaxing. Great neighbors in the marina, too! The best compliment we can give them is the fact we WILL be back!
Mark
2017-03-21T00:00:00Z
Christopher and Holly were the definition of perfect hosts! Their boat is located in a beautiful cove with a variety of shops and restaurants right off the dock! The bicycles provided were great, and there were beautiful bike trails to ride on that took us almost everywhere we needed to go. We highly recommend staying on the Fore Sail if you're looking for a fun, yet at the same time relaxing atmosphere during your vacation in Hilton Head. We couldn't have asked for a better time. Thank you again so much Chris and Holly!
Chad
2017-04-06T00:00:00Z
We had a great time! Holy was very informative and the marina was fun. We forgot something when we left and Holly kindly offered to mail it to us. Great trip.
Grace
2017-03-30T00:00:00Z
Very nice! We booked this 2 days before going, they responded quickly to our messages and were willing to meet anytime for check in! They even let us stay later than check out time. During the stay, she was quick to respond to any questions I had! Loved it!
emily
2017-02-05T00:00:00Z
Room Type
Entire home/apt
---
Property Type
Boat
---
Accommodates
4
---
Bedrooms
Hilton Head Island, SC, United States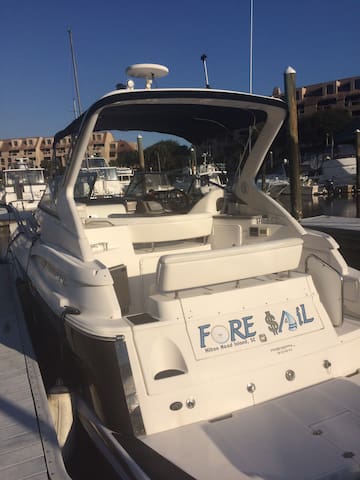 Private Room. Welcome to our a beautiful home in desirable Sea Pines. We are on a lagoon with a great view of Harbour Town Golf Links. Our home has everything that Hilton Head has to offer. Golf, tennis, beach, biking (bikes included with stay), shopping, and boat rides with hosts (additional cost). Great for couples, business travel, golf or tennis players.
This is a private room with a private bathroom.
Amazing time at Jocelyn and Russel's house. They were great hosts and made our stay great as well. Their house, the swimming pool and the jacuzzi made our stay even better. Having bikes to ride was such a nice thing. We loved Hilton Head and certainly plan to come back.
Eduardo
2016-09-26T00:00:00Z
We were greeted at the door and felt welcome from the beginning. Jocelyn and Russell have a beautiful home and a fantastic location. The house is exactly like the pictures and the rooms are spacious, clean and comfortable. Breakfast was excellent and we enjoyed it overlooking the pool and lagoon. Our hosts made sure we knew where everything was and would give us recommendations and directions as we headed out for the day. The closest beach is minutes away by bike, or in a few more minutes you can be at the beach club. You would never guess that they were new to the BnB scene, because they were awesome hosts. They are also genuinely nice people. It was everything we had hoped for and more! We are already looking at the calendar for our next visit to Sea Pines and it will definitely be with them.
David
2016-08-28T00:00:00Z
Russell and Jocelyn are exceptional hosts. They have a Beautiful, masterfully built home, by the owner himself! We especially enjoyed their beautifully landscaped backyard with the scenic views of the lagoon. The pool was just what you needed to cool down from the summer heat. Jocelyn and Russell were so gracious and welcomed us into their home as if we were old friends or family, as well as being very attentive in making sure our weekend getaway was a Wonderful success. This was our first time using Airbnb and we only hope all of our future reservations with Airbnb are as Perfect as this one. We couldn't have asked for a better experience. A treasure of a place! Barry & Kim
Kimberly N
2016-08-15T00:00:00Z
The stay at Jocelyn's and Russel's house was just great! The house is beautiful and very clean. Jocelyn helped us with advice and directions and even painted us shamrocks for St. Patrick's Day. We would definitely recommend!
Stefanie & Jolanda
2017-03-18T00:00:00Z
Russell and Jocelyn have a beautiful home in a great area and they were fantastic hosts! Very accommodating and welcoming, and full of information that was useful for us as we are looking to move to Hilton Head permanently. We had a great time getting to know them and would recommend them without hesitation.
Marc
2016-10-29T00:00:00Z
Two quiet, restful days in Jocelyn and Russell's beautiful home overlooking a peaceful waterway and golf course. Russell was a most gracious host while Jocelyn was traveling. The rooms were well-appointed and quite comfortable. The spacious kitchen opened into the living room that featured a widescreen HD tv. The raised covered patio has a fan that takes the edge off the bit of humidity native to Hilton Head. We didn't take them up on the use of the jacuzzi or pool but just knowing we could was enough this time. One big plus for us was the easy going way Russell attended to our needs including breakfast. We enjoyed his company greatly. He was a perfect host. This was our first experience at their home and am sure we will knock on their door again. As a first time user of airbnb ... this certainly encourages us to do so again! Absolutely recommend Jocelyn and Russell.
Scot
2016-09-22T00:00:00Z
We needed to stay near the Sea Pines Resort for a wedding we were attending So we stayed at Jocelyn and Russell's beautiful home. The stay was relaxing and the hosts were so welcoming and helpful with guiding us about things to see and do. Their home was exceptional and located close to the resort and all the wedding activities. Wonderful visit!
Kathleen
2017-03-21T00:00:00Z
Jocelyn and Russell were extremely gracious hosts! Their home was beautiful, cozy, and in a prime location. They had everything we could think of needing plus more. They are passionate about Hilton Head and want their guests to have the best experience here. I would definitely return!
Shannon
2016-09-05T00:00:00Z
Room Type
Private room
---
Property Type
House
---
Accommodates
2
---
Bedrooms
Hilton Head Island, SC, United States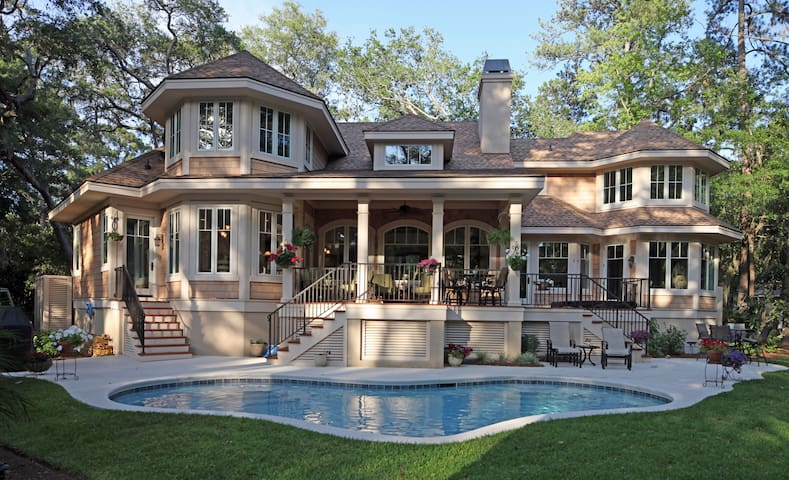 UNIQUE RETREAT The SeaLoft is a 950 sq. ft. 2-story octagon with floor to ceiling windows and exterior viewing deck. Situated at the edge of a salt marsh in a maritime forest, the SeaLoft offers an exceptional lowcountry retreat experience.
What a wonderful home Lisa shared with us! Felt like we were in a TreeHouse! Everything you needed and more. Thank you for a lovely stay, Lisa. We can't wait to come back!
Monica
2016-07-03T00:00:00Z
Lisa did a great job in preparing us for our trip. She had wonderful restaurant recommendations, provided me with information for cruises, bike rentals, etc. The views from the SeaLoft is pure Hilton Head. With Harbor Town being a 5 minute bike ride away, you can go from total peace and quiet to the hustle and bustle of the harbour. In addition, the SeaLoft was clean and completely ready for us. We wanted for nothing. The pictures in the profile clearly represent what it looks like. We can't wait to head back. Jeff and Misty Evansville, IN
Jeff
2016-07-14T00:00:00Z
The home is well kept in the secluded portion of Harbor Town. It was very relaxing. Lisa spares no time welcoming you and providing exciting things to do on the island. She is a great host. We saw wildlife, watched sunrises, sunsets, and even kayaked by her home. We give it 5 stars, and hope one day to book again. Everything is accessible by bike. A very neat location and wonderful place to spend a trip relaxing.
Bradley
2017-04-05T00:00:00Z
This was one of our best experiences with airb&b! Lisa was kind, welcoming & went above and beyond for us. The place was beautiful and you could tell she went the extra mile to make it one-of-a-kind! From the basil plants, to the fiesta dishware, to helpful maps & menus, to beautiful decor and easy layout - it was beyond our expectations! We only regret we couldn't stay longer. We'll definitely be back! Best spot in Hilton Head by far!
Ginny
2016-08-29T00:00:00Z
The SeaLoft at Sea Pines was absolutely one of the most unique places my husband and I have ever stayed. It was fantastic. Lisa thought of everything. It was beautifully decorated and the floor to ceiling windows provide amazing views from all around the house. The bed was nice and firm and slept great. While we did not cook during our stay, we noted the kitchen was well stocked to make a great meal at home. The SeaLoft is a fantastic retreat for couples of all ages. The Sea Pines community has lots to see and do. We enjoyed most of our time on the deck overlooking the marsh watching the tides change and seeing how many different animals we could spot. Deer visited often in the evening. Lisa is responsive and helpful, offering to come show us around the house and then leaving helpful instructions when our arrival time was delayed. We can't wait to return!
Kim
2016-03-21T00:00:00Z
We had a fantastic time at Lisa's SeaLoft. Everything was taken care of - brochures were laid out for different ideas for meals and activities, towels and a cooler bag were ready to be taken down to the beach, everything was labeled for ease of use - and when it was time to go, we did not want to leave. Lisa is very responsive and was so helpful and friendly. We couldn't have asked for a better host or place to stay.
Lyllian
2016-06-21T00:00:00Z
My husband and I just had our best stay ever at Hilton Head Island. Lisa's place is all a couple could wish for. Surrounded by beautiful nature with gorgeous views, the location is a 5 minute walking from restaurants, cafe, and Harbour Town, but the place is quiet, peaceful and reserved even during high season. Lisa is quite a hostess, easy to contact, and always making you feel welcomed and cared for. All you need is there. Great appliances, Netflix (if you have an account just log in), great utensils (I was impressed by the Le Creuset cookware), laundry on site. We also enjoyed her books. Thank you Lisa! We will share the memories of the place for years to come!
Deborah
2016-08-02T00:00:00Z
This was an absolutely wonderful experience. I was tempted to give a lower star rating if the photos accurately represented the sea loft, but only because they do not do the loft justice to how amazing it is. The interior is absolutely gorgeous and is supplied with top notch cooking supplies. There is plenty of wild life. You will see deer if you are an early riser or a night owl. Lisa helped us out with whatever questions we had with ease and also left information based on what we talked about prior to us arriving. We were able to take advantage of the location of Lisa's loft and take 2 day trips. Charleston is about a 2 hour drive away and Savannah is about a 1 hour trip. After driving 20 hours to arrive in Hilton Head these drives were easy and well worth the opportunity to explore new cities. We had planned to rent bikes but found that it was probably easier to just drive to our destinations (The Beach). We used the pass given to us to access the Sea Pines beach area most days and also took advantage of having a car and drove to the other side of the island to visit a lesser traveled beach. I can say nothing bad about this experience. I would suggest any couple or very small group of people (someone would have to be willing to sleep on the couch/ground) to rent this beautiful place from Lisa. The atmosphere is quiet and laid back despite being relatively close to the main entertainment area. I am happy to have been able to secure an available week here before this secret blows up and becomes booked every week! As a couple who loves to "explore" we absolutely loved the accessibility to other parts of Hilton Head but to other parts of the local cities.
John
2016-08-21T00:00:00Z
Room Type
Entire home/apt
---
Property Type
House
---
Accommodates
2
---
Bedrooms
Hilton Head Island, SC, United States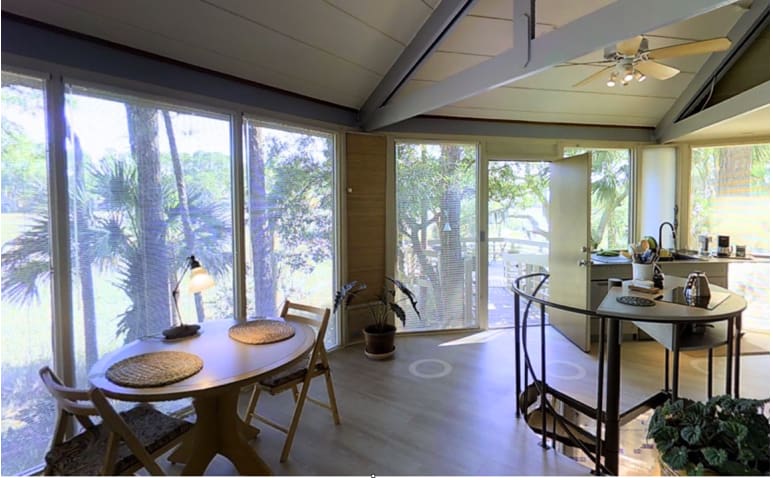 Enjoy ocean views and modern design from this newly renovated villa located in walking distance to many shops, restaurants and entertainment. Seaside is a gated, ocean front complex in the heart of Hilton Head's main beach.
The villa has been recently renovated with a modern design, hardwood floors and new furnishings. Located on the first floor with quick access to the beach.
Our complex is 4 buildings down the beach from the Tiki Hut and Coligny Plaza, centrally located, but not over crowded. Direct beach access on the property.
Fantastic place for a couple to enjoy a great ocean view, steps from the beach, safe covered parking, and right in the mix of all the shops, restaurants, ice cream shops and forest preserves.
Brett
2017-03-25T00:00:00Z
Great place right on the beach very secure walking distance to shopping
James
2017-02-22T00:00:00Z
This was a beautifully appointed apartment. The location was perfect. It was right on the beach. It was a quiet complex and people were friendly. We felt very safe. There are many things to do within minutes of the apartment. Jeremy communicated well. The check in and out information made our arrival and departure very quick and simple. We had our 16 month old grand daughter with us and the accommodations were just right for her. If you are considering a stay at Jeremy's, do it! You won't regret your decision.
Sue Marie
2017-03-10T00:00:00Z
The condo was GREAT! Well equipped and right on the beach! Great communication with the owner, as he always replied to any communication within five minutes. Great value! Highly recommend this condo!
Melanie
2017-04-08T00:00:00Z
Great location! Not the biggest place, basically a studio apartment but it was very modern, well decorated and a great use of the space. It was just two of us so it worked perfect but not sure how it would feel with four people. Centrally located and can't beat being on the beach! Would definitely stay here again. Jeremy made checking in and out super convenient and was very responsive, a great host. The condo had basically everything you could ask for. Be sure to bring all your own cooking necessities however such as oils and spices etc., as there wasn't anything besides the pans, utensils and a very basic salt and pepper.
Natalie
2017-04-02T00:00:00Z
A cozy, comfortable condo that is well equipped with everything you need to feel right at home, the view is amazing and the beach is literally steps away with private gated access from the community, Jeremy was very detailed and his communication was excellent, good wi fi and extras like books and games to make your stay enjoyable and fun, comfy bed, love the bohemian beach decor. We highly recommend this place :)
BRIAN
2017-02-05T00:00:00Z
What a great space! Conveniently located, ocean views, and great decor. Feel of the unit was modern and comfortable. Affordable too! Owners were very good with communication.
Melissa
2017-02-27T00:00:00Z
Jeremy's place was perfect for a quiet beach trip for two. The ocean is visible from the balcony which is lovely and the condo was incredibly clean! We had a great time.
Amy
2016-12-28T00:00:00Z
Room Type
Entire home/apt
---
Property Type
Villa
---
Accommodates
4
---
Bedrooms
Hilton Head Island, SC, United States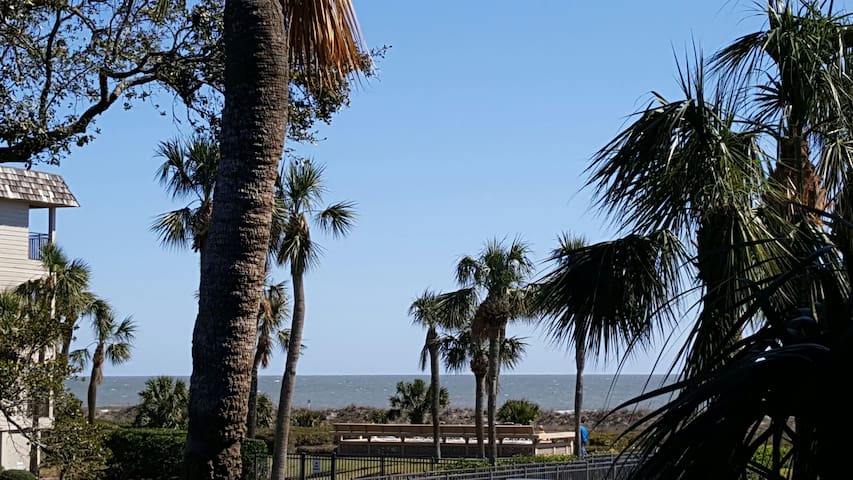 Enter dates to see full pricing. Additional fees apply. Taxes may be added.