Starhavens is nestled on 10 acres in the mountains of San Diego, surrounded by woods and wildlife, off mountain ocean views, and perfect sunsets. Enjoy barbecues or gathering on the deck and patio with a peek at the famous Palomar observatory. Beach and more are just 30-50 min away, the State Park is down the road. Starhavens sleeps 12, game room with 4K TV and plenty of games, living room features a wood burning stove. Kitchen and coffee bar fully stocked. 4wd Nov.-April depending on weather.
What guests are saying:
"Our visit to Star Havens was just what we needed -- private, comfortable, ample space for the kids to roam in nature. The property is just beautiful and easily accessed. It is very private and secluded without being overly remote (i.e. if you had an emergency you'd be in hollering distance from others :) ). We spent the majority of our time outside just wandering the property. We picked wild strawberries, saw a family of wild turkeys and a 3 point buck, and star gazed at night! The house itself is very comfortable and had everything we needed especially for the kids. Heidi has gone out of her way to ensure family friendless -- ample games, books and toys, baby gates and chairs, a whole game room - with a piano!- to keep them occupied while inside. Star Havens truly shines in this regard. Heidi was also very responsive and friendly. Everything was easy, peaceful and relaxing - just what we were hoping for :) We are already planning a return trip. Thank you Heidi and team for opening your retreat to us."
COVID-19 update: We have worked with our housecleaners to make sure extensive disinfecting is done after each stay. Discounted prices may be available for longer stays of a week or more, please inquire. The Fiddlers cabin is open and spacious yet comfortable and cozy. Tucked into a quiet neighborhood in the woods. Originally built in 1909 but recently updated. Has two bedrooms with two queen beds and bunk beds. Great for families and your dog is welcome with an additional cleaning fee.
What guests are saying:
"Snug homey cabin nestled in the woods equipped with all necessities. The decor was warm and tasteful, thankfully devoid of kitschy "cabin decorations" some people throw on their cabin walls and tables. Screen porch offered delightful morning spots (one could sit in shade or sun) for coffee and eggs. Our dogs really enjoyed bird and squirrel "TV" (nature watching from the outside porch) Close to trails and spectacular valley views. The silence was loud!"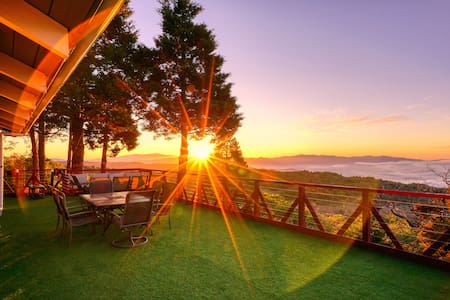 SUPERHOST
Entire chalet · 10 guests · 10 beds · 3 baths
Palomar Luxstar - Spectacular Views with Sunrise!!
Luxury home with the rising sun and the starry sky! Great place for yoga and meditation! Cozy, fully remodeled house! MOUNTAIN-FRESH AIR!!! SPA!!! POOL TABLE!!! YOU WON'T BE DISAPPOINTED!!! This house is situated at about 5,800 ft. above sea level with mountainous landscapes and amazing views. You can use private SPA as well as hot tub, barbecue zone, fireplace, and much more!!! Parking is under the surveillance cameras 24/7! Private observatories!
What guests are saying:
"We stayed at Alex's place during a long weekend during the summer. Alex was welcoming and able to respond to any questions or concerns that we had, although everything was working as expected. This location is ideal for a getaway, especially during these Covid-19 times. It is secluded and socially distant. I'd recommend if you're looking for a retreat or a get small get together with family/friends. Just come prepared with food and supplies for the whole weekend and enjoy a view unlike any out there!"