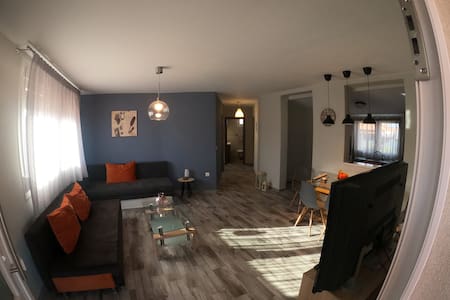 SUPERHOST
Entire apartment · 6 guests · 3 beds · 1.5 baths
Private Modern Apartment in Nea Roda Chalkidikis
Άνετο και μοντέρνο σπίτι, στα υπέροχα Νέα Ρόδα Χαλκιδικής, 83 τμ., με δύο υπνοδωμάτια, έναν ξενώνα, ένα ιδιωτικό μπάνιο, σαλόνι, κουζίνα και βεράντα. Μπορεί να φιλοξενήσει έως και 6 άτομα. Κατάλληλο, ιδιαίτερα, για ολόκληρη την οικογένεια ή ζευγάρια. English: Lovely warm comfortable and stylishly furnished apartment. Private bedroom, bathroom, and balcony with use of the private kitchen. Suitable for the whole family and couples that they want to spend their vacation in Nea Roda.
What guests are saying:
"Spacy house. 2 bedrooms enough for 2 people each. Really comfortable bed in living room and another bed as a help in working room. In total 6 people can be accomodated comfortably ( 2 of them need to be a couple or te accept to share bed). It's almost new and well equipped apartment. The only thing you don't get is dish washing machine. It has additional shower on the balcony but only one actual bathroom. Located near the sea: 4th street parallel with coast, 5 mins walk. Although you don't get sea view, you feel the breeze. Supermarket is across the street-5 steps away. You can park in front of the house in the street. You have nice small restaurants nearby, they have good service and nice food. Giros is excellent. On the beach you have choice of bars with umbrellas and sunbeds usage for free with drinks ordered. I would recommend the one with beige/white umbrellas, it's right next to dock and it's unique because it offers 3 sunbeds with one umbrella. If you come here you shouldn't miss Voulitza beach & trip to Ammouliani island via rent a boat from Tripiti or by car via ferry."
A cozy comfortable apartment at Nea Rhoda, Chalkidiki, about only 500 meter from the beach. The apartment is located near to the center of the village. There are all kind of shops in a distance of 50-100 meters from the apartment. You can find supermarkets, bakeries, cafes, bars, pharmacy, clubs, and restaurants across the beautiful beach. There is a balcony with nice sea view.
What guests are saying:
"We had a wonderful holiday, not at least because the accommodation was perfect for us. The apartment has probably one of the most beautiful views, is super spacious and was clean and cosy. Nea Roda is a small, very pretty village which is great for exploring. With the car you can drive in all directions and discover a lot. Thank you very much for the great holiday. We would definitely go there again :)"
Country house in Xiropotami with view to Athos, Ammouliani island and Sithonia. 300m from the beautiful long beach , far away from noise, it is surrounded from olives and mulberries trees, convenient for people who love to be inspired from the art of nature. The view, the sounds, the smells, the sense of this peaceful place is ideal for rest, relaxation and good energy.
What guests are saying:
"Excellent location, cleanliness and service. Freshly dressed linen and towels, a beautiful property with olive trees, flowers and other plants of Greek nature. Very beautiful sky star overnight and sea view. That a household needs to be in the house. The sea, which is clean and sandy, is for the children. We were very happy and we hope to come next summer!"