This small cozy apartment is situaded in the middle of the chic and urban neighberhood of Escazu. However its setting is absolutely beautiful. The cabin is sorrounded by rainforest. You might find squirrels, iguanas, and birds. Entering the cabin is an adventure, you will cross a small wooden bridge and get the absolute Costa Rican experience.
What guests are saying:
"I feel so lucky to have landed in this place during the covid pandemic because the family was super super helpful and kind during my long stay as my flights kept being delayed. Alejandro went out of his way to help with anything I needed and gave up potential guests in case my flight were delayed more. On top of that it's an incredible little nature paradise, but super close to various supermarkets, restaurants and anything you need! Lovely birds wake you up together with the sound of the river and the wind going through the bamboos. Lovely space outside to hang out or exercise and the second floor has a wonderful view of the river and wooden floors in case you wanna yoga or anything. I'll always be grateful that I got to spend the quarantine in such a peaceful place. Feels sad to leave even if I'm going back home. Hoping to come back some day! Thanks Alejandro!"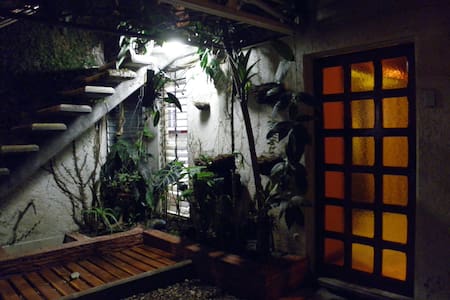 SUPERHOST
Entire condominium · 2 guests · 1 bed · 1 bath
Apartment independent, equipped, attached garage.
Nice, cozy, fully and beautifully furnished with all the finishing touches. Great location within a walking distance to downtown Heredia and Universidad Nacional. You'll be staying in the middle of the city, but in a quiet and safe neighborhood.
What guests are saying:
"Walter was a very attentive host and went out of his way to make me feel welcome. He knew I was there to study Spanish and took time to label a number of items around the apartment for me to practice! One night he also gave me some extra food he made which was delicious. Here is a quick overview of the apart: Plusses: - Safe location in Heredia in a safe neighborhood, as a single woman walking around I felt ok walking home after a dinner out at night. - Walking distance to Tico Lingo (my Spanish school), to a nice grocery store (basically the Whole Foods of Costa Rica) and a taxi stand. (Uber is very easy to use and relatively cheep however, and I recommend using that since it is much easier with directions.) - Also walking distance to the university, down town and the bus lines - This place is a good spot to do day trips to San Jose (just avoid rush hr!) and to explore the mountains to the north of the city (the Doka and Britt coffee plantations are close enough to Uber). You would need a car for the La Paz water fall garden or national park. - There is an inside parking spot available which I did not need but gives you peace of mind when parking your car. - The apartment is very big and has all the amenities one might need. If there is anything specific, Walter would be happy to help. - The hot water in the shower was nice and hot once you get the hang of it (keep the water flow low, maybe a 1/8 of a turn of the nob) then adjust from there, this is a typical shower set up in Costa Rica, most houses do not have water heaters and they use at the spout water heating in the shower. - Very comfortable bed. Minuses: - It is a down stairs apartment and while it does have a big light well and natural light does get to the apartment there are no outward facing windows. This was fine for me as I spent most of the day out and about and not in the appt. - The apartment has louvered windows and doors and does not seal off to the outside which is a common type of architecture in the tropics. Not sure how it is in the summer but in the winter it was a bit damp due to the rain. Not a big deal for me just something to get used to coming form dry california. Over all a great place and I enjoyed my 6 night stay here. Thank you Walter for making me feel welcome and looked after. - Susanne"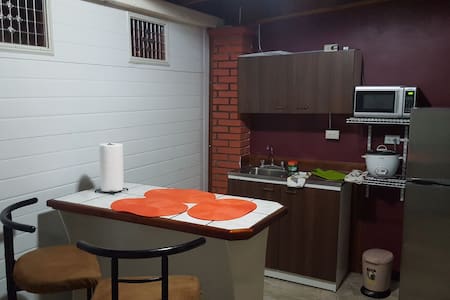 SUPERHOST
Entire apartment · 2 guests · 1 bed · 1 bath
Apartamento Equipad , Cochera adjunta Heredia, CR.
Beautiful apartment very safe very close to the center of Heredia and the universities. Description: - 1 bedroom - 1 full bathroom - 1 parking. - white line (refrigerator, frying pan, microwave, coffe maker). - Utensils (Tableware).
What guests are saying:
"The place is according to the price, it was clean, easy to get close to everything, all the characteristics described on the aparta las traia, Doña Rosa very friendly"