Nice studio located on the ground floor of a recently renovated building.It is located in a quiet area a few meters from the Pompeii ruins(Porta Marina entrance), from the "Villa dei Misteri" circumvesuviana station and from the splendid "Villa Oplontis". At 700 meters there is the Torre Annunziata Centrale railway station , at 500 meters the highway A3 Pompei west and at 2 Km the highway to the Sorrento peninsula.
What guests are saying:
"This house was sparkling clean and had everything we needed. Antonella was super nice and she even told us where we could get food at night. The only thing I would add is maybe a tv, but you are walking around the city touring that you basically just come to the apartment to rest. I loved the apartment, and I felt very safe since they had a gate and secure door inside. I also would like to mention that the shower had hot water. I mention it because not many people mention it on their travels. Also, the picture of the boats and sea on the posting is a poster in the apartment which is really pretty. The apartment is located on a roundabout and a long street that takes you directly to train stations. The area was very quiet and safe."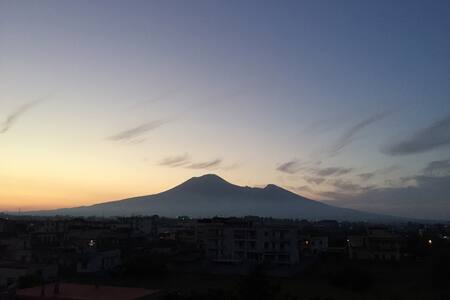 SUPERHOST
Entire apartment · 2 guests · 1 bed · 1 bath
Vesuvio View Attic close to The Ruins Free Parking
▪️Attic reserved with independent entrance. Private bathroom RENOVATED, king size bed, TV, fridge, Cooler, kitchen and a TerracE with a great view on The Mount of Vesuvio and on the city FREE PRIVATE PARKING Free WiFi The place is 5 minutes walking far from the center and 300m far from main entrance of Pompei Ruins. Close to the attic restaurants, bars, train stations, post office. You are really in the center of the town! To get to the attic there is a spiral staircase.
What guests are saying:
"Cozy attic with a marvelous view of mount Vesuvius and the city. The balcony is breathtaking. To top off the view it was Roberta's hospitality, she'll treat you like family which we appreciated greatly, she is also full of good info about city which I highly suggest listening to, the places she recommended us were amazing. If you have a large suitcase or a lot of luggage the stairways up is pretty small so consider that, beside that fantastic experience, would definitely stay there again."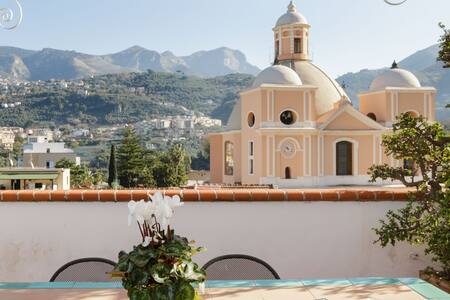 PLUS
Entire apartment · 2 guests · 1 bed · 1 bath
Sunny Attic Apartment with Stunning Coastline and City Views
Awaken as morning sun pours through attic skylights. Cross cool tiled floors to brew coffee on a gas cooktop. Step onto a shaded rooftop terrace with 360-degree views encompassing a hillside town, mountains, majestic coastline, and endless ocean.
What guests are saying:
"What more can I say than WOW! The apartment has everything you need: a good bathroom (really nice shower, enough towels, shampoo, conditioner and showergel) and a well equipped kitchen. Fabrizio even left us a "welcome drink" (very nice Prosecco!). And, as seen on the photos of the apartment, the terrace is amazing. Perfect place to have breakfast in the morning or drink a glass of wine in the evening. I am a bit of a gadget nerd so the fact that you had to control the skylights with a remote (or as Fabrizio calls it, a videogame ;) ) and that the apartment has wireless speakers everywhere (all connected to the Spotify account on the tv), had me hooked! loved it! The apartment is in a small town, more quiet than the bigger towns like sorento. Perfect if you ask us. It has a small beach, good restaurants and a supermarket. The thing that made our stay even more amazing (if that is even possible) was the host: Fabrizio is one of the most loveliest people we have ever met. He does everything to make you as comfortable as possible, provides you with lots of local tips and is very easy to communicate with. We couldn't have wished for a better stay and we can't wait to go back to this Airbnb."