A quiet, cozy bedroom & bathroom on the ground floor of a beautiful, modern new home in a verdant, friendly Southeast Portland neighborhood. Enthusiastic greeting by very friendly dog & cat comes standard!
PLEASE READ THE ENTIRE LISTING BEFORE REQUESTING ACCOMMODATION. As a courtesy to our guests, our check-in time is 3:00 pm; however, as we both work weekdays, we cannot have the rooms ready until 5:00 or so. What this means is that our guests are welcome to make themselves at home in their living room or just drop their bags off and head out exploring, but they won't be able to rest their weary heads or hit the showers until we've had a chance to get home and tidy up. (PLEASE NOTE: This listing highlights the primary guest bedroom available, but for parties of 3 or 4 people, we do have a secondary bedroom that also features a queen-sized bed. All guests share the same bathroom, but the second bed shown on the listing is NOT in a common space, it is in its own private bedroom.) There is almost an entire floor available in our brand-new home smack-dab in the heart of fun, accessible Southeast Portland! This means that our guest(s) get not only their own quiet bedroom, but also a private full bathroom AND their own nicely-appointed living room (please note: the first-floor living room is NOT private, as it does not have a ceiling and is the way between the front door of the house and the stairs to the second floor). We are steps away from a frequent-service bus line, a terrific sandwich shop that's open for breakfast, lunch AND dinner, a pizza joint, a Starbucks, and, best of all, a Trader Joe's! The house is about two miles south of the trendy Hawthorne district, one mile south of nationally-recognized Division Street, and about four miles east of downtown Portland. The house itself is a beautiful, soaring Doug Fir- and hemlock-constructed dream home decorated with one-of-kind glass art pieces and potted succulents. Our guests have access to our fabulous kitchen in addition to their own first-floor amenities. We have a very friendly housecat you will likely meet during your stay, but the guest bedroom and guest bathroom doors are kept closed for the comfort of allergen-sensitive guests. We also have two friendly dogs who will greet you eagerly upon your arrival, but who otherwise spend their time hanging out with us and don't wander much to the guest floor. Lastly, to our guests during the colder months: the guest floor tends to be the coolest in the house, and we provide space heaters and afghans for your comfort, but we figure we should let you know ahead of time that if you run cold, ours may not be the ideal place for your stay.
Our neighborhood is so great! We are really close to several cool Portland hubs, but we're on a relatively quiet residential street so we truly have the best of all worlds.
Friendly hosts, tastefully decorated house, awesome layout, convinient location... all made our short stay pleasant. Felt a bit odd to open kitchen cabinets to find cooking pans and untesil even the hosts were totally cool. Both pets were friendly. Kids loved to play with them, no sure if they shared the same interest :-)
Laurie
2016-08-12T00:00:00Z
Our host was not there to greet us, but they communicated really well to let us into their home. Their home is extremely welcoming and conveniently located. Sadly, I fell sick and we didn't get to explore much of Portland, but thankful their place was rather homey enough to be comfortable and sleep off my cold. I only hope I can go back to their home and explore more of Portland next time.
Vanessa
2014-12-30T00:00:00Z
This was my first time using airbnb and it was great! Brad and Becca are real cool people! Only chatted for a bit because my friends and I needed to try every restaurant possible. Their home is really nice: clean, quiet, and relaxing. I'd definitely stay with them again! Thanks for making my first airbnb stay a great experience.
Katherine
2014-01-20T00:00:00Z
Brad and Becca are great hosts. Their place is spotlessly clean and provides comfortable accommodation. I had extra luggage to store while there and they had no problem accommodating me.
Camille
2014-11-21T00:00:00Z
Amazing guests and the treehouse is indeed inspiring. There is nothing like wooden floor! :)
Emanuel
2015-03-13T00:00:00Z
Brad and Becca's home was beautiful and very comfortable. They provided plenty of extra things for their guests including a white noise machine, which was welcome as I use one at home. Their map of Portland and places to eat is both beautiful and useful. Unfortunately, I did not get a chance to meet Brad and Becca (my partner and I were in town for a short overnight stay) but everything I needed was available and they were quick to respond to any messages I sent. Their friendly cat was there to welcome us and make us feel at home. I would gladly stay at Brad and Becca's home again, and would highly recommend it to others.
Tracie
2016-04-01T00:00:00Z
Our stay at Brad and Becca's place was excellent! The place is just as pictured -very charming and cozy. They provide everything for a comfortable stay. We only met Brad and he had great suggestions on places to go and explore. Highly recommend their place if you're travelling to the Portland area.
Eulisa
2016-11-16T00:00:00Z
The Treehouse was such a phenomenal and unique experience! By far the best time I've ever had in an AirBnB rental. You both were so accomodating and friendly.
Jaylina
2015-12-17T00:00:00Z
Room Type
Habitación privada
---
Property Type
House
---
Accommodates
4
---
Bedrooms
Portland, OR, United States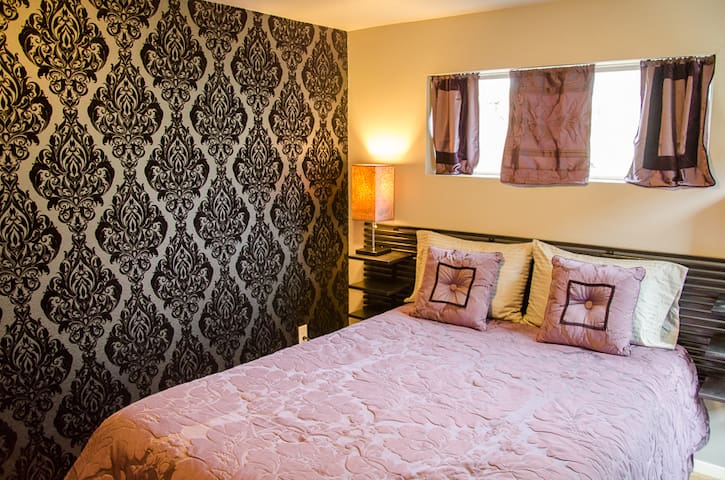 Nestled in the private backyard of our family home, a neighborhood hub. The round, rustic, romantic MudHut hides in a secret garden overlooking the St. Johns bridge and sparkling river, near Cathedral Park, Forest Park, downtown St. Johns, canoe and hiking trails... Firepit, permaculture gardens, loaner bikes, community life, view!
Our hut was handbuilt by family, friends, and community with great love and serves as a guesthouse, homeschool hut, sauna and sanctuary. Wood-heated and candle-lit, it's a tranquil, rustic sleeping space. I recommend staying two nights for an immersive experience in the relaxing atmosphere.
We're in St. Johns, Portland's northern-most neighborhood and a small town of its own with a strong community identity here. Many families here trace their roots back to James John, the pioneer founder of St. Johns who is memorialized all over the neighborhood. Downtown St. Johns is a few blocks away, with plenty of restaurants (Thai, vegan, soulfood, chinese, pub grub, pizza, deli, breakfast, coffee & gelato), an old movie theater and shopping (lots of vintage). Cathedral Park, three blocks away, is gorgeous and photogenic with access to the Willamette River and the awesome overhead presence of the gothic St. Johns Bridge that you can see from the hut. We're also close to a lot of natural areas for urban hiking and paddling. Forest Park, full of trails and old growth forest, is right across the bridge. Just north of here is Kelley Point Park, the confluence of the Willamette and Columbia Rivers; Smith and Bybee Lakes, a wetlands for birding and paddling; and Sauvie Island, with beaches, farms, nurseries, hiking, fishing, & birding. We're on the Pacific migratory fly-way, so lots of raptor action around here. Bald eagles, peregrine falcons and hawks swoop by regularly.
My boyfriend and I had a wonderful experience with the mud hut. The hot tub was great and we enjoyed the view. The mud hut was really warm and cozy with the use of the wood burning stove. We didn't get the chance to meet Ivy but her husband C was very kind and welcoming, he even shared some of his ginger brew with us.
Sheridan
2016-03-16T00:00:00Z
Ivy was a great communicator, very quick to respond to e mails and calls. When a last minute change in plans forced me to cancel my reservation, she was gracious and understanding.
Catherine
2014-03-06T00:00:00Z
Such an awesome place and creative idea. Cool atmosphere at night and a beautiful place to wake up with a view of the St. John's Bridge and flowering trees in the foreground. Thanks for your hospitality ivy!
Caroline
2014-03-31T00:00:00Z
a wonderful enviting and warm place to stay. i found myself loving the kitchen and the hot tub. the hut itself was so very comforting.
keenan
2015-11-10T00:00:00Z
This is by far and without a doubt one of the most whimsical and wondrous healing space and place to visit in the St. Johns. From the moment of arrival to the departure, I felt a sense of care, kindness and giving from the host and a tranquility of healing from the accommodations. This space empowered me and my partner, left us breathless and was a visually and sensory explosion that become vital capstone to the exploration of the place - Cathedral Park and the St. Johns Bridge.
Zed
2014-09-28T00:00:00Z
The mud hut was awesome! We enjoyed our stay and the location was wonderful for a view of St John's bridge. Ivy was very helpful and accommodating.
Emily
2016-05-29T00:00:00Z
My best friend and I were in town for just one evening and Ivy was kind enough to let us use her lovely mud hut! Spring is a perfect time to visit this little get away. The raspberries were ripe and tasty and the garden was alive and beautiful. Even though the evening got chilly, the hut was nice and toasty the whole night through without a fire. The futon was comfy and there was a cute wood stove for if the night became too chilly inside the hut. Ivy was a pleasure and her children are charming and sweet. There was access to the bathroom and shower in the basement of the house, we had access to the outdoor kitchen and hot tub, although we did not have time to enjoy these amenities this time around. We were a half block out of the Car2go border, so we were able to have a vehicle for use without having to rent a car. We just left it parked up the block and this was another plus in favour of Ivy's hut.
Angelina
2014-06-02T00:00:00Z
The Mud Hut is the perfect place to break free from the tech world. I actually spent my time reading from a hard copy fiction novel, face to face conversations with my son, looking at the beautiful world that Ivy has created, and eating delicious food during rest stops between exploring the Portland city. Ivy is a knowledgeable resource for activities and the best places to eat. My 22 year old son wants to have a home just like Ivy's. If you are looking for calm waters, this is the place to be.
Louisa
2015-08-27T00:00:00Z
Room Type
Habitación privada
---
Property Type
Earth House
---
Accommodates
2
---
Bedrooms
Portland, OR, United States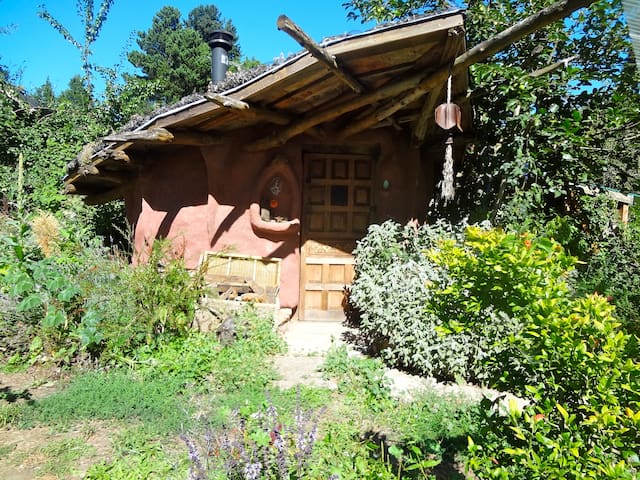 "This is Officially the Coolest Treehouse in the World" -Condé Nast Traveler Entire lower level guest suite with sitting room, bedroom, private bath, mini-decks, and endless views. A web search for "This is Officially the Coolest Treehouse in the World" leads to a short video of the residence.
Located in SW hills, one mile from OHSU near Council Crest. Three miles from downtown Portland. Entire lower level guest suite including bedroom with queen bed, private bath, sitting room designed for lounging with comfy long sofa and bench table for placing ones feet or coffee upon, mini-decks, and shared laundry room.
House resides within 175 acre Marquam Nature Park with miles of trails for hiking or running. Three miles from downtown Portland.
Loved staying at Lance's! Adorable kitty, amazing views, and a friendly host. Everything was perfect and as described.
Kiran
2016-08-26T00:00:00Z
I can't begin to speak highly enough of lance, and his home. Lance is such a great host and a funny guy, very kind and welcoming. He made us feel at home right away and told us some great stories. His cat bukowski is amazing too. The space is gorgeous and has a breath taking view. We would love to come back. We stayed for one night and it was amazing.
Alexander
2016-10-19T00:00:00Z
The Tree House exceeded expectations: Lance, our host, extended his wit, implacable taste and a telescope for us to view the Blood Moon eclipse.
Sean
2015-09-28T00:00:00Z
Lanced welcomed us in and the check-in was very easy whether he would have been there or not. Spectacular views and very, very clean!! Loved the tips on where to hike to watch the sunset. Enjoyed finding out about the history of his home. Fun time!!
Roberta
2015-06-29T00:00:00Z
The house was just as beautiful as listed. Lance was very welcoming and more than happy to suggest places to eat or things to do. The view the first night was breath taking- the city lights brightened the sky. The sunrise in the morning was perfect to wake up to. Overall this was one of the coolest places we could have stayed for my first trip to Portland.
Rachel
2015-04-27T00:00:00Z
Lance was a great host. The house had stunning views even with the gloomy weather during our stay. Lance gave us great restaurant recommendations and made us coffee in the morning. If you're in the Portland area and are looking for a cool place to stay this tree house is for you. It has everything you need and it overlooks the city which is only a few miles away.
Nelli
2015-11-17T00:00:00Z
My daughter and I had a great time staying at Lance's treehouse. Wish we could spend more time there. We will definitely come back to stay in the treehouse when we return to Portland next time.
Tina
2016-09-08T00:00:00Z
We really enjoyed our stay at Lance's treehouse. It is an architectural gem, with an interesting history behind it, and yes the view is Spectacular! Lance is a great host and so is his cat, Bukowski ;-) It was a real treat to experience Portland with Lance. We thoroughly enjoyed our time with him. We were definitely dragging out feet when we had to leave as the place is so magical.
Lynette
2016-12-04T00:00:00Z
Room Type
Habitación privada
---
Property Type
House
---
Accommodates
2
---
Bedrooms
Portland, OR, United States
Cute little Tiny House! It used to be our boys' fort when they were young, now it is a comfortable little retreat for adventurers exploring Portland!
Cute little back yard "granny flat" cottage located near Mt Tabor park in very desirable neighborhood! The cottage is "Portland Style" construction with excellent insulation (R30), new windows, etc.. Great host, free internet, parking, furnished living space that is quite private.. I absolutely love to cook (growing up my parents owned a restaurant), and a made to order hot breakfast is included! Menu items range from homemade granola, homemade biscuits, Lisa's secret-recipe-fried potatoes, and much more! The cottage contains an upstairs bedroom & sitting area. Note: There are steep stairs, so please take that into account if you have joint pain, etc... The QUEEN size mattress is new and comfortable. Downstairs there is a small kitchen with stove, microwave and under the counter fridge. Also downstairs is a full bath with ceramic tile shower. Coffee maker and freshly ground coffee provided in the cottage. Guests are welcome to use washer/dryer in main house. Guests have use of the back yard with fruit trees and some berries when in season. Also the cottage is within walking distance of Division street shops, Pizzicato pizza, the 52nd & Foster street Food Carts and much more. The # 4 bus is just a block and a half away, which can take passengers west directly downtown. The "(URL HIDDEN) app or website is easy to use & can help you get you anywhere from the airport, to downtown, to Powells Books, The Chinese Garden, and so on.
South Tabor Neighborhood is a quiet eclectic little neighborhood with many avid gardners, friendly neighbors, and gobs of dog lovers. We have community get-togethers, work parties, and holiday celebrations! If you are used to neighborhoods where no one knows each other or even speaks to each other this is definitely NOT the neighborhood for you :-D
We liked the cottage though it is quite small with a stairway to the upper level bedroom + living room. The bed was a bit narrow for two. Perhaps not ideal for tall, large people or those who don't like stairs. Lisa was very kind, helpful, and cooked great breakfasts!
lauren
2014-01-29T00:00:00Z
We loved our stay at the South Tabor cottage. Lisa and her family were lovely hosts and made us feel welcome right from the start. The cottage was clean and tidy and we loved having the fridge and kitchen area! And, Lisa's breakfast menu was amazing! The eggs benedict were fabulous and it was so relaxing to wake up and enjoy her cooking. Fantastic! The cottage is so cozy and we loved the windows upstairs. They let in so much light and we enjoyed reading and relaxing with a coffee in this beautiful neighbourhood. The cottage is near many places to eat and enjoy good coffee. We went for daily walks with our dog to the off leash park at Tabor mountain so this was a perfect location for us. We loved being away from downtown and more in the neighbourhoods of Portland where it was quieter and better for our dog. Great stay!
Melanie
2015-03-18T00:00:00Z
We loved this spot for our staycation
Jacque
2016-10-01T00:00:00Z
Lisa is a good host. She was prompt in responding to my questions, and was very flexible with my uncertain and late check-in. The place was very clean and comfortable, and was perfect for me. It is a nice, cozy spot in a very nice part of Portland, close to good cafes and restaurants. The cottage is in a good neighborhood, and was quiet. I highly recommend Lisa's cottage! Mark
Mark
2015-04-19T00:00:00Z
We all have a wonderful time stay with Lisa in South Tabor Cottage,The on demand breakfast is so Yummy. The location is good, safe,private and quiet, also you can take a bus to go anywhere in this town. We so happy to stay here and strongly recommend!
Sorachak
2016-04-08T00:00:00Z
Great service, great location and fun place to stay.
Adam
2016-08-21T00:00:00Z
We only had a short trip, and during that time, we were out early and back to the cottage late, but the place was exactly as advertised! Cozy upstairs loft with a SUPER comfortable mattress. We were sad we never got to sample her breakfast, but the Portland donut scene was too good to pass up. Definitely next time!
Micah
2016-04-26T00:00:00Z
We loved staying at the South Tabor Cottage. Lisa was very helpful and always at hand to offer advice, and the food she cooked every morning for us was delicious (try some of the homemade spicy green sauce!). The place was also very cozy, and we were there for some pretty unpredictable ice and snow, so it was a nice spot to hunker down for a couple days. It felt like a treehouse! And the bed/pillows made it near impossible to get up when there was a foot of snow outside our door. The location is very walkable, with quiet residential streets showing off some of Portland's charm, and taking our dogs to Mt. Tabor to run(with views of Mt Hood in the distance) was a really fun time. The cafe and pizza place within a 5 minute walk from the cottage are also delicious . We recommend the South Tabor Cottage to anyone! Lisa was a great host and the place is cozy and charming.
Cameron
2017-01-12T00:00:00Z
Room Type
Entire home/apt
---
Property Type
Bed & Breakfast
---
Accommodates
2
---
Bedrooms
Portland, OR, United States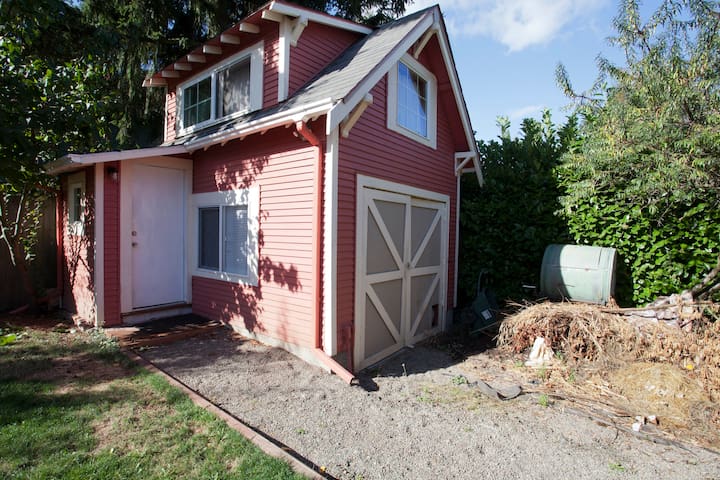 Bright, private studio-suite in beautiful Grant Park home. Excellent central location. 650 sq ft of private space. Queen-bed in main suite. Double-bed in adjoining dormer bedroom. Optional extra twin bed in the main suite to accommodate a fifth guest. Private, modern bathroom, bar, kitchenette, dinette and reading area.
The Funky Pad Suite has everything you need for convenience, privacy and comfort. - Main Room with Queen Bed, Sofa, Coffee Table and 40" HDTV with Cable (Digital Preferred/HBO/OnDemand). - Adorning dormer bedroom with full-size bed. - Kitchenette with small fridge, microwave-oven, traditional coffeemaker, french press and tea pot. - Foldout table and chairs for comfortable dining & work space. - Comfortable reading chair. Wet bar. - Bright, modern bathroom with skylight, vanity and shower. - Hotel quality towels - Hairdrier - Shampoo & bath gel - Iron & ironing board - Dinner & glassware - Portland destination media - Ample free parking right outside our door. - Main Room with Queen Bed, Sofa, Coffee Table and 40" HDTV with Cable (Digital Preferred/HBO/OnDemand). - Adorning dormer bedroom with full-size bed. - Kitchenette with small fridge, microwave-oven, traditional coffeemaker, french press and tea pot. - Foldout table and chairs for comfortable in-room dining / work space. - Comfortable reading chair. Wet bar. - Bright, modern bathroom with skylight, vanity and shower. -Hotel quality towels -Hairdrier -Shampoo & bath gel -Iron and ironing board -Dinner & glassware -Portland destination media -Free Parking right outside our door. I'm usually here if guests need me, and enjoy getting to know our guests. But I also offer complete privacy when that is preferred. The suite overlooks beautiful Grant Park, with outdoor swimming pool, tennis courts, play ground, walking paths and quarter mile track. There is a 24 hour QFC Supermarket just blocks away, and Whole Foods, Trader Joe's and New Seasons Market are all within minutes. There are many restaurants, bistros, bars and eateries within walking distance, including Shandong (Chinese), Sweet Basil (Thai), Nicholas (Lebanese), Cha Cha Cha (Mexican), Hale Pele (Tiki), and Pour Wine Bar & Bistro (Small Plates). Grant Park is situated in the middle of the outstanding NE neighborhoods of Irvington, Alameda, Beaumont, Hollywood and Laurelhurst. Alberta Arts, Oregon Convention Center and Downtown Portland are all just minutes away. Grant Park has a 98% walkability score. We offer Airport pick-up for $15 each way. (cab fare from our home ranges from $27-$36). Please make airport pick-up arrangements with us in advance. We offer bike rentals with helmets for $18 per day. There are bike paths that can get you to any part of the city from our Grant Park location. We have 4 bikes of varying sizes, which are all in perfect working order. We are right on the TriMet 77 & 70 Bus lines and a 15 minute walk to the Hollywood Light Rail Station. There are usually several Zip Cars throughout the neighborhood. Click on the Guidebook at the top of the page to see everything you can walk to in the neighborhood. We are looking forward to hosting you!
The suite overlooks beautiful Grant Park, with outdoor swimming pool, tennis courts, play ground, walking paths and quarter mile track. There is a 24 hour QFC Supermarket just blocks away, and Whole Foods, Trader Joe's and New Seasons Market are all within minutes. There are many restaurants, bistros, bars and eateries within walking distance, including Shandong (Chinese), Sweet Basil (Thai), Nicholas (Lebanese), Cha Cha Cha (Mexican), Hale Pele (Tiki), and Pour Wine Bar & Bistro (Small Plates). Grant Park is situated in the middle of the outstanding NE neighborhoods of Irvington, Alameda, Beaumont, Hollywood and Laurelhurst. Alberta Arts, Oregon Convention Center and Downtown Portland are all just minutes away. Grant Park has a 98% walkability score.
Paul greeted us and made us feel right at home. The place was comfortable, in a great location and had everything we needed for our stay.
Cindy
2016-07-01T00:00:00Z
Paul's place is lovely and he is very welcoming. The pad is well stocked and the beds are really comfortable. Ideal place to stay for a mini break in Portland.
Martin
2016-07-31T00:00:00Z
Great place, clean and comfortable
Huaxin
2015-12-10T00:00:00Z
Paul was a wonderful host. He was so understanding when we checked in quite a bit later than originally planned because of a delayed flight. The Funky Pad was awesome; we couldn't have found a better place for our one night stay in Portland. We'd love to stay again, and would highly recommend to anyone coming to the area!
Krissy
2016-03-05T00:00:00Z
Very nice apartment, practical, complete and cozy furnished. Paul is the perfect host, very friendly and helpful. Pleasant and safe neighborhood. Highly recommended!
Anca
2014-09-29T00:00:00Z
The house was very clean and looked exactly as the pictures portray it. Paul was very friendly and gave us plenty of recommendations for food. The house is right across from a park and only a short walk from a lot of restaurants.
Jesse&Ashlie
2016-07-27T00:00:00Z
I stayed in Paul's Funky Pad for 3 days and absolutely loved it! The pad has everything you need plus little conveniences that make it feel more like home. For example, there were fluffy towels, shampoo, conditioner & body wash, speakers with a connecting cord for your phone, and more! Paul makes great efforts to keep the place clean and comfortable, which I really appreciated. He also made himself easy-to-reach in case there are any questions about Portland, getting around, or anything else. The neighborhood is right next to Grant park, a truly charming and welcoming neighborhood. It was also nice that Paul's place is located so close to a lot of things: excellent dining, a 24-hour supermarket, and all the shopping on Broadway, plus it wasn't a bad walk to get downtown at all. I feel like I was very lucky to get this booking, and I would definitely seek the Funky Pad for my next trip to Portland.
Lisa
2016-03-18T00:00:00Z
Paul is an awesome host! You will never get this kind of service at a hotel. His advice Made this a great vacation. We only wished we would have brought the kids. The location is close to everything. It is clean and quite comfortable. You will love Portland.
cheryl
2015-03-15T00:00:00Z
Room Type
Entire home/apt
---
Property Type
Apartment
---
Accommodates
5
---
Bedrooms
Portland, OR, United States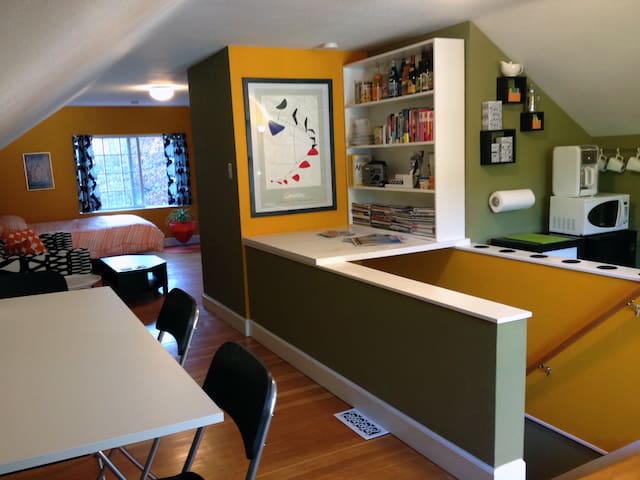 Tranquil space in a lush garden setting. This cozy guest house features a well equipped kitchenette and dining area, a relaxing L shaped couch that easily converts into a full sized bed. The bathroom window opens onto your own private patio for alfresco dining or a lazy afternoon in the hammock. Other amenities include a flat screen TV with cable and Netflix, WiFi, an iPod doc and stereo and a gas BBQ, Please also see our listing for the (EMAIL HIDDEN)e explore cool inner NE Portland, close to Alberta arts district and Mississippi Ave, its a short walk to some of the best bars and restaurants in Portland. 2 blocks to Whole Foods market or Irving Park and a 15 min bike or bus ride to downtown. Although you have your own patio the garden is a communal area shared with us and the Studio. We are conveniently located on 2 bus lines a 15 minute ride to downtown. the airport is accessible by max light rail or Taxi (about $25) Rental bikes available a few blocks away at Everybody,s Bike Rental and there is plenty of safe on street parking.
The hosts were great. Gave us great information on the area and the home. We loved the neighborhood and accessibility to the highways, restaurants (walking distance to many), etc. The tiny home was beautiful and the bed quite comfortable. So much better than a hotel stay!
Lara
2015-08-07T00:00:00Z
It was amazing! Perfect! I fell in love with Portland and thanks to this cute bungalow and felt right at home!! So cozy and quiet! Thanks you!
Jessica
2015-09-03T00:00:00Z
Perfectly placed and cozy spot! We had access to many bus lines and were able to walk around easily. Colin was very accommodating and polite. We enjoyed our stay.
Rogelio
2016-02-17T00:00:00Z
I stayed at the guesthouse with a close friend and we found it to be comfortable, quiet and convenient. It is a small but functional space that feels well maintained and cozy. We didn't get to meet Colin and Medina in person, but their check-in system works well and they were easy to get in touch with. We found the neighborhood to be beautiful: there are lots of trees and gardens nearby, and it is in walking distance of Alberta St which was one of our favourite parts of Portland. It has many cafes, a grocery co-op, a relatively cheap bike rental location, food trucks, etc. I would recommend it to people who like to have privacy and would like to stay somewhere that is more expensive than a hostel, but cheaper than a hotel.
Laura
2014-03-26T00:00:00Z
Amazing. I fell in love with this place from the pictures and I'm so thankful it worked out for us to stay here! Great location, great experience, perfect size and ambiance. Colin always seemed nearby in case we needed anything but their charming space was plenty. We hope to stay here again!
Karis
2016-08-18T00:00:00Z
The stay was enjoyable, and Colin made us feel welcome. The guest house is small and cozy but comfortable. The garden outside is a work of art, very beautiful. The neighborhood is great - walking distance to many restaurants, stores, and sights.
Andrey
2015-08-30T00:00:00Z
Overall, it was a good stay and a fantastic location for both the business and leisure purposes of my trip to Portland! I only met Colin during my stay. He was kind and helpful throughout. I'll summarize a few of the pros and cons below. Everyone has different preferences and sensitivities, so keep in mind that these are from my specific and personal experience (with hopes to help others who might be like-minded)! What I enjoyed: Plenty of hooks for hanging things out of the way Heater and A/C worked well Fragrance-free shower toiletries Lush landscaping Morning sun Prime location Recycling and composting Microwave and mini-fridge Generally quiet Personally not a fan of: Cob webs and dust Windows had been left open when I arrived at night Some little bugs inside Difficult faucet handles (not ADA-compliant, which I understand isn't required but think would be a nice touch for ease of use) Weak WiFi
Amy
2016-05-16T00:00:00Z
This was the perfect stay for our trip to Portland! Not too far from the city and located in a neighborhood with a lot of character and wonderful places to eat. We felt so lucky to be able to call this our tiny home for a few days.
rachel
2015-01-02T00:00:00Z
Room Type
Entire home/apt
---
Property Type
Cabin
---
Accommodates
2
---
Bedrooms
Portland, OR, United States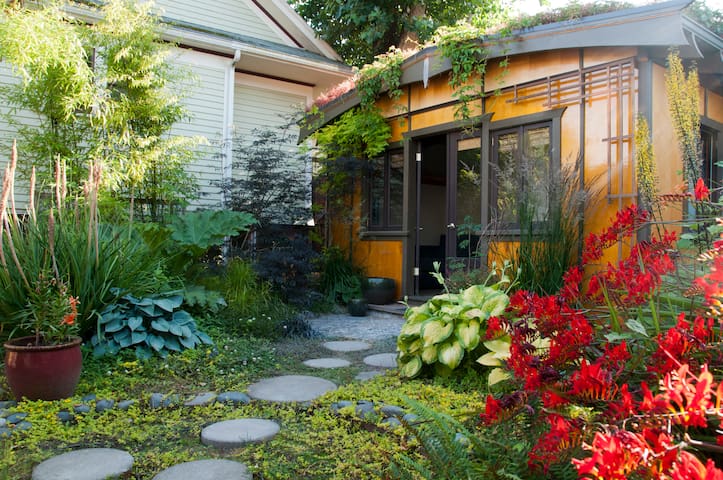 My house is close to light rail and bus lines in a quiet and secure area. Many restaurants, coffee houses and bars are within walking distance and there is a large grocery store nearby in case you need provisions. There are parks within walking distance as is the Adidas campus. My place is good for solo adventurers and business travelers. There is another bedroom that can sleep two and I have an air mattress available.
Unfortunately I didn't arrive in Portland in time due to flight delays and wasn't able to stay at Sheilah's ,but she kindly offered that I could come take a shower and use the kitchen in the morning if I needed to which was appreciated.
Michele
2017-03-02T00:00:00Z
I didn't actually make it in to Portland due to weather and travel problems. Sheila was really kind and even offered to discount my stay when I rebook in the future. I thought that was a really kind and thoughtful gesture.
Anna
2017-01-13T00:00:00Z
Sheila is such a helpful host! Her details for checking in, even if it's late, we're super clear. The bathroom for guests is great and even has items for if you get sick on your trip! It's not right downtown, but it is well-connected by bus.
Michelle
2017-03-20T00:00:00Z
This accommodation was very convenient to the yellow line of the MAX rail and I had a great time. I was struck by the amount of businesses within neighborhoods in Portland and this neighborhood had some really cool ones. I enjoyed the room and Portland and would happily stay again!
Ellen
2017-02-16T00:00:00Z
I was amazed at how friendly Sheilah was before I arrived. It was very quiet when I was there.
Rik
2016-12-02T00:00:00Z
The host canceled this reservation 5 days before arrival. This is an automated posting.
Alana
2016-10-30T00:00:00Z
Sheilah was great. We connected and had a nice chat when I arrived. She provides a guest book that really points out the many, many, local points of interest(food, bar, activities). I stayed 3 nights. The location was perfect for Max and freeway access. Tried the local sushi spot(Mio??) and Atomic pizza, and Bonita Mexican food, all good and walkable. The home and room are so clean and welcoming. The upstairs (where the guest rooms are) seems almost brand new. The layout is (URL HIDDEN) guest room to right the other to be left. Had my own thermometer/heater. Bedding and room close to immaculate!! So appreciated that!! The shared bathroom is super clean and nice. (Thank you for the disposable razor). I was sharing the bathroom with another couple in the room adjacent to mine although they we were right next to each other, I only saw them once and it felt like I had the place to myself. Totally recommend this room and Sheilah is lovely host(eww).
bobby
2016-11-14T00:00:00Z
best choice for trip comfortable and convenient place!
Kyu Taek
2017-01-15T00:00:00Z
Room Type
Private room
---
Property Type
House
---
Accommodates
1
---
Bedrooms
Portland, OR, United States
The Vic was built in 1896 and has a lot of old Portland charm. The room is very comfy and perfect for couples or solo adventurers. The Vic is located within walking distance of Coffee shops, boutiques, and restaurants. There is a bus stop 2 blocks away and downtown is only 5 minutes via car. Two small friendly dogs are occasionally in the common areas although never in AirBNB rooms. They are both low and no dander.
Furnished room includes a comfy bed, small sofa, desk, T.V. and clean linens, in a charming apartment building close in to downtown and a few blocks from trendy 23rd Avenue.
The NW Alphabet District has all kinds of wonderful shops and restaurants. There is a lot of hustle and bustle going on around here...
A very beautiful, well appointed little place in an unexpected location, easily reachable by busses (15 and 77) and streetcars passing close by a wide array of restaurants and the shoppers paradise of 23rd street.
Paul
2017-03-02T00:00:00Z
While not in a traditional neighborhood, Toney place is ideally situated to explore the trendy NW 23rd area with all of it's great shops and restaurants. It is also well positioned to all major freeways for quick travel.
Stan
2017-02-16T00:00:00Z
I had a great stay in Portland, Toney and Mimi's place was clean, easy and quiet! Recommended!
Ryan
2017-04-04T00:00:00Z
These guys rock! The place was incredibly comfortable and I found everything I needed. I checked in late and had no issues with parking, the lock box and I definetly had no problems with the snacks and fruit :-) I really appreciated how comfortable they made the place. They are pros! I stayed for only a night but im sure if I stayed longer this would be the place!
Mihai
2017-03-20T00:00:00Z
Great place, would stay again!
Dustin
2016-12-23T00:00:00Z
Great place! The room was perfect, there were snacks in the kitchen, and extra toiletries in the bathroom. Perfect for a Portland getaway or a stay for families or business. Highly recommend! Quick uber or drive to any area in Portland.
Jillian
2016-12-27T00:00:00Z
Like staying with old friends in a new town. Super convenient walk to coffee shops and restaurants. Most comfortable bedding ever experienced anywhere.
Kristopher
2017-03-25T00:00:00Z
This place was sweet!! Of the airbnbs I've stayed in, this one was by far the best equipped. Everything from bath towels to kitchen utensils/tools was there. Furthermore, everything was well kept, clean, and organized. I would highly recommend this spot to personal friends looking for a great place at a very fair price.
Aaron
2017-03-05T00:00:00Z
Room Type
Private room
---
Property Type
Apartment
---
Accommodates
2
---
Bedrooms
Portland, OR, United States
We're in the heart of the city in Portland's historic Portland Heights neighborhood. Unique quiet location that is 5 minutes from OHSU, Portland State, Downtown, 23rd Avenue, and the Pearl District. You have your own private entrance and patio with the spacious suite offering many amenities including private bath, fireplace, WiFi, premium TV and continental breakfast. No full kitchen, but microwave, toaster oven and electric kettle are provided. Easy parking.
This private suite is accessed via a patio directly from the street.
Near Oregon Health Sciences University and Council Crest Park. The park has great views and hiking trails that connect to downtown and the Oregon Zoo. Downtown and NW 23rd Avenue are just 5 minutes away by car.
Elizabeth was kind and helpful, she had great resources available from restaurants, to maps, and transit information. Every time I looked for something, it was right where I was looking. She thought of everything, and had many amenities that made this the best place we've stayed. I would fully, wholly recommend booking here. I can't wait to come back!
Dania
2017-02-18T00:00:00Z
Cute home in a very cute neighborhood!! I loved how close enough it was to downtown Portland and yet it's just far away to get out of busyness of the city. Elizabeth was very gracious and was an amazing host! There is no doubt that I will book with her again!
Aveena
2016-11-20T00:00:00Z
Beth was such a lovely host! The place looks exactly like the photos and she even had snacks and water for us to enjoy during our stay! We had a rental car and the location of her place was close to downtown Portland, maybe 10-15 mins. I would recommend staying at her place if you're planning a trip to Portland!
Alice
2017-02-14T00:00:00Z
This place was absolutely gorgeous, and plenty of space for just my boyfriend and I. It was very neat and clean and smelled lovely, it had a very homey feel. The host had just about everything you can think of just in case you forgot to pack something, and im sure if there was something extra you needed Beth would help as best she could! We didnt use the host for places to explore or eat (we kind of wanted to adventure on our own) but there was a list of places left on the table, and Beth would be available to help you out with that too! Such a great location too, we had our own car and almost every thing we wanted to do was just minutes away. This place was amazing and in such a beautiful area.
Holly
2017-03-27T00:00:00Z
Located in a lovely, quiet neighborhood surrounded by beautiful homes so you can escape all the traffic/city noises but still a VERY short drive to everything. Beth's place is very cozy, warm and inviting. She even provided snacks and refreshments. When a couple of questions came up she responded very quickly. Had an amazing stay here. We hope to be back soon.
Edna
2016-12-03T00:00:00Z
This is an extremely comfortable and well appointed room. If you want to stay 10 minutes outside Portland and want to enjoy the quiet and scenery of the hills, this is a perfect option.
Garrett
2017-02-11T00:00:00Z
I booked a stay at the "Suite Retreat" with a friend. It was the first time to Portland for both of us. Beth always responded to all of my questions right away. Once we got there, she was very hospitable but gave us our space, which my friend and I appreciated. The place is cozy and clean. Another plus is that it is a quick Uber ride from the downtown area. I would definitely stay there again!
RaeShawn
2016-12-12T00:00:00Z
My cousin and I loved this small place in Portland Heights! It was so cute and comfortable. Elizabeth provided different amenities (snacks in the fridge included!) and info about Portland. Because we arrived during the time it snowed, it was a little tricky with a rental car. We ended up taking uber and lyft and letting the drivers know about the hill. Everything worked out in the end. We definitely want to stay here again!!
Jennifer
2016-12-18T00:00:00Z
Room Type
Entire home/apt
---
Property Type
House
---
Accommodates
3
---
Bedrooms
Portland, OR, United States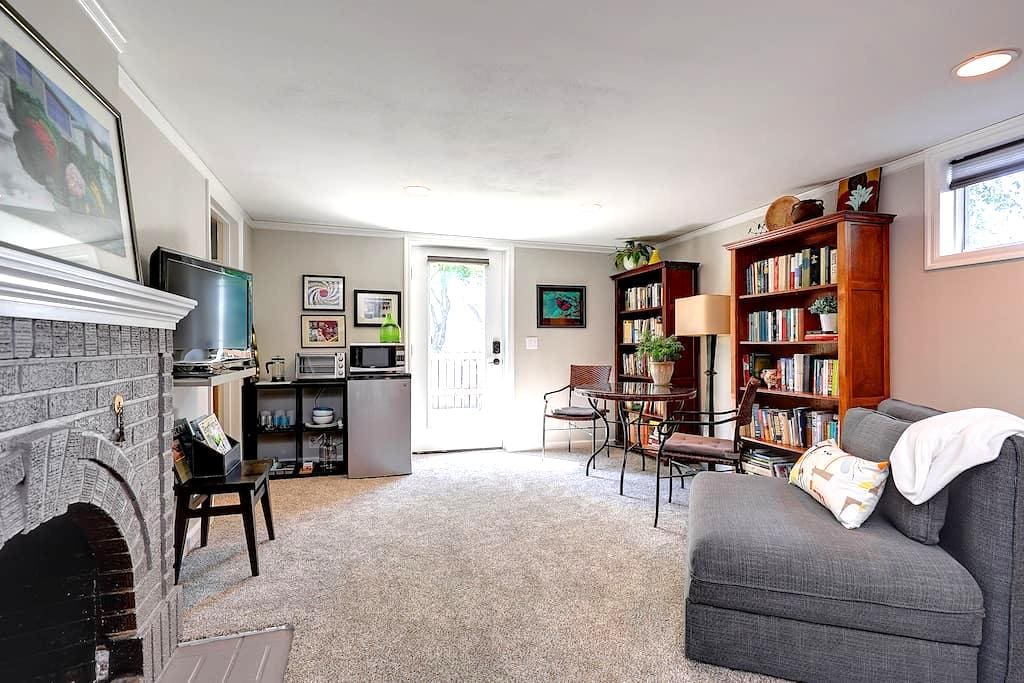 Stand alone mother-in-law apartment, brand new, bright and quiet. Close-in in Portland's Buckman neighborhood. Sleeps 2 comfortably. Amenities include free wi-fi, cable, w/d, full kitchen. Garden available to use. Near restaurants, wine bars, shops, bus line, Whole Foods. Portland at your doorstep!
Buckman is a close in SE Portland neighborhood which is an increasingly popular place to live. The apartment is at the eastern end of the neighborhood. There are parks, a picturesque cemetery, good restaurants, wine bars, craft brewing pubs and the Laurelhurst movie theater, all within walking distance. The #15 bus line runs to downtown on the other side of the cemetery (6 blocks). A little further afield (just over a mile) is the Hawthorne district where there are some off beat shops and more places to eat and drink. Downtown is 2 miles away. The apartment is part of a new build and is situated at the rear of the property next to the garden It is one story up (over the garage) and receives a lot of natural light. It is fully self-contained, all appliances are new which makes self-catering very easy. What it lacks in history it more than makes up for in convenience! Buckman is pretty close to downtown while still having a residential flavor. It also contains a number of agreeable restaurants, wine bars and brewpubs. Everyday shopping needs such as grocery stores are also well served. Additionally it is pretty easy to get to the major freeways for travel purposes. Buses run to downtown and back a few blocks over.
Buckman is pretty close to downtown while still having a residential flavor. It also contains a number of agreeable restaurants, wine bars and brewpubs. Everyday shopping needs such as grocery stores are also well served. Additionally it is pretty easy to get to the major freeways for travel purposes.
We never met in person, but Cara and her husband left a bottle of wine and a thorough guide to Portland for us in the tidy studio. The place was just as described, and a nice private getaway.
Alessandra
2015-08-07T00:00:00Z
We couldn't have been happier with the suite, the location and the city. Cara and Roger are fantastic hosts. They thought of everything to make the suite comfortable and convenient. We look forward to returning to Portland and staying with them again.
Renee
2016-07-12T00:00:00Z
We had a wonderful experience at this Airbnb and it may be our favorite Airbnb rental of all time! We could seriously live there: Cara's place had everything we could want or need! She used the space so wisely in the studio and it feels large and open, very comfortable for a couple to stay in and the bed is amazing! The pictures are 100% accurate. Communication was wonderful and cara provided us with detailed instructions that were very easy to follow. There was ample street parking which was not a problem. The location was great, very cute neighborhood and we felt very safe. It was only a 10 min drive to downtown area. Cara left a notebook with information on suggested restaurants, etc which was very helpful. Although we didn't get a chance to meet cara, she made sure we arrived safely and gave us our privacy. I would say if you're visiting Portland: stay here!
Erica
2016-09-07T00:00:00Z
The studio was one of the best Airbnb's I have stayed in. It was located to a lot of good restaurants and within walking distance to Division and Hawthorne. The space had everything we needed and was very clean and modern. Overall a great place that I will stay at again
Yoann
2016-11-27T00:00:00Z
The apartment is really nice and equipped. We really enjoyed our stay as it felt right at home. Cara is very friendly and accommodating to our extra Request for late check out. We will definitely go back again!
Ai
2015-06-01T00:00:00Z
Cara and Roger were excellent hosts. Their very private, fully finished, oversized studio loft had every amenity. Local wine and coffee were complimentary. They thought of everything! Towels, soap, shampoo, laundry facilities, tv ready with AppleTV/Netflix, clean linens and extra blankets. There were even two umbrellas available for use to keep us dry in Portland's wet climate. There was a steamer and ironing board available too. The studio is fully equipped with a modern kitchen and accented with lovely recessed lighting. The bed and pillows were extremely comfortable. Cara and Roger left a plethora of pamphlets of ideas for activities in Portland. Some were even within walking distance! We were grateful for the independent thermostat that allowed us to control the indoor climate. We also liked the security of the key code lock mechanism on the door. Our only regret was that we couldn't stay longer. We will definitely book with them in the future! Thank you!!!
Paige
2016-10-21T00:00:00Z
Cara's place is a sterling example of what airbnb can be at its best. The place was spotless, location was great, and her personal touches were so welcoming. She left a little bottle of wine, made certain all amenities were included, and left a nice little booklet that helped orient us to both the place and Portland in general. The washer and dryer were really nice to have as well. We couldn't stop talking about how much we loved the place, and we were so sad to leave it. But we are already planning our return to Portland, and we're hoping to make Cara's "cozy little apartment" (which is actually quite spacious!) our temporary home again!
Robert
2014-06-03T00:00:00Z
Cara and Roger's place was perfect. The space is clean, comfortable, private, and extremely well-equipped; the neighborhood is adorable and has tons of lovely cafes and shops within walking distance (I had the vegan oatmeal of my dreams at Canteen... for those of us who dream about vegan oatmeal...); and Cara and Roger were easy and accommodating hosts. I would happily stay again.
Rae
2016-10-31T00:00:00Z
Room Type
Entire home/apt
---
Property Type
Apartment
---
Accommodates
2
---
Bedrooms
Portland, OR, United States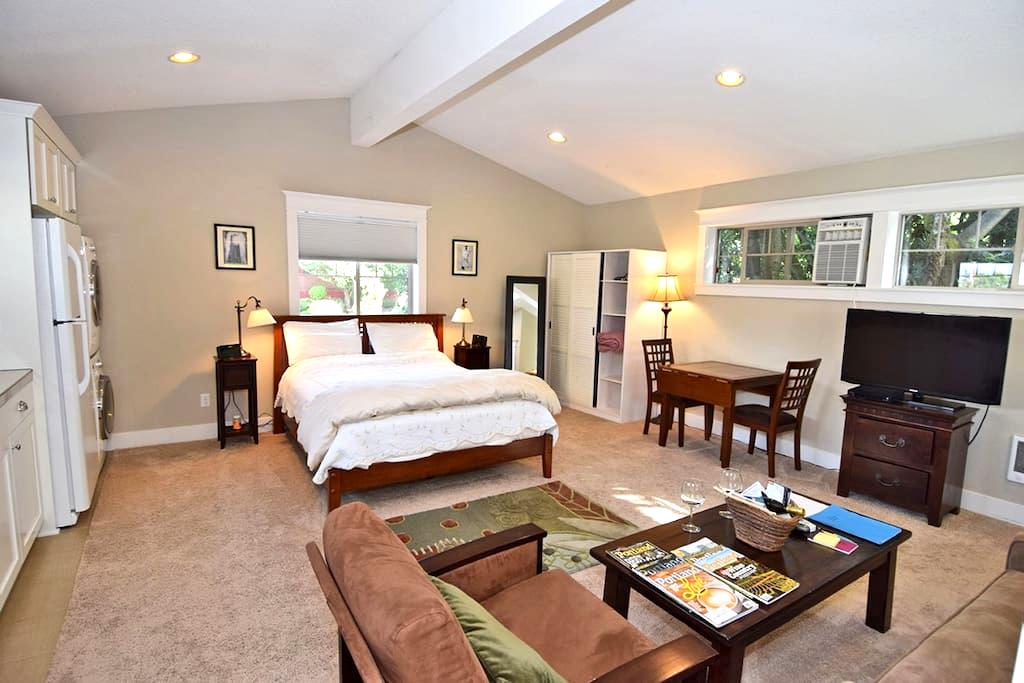 An urban getaway with private entrance, bedroom, bathroom, and kitchen. Lots of windows that overlook patio and a spacious backyard with beautiful fruit trees. Quick access to I-205. Easy walk to downtown buses (30 minute ride).
A rare find! This cozy apartment has all the comforts of home. After you come through the side gate, you'll notice the covered patio welcoming you to your home away from home. A great place to relax outside. You'll access your apartment with a key-code lock (code given upon registration). Bedroom has queen bed (new mattress!), full closet with shelves for storage. Bathroom has shower with tub. We provide complimentary bath products and a hairdryer for your use. The eating area looks over the backyard. Kitchen amenities include full sized fridge, stove, sink, microwave, coffee maker, hotpot, and granite counter tops. There are plenty of pans for cooking and table service for four. We provide a few breakfast items to help you get started. We have had friends and family live in this unit for short visits and long stays - and either way they have felt at home and comfortable in this great space.
Just a few short step from the front yard is Essex Park, a lovely place for a short evening walk. We live on one of Portland's bike boulevards so you can bring your bike and easily get around Portland. Should you need to pick up a few amenities we are a four block walk from stores like Walgreens, Walmart and Fred Meyer (grocery store, about a 15 block walk). Many standard eateries are in this same area. A little farther afield, but still an easy walk is Portland Mercado with fun food carts and dining choices inside and out under the tent. The neighborhood is a great mix of family homes and conveniences. We love living here. The Foster-Powell neighborhood is an undiscovered gem - which means you save money and get the convenience you're looking for. We think you'll enjoy your stay here.
Tim has a very cute, very practical little apartment attached to his house. It's out of the busy streets but still conveniently located.
Marine
2016-09-05T00:00:00Z
Our stay at Elizabeth's place was great. She was so accommodating, even let us in hours before check in time. It is a little attached mother-in-law unit at the back of the house, with a private entrance. It is connected to the main house by a locking door. There is a tiny little kitchen, a breakfast bar, a large bedroom with plenty of closet space, and a bathroom. Everything we needed was there, and nothing we didn't (such as clutter). It was furnished with nice linens and towels, and very clean and crisp. About a 10 minute drive to the Hawthorne district, about 5 minutes to a food truck grouping, and a few minutes from the freeway. Great value, I would rather stay here than a hotel!
shea
2016-07-10T00:00:00Z
Cute, cozy accommodations with a great kitchenette!
Sean
2016-10-16T00:00:00Z
The apartment was easily accessed via side gate and key pad access. Elizabeth and Tim had some fixins' in the fridge which was greatly appreciated. The kitchen and full size bath was greatly appreciated. The left front the eye of the stove didn't work which made cooking difficult. The oven also runs over temp so a pizza was killed on this trip. Utilize Uber to get around as traffic was congested and (SENSITIVE CONTENTS HIDDEN) maps seems to have given up.
stacy
2016-12-08T00:00:00Z
Elizabeth and her husband gave us an orientation on the area and welcomed us to a very nice stay. Their unit is set up right next to the house, and is private but readily attached. The place was very comfortable, and definitely difficult to leave after a nice stay. Strongly recommend; great value in Portland with nice people.
Anant
2016-01-06T00:00:00Z
Timothy was a very welcoming and responsive host. Upon arrival, we had a little issue with the dead bolt, we called him - didn't even take 3 minutes till someone came and helped us! That is great communication and service!! There was food, milk, juice and other stuff in the kitchen for us to get started, great!! We hope to come back!
Lena & Matthias
2016-08-26T00:00:00Z
Short but sweet stay! We walked to the Portland mercado and enjoyed some great food
Jose
2016-09-08T00:00:00Z
What a great place! It had everything we needed and then some. Upon arriving, it was very simple to get into the place and plenty of parking on the street. When you walk in, you enter the kitchen to get to the bedroom which then leads you to the bathroom. The place is clean and well-kept! She even provides milk, OJ, cereal, eggs, bagels, etc for you to have like a true B&B! It was a cute touch! She really goes out of her way to make you feel at home and comfortable and that is greatly appreciated!We are more private people when we travel so we opted to close the connecting door and only ran into Elizabeth once. It was great meeting her as she is very friendly though! For the price, the place just can't be beat if you're going to have a car anyways! It is about 20-30 minutes to the downtown and shopping areas, but well worth the distance! Very cozy!
Katie
2016-05-06T00:00:00Z
Room Type
Entire home/apt
---
Property Type
House
---
Accommodates
2
---
Bedrooms
Portland, OR, United States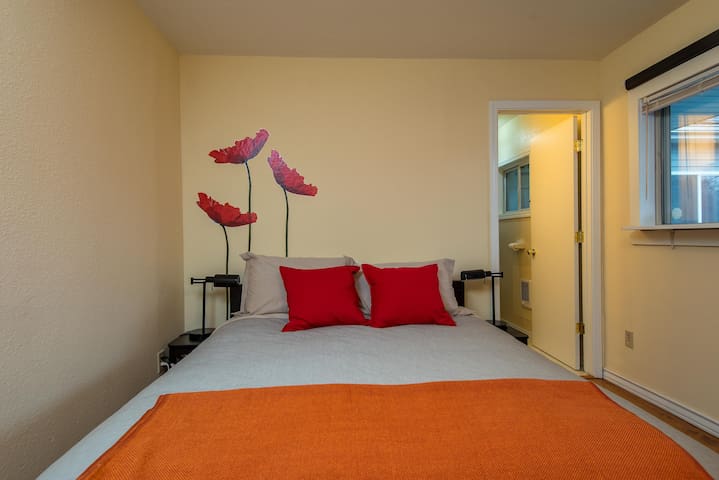 Take a trip back in time in a historic 1881 sailor's hotel! The bunk room is co-ed, with 8 triple bunk beds. Custom built, they include free ultra-high speed wi-fi, reading light and charging outlet, privacy curtain, and lockable built-in storage.
The bunk room has been created as a nod to the hotel's creation as a safe place for sailors. You'll find the same thing in this space with 18' ceilings- cozy, strong, and comfortable triple bunk beds. Each bed has a wide, sturdy ladder to access the bunk. Inside the bunk you'll find a storage locker to stow valuables (bring a lock with you), a charging station for electronics, and handy reading lamp. Thick canvas curtains provide privacy. 3 private baths in the mezzanine above the beds are available, as is a small kitchenette with fridge storage for leftovers, fresh cold and hot water, and a sink. There's a common area below to meet other travelers, and a bank of lockers for your bigger bags.
Old Town/Chinatown is the historic heart of Portland. It's our Ellis Island, where immigrants of all stripes first came ashore, just a few blocks away at the river. Now you'll find festivals, the Saturday Market, music shows and clubs, restaurants, art galleries, and shopping, all within a few blocks of our location.
They were very nice and welcoming and offered to hold my luggage while I go walk around the city after I checked out.
Raed
2016-07-08T00:00:00Z
What a fantastic and truly special hotel. Anytime I visit Portland in the future, I will make it a point to stay here. I was totally impressed by how clean the whole place was and how friendly and helpful all of the staff was. These guys are great!
Laura
2017-01-22T00:00:00Z
Good service and staff. If i go to portland i will stay here again.
雄次
2016-12-31T00:00:00Z
The Society Hotel is a great value and the hotel is very nicely done, but the staff is what makes this place fantastic. The genuinely want visitors to have an enjoyable stay, and it shows.
Gervis
2016-12-27T00:00:00Z
This is a great option for someone looking for a quick overnight stay at a location close to major transit routes. The privacy was great, and I would definitely recommend trying to get a 3rd level bunk (that's what I did).
Nathan
2017-01-17T00:00:00Z
Wonderful experience. I've also stayed a couple nights at a hostel & I can easily that the accommodations were far better here. Bathrooms were VERY clean. Beds were cozy. I hadn't seen bunkbeds stacked three high before and I thought it would suck but it grew on me quickly. What was also really fuggin awesome was that they had a coffee shop / hang out spot with a fire place. It wasn't in the cleanest part of town but it's close to a lot of good stuff.
David
2016-01-22T00:00:00Z
This was perhaps the best hostel I've ever stayed in. it was clean, well organised, modern, thoughtfully set out ( free shampoo, shower gel etc) with great staff! Even though the rooms accomodated 10+ people it still felt private due to the well kept bedside areas!
Freya
2016-07-27T00:00:00Z
The staff were all friendly and welcoming. This was my first hostel-esque experience and I would recommend it to anyone traveling by themselves; I made new friends with my bunkmates and the accommodations were awesome. Portland is a very walk-able city, and this location was central to everything I wanted to see/do. Great value all around!
Heather
2016-08-23T00:00:00Z
Room Type
Shared room
---
Property Type
Other
---
Accommodates
1
---
Bedrooms
Portland, OR, United States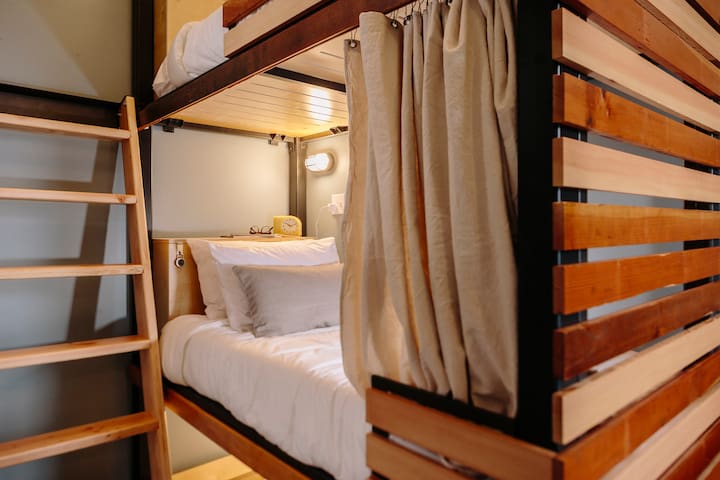 Enjoy the historic character of this 100 year old building with close proximity to parks, coffee shops, restaurants and bars. Situated in the vibrant NW 21st/23rd neighborhood and walking distance to the Pearl, Streetcar line and the MAX.
*Exposed brick wall and original hardwood floors throughout *Bright interior and large windows overlooking vibrant NW 21st *Historic character including large built-ins, crown molding and clawfoot tub
An abundance of restaurants, bars, boutiques and coffee shops are at your doorstep! A list of my favorite spots will be available upon booking.
Maggie's unit a great choice for couples,independent kitchen/comfortable living room/free parking permit. Lots of restaurants and hot shops.Maggie is a good guide easygoing and warmhearted.
Avil Zhang
2016-11-20T00:00:00Z
Charming, classy & comfortable describe this conveniently located condo which looks exactly as portrayed in the pictures. It's in a perfect location near restaurants shops & the streetcar. Maggie, was very attentive & responded to my questions immediately. She went out of her way to make sure my stay was as enjoyable as possible. Maggie was a stellar host, it was my best Airbnb experience thus far! Thank you :)
Melanie
2016-10-20T00:00:00Z
The apartment is very stylish in a vintage building that has been very well kept up. My wife and I were there for 5 weeks and we managed very well. Maggie left us the dresser and a large closet so there was lots of storage and room for our suitcases. The kitchen was very well equipped. Full size fridge, oven, dishwasher. Good selection of dishes, cookware. The bed was very comfortable. We didn't notice in the pictures that there was no table and chairs but we adapted the desk to our dining table. The neighborhood is great. Restaurants, bars, walk to Trader Joe's and Fred Meyer, walk to downtown. We really enjoyed our view of 21st street - always people moving. we would recommend this condo for anyone wanting to come to Portland and stay in the middle of a great neighborhood.
Kent
2016-12-28T00:00:00Z
We had a great time in Portland, Maggie could not have been more helpful, the accommodation was just as stated, Maggie took the time to go through all the amenities, and local places to visit. The apartment location was ideal. The beds was most comfortable, lovely crisp bedding. Coffee and other staples were very appreciated! We would not hesitate to return.
Heather
2015-11-09T00:00:00Z
Maggie was a wonderful host ! She was very helpful in every way. The place is lovely, clean and cozy it has everything you need , feels like home. Restaurants, shops and supermarkets are close by !!! I'll definitely come back !!! Love it .
sandra lorena
2016-01-11T00:00:00Z
Maggie's condo is the perfect Portland spot. It is in walking distance from all the amazing restaurants and shops on NW 23rd and only a 10-15 minute walk from the Pearl District. The condo has an amazing amount of charm. The high ceilings and wood floors make it warm and inviting. The kitchen is a good size and is equipped with all the basics. The layout of the apartment makes it seem much larger than it looks in photos. Maggie was extremely easy to communicate with and responded within minutes to any questions I had. I would recommend this wonderful place to anyone wanting to experience everything Portland has to offer. I had an amazing stay and would definitely return.
Brittany
2016-08-01T00:00:00Z
Room Type
Entire home/apt
---
Property Type
Condominium
---
Accommodates
3
---
Bedrooms
Portland, OR, United States
Old world charm with modern amenities. Full kitchen with dishwasher and washer/dryer in unit. Free wifi for guests. This apartment is located dead center between The Pearl and Nob Hill. Very walkable neighborhood, close to Providence Park field (formerly Jeld-wen feild, Streetcar and Max! You are a five minute walk from anything in the Pearl, Downtown or NW 21st and 23rd Ave. Going to a show? Crystal ballroom is nearby. Going to a Timber's game? The field is a few blocks away. Prefer to stay in? Whole foods Market is blocks away and you have a fully equipped kitchen! There is a LOT in a very close proximity to this place. If you have any questions I encourage you to send me a message. We hope to see you soon! This place makes people feel like they have a home away from home. PLEASE TAKE NOTE: These are some of the most commonly asked questions, so please take the time to review them before requesting a stay. Q: Is it close to public transit? A: Extremely. If you are flying, take the MAX Red Line from the airport to Jeld-Wen field (just a few blocks from the apartment). Visit the Trimet website for more information, they have awesome trip planning tools. Q: Is there parking? A: Street parking is available. It is permit regulated, we provide the permit in the apartment. Simply display it in the rear window of your vehicle and you can park it on the street for a few hours or the length of your stay. You can always usually find parking within a couple blocks, but be mindful of hydrants, loading zones, etc. Q: Are there walkable cafes, grocery stores, restaurants and bars? A: This apartment is in the center of a very lively area. Please check out the map tab at the top of the listing for some of my recommended spots in the neighborhood. There are hundreds more though, so check out Yelp as well.
I really enjoyed my stay at this Portland studio. The marble bathroom and the french-themed kitchen are nice touches. It is convenient to the Pearl district and also has it's own lovely neighborhood worth exploring. I would easily and happily return here.
Paul
2014-08-13T00:00:00Z
Location could not have been better. Walking distance from everything downtown Portland! Studio fit our needs perfectly! Thanks for the great stay Brad.
Adam
2016-04-18T00:00:00Z
Well located beautifully furnished apartment with clean facilities. Only 5 mins walk to heart of pearl district, Powells books etc. Parking permit was great and we parked right outside the apartment.
Hannah
2015-07-30T00:00:00Z
Location, location, location! The place was easy to find and all of the instructions Brad provided was spot on. Most of the restaurants, breweries, and bars we wanted to check out were walking distance, and we had an awesome time. We flew in early in the morning and check-in wasn't until 4pm; however, we were able to drop off our bags after the last tenant had checked out. That really helped us, not having to carry our luggage throughout the day. Also on a side note, Enterprise rental is right next door to the place, so we were able to rent a car for one day to go hiking and do some outdoorsy adventures. There is a parking permit in the condo which allows you to park on the street, should you have a car. Check out Brewcycle-- it's a local brewery tour on a large bike, pedal-powered by 10+ people. That was the most fun thing we did the whole weekend! Brad's place is clean, well-kept, and super cute, and definitely will stay again when I go back to Portland :) Thanks!
Yukiko
2016-06-06T00:00:00Z
Great location! Never having been to Portland before, we didn't really know where a good area to stay would be but this was perfect! The apartment had everything we needed and then some. We loved that parking was easy and we were right next to the food scene. It was very clean and we liked that there was an elevator. We would definitely recommend this place to our friends.
Donna
2015-01-21T00:00:00Z
This was the perfect studio for Our visit. Location was great, Brads recommendations for Restaurants/bars were perfect, And the place was so cute!!
Jo Ellen
2014-10-07T00:00:00Z
Brad was easy to communicate with and flexible on our arrival time which was tremendously helpful. The place itself was so cute and so cozy, great downtown location. While it was closer to the freeway than I liked to be, the location was very walkable, the room had a lovely view(through the trees, probably less so when they're fully leaved!), and had minimal to no interior noise.
Lauren
2016-11-04T00:00:00Z
This studio really deserves its name! It is very charming and you can feel that the owner paid a lot of attention to details. Also, it is located right between downtown and the japanese garden, so they are both in walking distance. The apartment was exactly as presented in the pictures. Washing machine and dryer were extremely convenient, kitchen was fully equipped and the bed was very high but also very comfortable. A big plus: on the opposite side of the street is a car rental place, which can be very helpful if you are planning to make trips to the Coast. Brad was very easy to communicate with. We found the apartment building as well as the keys right away! Thanks a lot!
Lisa
2014-01-11T00:00:00Z
Room Type
Entire home/apt
---
Property Type
Apartment
---
Accommodates
2
---
Bedrooms
Portland, OR, United States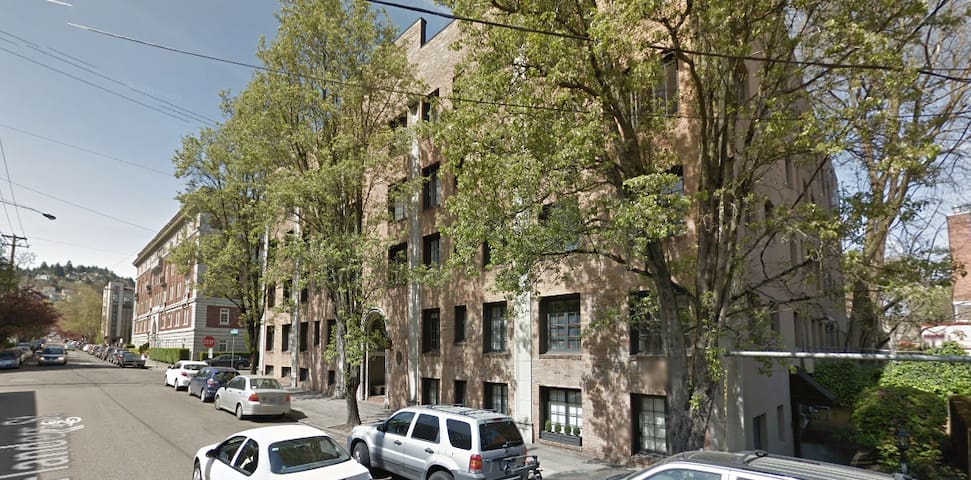 Stay in our quirky, cozy home in the historic Brooklyn Neighborhood! It's off the beaten path in a good way, but very close to downtown and right on the MAX Orange Line. We are a queer couple in our 20s plus an adorable dog and cat! Pot friendly.
This is a fun house with three other bedrooms besides yours, two of which are also listed on Airbnb. The room is on the second floor and is medium-sized. The bed is a very comfy queen size pillow-top mattress on a platform bed plus four pillows, with all cotton linens. The room has a dresser and a closet with hangers for your clothes. There's also an upholstered chair and side tables, as well as a fan. There are two full bathrooms at your disposal (one on each floor) and you are welcome to use either one - towels, washcloths and hand towels are provided upstairs, as well as hair dryer, shampoo, conditioner, soap and body lotion.
Brooklyn is our favorite Portland neighborhood! It has a definite off-the-beaten-path feel while still being very close to downtown and other more trendy/crowded neighborhoods (like Division, Hawthorne and Sellwood). This neighborhood really is remarkably undeveloped and "undiscovered" for how close to downtown it is. It's mostly residential with lots of cute old houses and families, some small businesses, and, across the tracks, a commercial/industrial area.
Leah and David's place was beautiful and well-kept. The room was spacious and full of light. I found the bed to be very comfortable. Though I was only around briefly, when I did see Leah and David they were very friendly. I would recommend staying here.
Danielle
2016-06-04T00:00:00Z
Thank you Leah and Davie for being wonderful hosts on our mini weekend getaway! The space immediately felt like home as we were welcomed with keys ready for us with a note with instructions on how to check in but luckily we were greeted by the hosts themselves and their super cute dog - Winston. As promised our room was ready by 3 PM and it was very clean and the bed exceeded our expectations - it was super comfortable. Our belongings stayed safe and sound in our unlocked room and the wait for the shower wasn't an issue as they have two bathrooms. I appreciated the extra supplies that were provided as we packed light (hair dryer, q tips, lotion). We visited tons of restaurants and hit up 3 shopping centres and an outlet in Woodburn - the location was perfect. Thanks Leah and Davie! :)
Andrea
2016-11-15T00:00:00Z
The host canceled this reservation the day before arrival. This is an automated posting.
Stephanie
2015-10-30T00:00:00Z
Amazing. Bathroom was super nice. Bed had a fan and A/C and was very comfortable. Winston the dog is a boss. Leah and David were super chill and accommodating. Great people,great place.
Daniel
2016-07-13T00:00:00Z
Leah and David's place was perfect for our one night in Portland. With it being located right outside the Eastside, it was a short drive away from many wonderful restaurants, bars and coffee shops. Their were two other rooms occupied by Airbnb guests, but everyone kept to themselves. The house was clean, cool and comfortable. Lastly, getting welcomed by their dog Winston was a perk! I would highly recommend this place.
Vanessa
2016-07-27T00:00:00Z
We arrived earlier than our check-in time and Leah and David were very accommodating! They sent me a text message saying that they would not be available for our arrival and detailed instructions on how to get inside the house and find our room. Everything was clean and the pictures were accurate. We were only there for a short stay, but we would definitely stay here again!
Karina
2016-08-30T00:00:00Z
Nice and big room! Everything was clean and great!
Moritz
2016-12-16T00:00:00Z
We had a great one night stay at Leah & David's. The room was spacious ,comfortable and cool (thanks to the AC - which we really appreciated on such a warm weekend).Everything was as pictured! Would definitely stay here again for our next Portland trip
Irene
2016-08-15T00:00:00Z
Room Type
Private room
---
Property Type
House
---
Accommodates
2
---
Bedrooms
Portland, OR, United States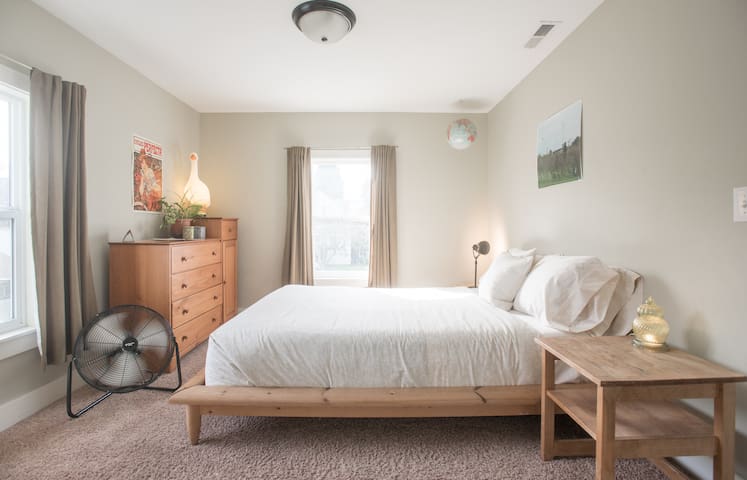 Impressive city views from the edge of downtown with great access. Walk to downtown's edge and it's transit options in minutes. By car, hop on a freeway pointed in the direction of your choice with equal speed. PSU, OHSU, NCNM, Farmer's Market
The room features a king-size Tempurpedic bed. Hardwood floors throughout. Gorgeous view of downtown, river, and mountains from the living room. On street parking available in front of our home. We have parking permit for one car. My children aged 9 and 6, and I will be in the home during your stay. We are clean, polite, and easy-going. Our bedrooms are downstairs while the guest room, guest bathroom, living room, and kitchen are upstairs. The guest room is near the main entrance so you don't have to worry about waking us up when coming home late. We have a lockbox so you can check-in at your convenience. Also, let me know if you would like to drop off your stuff before the check-in time. I will try my best to accommodate your needs. Our neighborhood is safe and peaceful, yet so close to downtown. Easy access to public transportation, and all major freeways. Public transportation--bus and Max are about 0.25 mile down the hill. Street car is about 1 mile. Please note: 1. On weekdays, we start our day and head to school around 7am guests will likely hear some activity but it will be quiet shortly after. 2. To get to public transportation, it will require some walking down the hill. Getting home from the public transportation will require walking...uphill. 3. There are 3 ways to walk to public transportation/downtown: - A 200-step staircase near our house. This will take you to SW Broadway Street. This puts you on Portland State University's downtown campus and is the fastest way to get to Max, bus, and the rest of downtown. We do this everyday. It is fun and good cardio exercise. - A short walk through the wood and a gated community to a 50-step staircase. This is the best way if you don't like the stairs so much. This will get you to another part of the PSU campus and the beautiful South Park Blocks. You can continue walking to catch the Street Car on SW 10th and Market. - A walk down Hoffman Avenue, then to SW Broadway drive. Cross the freeway and you will be at Max, bus, Portland State University, Starbucks, etc. Use this option if you want to avoid the stairs completely but there is a little more traffic to contend with.
I never met Joy. I briefly met her ex husband and he was friendly. We never really bumped into each other. Space was clean. The street is kind of like a one way back switch, but it had space to park. The stairs were kind of a killer, but the location was great. Great view. Easy walk to everything. I would definitely go back.
Meagan
2016-06-08T00:00:00Z
Everything exactly as advertised. Really comfortable bed. Joy was very friendly
Nicholas
2016-11-15T00:00:00Z
I stayed here by myself in October 2014. Joy and her husband Dallas were excellent hosts. Their daughter was super adorable too. She even gave me a big hug when I left! — Joy gave me detailed directions for my stay in a timely manner. — The bedroom was very spacious and relaxing. Bathroom was right next to the bedroom too. — The weather was amazing and the view from the balcony was incredible, both during the day and at night. — Easy access to public transport (less than 10 min walk to a yellow/green line train station from their place) — The walk uphill was a great exercise!
Shu
2014-10-07T00:00:00Z
Joy was awesome! She was extremely helpful and responsive in answering all of our questions. The bed is comfortable and the place has great views.
Corrie
2016-10-01T00:00:00Z
The host and her family were very sweet and the view was wonderful. The room and bathroom are on the top floor of the house with the kitchen and living room. The family lives downstairs. The bed is large and very comfortable and wifi worked well.
Lauren
2016-06-19T00:00:00Z
We loved everything about our stay here! Joy was extremely welcoming, and was very prompt to reply to any questions we had and offer recommendations. The view is GORGEOUS- you can see virtually all of downtown Portland from here- and the price of the room was economic enough that my husband and I (both students) could afford our three-night stay. It is very close to downtown but also tucked away in the forest, making it feel somewhat exotic and like a private natural haven. I will definitely recommend Joy's place to friends and family visiting Portland. :)
Leah
2017-03-20T00:00:00Z
A beautiful and comfortable home with a great view of Portland! We could see all three snow covered mountains on a clear day. Joy and her family were gracious and friendly. We hope to return on another visit to Portland.
Pat
2017-02-01T00:00:00Z
Joy and her family are awesome! Incredible view from the balcony.
Vince
2017-02-20T00:00:00Z
Room Type
Private room
---
Property Type
House
---
Accommodates
2
---
Bedrooms
Portland, OR, United States
Privacy & space in NE PDX with many amenities, near Alberta & Dekum, convenient commute to metro area. Enjoy whole house/yard in a leafy residential street. Indicate how many beds - additional fees based on # of guests i.e. - 2 guests want 2 beds = +$10, 3rd bed for group less than 5 = +$10. House is full of items for sale - if this bothers you, please don't book. I will be out of town April 5-May19 - friend will take over housekeeping duty.
I lived here for 6 years but moved out and turned it into a guest house in order to keep up with the mortgage/bills as the house is almost 100 years old and needs constant attention. So it's not designed to be a fancy "vacation home" but rather like staying at my house while I'm away nearby ;) 4/20 friendly but no smoking inside! I've tried "the clear the air out before departure method" and did not work so absolutely no smoking inside please. Indicate if you'd like marijuana items to be removed before check in. Not best for children (old house) or TV lovers (no cable). 2 bedroom/1 bath, with 3 beds - bedrooms can be locked for additional privacy. Front (Yellow) Bedroom: queen bed with $$$ latex mattress, vanity dresser, full-length mirror, closet. This room may be a bit noisier in the warmer months. Rear (Green) Bedroom: queen memory foam mattress, dresser, full-length mirror, small closet and has an adjoined "SunRoom" that you can access for printing. Spacious common area with 32" smart wifi TV to access Netflix, YouTube, and more (No Cable but you get about a dozen antenna channels). The sofa can be converted to a full-size bed for additional $10 if your group is less than 5. Large dining table with 6 seats. Note: the fireplace is NOT operational. Kitchen: large fridge with filtered water/ice, electric stove, microwave, toaster oven, electric coffee maker (+ french press), coffee grinder, electric kettle, but NO dishwasher. Coffee and tea included and possibly more. All-tile bathroom with towels, shampoo, conditioner, soap, and hair dryers provided. Sorry there is no vent fan - it is very costly to install one due to being an old house and the way the vent system is laid out - leave door cracked open after showering. Unfinished basement - please only access to use HE washer/dryer. Soap included. Hardwood floor throughout and they do creek - DO NOT walk on them barefooted. The original kitchen cabinets/drawers can be sticky and may not shut all the way... experience original charm :)
Located on an ethnically diverse street with many old Portland homes - some parts can look a bit rough. During warmer months, kids are often playing outside and need to be careful to dodge their balls or driving through their basketball game. But it's safe and never had any guests report problems. One guest did make a racist's comment about the neighbors - please don't bother booking if you are not tolerant of all people.
Autumn home was in a convenient location and she was very prompt to respond. I would stay here again easily. Best coffee shop ever very close by.
Alysha
2016-03-04T00:00:00Z
Very easy to communicate with Autumn and enter the home. Had some nice recommendations for things to do in the area.
Alicia
2016-07-25T00:00:00Z
Great place. Looking forward to staying again next time we pass through Portland.
dave
2016-10-07T00:00:00Z
Autumn left a lovely bottle of wine and the house is super cozy and clean. We had a lovely stay! Also, great music selection!!
Mandie
2016-10-23T00:00:00Z
Autumn was an amazing host! She responded to any questions we had very quickly and everything was just as she said it would be. We would absolutely stay here again.
Brandon
2016-10-16T00:00:00Z
We had a wonderful stay at Autumn's home. Everything was very clean and as described. A wonderful brewpub Breakside is located within walking distance. The only drawback to our trip was the Portland traffic which made the normal 10 minute commute into downtown more like 30-45 minutes during the afternoon rush hour (4-6pm).
Melodie
2015-08-09T00:00:00Z
We really felt welcome, Autumn made us feel comfortable! Great location, easy to take a bus down town, nice bars/restaurants within walking distance. Definately i recommend this place.
Jurriaan
2015-10-02T00:00:00Z
Autumn's house is lovely, meticulously kept, and furnished beautifully. It is even nicer in person than the pictures show. She had anything we could need and the whole experience was very breezy. I would definitely stay here again and/or recommend it to a friend. Great location and really nice house.
Hilary
2016-03-11T00:00:00Z
Room Type
Entire home/apt
---
Property Type
House
---
Accommodates
5
---
Bedrooms
Portland, OR, United States
The Hen House is a converted garage that has everything you need for a visit. I built the place using as much salvaged material that I could find. The loft stairs are very steep so if you are not very agile I would recommend the pullout single bed downstairs. I'm between the Mississippi area, Williams corridor and Alberta Arts District with 2 grocery stores within walking distance. It's private and there are animals (cats and tortoise mostly) to hang with outside. Lots of gardens too.
The converted garage has salvaged gym floor (from Portland Community College) that adds color, and 3 skylights to add natural light. There is a loft to sleep in and another small couch that pulls out as a single bed. The loft is very steep so be careful if you sleep up there. There is a full kitchen but the only oven is a toaster oven. The bathroom is large and has a stackable washer dryer in it. I will leave basic necessities coffee, fruit and surprises out there. You'll enter by walking through parking strip (feel free to park there if clear) and going up stairs and follow sidewalk to the back unit. The entrance is separate and you have your own side garden but my family uses the sidewalk when leaving the backyard.. There is a garden you're welcome to eat from and a nice sitting spot. The neighborhood is very nice and convenient. There is a Whole Foods and New Seasons within walking distance. I am between the Mississippi, Alberta and Williams neighborhoods. I'm 2 miles from downtown and the bus is very close. There are functioning bikes you can use although they are not in tip top shape. The place is made from mostly salvaged material. There are many crazy neat light fixtures and a curved church window from a Baptist church they tore down. It is quiet and private but you might hear a chicken, cat fight or a far away train.
Fun and quiet neighborhood but you can walk to a bar or a really good restaurant within minutes.
Had a great stay at Norah's place. Everything was easy and just as described. The house is unique but comfortable for two including two bikes inside. The neighborhood is quiet but close to restaurants, night life, bars and a couple of nearby zip cars. Norah was very helpful during our stay.
Henry
2015-03-29T00:00:00Z
Everything was great. Norah was welcoming and friendly when we met. The apartment was cozy and comfortable. The location was near some great restaurants and a short bike ride to town.
David
2016-04-09T00:00:00Z
Wonderful, Charming and Centrally located...A Great Stay!
Ashley
2017-02-10T00:00:00Z
After the awesome experience on my first stay at the Hen House, I decided to book again for a quick weekend trip. The whole experience was perfect and Norah was super accommodating when I needed to extend the trip a day. Excellent on all fronts especially the fresh eggs, fruit, and attention to details that make you feel comfortable when away from home.
Joel
2017-01-29T00:00:00Z
Great place! We'll definitely be coming back here if it's available on out next trip to Portland. Norah was a perfect host.
Thom & Kate
2016-12-23T00:00:00Z
The pictures of this place are spot-on. It's a great little space, and you can't beat having a big bathroom, a washer and dryer, and a functional kitchen. I cooked a ton of meals and loved it. The location is wonderful, as well. Whole Foods (walked every day for the day's meals) and Caffe Destino's are six blocks east and 2 blocks south. If you walk 8 blocks west to N. Williams, it's heaven - Life of Pie (pizza), What's the Scoop (ice cream), Cha-cha's (Mexican), Tasty n Sons (EPIC modern American fare), a few cute shops and other restaurants, and an amazing coffee joint. It's not convenient to the Max (it's a mile and a half walk to Prescott station), but it is walkable to Alberta and Mississippi districts - both INCREDIBLE neighborhoods with everything you could need. Be sure to go to She Bop on Mississippi. ;) Norah is very nice, the chickens are fun, and there are two outdoor kitties who love cuddles and pets. I would highly recommend this place. I even popped out to the garden for some greens to put on my sandwiches a few times. Yum! There are 2 negatives, but they're minor. First, the ceiling over the bed in the loft is very low at the head of the bed. Just a few inches above your face. I fixed this by flipping around and putting my feet on that side, but just be aware it's a vertically tight space. Second, spiders. I have a phobia, and I did buy some Orange Guard spray (should still be under the sink) from Whole Foods which helped, but several huge garden spiders made their way in, plus a few Daddy long-legs, 2 jumping black spiders in the bed, and several other varieties on the walls over the course of my 10 days tehre. Again, for most people, this isn't an issue, but for me it was overwhelming.
Dawn
2014-06-11T00:00:00Z
Thoroughly enjoyed my stay at the Hen House. Norah was great to work with and stayed in communication throughout booking and the stay. Would definitely reserve this again next time in Portland.
Brent
2016-09-03T00:00:00Z
Thank you Norah for your hospitality. Communicating with Norah prior to and during stay was easy. The hen house was a great place for me, my wife, daughter and small dog. The space was unique, clean and provided all amenities. We even had some eggs from the hens which was awesome. The location is easy to find and there are some neat eateries and brewpubs nearby as well as a large park/kiddie park/waterpark and dog park. Norah was a fantastic host, we will definitely stay again.
Simeon
2015-08-13T00:00:00Z
Room Type
Entire home/apt
---
Property Type
Cabin
---
Accommodates
3
---
Bedrooms
Portland, OR, United States
Portland - Airbnb
:
Average

5

out of

5

stars from

3927

guest reviews
Enter dates to see full pricing. Additional fees apply. Taxes may be added.