The house was built between 1906 and 1935 by the trading company Tang&Riis and used as a workshop, staff house etc. It was renovated in 2010 with kitchen and bathroom upgraded to modern standards. The house sits on a cliff by the seashore with a spectacular view over Breidafjordur bay. Hellissandur is one of the oldest fishing villages in Iceland and it's history dates back to the 15th Century. Now it resides about 400 villagers.
What guests are saying:
"Beautiful, quiet place with lots of space for people to sleep, sit and relax. Clean, spacious but feels cosy, arty and personalised so one feels at home. It's has got everything in the practical sense people might need. The view and sunset from the terrace were just as pretty as the photos promised, and the location is great for exploring the peninsula and National Park. Julius is very friendly; lives near and he showed extraordinary hospitality, even though he's just met us. We'll definitely remember the place and the evening and hope we can stay for longer next time!"
Apartment or rooms for total 4 people. fully equipped Kitchen. Price is per person. The apartment is on the ground floor.
What guests are saying:
"This was such a fantastic weekend getaway from Reykjavik. About 2.5 hours drive at the end of Snaefellsnes, Olafsvik is a wonderful little seaside town with a lot of charm. I was just looking for a solo getaway where I could hike (Snaefellsjokull National Park is about 15-20 min drive), read and restore. This space was exactly what I needed; it's modern and has all the things you would need, including a comfortable bed."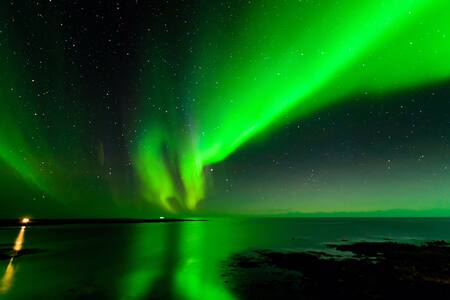 SUPERHOST
Entire apartment · 3 guests · 2 beds · 1 bath
Kleifar - Ocean View Apartment - Amazing scenery.
From the private wooden deck we have seen killer whales and dolphins. In the winter northern lights can be seen from the balcony. The seals are regular visitors and different species of seabirds are at home here. The house used to be the village grocery store but has been converted into two luxury apartments, perfect for couples or small families. Hellissandur is only 200 km from Reykjavík and the roads are excellent. You can choose between three beautiful scenic routes to get here.
What guests are saying:
"The place is really great. The beds are extremely comfortable, the view is breathtaking, with seals right below the balcony. We saw northern lights from the balcony and enjoyed the classical music. It is great to visit various places from here. When it is windy, it can get a little bit cool, so be sure to bring some warm socks if you plan to stay here in winter, then you will be totally fine. Communication was very easy and fast. The hosts are very friendly and cooperative if you have any special requests. Next time we visit Iceland we will definetly stay here again, but maybe a bit longer. :-)"