Go Near Guides
Tiny Adventures from Atlanta
Swampland birding, Ray Charles serenades, a Southern Stonehenge, and state park stargazing offer plenty of opportunities to enjoy Georgia outdoors.
Illustrated by
Ericka Lugo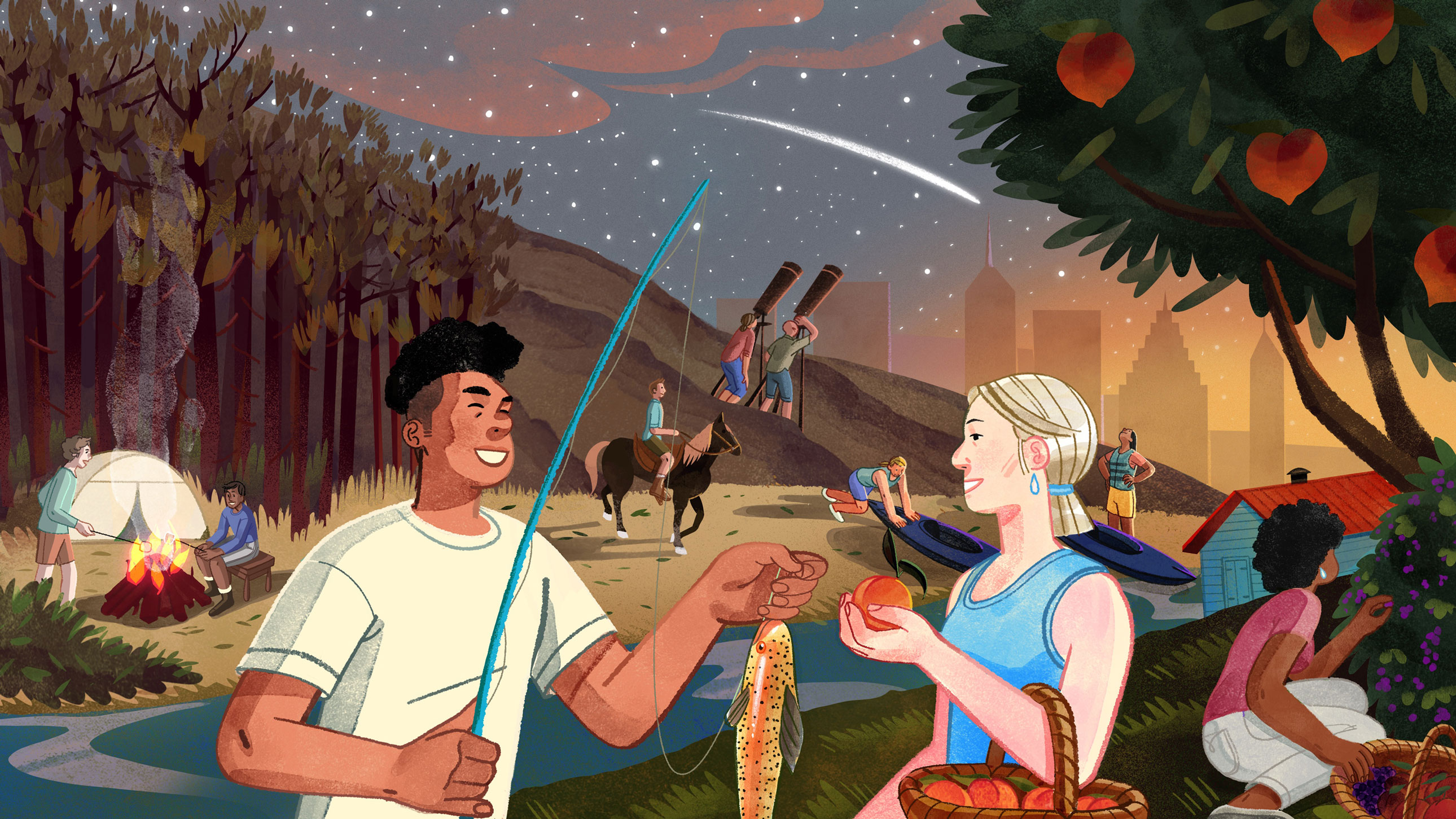 Spending time outdoors doesn't have to be predictable — sure, Georgia has a number of stunning hikes and waterfalls, but some of the state's star attractions fall outside your typical day trip adventure. This Go Near Guide is full of suggestions for those in the greater Atlanta area to safely relish — in a socially distanced manner — the glory of Georgia's unique regional destinations. From traversing the mountainous Blue Ridge region of north Georgia to giggling at goats frolicking on a roof, and from watching trains whizz by from a dedicated viewing platform to exploring the Okefenokee Swamp in the south, there's plenty to see, do, and experience. But before you hit the road, be sure to check the state's COVID-19-related quarantine requirements as well as the Airbnb Editorial team's New Rules of Road Tripping guide.
---

1 Hour Away
Mansfield, Georgia
This smaller northern central town is often overlooked, but deserves to be on the radar for its remarkable wildlife refuge, easily accessible from Atlanta, Athens, and Macon.
Do
The Charlie Elliott Wildlife Center is a sprawling, 6,400-acre nature preserve where visitors can partake in birding, fishing, archery, and hunting. The center is named for the late Charles Newton Elliott, a forester, wildlifer, and author of countless books about the outdoors. Visitors can also camp in the wooded area, although reservations are required to adhere to social distancing.
---
Blue Ridge, Georgia

The scenic drive to Blue Ridge will transport you from the hustle and bustle of Georgia's capital city to a serene small town shrouded in mountainous views. In the fall, this is the perfect, not-too-far-away respite for autumnal winds and leaf peeping.
See
Explore the Blue Ridge Ranger District of the Chattahoochee National Forest. A short hike on the Benton MacKaye Trail leads to Fall Branch waterfalls, comprising several smaller cascades and culminating in a 30-foot drop. Other activities such as fishing, horseback riding, and hunting are also options within the area.
Do
Make a stop at the 300-acre Mercier Orchards, which opened in 1943 and gives you the opportunity to pick your own produce, including apples, peaches, and a variety of Georgia-grown berries. Note: Guests are required to wear face masks. The on-site cafe, which sells sandwiches and snacks, is carry-out only for now.
---
Local Hosts Also Recommend: Appalachian Foothills Parkway
Airbnb Superhost Shawn Alexander recommends ditching the main highways and taking the scenic Appalachian Foothills Parkway route to Chattahoochee National Forest. "Within 30 minutes you see mountains in the background. It doesn't look real," Alexander says. "Lots of big, full trees in reds, yellows, and different colors too." Be sure to make a pit stop at Amicalola Falls along the way, which Alexander calls "the best waterfall in Georgia."
---
---

---
2 Hours Away
Tiger, Georgia

The tiny town of Tiger, tucked into the northeastern corner of Georgia, is named after the nearby 2,856-foot Tiger Mountain. Views of the mountain, one of the prominent peaks of the greater Blue Mountain Ridge, will take your breath away.
See
At the family-friendly Goats on the Roof you can see goats frolicking with one another on actual roofs. The climbing creatures perch on shingles atop several buildings. Goats on the Roof also boasts nitro ice cream, jams, jellies, and boiled peanuts for sale, as well as a plethora of freshly made Amish foods — butter, bread, and pastries.
Do
Dubbed one of the most spectacular canyons on the East Coast, Tallulah Gorge State Park surrounds the 1,000-foot gorge flowing from Tallulah River. Park visitors can hike and walk over the suspension bridge 80 feet above the gorge's bottom with stunning aerial views. Note that Tallulah Gorge State Park is currently experiencing large crowds on certain days. To control crowds and adhere to social distancing, rangers are limiting admission to certain attractions.
---
Elberton, Georgia

Known as the granite capital of the world, Elberton has a hold on a particular blue-gray granite that makes it a prized resource for monuments and memorials. For those into tastier claims to fame, the city also boasts of being the home of award-winning artisanal cheesemaker Nature's Harmony Farm.
See
Often referred to as Georgia's Stonehenge, the Georgia Guidestones double as both a granite monument and astronomical calendar with musings written in 12 languages. Inscribed with instructions for how to rebuild the world after a supposed apocalypse, the four 16-feet-tall granite slabs weigh approximately 20 tons each. The mystery of who erected the structures, which were completed in 1980, remains today.
Do
Browse the gardens in nearby Hartwell at the Hart County Botanical Garden, complete with running streams and paved and gravel paths. The Botanical Garden is a collection of smaller gardens — dedicated to herbs, rhododendrons, ferns, and sun perennials. There's even a bird sanctuary filled with feeders to attract varying species. Sit in one of the rocking chairs on the porch at the nearby Mamaw's House and pass the afternoon away.
---
Local Hosts Also Recommend: Watson Mill Covered Bridge
Airbnb Superhost Megan Carnes recommends stopping to see this hidden gem, located close to Elberton. "At one point, there were over 200 wooden bridges in the state of Georgia. The Watson Mill Covered Bridge is the oldest of the last 20 or so remaining," Carnes says. "When you go over the bridge, there's a little window cut out so you briefly see the river you're crossing. As a kid that was always pretty amazing."
---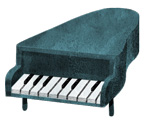 ---
3-4 Hours Away
Folkston, Georgia
The highlight of this southeastern coastal area of Georgia is truly the local ecology — that of the Okefenokee Swamp in particular. And yes, while driving here is a little further than anywhere else in this guide at nearly five hours away, it's worth it to experience the uniqueness of these regional wetlands.
See
At the Folkston Funnel, watch railroad cars on a double track whizz by from a platform created for viewing. This track is an artery for train traffic through Florida and Georgia. Trains pass through on the way south to Jacksonville, Florida, as well as north to Waycross and Savannah, Georgia. Make a lunchtime stop at one of the picnic tables to use the free Wi-Fi and charge your devices.
Do
Experience the Okefenokee National Wildlife Refuge, which straddles the Georgia and Florida state lines. The 402,000-acre swamp and wetlands refuge is an ideal site for birdwatching and wilderness canoeing. If birding is especially of interest to you, make sure to walk the Upland Discovery Trail. Rare red-cockaded woodpeckers are said to make their nests among the pine trees here.
---
Albany, Georgia

Located in the southwestern region of Georgia, Albany is shaped by the Flint River and the history of famed musician Ray Charles, who was from the city. A little-known fact about this place: Albany, incorporated in 1838, was named after the capital city of New York.
See
Ray Charles Plaza commemorates the late musician, whose legacy has been honored in the center of the plaza lining Flint River. A life-sized sculpture of Charles is seated at a baby grand piano, his head tilted toward the sky. Sit on one of the nearby piano benches to hear Charles' timeless croon float through the air as his songs are broadcast at regular intervals.
Do
Spend a day on the nearby Flint River. The 344-mile waterway that runs throughout the state offers a variety of water activities for visitors such as fishing, kayaking, and guided day trips.
---
Local Hosts Also Recommend: Plains, Georgia
If you're going to Albany, consider stopping in Plains, birthplace of former president Jimmy Carter, says Airbnb Superhost Kevin Leung. "Plains is a historic spot that's also known for peanut farming," he adds, suggesting visitors check out the "giant peanut statue with Carter's famous grin" on Highway 45, just outside of Plains.


Nneka M. Okona is a Nigerian American freelance writer from and based in Atlanta. Her work focuses on food and travel and how race, culture and history, namely of Black people, intersect with those two themes.

Illustrated by
Ericka Lugo
Ericka Lugo grew up in the always sunny Puerto Rico and currently lives in Orlando, Florida. ​She has a special love for bright colors, movement, plants and the feminine figure.
---
Explore just a short ride away
---