A Luxurious and tropical private villa for those who want to experience the ultimate comfort all within a reasonable budget! Fully equipped for your stay with a stunning pool, garden, and a year round sunny sky. This immaculate home is sure to make your vacation one you won't forget Close to everything- Amazing ocean views(sunset & sunrise) Private, historic community. Safe community 24-hour security guard at the entrance Massive rooms with ocean views. Cooking service & maid
What guests are saying:
"From the moment we arrived from the time we left everything was amazing the staff treated us like family Miss Evonne was a excellent cook we stayed for a week and wish it was longer the house is located in a private community and it was quite and safe Ten of us stayed for the week and the house had plenty of room to accommodate all of us we will be definitely telling all of our friends about you place and will be back Thank you so much Pam and Bill Carroll"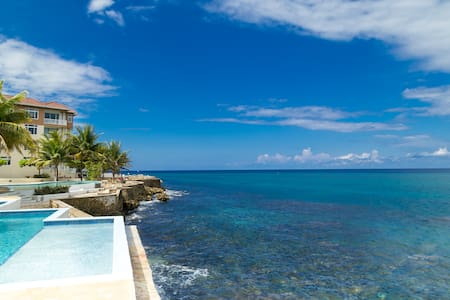 SUPERHOST
Entire condominium · 4 guests · 2 beds · 2 baths
Sail Away Ocho Rios - Ocean Front SUMMER DISCOUNT
A short and scenic five-minutes' drive from the town of Ocho Rios will take you to this luxurious condo that sits on the oceanfront at Whisper Seas which overlooks the gorgeous Caribbean Sea from the upper floor. The calming sound of ocean waves crashing against the rocks beyond the beautifully landscaped garden and infinity pools, provide the perfect ambiance for the exquisite furnishing and décor inside the apartment.
What guests are saying:
"Great stay! Superb hospitality by the host, his staff and the condominium staff. The security (can't recall his name) was very nice and gave us some great tips. The views of the ocean from the condo was the icing on the cake. Very relaxing 😎, stylish and clean. Also, the drive to the center square is a breeze down a main road and only 3 miles from Sandals Couples resort. Car is highly recommended or ride a shared taxi for $1 USD or individual taxi for a lot more ($10-15). Thank you, Yhan! Looking forward to visiting again soon."
Extremely rare find!! 3 en-suite bedrooms+private swimming pool (SELF-CATERING)Large,spacious vacation home,on 1 full acre,in a tropical garden,and quiet,secure upmarket neighborhood.Perfect for people who want to be a little removed from the tourist traps right by Sandals golf course(5 min walk))ideal for ,families or groups.Large patio doors .Wood or parquet flooring throughout.There is no washing machine available BUT we offer a laundry service(pick-up/drop off/wash-dry-fold 24 hr turnaround)
What guests are saying:
"We (me, my husband and two kids) planned to stay for two weeks as my husband and his siblings was planning a surprise birthday party for their mother. After reading the reviews (most positive) we was maybe 70% comfortable. We contacted the host, Morris, and he was helpful to the point you would think he is "over selling" this so feel maybe 80% comfortable booking this place! We are used to staying in villas and having little or no restrictions so this is one reason why this appealed to us so much. Morris says it in the advert exactly how you want to hear it. There's a small deposit that ensures you can really enjoy yourself and take care of people's property in the process! I absolutely loved that! We was a bit concerned about the negative reviews regarding the pool. This was totally unfounded. It needs a coat of paint, nothing more. It's clean, it's safe and it's absolutely enjoyable! One of the highlights of our stay! I'm forced to write this review to let everyone who intends booking this place know exactly what's on offer!! Morris is exactly how he comes across. Very hospitable, kind, caring, professional, understanding, friendly and has a beautiful mannerisms. He truly wears his heart on his sleeve! The place is grandeur, spacious, spotless and truly fit for a king/queen. Yes, it may need a lick of paint here & there but I can tell you based on many places I've stayed at once that "lick of paint" has been applied us guest will get a grand "lick on the price". I would say we could pay twice the amount so I'm extremely happy about the value for money aspect this awesome villa has to offer. We ended up having my mother-in-laws surprise birthday party at this grand villa and what a blast we had. The children played a swim racing game in the pool and we spent the whole two weeks in & out the pool & house! This was one of my very best holidays. Maybe my best Jamaica stays so far!! We hired a car for ease which we do all the time. However, Morris can provide drivers if you wish. Morris can also supply upon demand cooks, housekeeping and advise throughout the duration of the stay. Off course, that's an additional (very cost effective price). The advice is free! Lol. I have already recommended this place to loads of friends & family and we intend to go back later in the year! Thank you Morris and that's from us and our guest who was equally amazed and appreciative of everything you done for us during our stay. See you soon!"