Unique Stays
Lakeside Living: Three Waterfront Homes to Dream About
Get to know the stories and Airbnb Hosts behind some of the most wishlist-worthy lake houses in the world.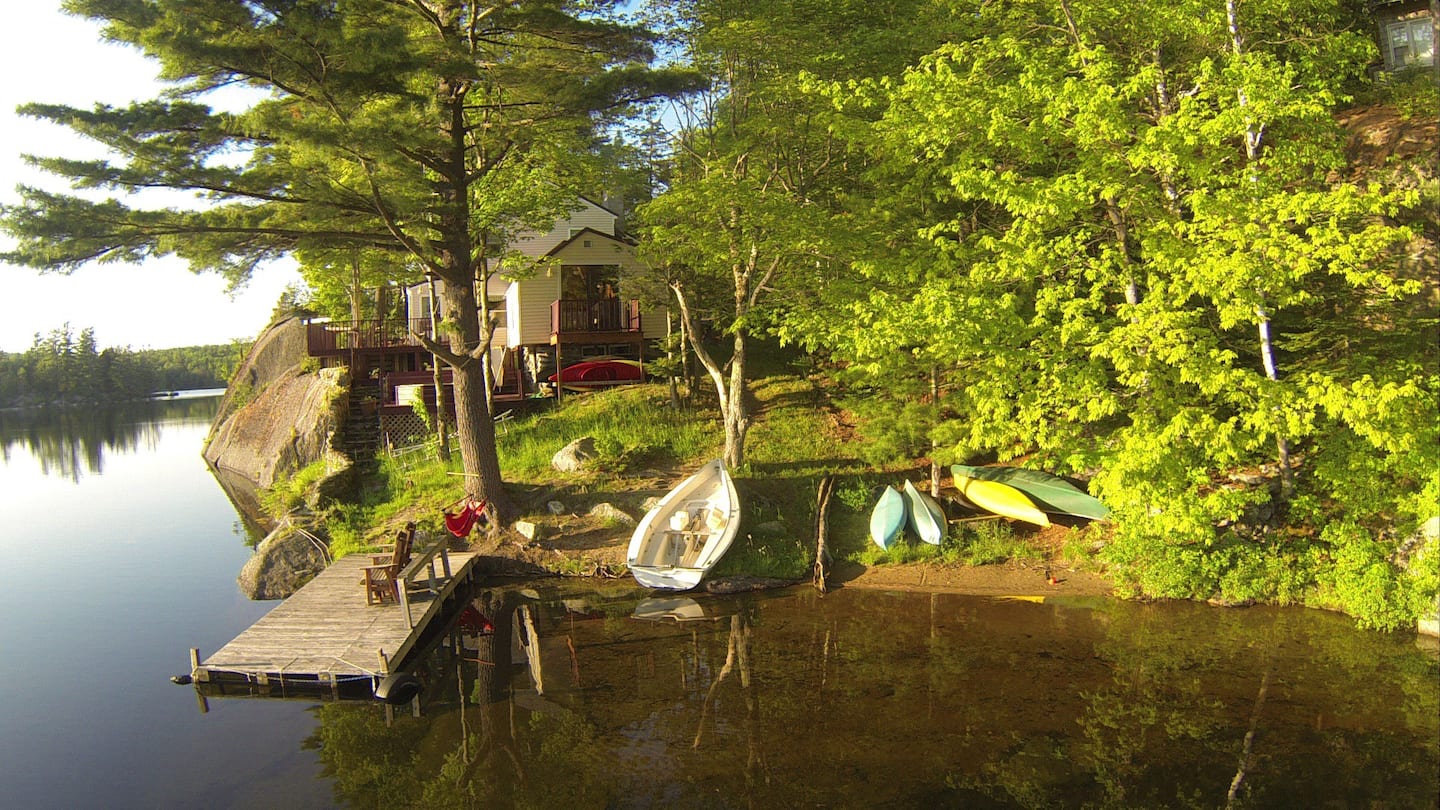 It's easy to fantasize about dipping a toe into lake life, where dreamy getaways are surrounded by stunning views and sun-sparkled waters.
Meet three lake houses on Airbnb — all of them smack dab on the water — that offer easy access to hiking trails, great swimming and boating, and maybe even a celebrity sighting or two. Ogle at volcano vistas from a dreamy modern casita in Guatemala; dive into a pristine glacial pond in New Hampshire; or explore the famously glam promenades that ring Italy's Lake Como, a jet-setters' paradise since way back.
Whether you're looking for a quick weekend jaunt or a far-flung adventure, these shoreline spots are sure to float your boat.
---
The New Hampshire Glacial Pond Cottage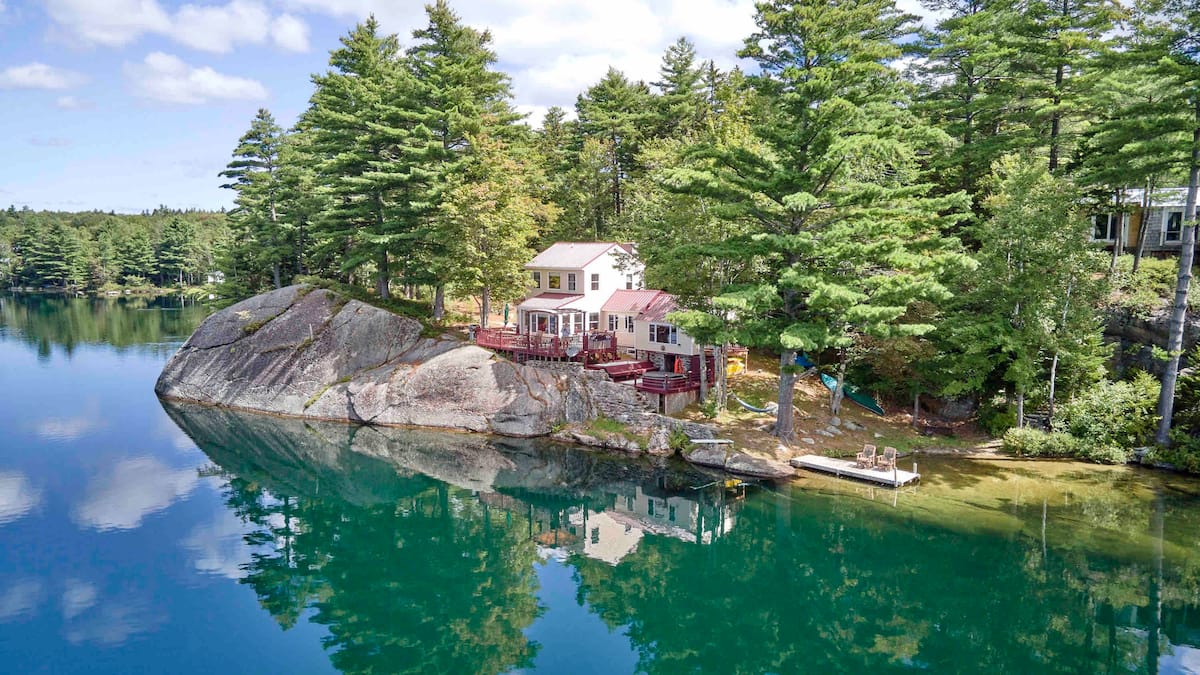 Photography by Airbnb Superhost Mick Marsden
Built on a massive rock along the shoreline of a 100-acre glacial pond, this New England getaway is as idyllic as it gets.
The Story Behind the Home
Superhosts Mick and Lizzy Marsden bought the house — constructed in the 1960s as a small hunting cottage — about a decade ago from Lizzy's brother. "We've been married 22 years and we started coming up here when we were still dating," Mick says. "I fell in love with the spot — the serenity, the views, the trees — and even asked Lizzy to marry me on our favorite ledge overlooking the pond. So of course, when her brother wanted to sell the place, we snapped it right up."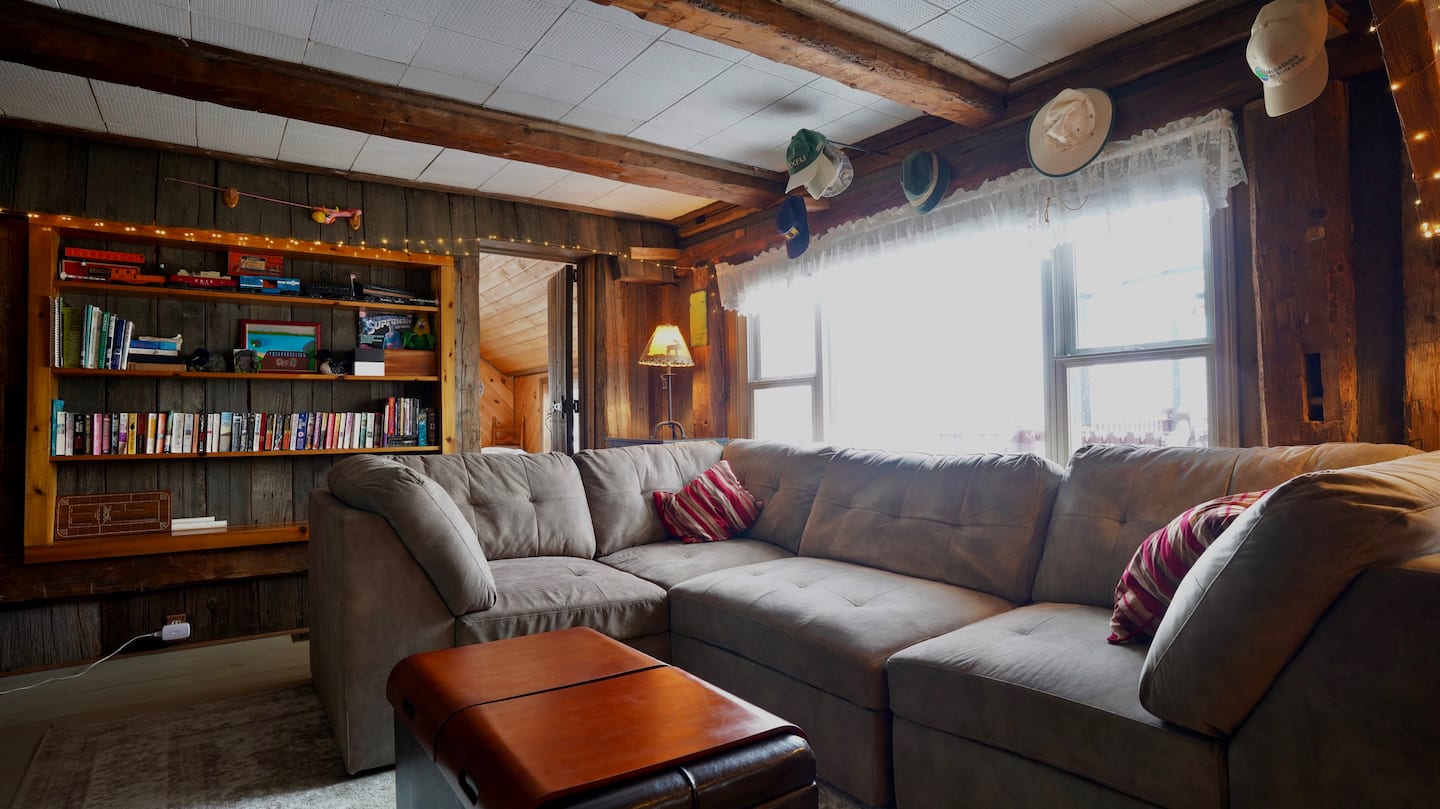 Standout Feature
The property expands along 385 feet of waterfront, including a small sandy beach and a dock. "The water is 30 feet deep, so you can jump in off the rock," Mick says. "A few years ago, we saw an ad for an old fiberglass diving board and drove all the way to Massachusetts to get it. Now it's installed on the rock and you can bounce right into the water."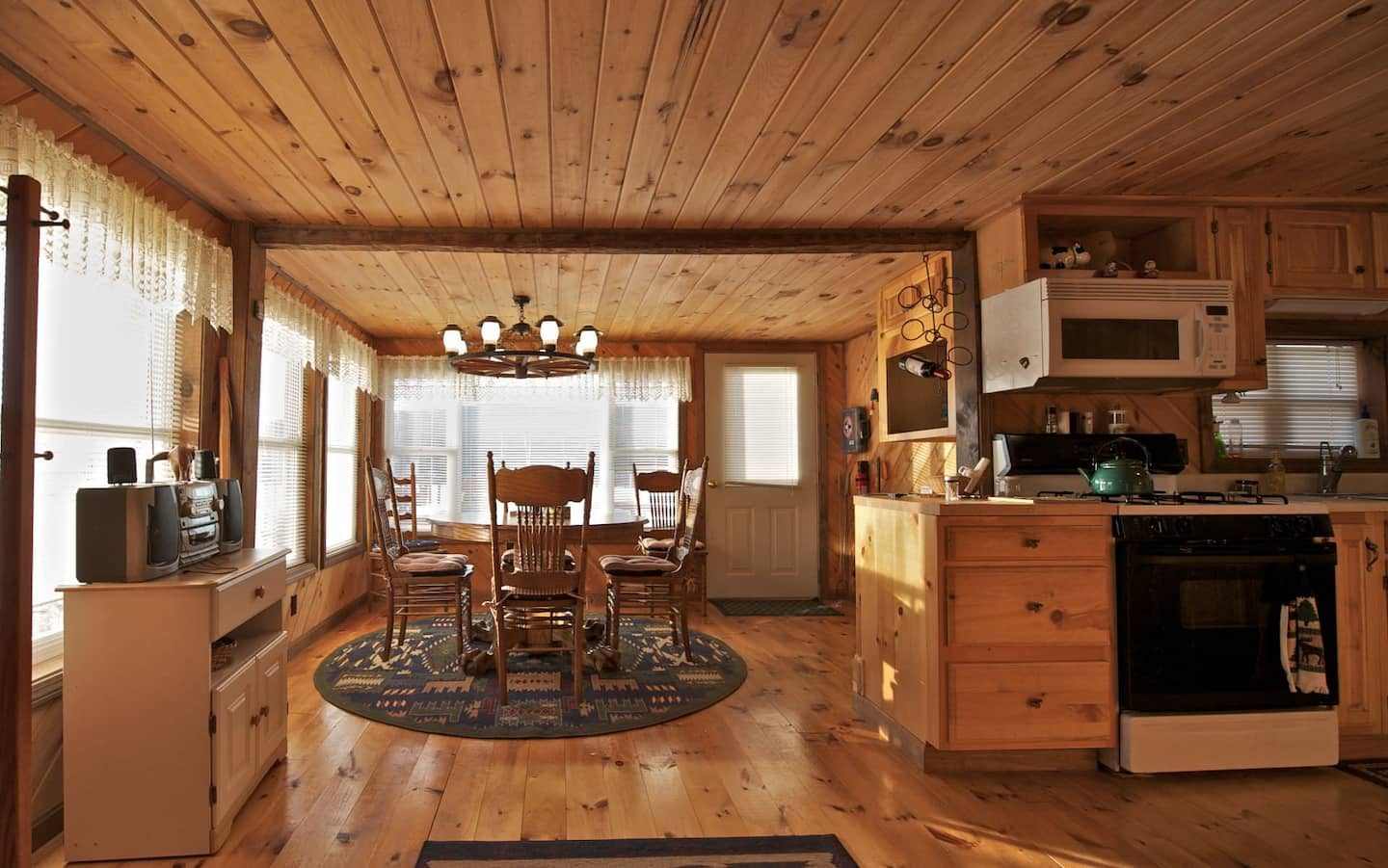 ---
Favorite Guest Memory
Just as Mick developed an instant attachment to the cabin when he first visited decades ago, so too have many of his guests. "One family has stayed the first week of July every year since we bought the place. Now, the wife's three sisters also come, each one taking a week. We have enjoyed watching the kids, who were in elementary school when we first met them, grow up."
---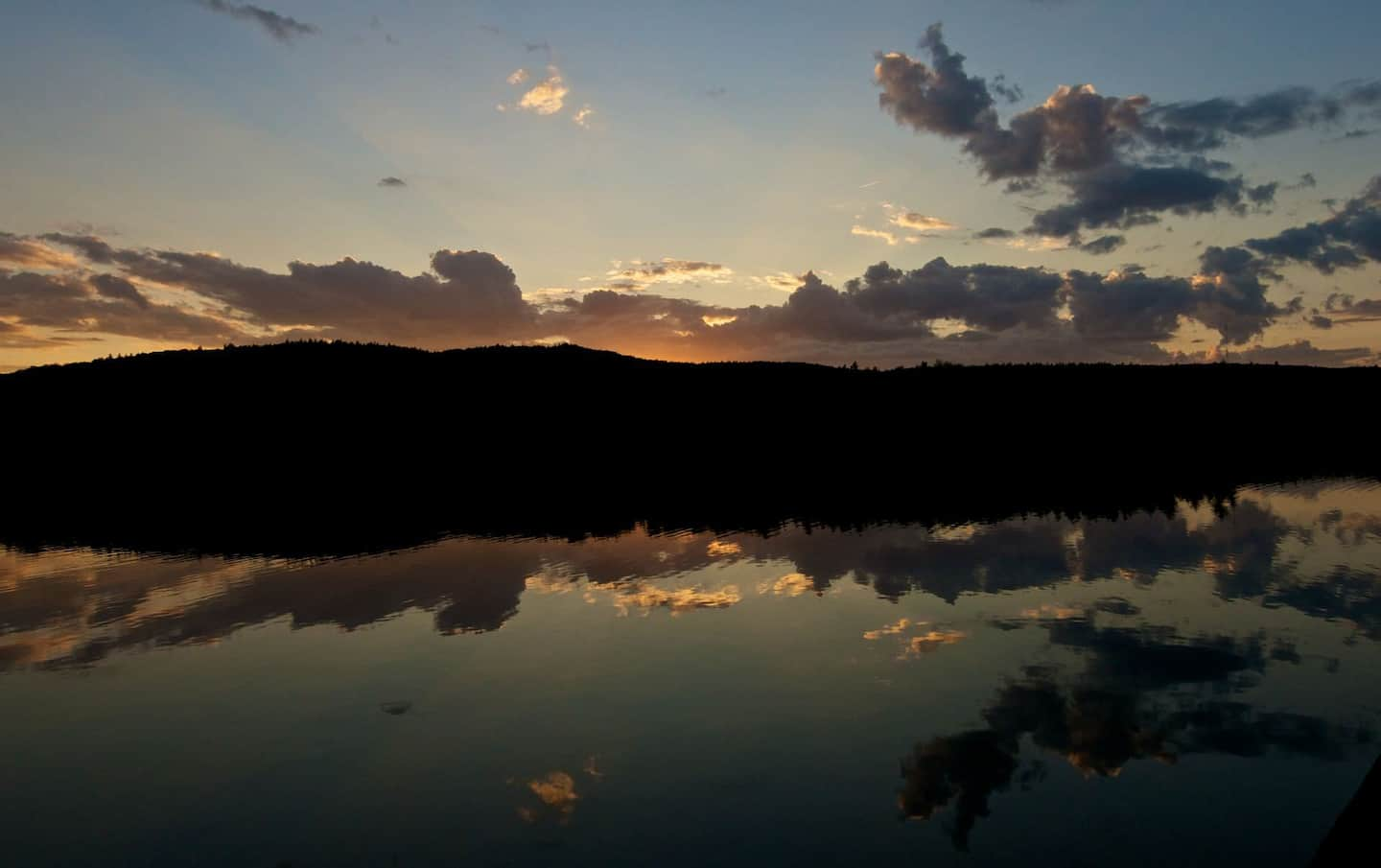 ---
The Guatemalan Glass Lake House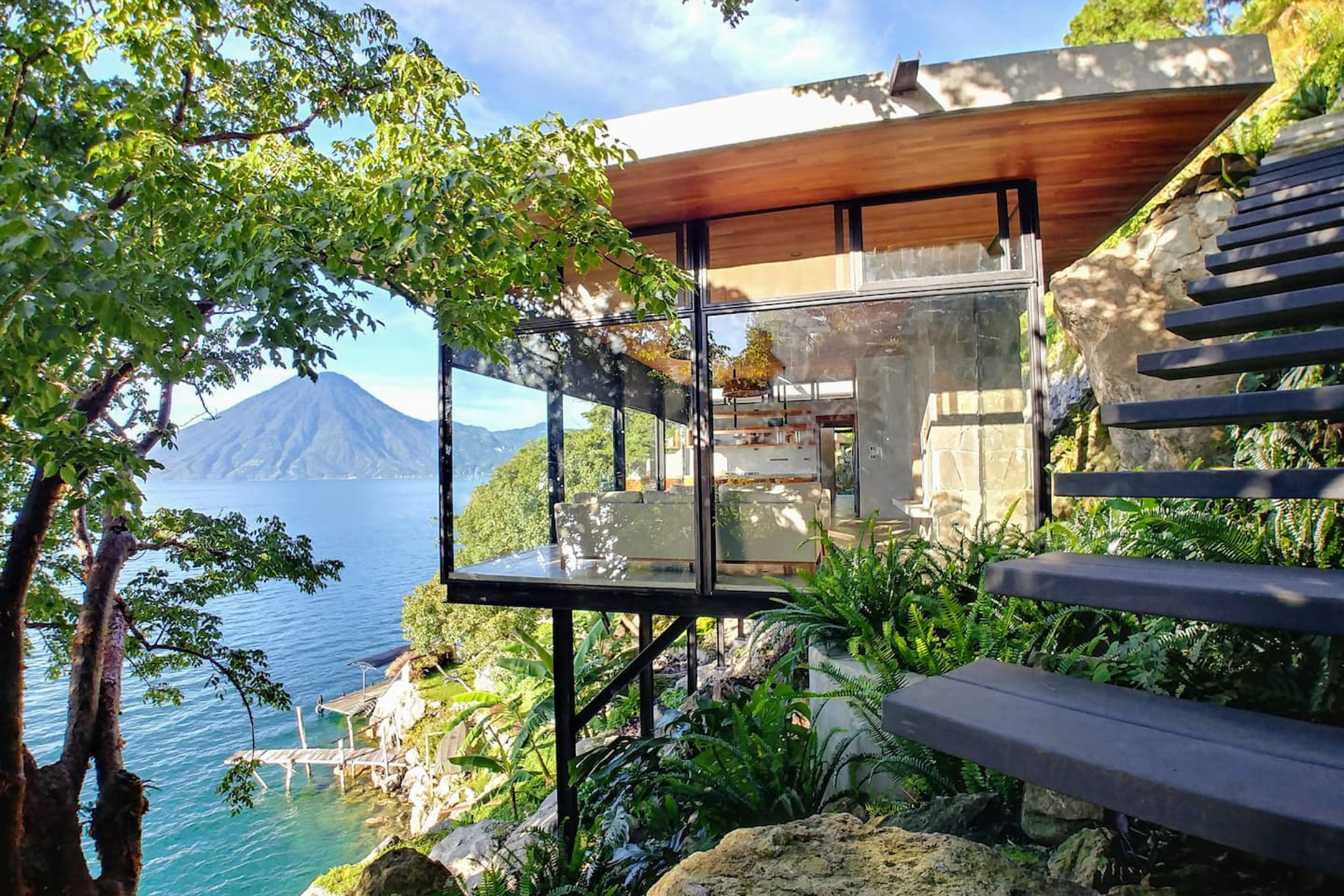 Photography by Airbnb Superhost Nancy Pile
Accessible only by boat, this newly built, modern-minimalist stunner in the Guatemalan highlands overlooks Lake Atitlan, a 1,000-foot-deep crater lake ringed by Mayan villages and otherworldly volcanoes.
The Story Behind The Home
For Superhost Nancy Pile, Tzununa was meant to be just one of many stops on a transcontinental bike trip with her husband, Matthew, in 2009, but the couple fell in love with the place and never left. "After about eight years we thought, 'Well, guess we live here now!' So we decided to buy some land and build something," she says. The resulting glass and steel marvel is cantilevered into a raw cliffside, with cedar ceilings and polished concrete floors straight out of a design magazine.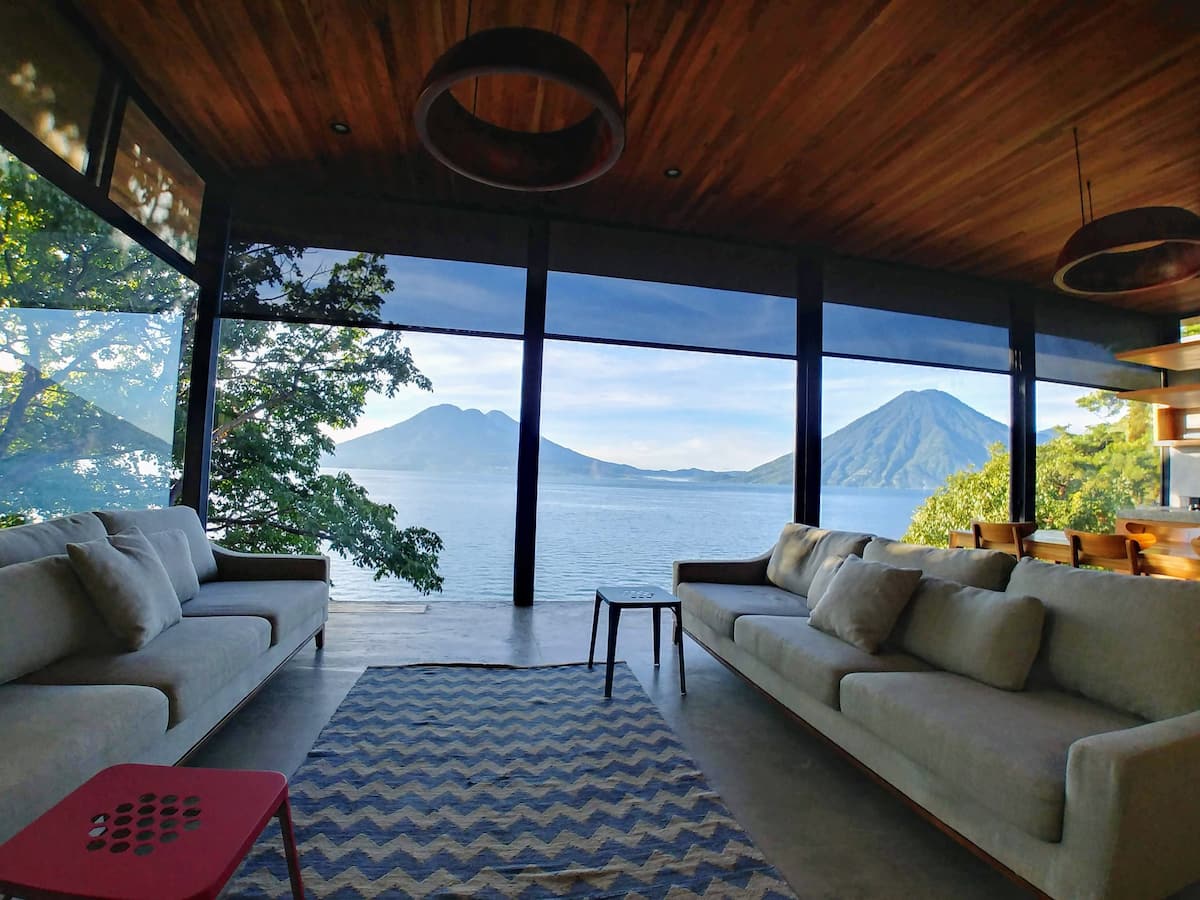 Standout Feature
Eighty percent of the home's exterior walls are made up of enormous floor-to-ceiling windows — which, like all of the other building materials, had to be brought in on a boat and hoisted up the cliffside. "It's really amazing how the crews here build, basically without machinery," says Nancy. It was well worth the effort: the unobstructed views of the deep blue water ringed by dramatically cone-shaped volcanoes are truly breathtaking.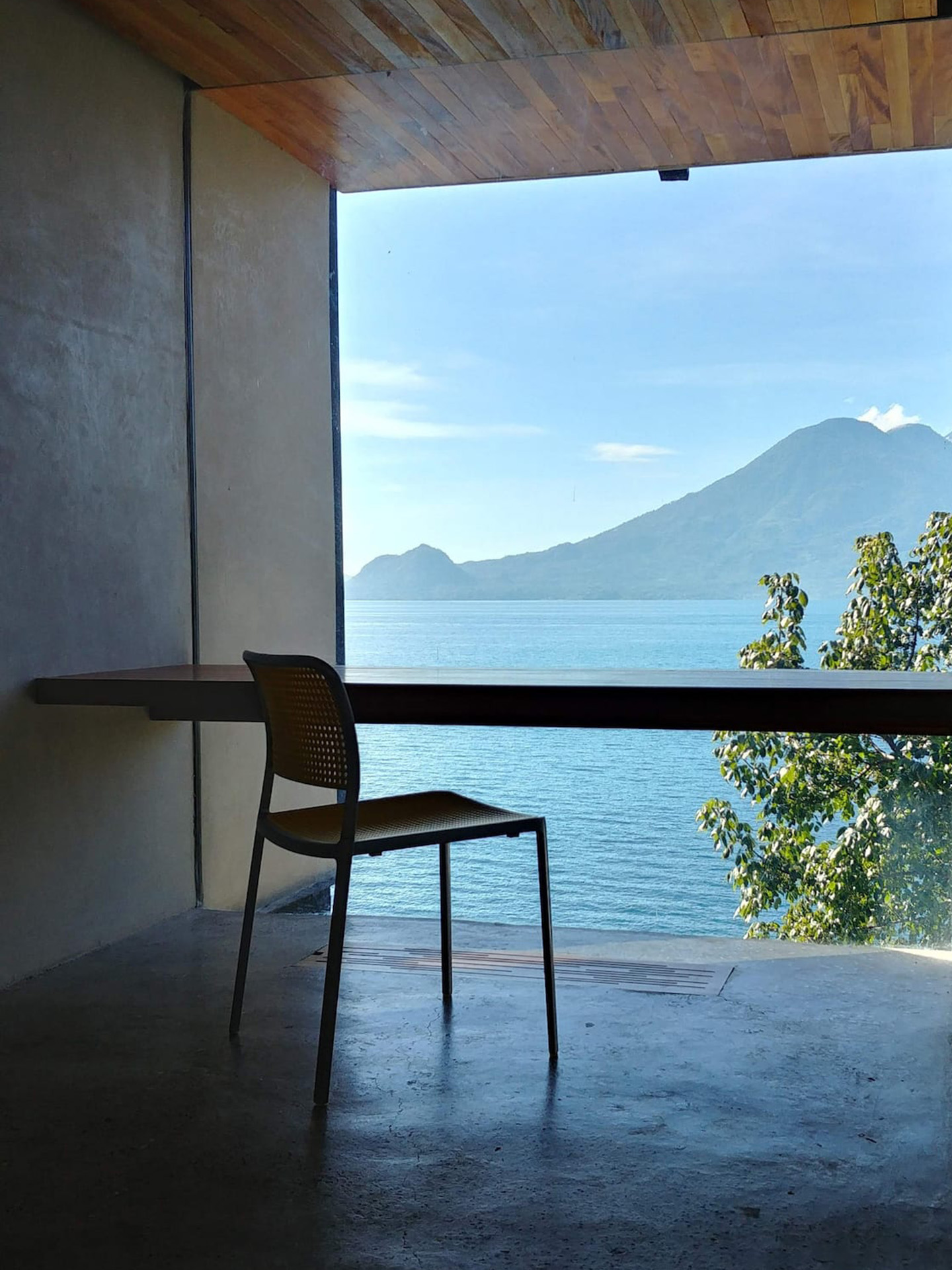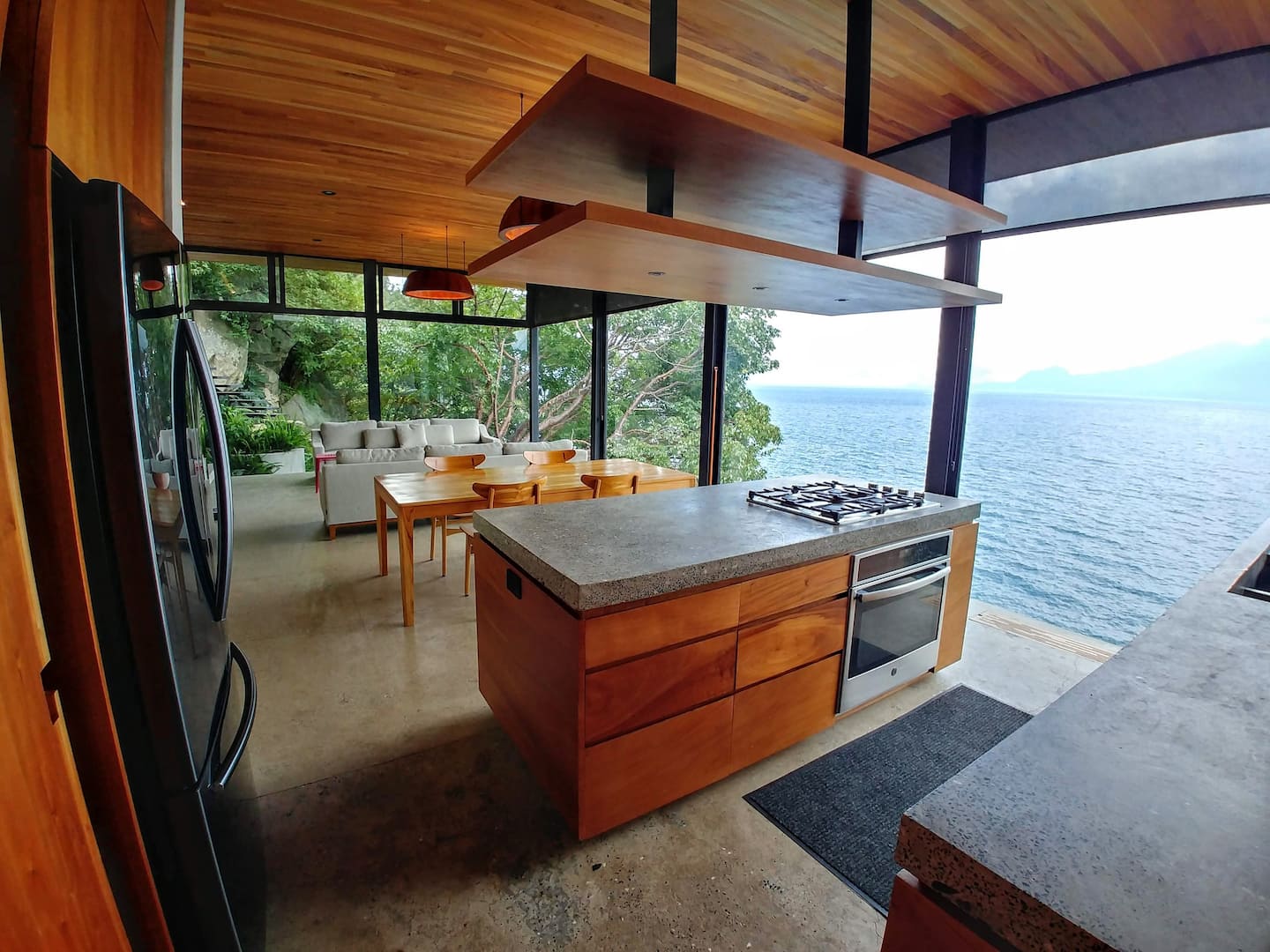 ---
Favorite Guest Memory
The home was recently the site of a rom-com-worthy rendezvous. A German man and Nicaraguan woman who'd fallen in love via video chat during the COVID-19 quarantine finally got a chance to transition their relationship into the real world by staying at the house together this past winter.
"They were just the sweetest people," says Nancy. "And I loved knowing that our little house played a part in their story. Being so isolated and away from it all, surrounded by so much beauty, it's a seriously romantic setting."
---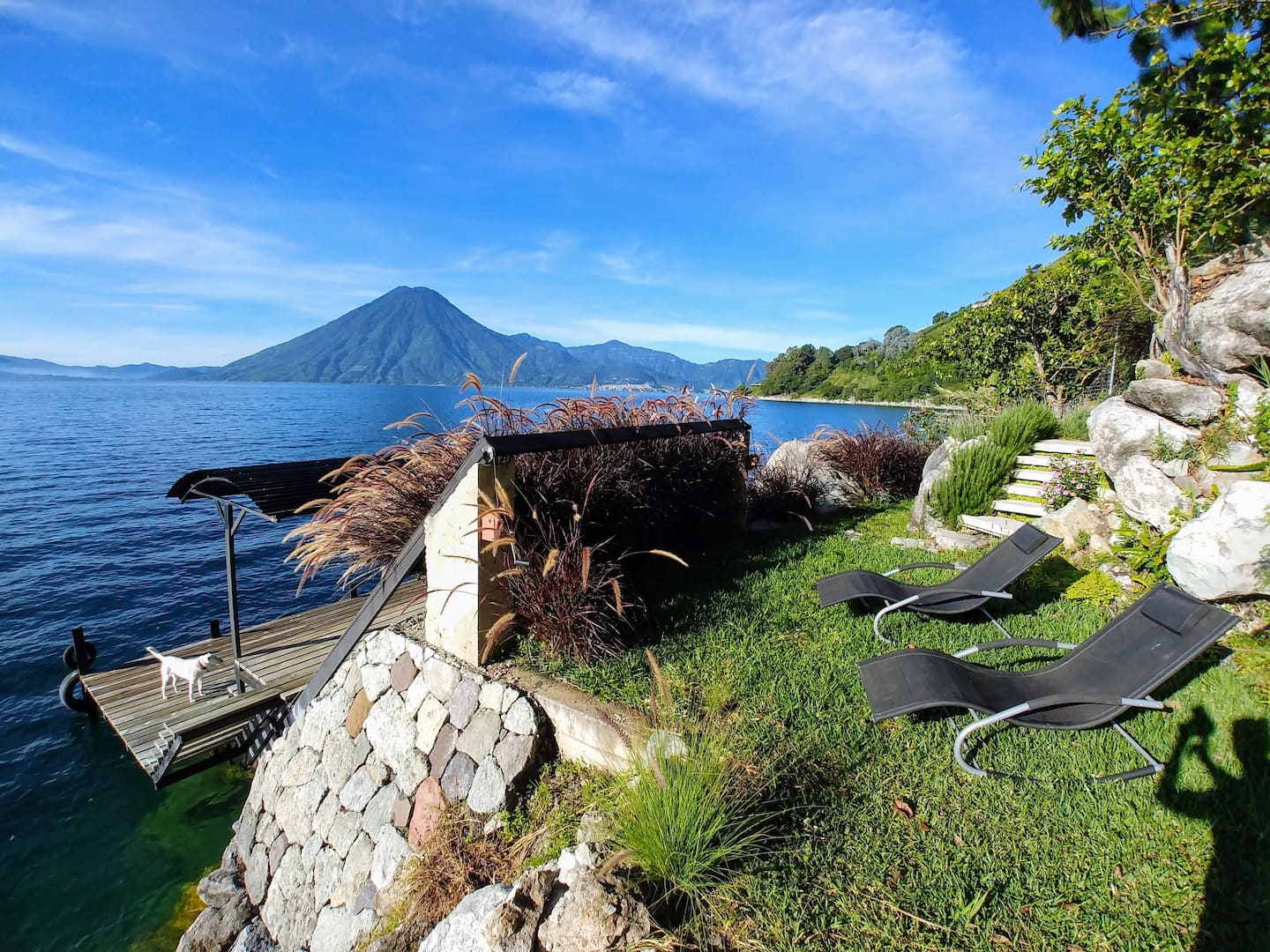 ---
The Italian Lakeside Villa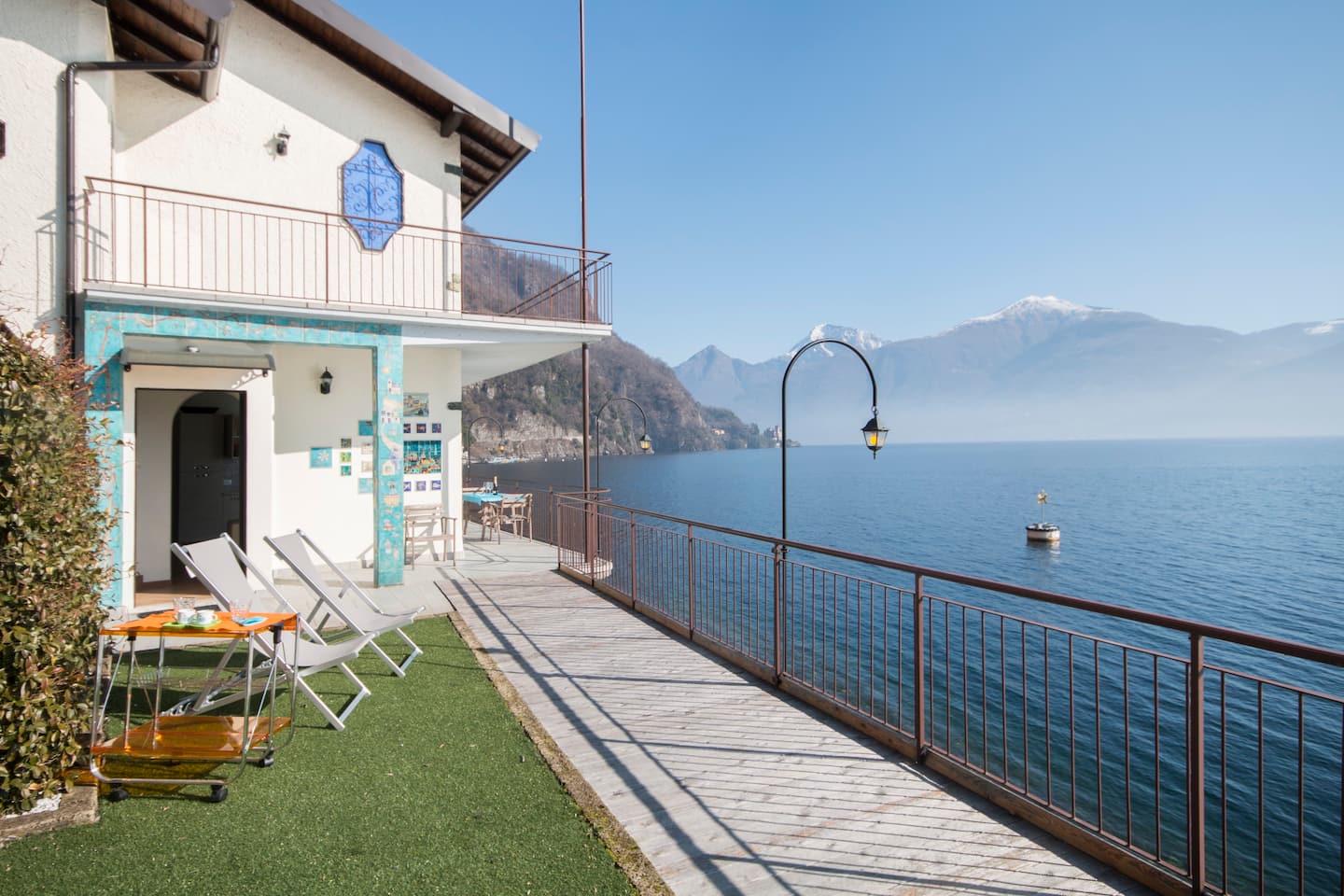 Photography by Ramona Balaban
In an area known for giant estates, this little villa is a true gem, with intricate mosaics, fully upgraded interiors, and unbeatable access to one of the world's most beautiful bodies of water.
The Story Behind The Home
Originally a warehouse, Villa Damia was reconfigured as a vacation residence in the 1960s by an art gallery owner from Milan, who commissioned the dramatic turquoise mosaics that line the veranda. Superhost Riccardo Peverelli's grandparents purchased the villa in 1981 and used it until the '90s, when it fell into disrepair.
In 2013, lacking the funds to fix the place up, Riccardo's parents decided to put it on the market. "But the house was so special to me and I have so many memories of being there as a child that I decided to take out a mortgage and buy it myself," Riccardo says. "And I'm so happy I did!"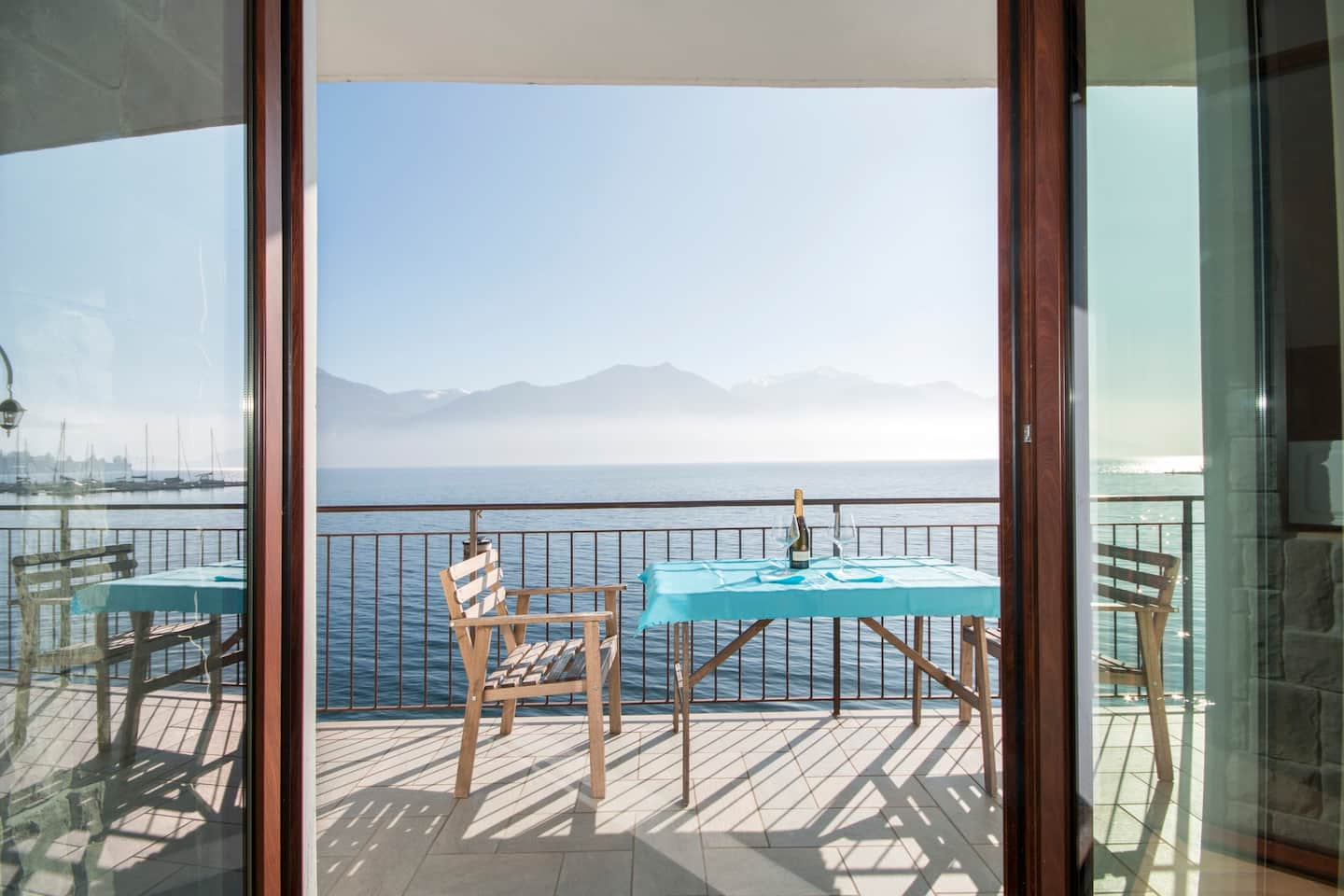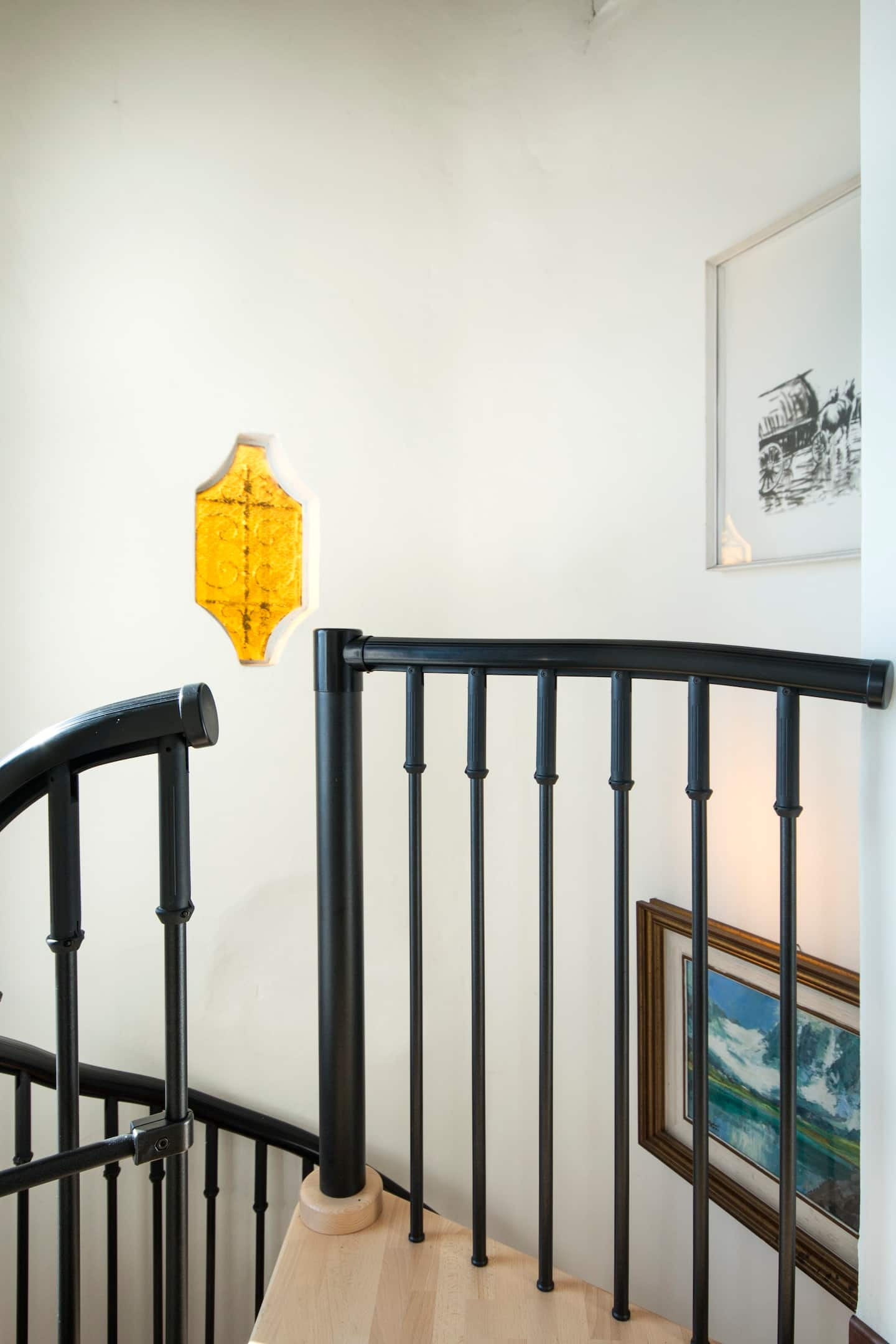 Standout Feature
"Being right on the lake is unique," says Riccardo. "Because construction directly on the shore has been forbidden since sometime in the 1960s, the house is one of only a very few structures on the waterfront."
The prime location means guests can fish directly from the veranda and also access a private swimming beach via a stairway from the garden. A ten-minute walk lands you in the postcard-charming village of Menaggio, while the enormous pink and yellow villas of Bellagio — the famously beautiful town known as "the pearl of Lake Como" — are visible across the water.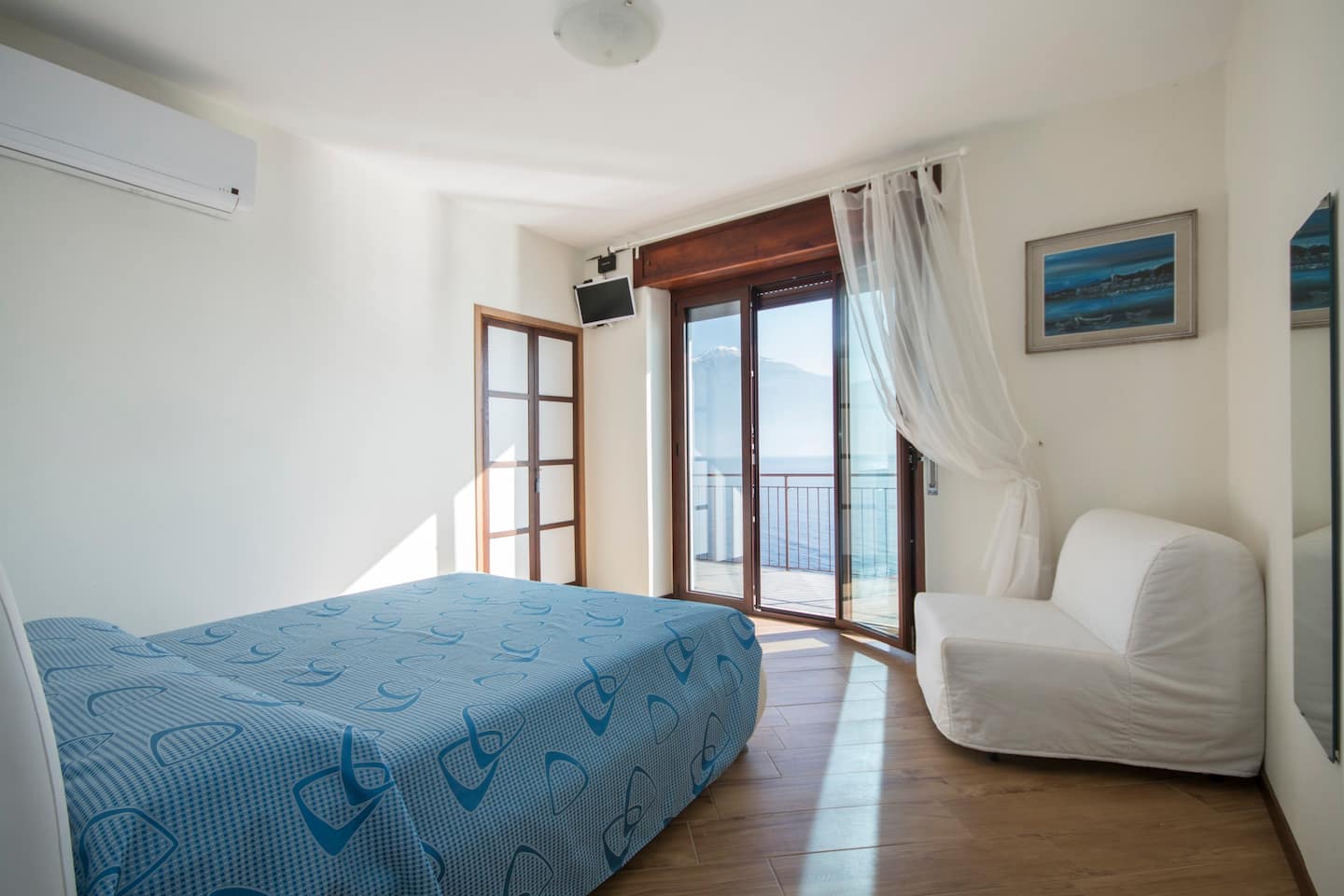 Favorite Guest Memory
In recent years, Villa Damia has drawn visitors from just about every corner of the globe. "It's always fun for me to see which aspects of the property appeal to them," says Riccardo. "A couple from Scotland was so in love with the mosaics that when they got home they sent me a tile made by one of their local artist friends to add to our wall. And a man from Singapore asked me to ship him a case of the soap we have in the bathrooms as a surprise for his wife, who had been talking about it since their visit. That made me laugh, because it's not even a very fancy soap!"
---

Jenny Comita is a freelance writer and editor whose work has appeared in publications including W, Vogue, Martha Stewart Living, Real Simple and Better Homes & Gardens.
---
Explore lake houses on Airbnb
---