Unique Stays
Woodsy Wonders: Three Cabins That Break the Mold
Get to know the stories and Airbnb Hosts behind some of the most fascinating cabins in the world.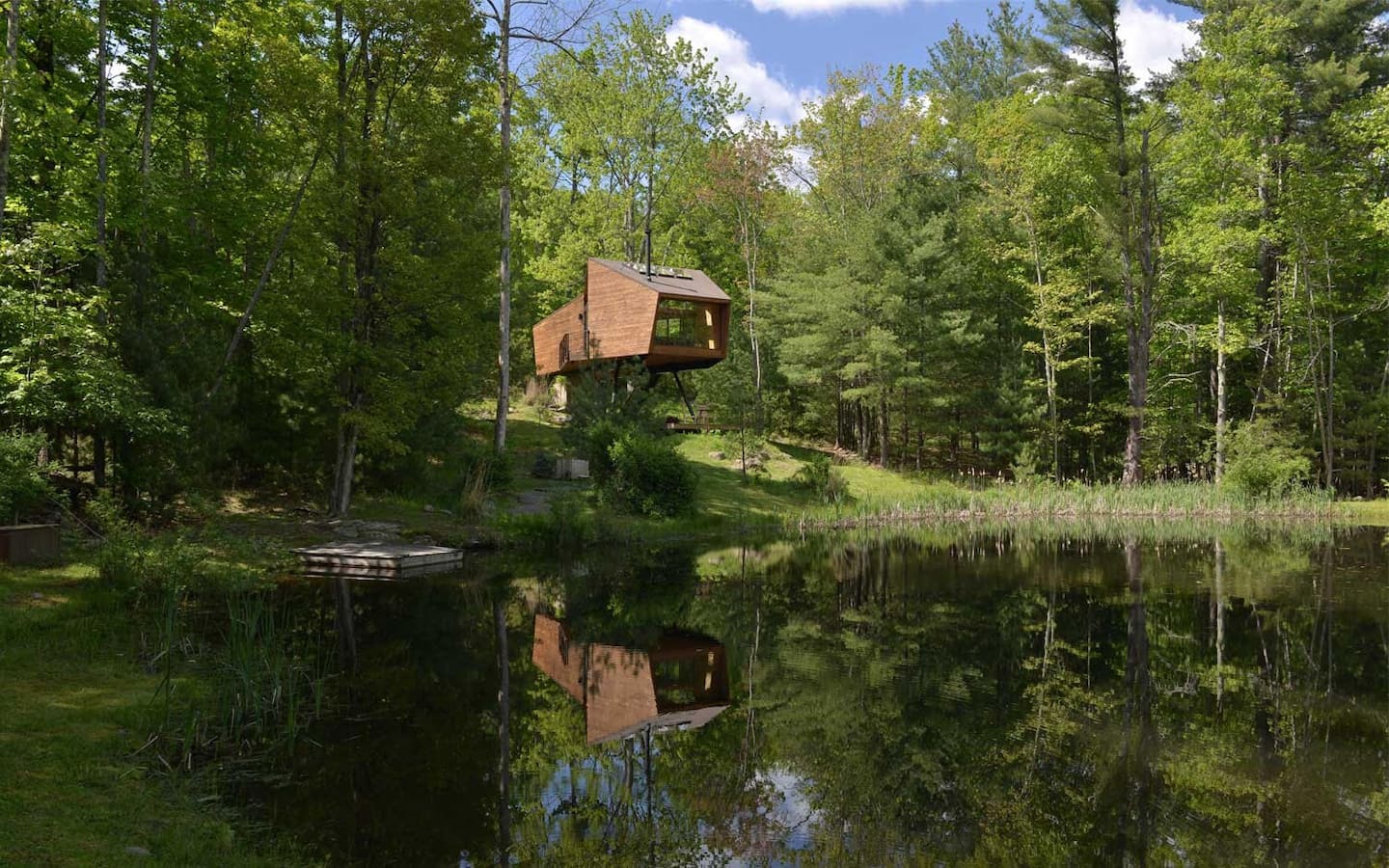 There's something to be said for spending a weekend in the woods, melding time off with a little tree therapy. When you can cap off a day on the trails with a night in a comfy bed, even better.
Meet three Airbnbs that push the boundaries of what a cabin can be. These homes marry cutting-edge contemporary architecture with easy access to the great outdoors. In Upstate New York, an ultra-modern take on a classic treehouse is lofted high above the forest floor; in Japan, an architecturally stunning community-run home is set up to allow guests to hang out with the locals; and just an hour from Stockholm, Sweden, a country getaway is designed for a schedule of rock climbing, swimming, and steaming in the sauna. Checking in at one of these cool and cozy cabins is sure to nurture your love of nature.
---
Upstate New York's Canopy-High Cabin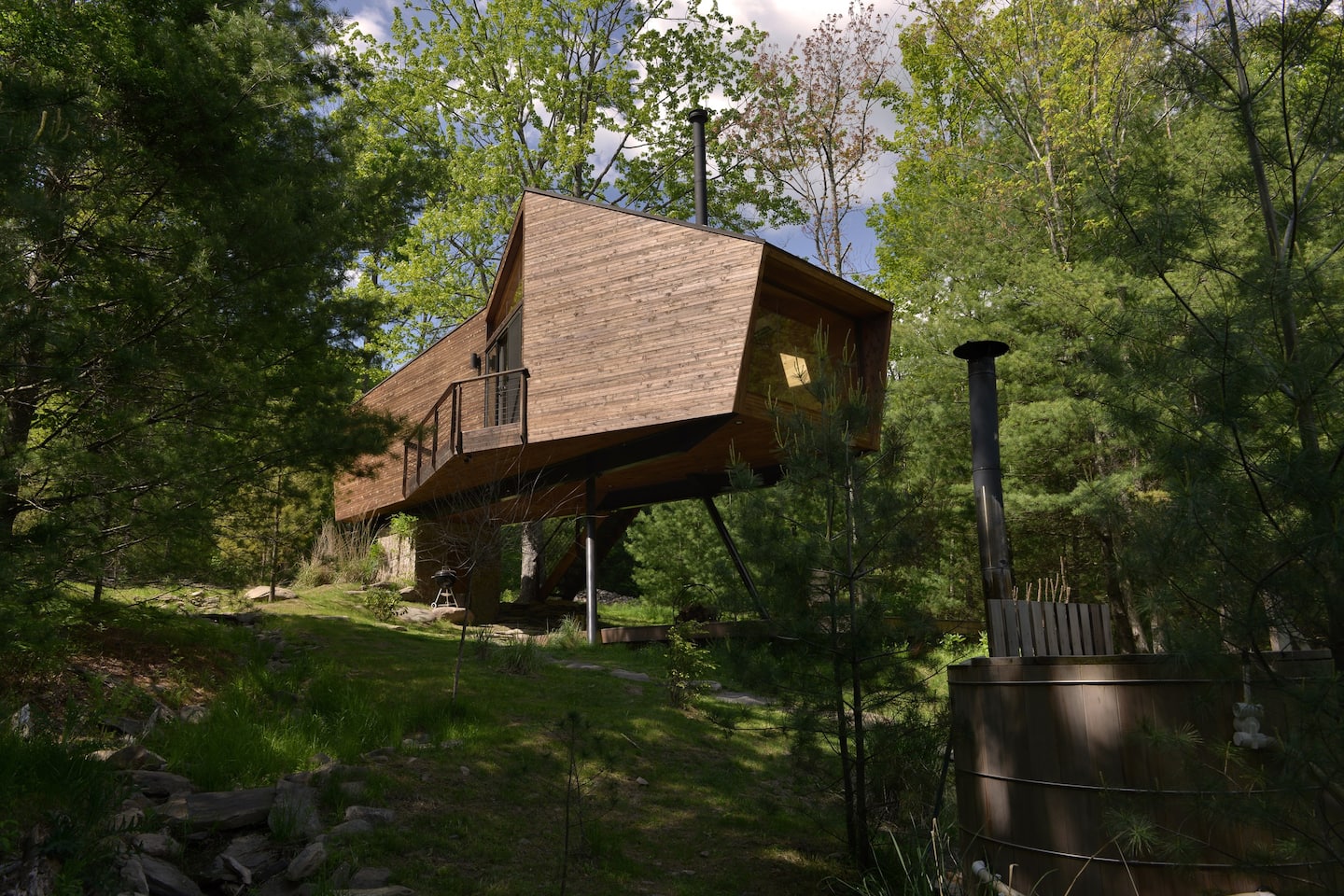 Photography by Peter Crosby
If a spaceship landed in the Catskill Mountains, it might look something like this incredible structure, which appears to hover in the trees overlooking a picturesque pond.
The Story Behind the Home
"The moral of this story is that it's very dangerous to start researching cool treehouse ideas on the internet," says Superhost Avner Ronen who, with his wife, Maskit Ronen, first set out to build a fun hideaway for their kids on the family's 34-acre property near Woodstock, New York.
"This all started because we have a pond on our land and our children were often using it," says Avner. "We thought it would be nice to have a small, old-fashioned treehouse so they could hang out there and maybe do a little picnic."
"Next it became, oh, it would be great to make it bigger so maybe they could spend the night. And then we thought, if there was a kitchen, they could make something to eat. We just got sucked in and it became a much more elaborate project than we'd ever intended."
---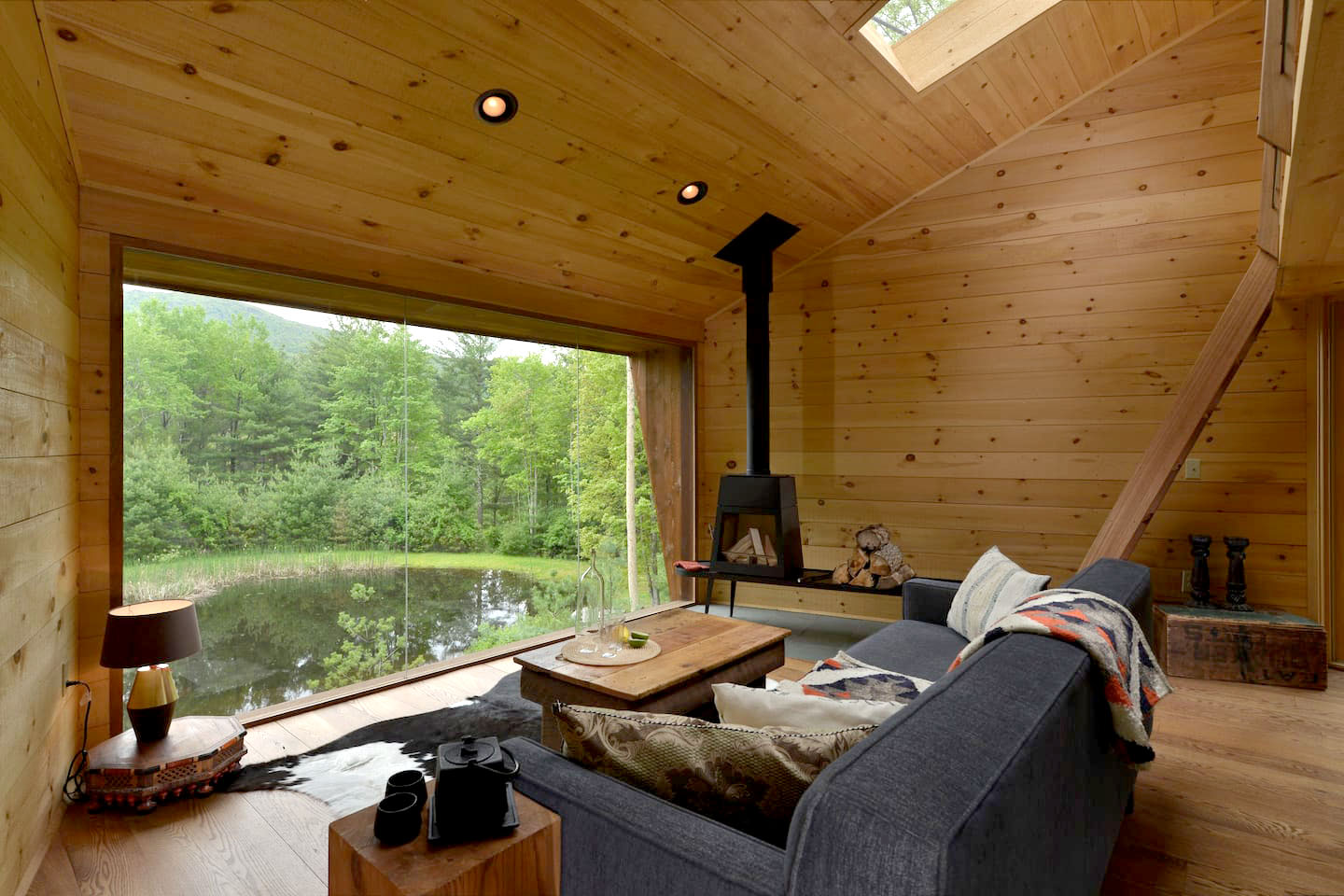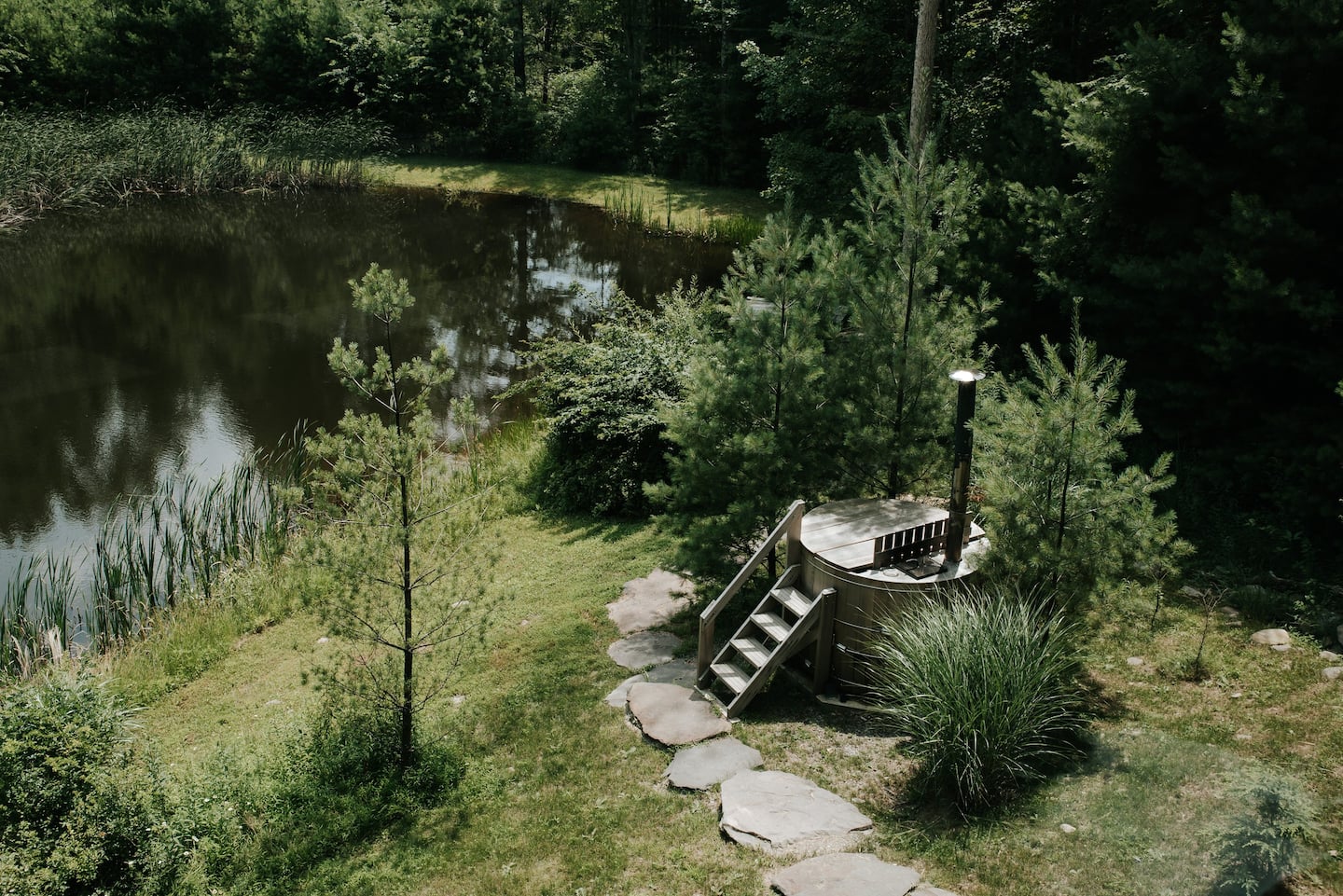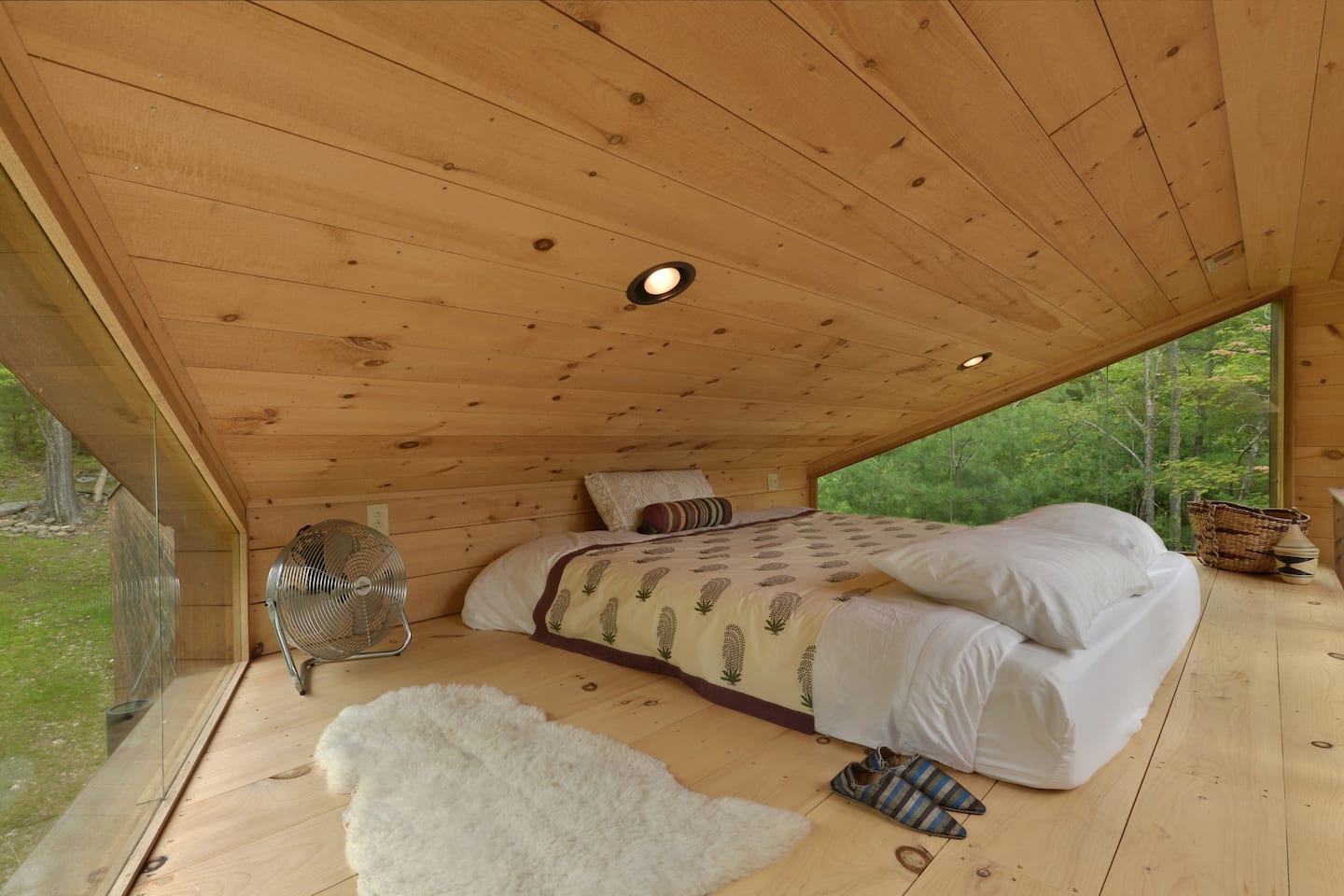 Standout Feature
While not technically built in or around a tree, the cabin — designed by London architect Antony Gibbon — is elevated to the level of the surrounding branches, giving guests the feeling that they're sleeping among the leafy boughs.
"Just sitting in front of the big window, being part of nature, it's still special even after a few years," says Avner. "The cabin can actually get noisy but it's a wonderful kind of noise, from frogs, owls, and coyotes. And there's no internet, no television, no wi-fi. There's no cell reception, so you can't escape to your phone. It really forces you to unplug and just be with yourself or be with your partner. It's easy to forget, with the way we all live today, that we can still have these unplugged moments. The treehouse reminds us."
---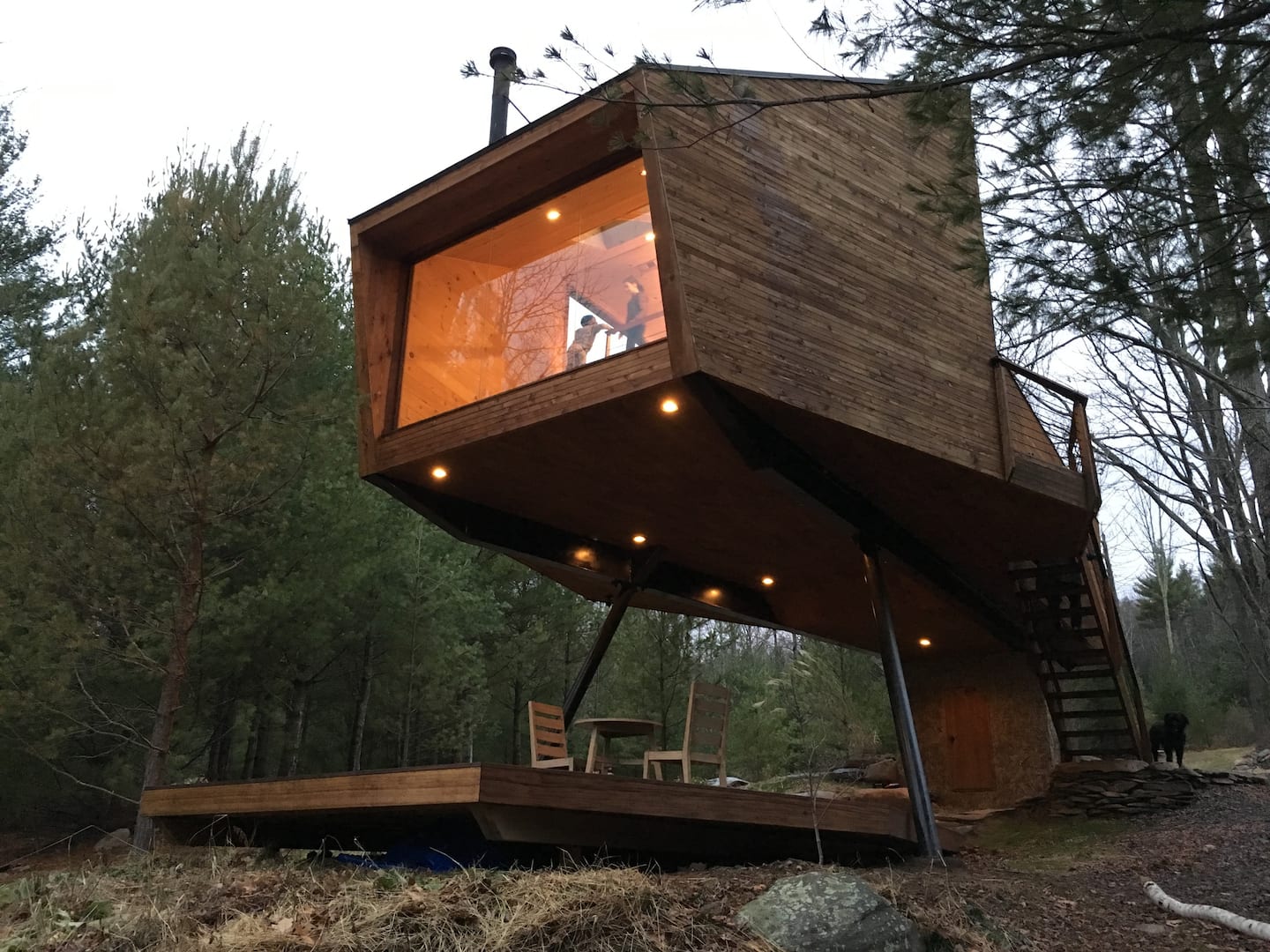 ---
---
Favorite Guest Memory
"We've had multiple marriage proposals here," says Avner. "The most memorable was when a guest coordinated with us to have a photographer sneak onto the property and hide in the firewood storage area, making an opening between the logs for his camera. When the couple came out to the deck and the guy got down on one knee, it was all captured on camera. Afterward they shared the picture with us, which was very cool."
---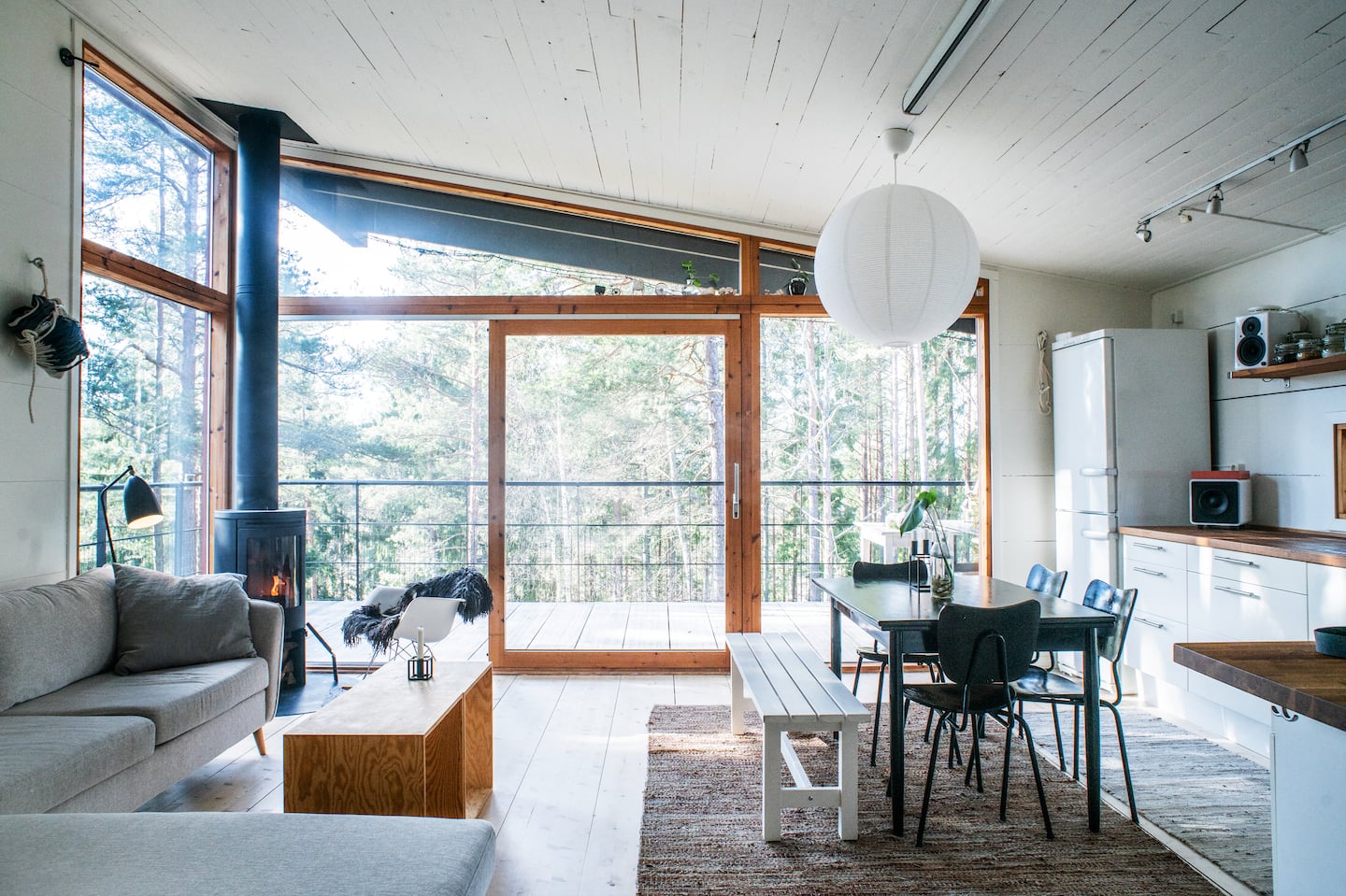 Photography by Daniel Gustafsson
In a woodsy lakeside enclave less than an hour's drive from Stockholm, this Scandi-chic cabin is an active family's dream getaway, complete with climbing wall.
The Story Behind The Home
"Our community is just 40 houses around a lake — nothing tourist-y, no town, just the outdoors," says Host Samuel Fast Hurtigkarl, who runs an animation studio in Stockholm.
"We were looking for an escape from the city and, with two young kids, this place is perfect. There are so many things to do outdoors here, from mountain biking to hiking and swimming in the lake. And because the lake is so shallow, it's actually quite warm, which is very rare for Sweden!"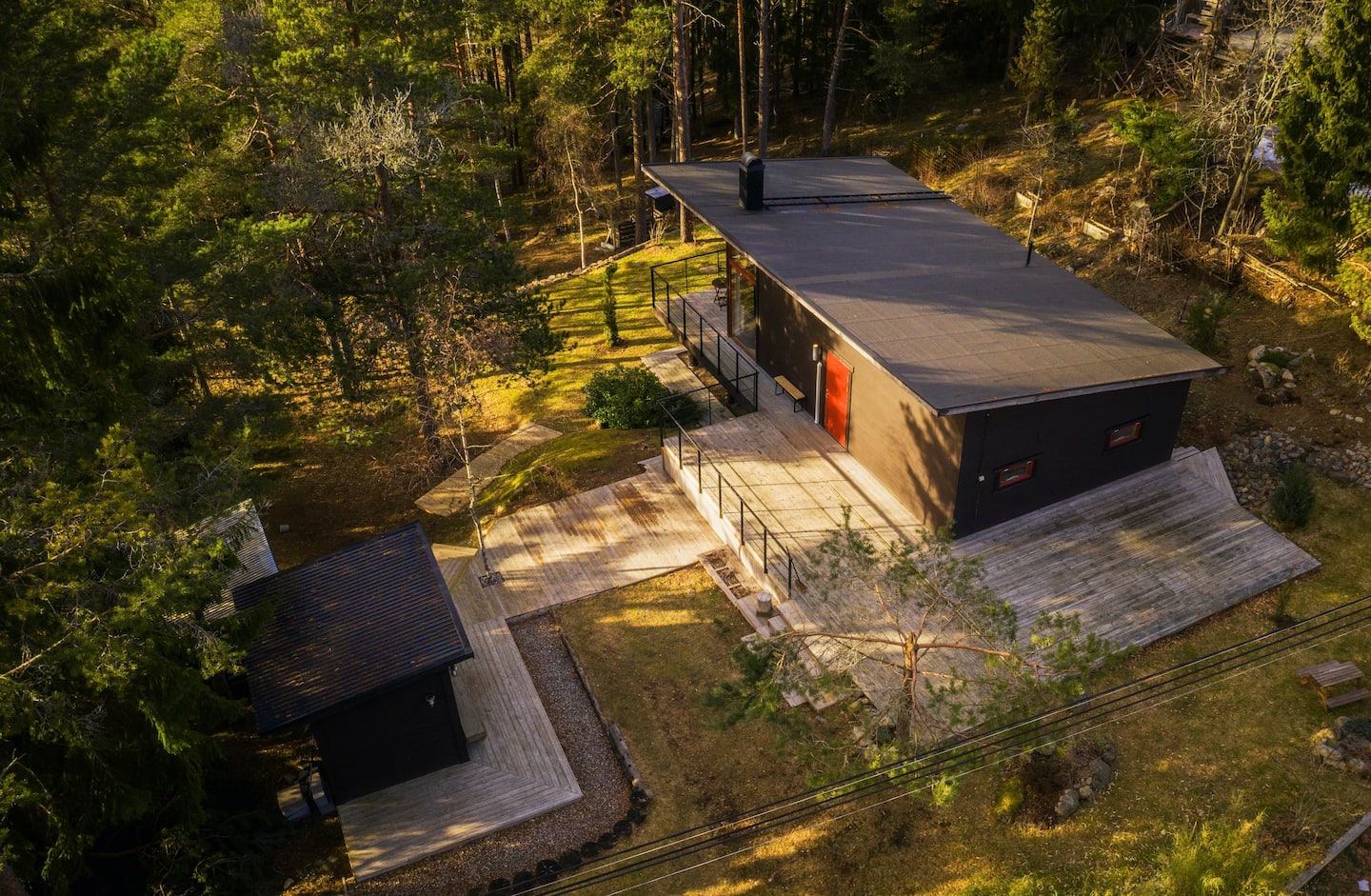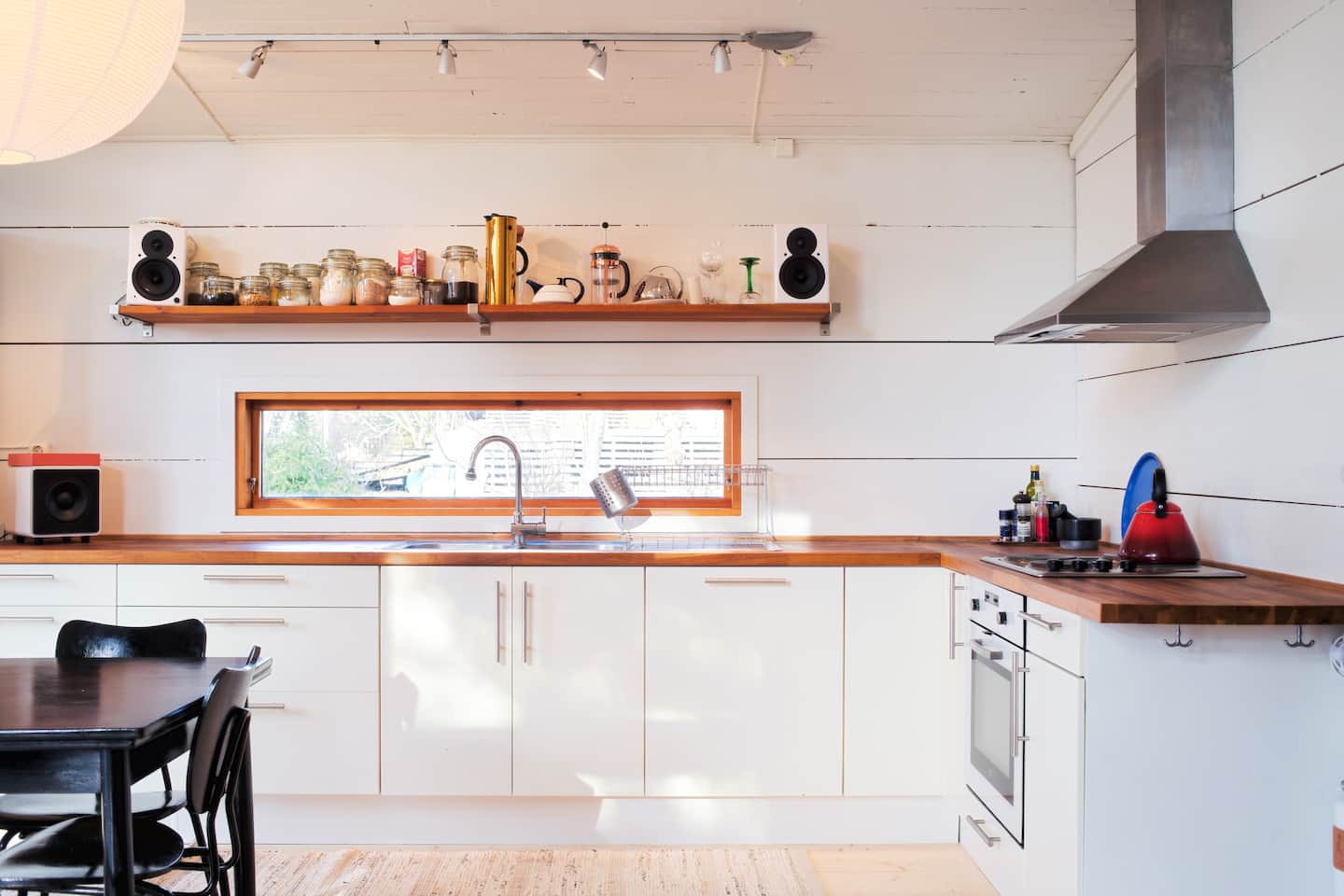 Standout Feature
"The sauna we built in the garden is really unique," says Samuel. "It's an electric model, so you just push a button and it warms up in 10 minutes. It can get up to 100 degrees Celsius and you can throw water in and eucalyptus drops. And then the outside of the structure is a really tech-y climbing wall that you can control and track with your phone."
---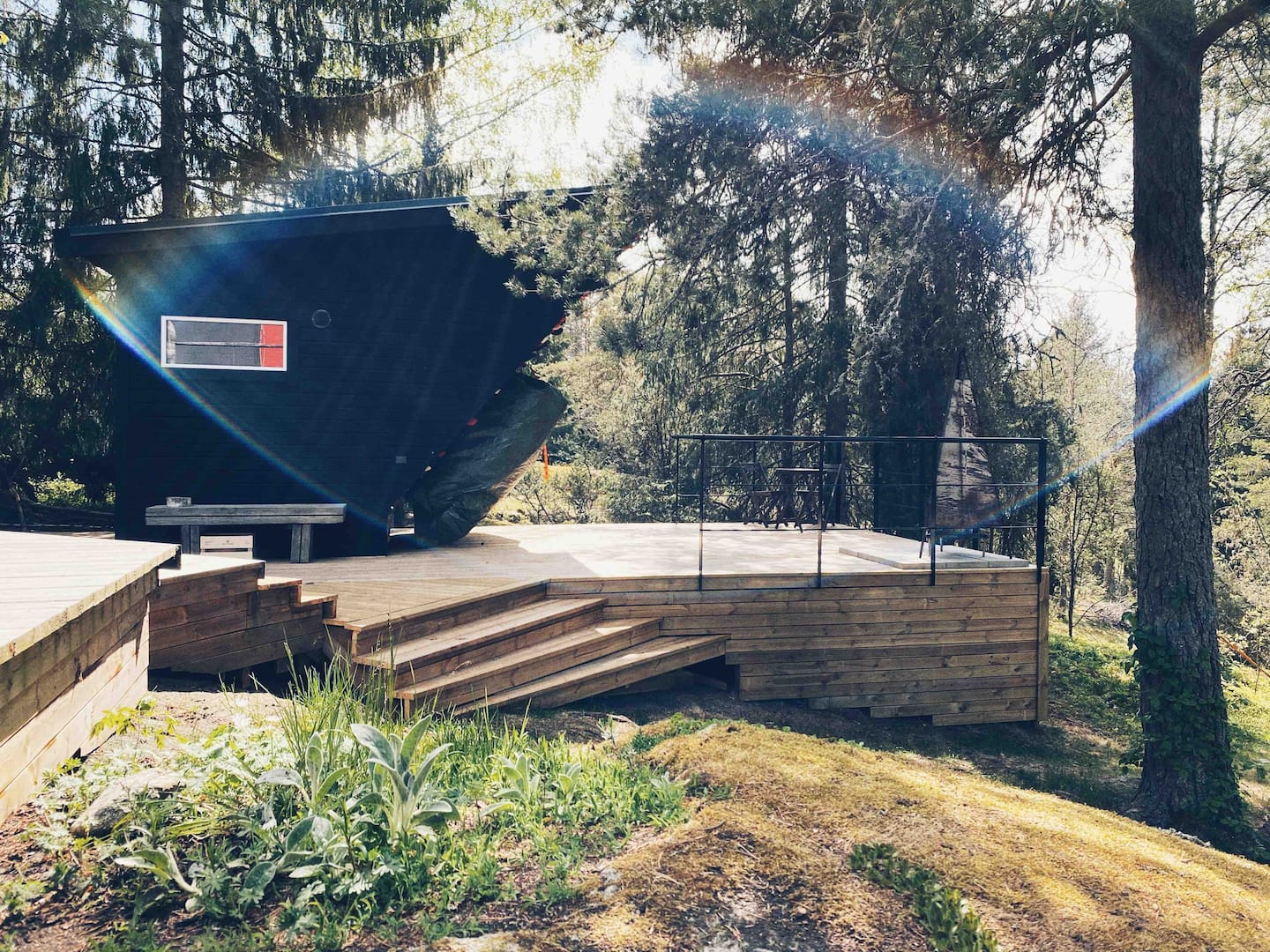 Photography by Airbnb Superhost Samuel Fast Hurtigkarl
Favorite Guest Memory
"There have been so many nice meetings with people from all over the world," says Samuel. His most memorable recent guest, however, was from much closer to home.
"I rented my house to my neighbor in Stockholm without even realizing it," he says with a laugh. "She was part of a tech company group that came to stay, and I later bumped into her on my block in the city and she said, 'Oh, you look familiar.' We made the connection and now I see her on the street all the time. I guess that's what it takes to meet your neighbors in the city — getting out of town!"
---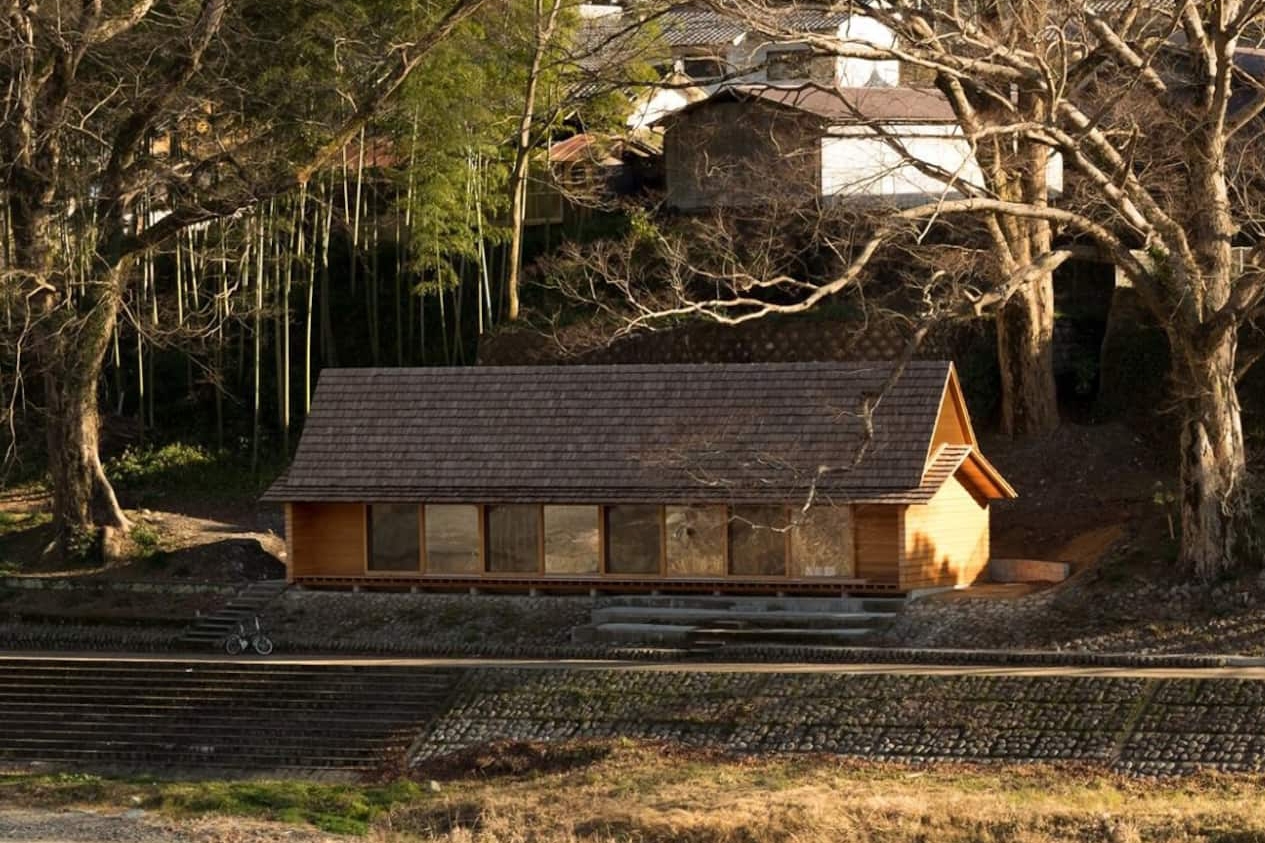 In a small riverside hamlet in the mountains of Nara, a new breed of vacation rental allows guests to immerse themselves in local traditions and craftsmanship — while supporting the local community in the process.
The Story Behind The Home
Built in 2016 entirely from the prized local cedar for which Yoshino is known, the Cedar House began as a collaboration between Airbnb co-founder Joe Gebbia; the residents of Yoshino; and Tokyo-based architect Go Hasegawa.
This house is a hybrid of community center and homestay, where 31 residents of the town serve as a co-op of Hosts, each taking on a different role in the upkeep and running of the place. Upstairs, guests sleep on traditional Japanese futons in serene, wood-clad rooms with sloped ceilings and sunlight streaming in from giant, triangular windows.
The Hosts generally describe the cozy feel of the space as like "being hugged by the forest." Downstairs, visitors can gather with their Hosts for meals, conversation, and advice about what to see and do in the area. The Hosts share profits and donate 40 percent of their earnings for projects that benefit the community, which has felt the impacts of urbanization and an aging population in recent years.
---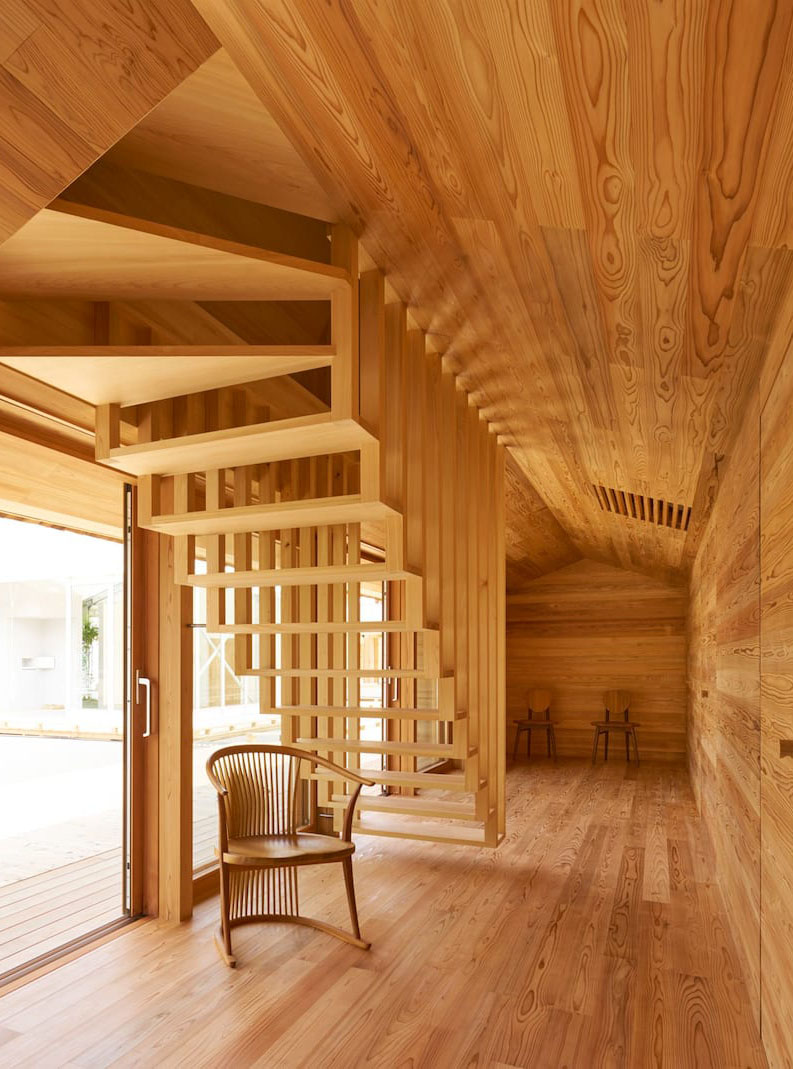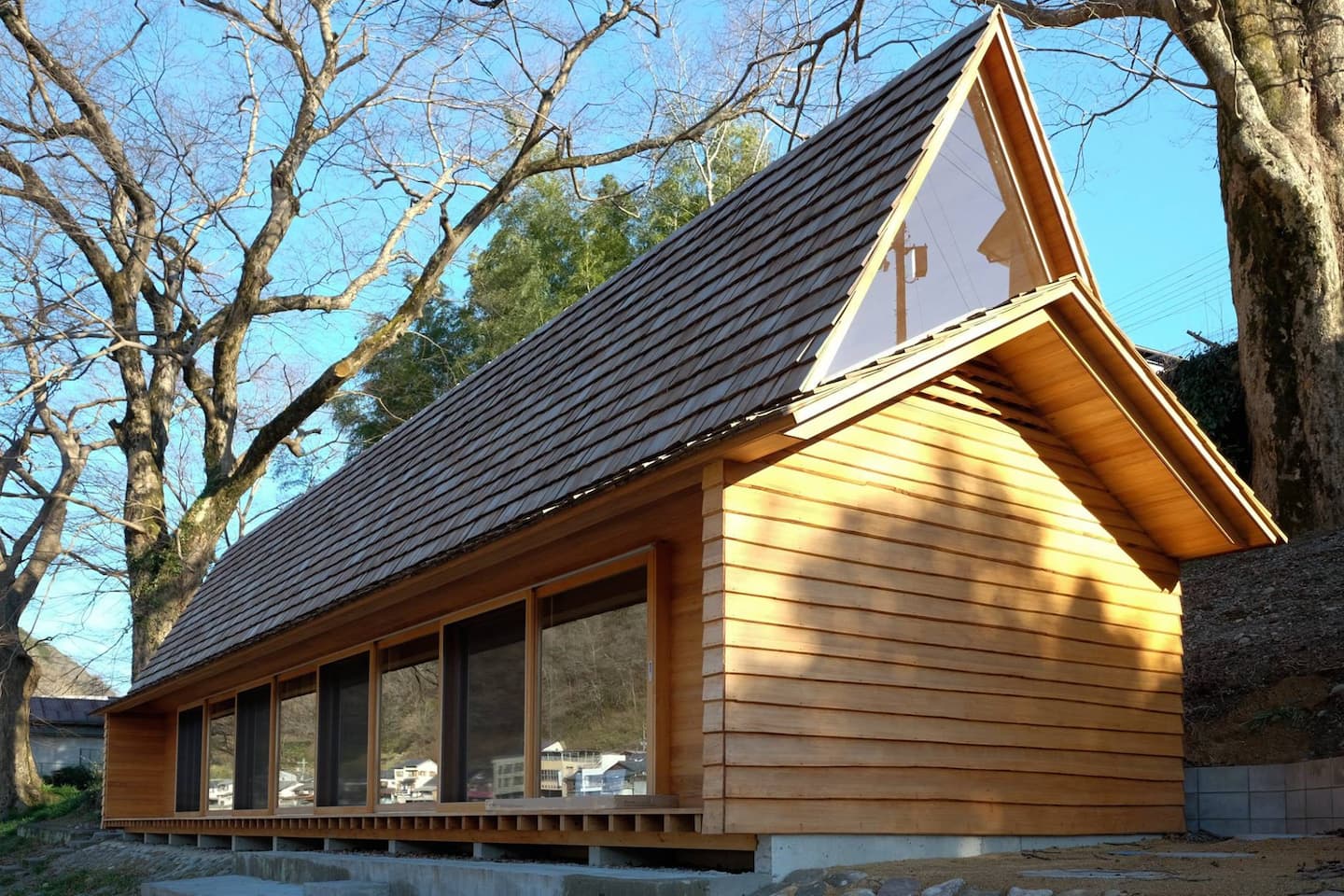 Photography by Edward Caruso
Standout Feature
Travelers often visit Yoshino to admire the local sakura cherry blossoms, which are considered some of the most impressive in all of Japan. But checking in at the Cedar House opens doors to parts of the village that most tourists can't access. One example: the local sawmill, the center of town's traditional timber industry. Visitors are "awed by the scent of hundred-year-old cedar and cypress logs, the touch of smoothly shaved wood," Teruichi Ishibashi, leader of Yoshino Hosts, says. "In the woodworking workshop, the fragrance from the wood when it is cut to make chopsticks is delightful."

---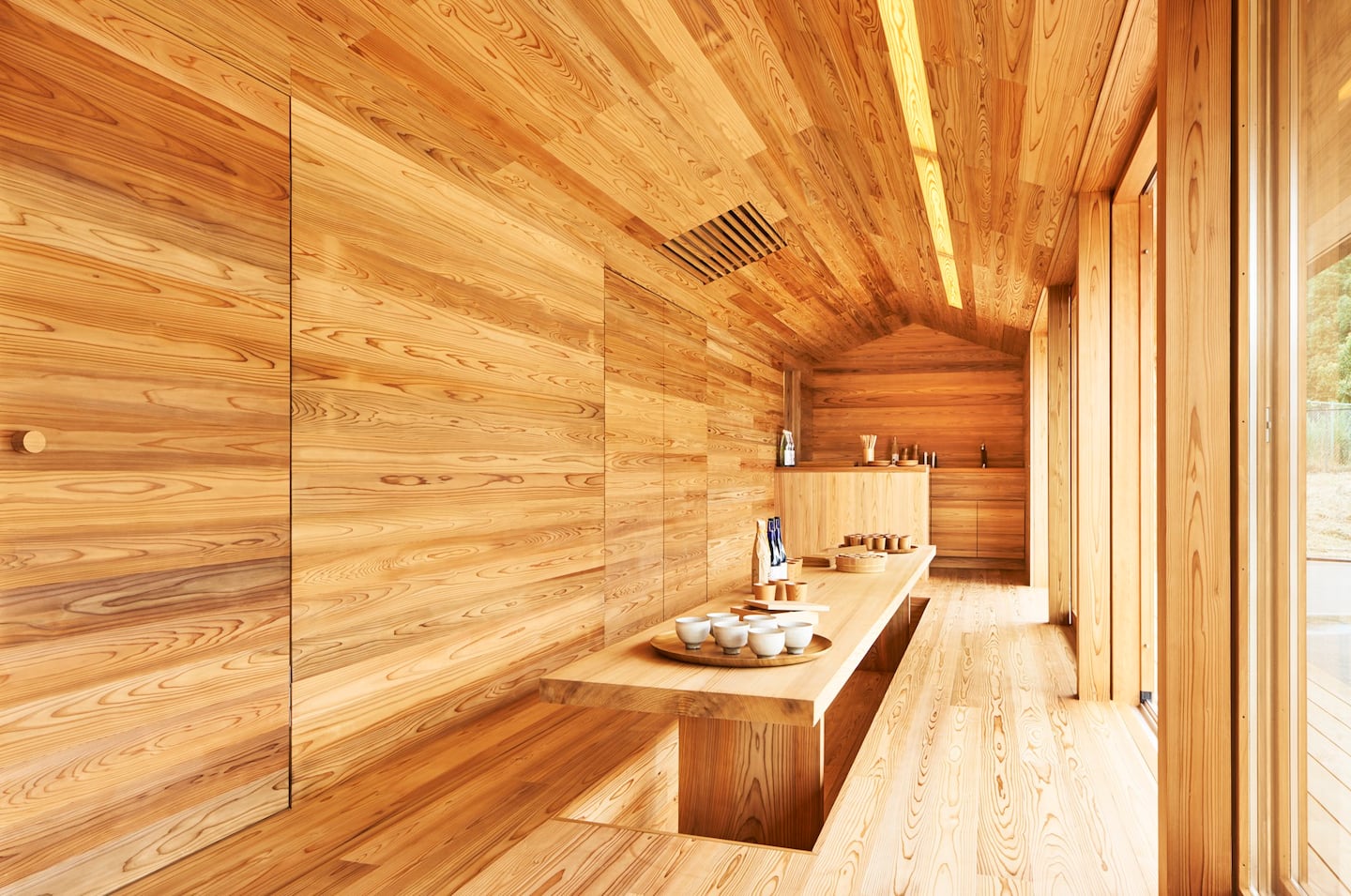 Favorite Guest Memory
Host Yoshikawa Kouhi, who handles reservations and scheduling, formed a lasting friendship with two families who happened to be staying at the house at the same time. "One group was from Milan, Italy, and the other from New York," he remembers. "I enjoyed playing with their children and telling them about the restaurants I recommend, as well as other places frequented by locals. Coincidentally, I was planning to travel to Italy and New York a few months later, and when I told them, both groups said, 'Let us show you around!'"
He took them up on the offer, and even ended up staying at their homes, sharing meals, and getting the inside scoop on local attractions. "Unlike a tour or trips that rely on information from the internet, it was great to experience a kind of travel where you enjoy time with friends instead."

Jenny Comita is a freelance writer and editor whose work has appeared in publications including W, Vogue, Martha Stewart Living, Real Simple and Better Homes & Gardens.
---
---