Cozy county house 2min away from the lake, 15 min away from the casino, and 15 min away from Monticello motor club (driving). Our big family own several properties in NY and NJ. After amazing travel experiences with Airbnb we decided to become a host ourselves. We want to share our cozy country house with others. We always had quality times there, hopefully you'll have too. Treat our home like your own, that what will make it really special!
What guests are saying:
"Great place for a three night get away with my girlfriend. Fire pit both inside and outside (huge) and a nice unfiltered view of the night sky and stars offer relaxation by the fire. Bring/buy plenty of wood depending on how often you will be starting a fire. There is a wal-mart about 15 minutes away by car. The lake is more like a 5-10 minute walk. There is no area where you can relax on without trespassing. It is a residential area so be mindful and considerate. The kitchen is well stocked but some pans need to be replaced. I would also suggest packing your favorite spices because they did seem to be running low on specific things. Thankfully we brought ours. Water pressure for the sink and showers seem to have moments of higher pressure so it may take some time getting used to in order to avoid getting splashed on. The house has high ceilings. None of the doors seem to fully lock other than the front door and backyard door with a wooden stick. The sliding door on the ground level bedroom does not lock. Master bathroom upstairs is big and spacious. Plenty of towels and shampoos. Living room lighting is adequate if you don't have issues with vision. I couldn't seem to get the light on but the kitchen/hallway lights were good enough for us. It actually made things a bit more intimate. Love the wrap around porch. The lighting on one specific part of the porch is very nice at night. Plenty of outdoor chairs for everyone, at least if the group is kept to 10-12 people. Overall, despite some minor things, I would recommend this home for an inexpensive, all you need, few days getaway with a close group of friends or family. We had a great time cooking, drinking, and huddled up by the fire at night which is exactly what we wanted. Thank you Olga for making our stay enjoyable."
Less than a two hour drive from NYC. A well equipped private retreat in a quiet wooded location with lots of outdoor recreation area. Just two blocks from a lake, close to Bethel Woods, Monticello Casino and Waterpark.
What guests are saying:
"John is a wonderful host. He picked us up from the bus stop and was very accommodating to our arrival time. He even picked picked us up and took us back to the bus stop at checkout - saving us multiple taxi trips! He EVEN brought us bacon and eggs one morning because the local grocery store was closed. Responded almost instantly whenever we had any questions. The hot tub was amazing under the stars and snow. We saw multiple herds of deer wandering the backyard during the 3 days we were there. The wifi and TV worked perfectly (easy to access netflix/hbo/hulu/etc.). Kitchen was stocked with basic necessities. We will definitely be back :) Things to note - Uber/Lyft DO pick up in the area, but the 2 times we tried to get a car the apps said it would take 20 mins for drivers to get to us. And as of this date, you can't schedule pickups in advance. So make sure you bring ALL the supplies you need if you don't have a car (i.e. food). Especially in winter, because the closest market is a 20 min walk (and it was closed when we got there)."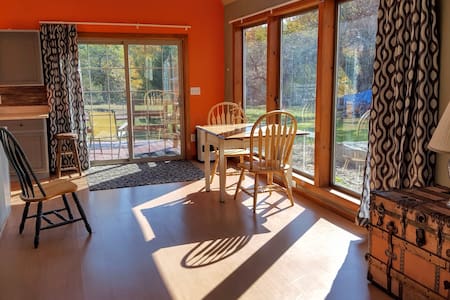 SUPERHOST
Entire guesthouse · 4 guests · 2 beds · 1 bath
Private hot tub. Modern Guesthouse On 1879 Farm
Spectacular 2-story guest house with 12-foot ceilings. Bedroom loft flooded with natural light. The floor-to-ceiling glass visually brings the outdoors in.
What guests are saying:
"The perfect country getaway. I've been looking for good location for a writing retreat, and I couldn't be happier with this space. The guest house is spacious and brilliantly designed, with a substantial sleeping loft and generously-sized windows that flood the rooms with sunlight. I especially appreciated the full-sized staircase to the loft, with rock-solid railings on both sides (no tricky ladder or skinny slippery steps to worry about). This property is so peaceful, so exquisitely simple, a perfect yet utterly uncomplicated space, small enough to feel cozy, and roomy enough to bring the whole family along. Joe goes above and beyond to make you feel at home, and was kind enough to let me check out an additional space on his property (The Catskill Cube Tiny House) that I instantly fell in love with. Highly recommend - and I will be back as soon as I'm able!"