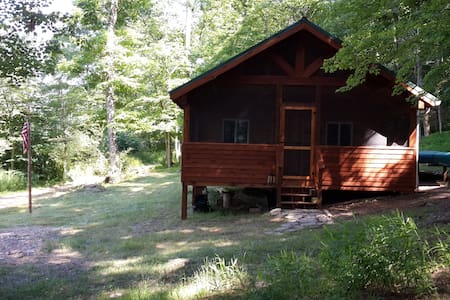 SUPERHOST
Entire cabin · 4 guests · 2 beds · Half-bath
Rustic Cabin on Cacapon River for Private Getaway
Rustic, 100 year old 1 rm primitive cabin in West Virginia along the Cacapon River. Beautifully restored with wood stove, loft, & screened in porch. Access to 214 acres of private mountain land & over 1/4 mile of river frontage plus 1/2 acre pond, trails, and private shooting range. This cabin is completely off grid. It has NO electricity or plumbing/running water, but does have a Porta-John serviced weekly. Renter will be cabin camping so pack accordingly; tents also welcome.
What guests are saying:
"We had a great time! It was COLD but our second night we almost got sweat out of the cabin by the stove! If you're arriving late like we did (11pm almost) I would take care to really pay attention to the written directions that Jonathan provides. It gets much harder to see signs and to see the river crossing when it's the middle of the night, but the directions were true and led us directly to the cabin without any second thought. We brought our own firewood but the extra wood split by the cabin was a thoughtful addition and we appreciated it being there if we had needed it. We were also appreciative of previous guests who had left spare supplies behind. You shouldn't have a shortage of necessities thanks to the community leaving their extras. All in all, it was a beautiful bit of land and we cannot wait to visit again when it gets warmer. The first night was rough with the cabin not being warm inside beforehand, and waiting on the stove to do its job, but our next day and following evening were great and a very memorable experience."
Quiet River Cabin, with large screen porch overlooking the Cacapon River. Wildlife abound including river otter, birds and charms of humming birds. Bring your Kayak. Wake up in the morning to sounds of the river, and mist rising off the water
What guests are saying:
"Pete's river cabin is a fantastic escape to nature with an amazingly serene view of the Great Cacapon River and a homey cabin with great options for spending time with family and friends. Pete provided us with everything we needed and exceeded our expectations. The indoor wood stove was an incredible feature, kept us very toasty, and was a very peaceful ambiance. The outside fire pit was equally as functional and Pete provided us with an abundance of wood. There is WiFi available but none of my cabin crew were able to connect, but it was refreshing to disconnect for a weekend. There is also a very cute cafe/ convenient store 3 min away that has accessible WiFi, if desperately needed. Privacy was a bit less than expected in that neighbors are relatively nearby and frequently out and about. But we always felt respected and safe."
One bed room cabin. Beautiful view , peaceful environment, private, quiet, fresh air, country living, great place for meditation, Everyday sunset view ! Beautiful green and wood surrounding in the spring , summer, golden leaves in the fall season and Snow white and cold in the winter. Minimum 7 days.
What guests are saying:
"I had a wonderful time! Everything exceeded my expectations of the place. The cabin was perfect inside and out. It is situated in a peaceful setting with gorgeous views of the mountains. You can breath clean air anywhere you turn. I loved to take walks around the area! Philip, the property Manager, was very welcoming, and always responded quickly to my inquires. I felt welcomed from the beginning to the end. I will definitely be back. If you are looking to have a relaxing week in a little piece of heaven, this is the place to book! (This is a Hidden Jewel)."