Beautiful land, rustic, comfortable home. Take a hot tub at sunset looking out over the property and listen to how quiet it is here. That's the special treasure about this place. You can hear the birds and the wind through the pines. We like it that way. That's why we call it a Retreat!
What guests are saying:
"We had a great time at the blueberry farm. I wish we had been there a little later in the season so the blueberries were ripe. The house is very cute, eclectic and artsy. The whole place has a bohemian vibe. Lots of plants and wildflowers, blueberry and raspberry bushes. The small pond by the house has tons of frogs the kids spent hours trying to catch. Nearby sawyer, MI. We picked up food and beer from Greenbush brewery and got groceries at the garden center next door to the brewery. The hot tub was nice to sit in at night. Good water pressure in the shower, comfortable beds. You will need to use bug spray due to mosquitoes. She had extra there too. The house stays pretty cool, but we did turn in the air conditioning on the last day as it was 85-90 and it cooled it off quickly. The screen porch is very nice to relax on and overlook the property. Grills provided and a fire pit. Our kids have declared we are coming back. It was a hit. Very relaxing. The owner stays on the property at the back in her own trailer and is very lovely and helpful if we need anything. Warren dunes park is about 10 minutes away although we didn't go there this time."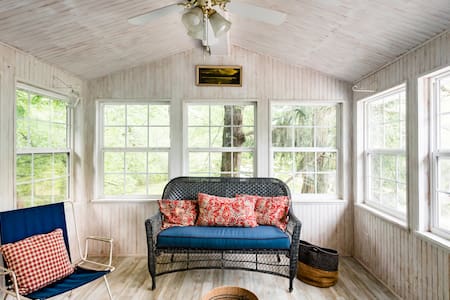 PLUS
Entire apartment · 4 guests · 2 beds · 1 bath
Quaint Chalet Getaway with Sunny Lofts near Warren Dunes
Take in leafy views through walls of picture windows in a charming loft sunroom dotted with vintage finds. Rattan and floral touches create a homey feel at this light-filled, multi-level home, from which all profits go to help poor rural families.
What guests are saying:
"Hannah's chalet is cute, relaxing, and extremely close to Lake Michigan. Warren Dunes State Park is (at maximum) a 3-minute drive, and she also recommended Weko Beach, a bit farther north (we didn't have enough time to check this out). The village of Sawyer has everything you need for supplies, and the kitchen has more than enough storage space for a longer stay. We spent only one night at the chalet, yet made the most of it. We made dinner and ate at the dining table, then spent the majority of the evening on the enclosed patio/sun porch. Our daughter absolutely loved the loft area! If we are ever in the SW Michigan area again, we'd love to stay here for a longer period. The proximity to Lake Michigan, multiple blueberry patches, and the quiet location would make a very relaxing family vacation. Last but not least, we appreciate how Hannah supports the poorer families in this rural area of the country."
You will love your stay in our adorable, cozy Beachhouse! This two bedroom, one bath house with wrap around porch is a 20 minute walk to the beautiful New Buffalo Beach, local bars, shops & restaurants! This house is small pet & kid friendly.
What guests are saying:
"This is a stylish, pleasant, sunny place in a safe, quiet neighborhood. Nice deck going halfway around the house. Nice yard for kids with things to play with and on. Close to downtown with lots of restaurants. A very good grocery, too. There are a lot of amenities, she provides lots of soap and ice and other things which we saw but didn't use. She has night lights out. Good cutlery. Shower good. Wifi good. Water good. AC good. Good locks on doors. The grill is good and clean. The stove and fridg are good. Lots of towels. Beds were comfortable. Open floor plan so it doesn't feel crowded. The outdoor shed was full. The bikes did not seem usable. This is a nice place to hang out in New Buffalo. It deserves its high rating."