Enter your check in date in the format mm/dd/yyyy
Enter your check out date in the format mm/dd/yyyy
Listings you can book without waiting for host approval.
Enter dates to see full pricing. Additional fees apply. Taxes may be added.
This July and August, you can try one of these 100 highly-rated homes, at all price points, and experience a local's view of Sonoma. 24-hour check-in, Instant Book, and local wine and snacks let you just sit back and enjoy your trip.
The house is ideal for a couple, a family or for a group of 4 friends that want to explore Tuscany; you can stay in a design stone hay loft located in Valdarno: from this area you can easily reach Firenze, Arezzo, Siena, Cortona, San Gimignano and the Chianti; after a day spent in our amazing region, you can relax during summer in the private pool that overlook the Tuscan countryside! The house has 2 floors: at the ground floor there are the sitting room, the kitchen and a bathroom; kitchen has induction cooker, oven, microwave, dishwasher and washing machine; the sitting room has a big sofa, satellite television; from the huge glass door you can admire the garden and the pool; at the first floor there are the main bedroom with panoramic view, a bath with shower, a double bedroom with access to the back garden; the house in in stone, so the temperature is always good, also in the hot Tuscan summer, however there is an air conditioning system; during winter, you can also use the fireplace ad the heating. The property is fenced and the closest village is Montevarchi (5km); DO YOU COME IN NOVEMBER OR DECEMBER? If you come during autumn or winter, we will be glad to offer you the fresh olive oil made with plants from the olive grove that surround the property! Distances: -Firenze: 50 km -Arezzo: 35 km -Siena: 45 km -Gaiole in Chianti: 20 km -Cortona: 84 km -San Gimignano: 66 km -Prada Shopping Center: 8 km -The Mall Shopping Center (Gucci, D&G, Valentino, ect): 33km Contact us for stay shorter than 6 nights! ******************************* La casa è ideale per una coppia, per una famiglia o per 4 amici che vogliono esplorare la Toscana, ma vivere in un ambiente di design, creato in un fienile in pietra; la villetta si trova nel Valdarno aretino, zona che vi permette di raggiungere facilmente Firenze, Arezzo, Siena, Cortona, San Gimignano e il Chianti in poco tempo; al rientro dalle vostre giornate potrete rilassarvi nella piscina privata situata davanti al salotto di casa; la casa è costruita su due livelli: al piano terra si trovano il grande salotto con cucina a vista, la sala da pranzo e un bagno di servizio; la cucina è dotata di fuochi ad induzione, forno, lavastoviglie e lavatrice; il salotto ha un grande divano in pelle e la televisione satellitare; dalla grande porta finestra che illumina la stanza, potete ammirare il giardino e la piscina. Al piano superiore si trovano la camera padronale con vista panoramica, un bagno con doccia, una camera doppia che porta al giardino sul retro; la casa è in pietra pertanto è fresca anche nelle caldi estate toscane, ma è inoltre presente un sistema di climatizzazione per rinfrescare le stanze; in inverno invece, potrete accendere il caminetto e il riscaldamento; la proprietà è recintata e il paese più vicino è Montevarchi situato a circa 5 km; ARRIVATE A NOVEMBRE O DICEMBRE? Saremo felici di offrirvi l'olio nuovo fatto con le piante che circondano la proprietà! Distanze indicate da Google Maps: Firenze: 50 km Arezzo: 35 km Siena: 45 km Gaiole in Chianti: 20 km Cortona: 84 km San Gimignano: 66 km Prada Shopping Center: 8 km The Mall Shopping Center (Gucci, D&G, Valentino, ect): 33km Contattateci per soggiorni inferiori alle 6 notti!
Well, I only can joint all previous reviewers and say it again - this is a truly amazing place: a beautiful house created by beautiful people and surrounded by beautiful nature. It is better than it looks on the photos! Susanna pays attention to every tiny details to make you feel welcome, comfortable and at home, she also is very helpful providing you with tips on where to buy wine, great bakery and typical local food! We can reproach her only one the thing: we didn't do much sightseeing so wonderful it was hanging around the swimming pool and the lovely shadowed terrace!
Lidia
September 2014
We really enjoyed our stay here and wish we could have stayed longer. Everything was just perfect, thumbs up! Thanks to Claudia, Susanna and Andrea for the very friendly welcome! We will definitely come back.
Maria
June 2016
We had a lovely time staying in this villa. Perched high on a hill with a great view of the Tuscan landscape, it was a great place to just relax and forget about work for a while. The house is on the edge of a tiny village, so very private and there's no hassle with neighbors. Both Claudia, who manages the property, and the owners Susanna and Andrea, communicated very clearly with us. Claudia's English is perfect and this made things easy for us when we were sorting our trip out. Susanna in particular was very warm and eager to be the perfect hostess. She welcomed us with a basket of local goodies, a pile of information on the local area (including the train schedules to Florence!) and she offered us the opportunity to raid the garden, which was filled with tomatoes, cucumbers and other tasty veggies. Even after our visit she was in touch to see if we had enjoyed our stay. The villa looked exactly as it did in the photos. It's an eclectic house, mixing more traditional elements of Italy with modern architecture and art, which the owners clearly enjoy. The garden is large and beautiful and the pool was a treat. The open kitchen (with a proper large fridge and freezer) was fully-equipped and quite convenient in terms of one not having to leave the group to go and cook. Susanna and Andrea provide internet, but the connection is with a dongle, which meant we were unable to link iPads and telephones to it. We slept very well in the house, including on the second bed, which was a sofa bed. It slept very well, although may seem a bit small for people who are taller or heavier than we were. The shared bathroom was very clean and pretty roomy as was the downstairs loo. We also found it a treat to use the outdoor shower next to the pool in the morning. All in all, we had a very lovely visit. The house was great, the view fantastic and our hosts were top notch! We are delighted to have been able to stay here.
Rudolph and Karl
September 2012
We had an absolutely amazing time at the villa. The owner, Susanna, was extremely warm and hospitable from start to finish. We were greeted with a basket of goodies to kick off our stay, including a bottle of olive oil from the property. We were also invited to take advantage of the bounty from the garden. She was very responsive to any questions we had once we had settled in. The property itself more than met our expectations, from the beautiful views, to the relaxing pool and outdoor seating area and tasteful interior decor. It's obvious much care and thought has been put into this lovely home and I would wholeheartedly recommend it to anyone seeking a relaxing and exceptionally comfortable stay in Tuscany. Thank you, Susanna! We hope to see you again one day.
Todd
July 2014
We chose this villa for our honeymoon and were swept off of our feet. It is a stunning villa with amazing views and in a great location for exploring Tuscany. We felt so relaxed and at home. We loved the infinity pool and especially loved watching the birds sweep into the pool to cool off! Claudia and Susanna were great hosts - responding to any questions quickly and checking in to see how we were getting on. We took trips to Florence, Arezzo, the Prada outlet and a few wineries but loved getting back to the villa at the end of the day. It is a really special place, we cannot recommend it enough.
Lauren
July 2015
This is such a beautiful villa with stunning views from all angles - the pictures don't do it justice! The pool is just fantastic and the villa is in perfect condition. Amazing hosts where nothing is too much trouble. Easy to get to Siena, Florence, Pienza and Montipulciano to name just a few - we just loved it. Our family of 4 were here for 10 days and we didn't want to leave! Can't recommend it highly enough.
Paul
July 2015
A spectacular villa with unrivalled views. If you get a chance to stay here then grab it with both hands! As others have said it is even better than the pictures. Thanks Susanna and Claudia.
Simon
September 2015
Five star location, house, view and welcome! A lovely goodiebasket on the table, loads of fresh fruits and vegetables to pick from the garden (nothing but sunshine and water used!) Stunning house design and interior. Outside (hot!) shower with a unbelieveable view, imagine washing your hear while overlooking the beautyfull Tuscan hills, pure decadence! Great infinity pool, bit cold but who cares if you can warm up in front of the wood fire inside. We recommend this house to everybody who's looking for a little paradise of their own. We met the owners who are realy, realy sweet and very helpfull. Great tips for restaurants, sightseeing etc. Thank you Claudia, Susanna, Andrea and "grandpa" for the fantastic days we've had at Montevarchi.
Menno
September 2014
Room type
Entire home/apt
---
Property type
---
Accommodates
4
---
Bedrooms
2
Montevarchi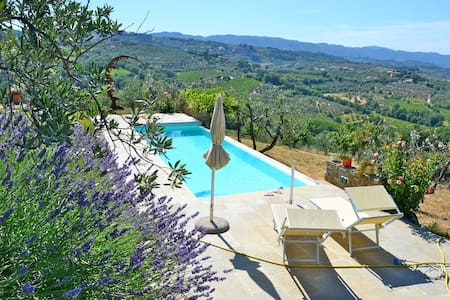 Fantastic private villa located close to Siena, San Gimignano, Florence and Arezzo. It's perfect for groups, big families and weddings among the nature. The villa has 8 bedrooms, 8 bathrooms, 3 living rooms, 3 kitchens and a wide garden with pool. The outside space is perfect to enjoy the hot summer! Located among the olive trees, we are able to provide you breakfast, lunch, dinner and cooking classes on requests. We are happy to realize your dreams, let us know your plans!
The area is amazing and you can find events, festivals and special activities every month. For example: - May: open cellars around Chianti, Maggiolata in Serre di Rapolano. - June: Saracino game in Arezzo, Archidado game in Cortona. - July: Palio di Siena, Monteriggioni Medioeval festival. - September: grape harvest and festivals. - October: Chianti Eco marathon, Eroica. - November: olive oil harvest and festivals. All year round you can enjoy the thermal baths of Rapolano.
Room type
Entire home/apt
---
Property type
---
Accommodates
16
---
Bedrooms
8
Provincia di Arezzo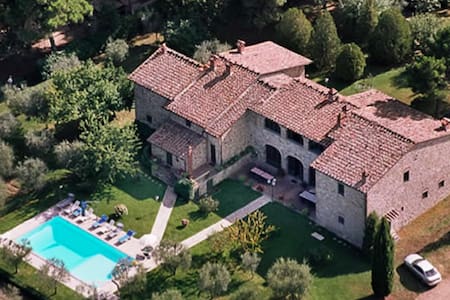 A lovely apartment in the heart of Florence, perfect for a family or a group of friends! 2 bedrooms, a sofa bed, 2 bathrooms and a fully equipped kitchen. Few steps from Santa Croce square, one of the most beautiful places in Florence!
The heart of Florence: you are in Santa Croce, the most beautiful neighborhood in the city with the most important church! The house is warm and cosy and you will really love its position, ideal for friends of families with children that want to visit Florence without car! The apartment name is Dante, after the major Italian poet that was born here and you will find his statue in the close Santa Croce square! The house is perfect to explore Florence because monuments, museums and main squares are very close to it. After the main door, you have a private yard where you can have breakfast in the morning or where you can relax after a day in the city! The kitchen has everything you need (but you also have many good restaurants in the area): kettle, dishwasher, microwave, oven, mocha coffee pot, pots to cook are there for you. With double sofa bed and single sofa bed the sitting room has tv, fireplace and there is enough space for all of you; at the same floor there is a bathroom with shower and sauna for one; On the second floor you will find a master bedroom for 2, with tv and wardrobe, a second bedroom with 2 single beds and wardrobe, a bathroom with hot tub; The neighborhood is full of restaurants, cafè and traditional shops; you will love this experience! Santa Croce square is stunning and you can easily reach Ponte Vecchio, Uffizi museum and Piazza della Signoria! Feel free to contact us for other requests, we are waiting for you! From Wikipedia: "The Basilica of Santa Croce is the largest Franciscan church in the world. Its most notable features are its sixteen chapels, many of them decorated with frescoes by Giotto and his pupils, and its tombs and cenotaphs. It is the burial place of some of the most illustrious Italians, such as Michelangelo Buonarroti, Niccolò Machiavelli, Enrico Fermi, Galileo Galilei, Ugo Foscolo, Guglielmo Marconi, Luigi Cherubini, Leon Battista Alberti, Vittorio Alfieri, Gioacchino Rossini, Lorenzo Ghiberti, Lorenzo Bartolini, Pier Antonio Micheli, Bartolomeo Cristofori, Giovanni Gentile, thus it is known also as the Temple of the Italian Glories"
Appartamento perfetto, solo da migliorare la ricezione WIFI ;) Grazie!
Cristina
June 2014
Room type
Entire home/apt
---
Property type
---
Accommodates
7
---
Bedrooms
2
SS.Annuziata, Florence