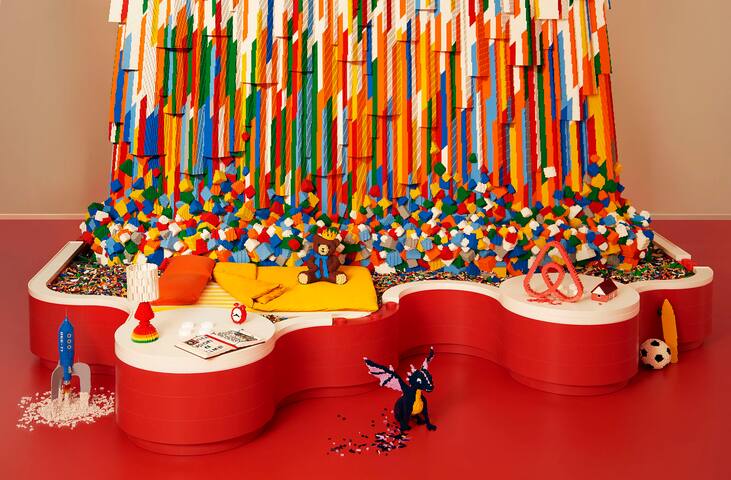 About this listing
For one night, the LEGO House in Denmark becomes your family's private playground. Unleash your imagination, bring your wildest LEGO vision to life, and fall asleep surrounded by 25 million bricks.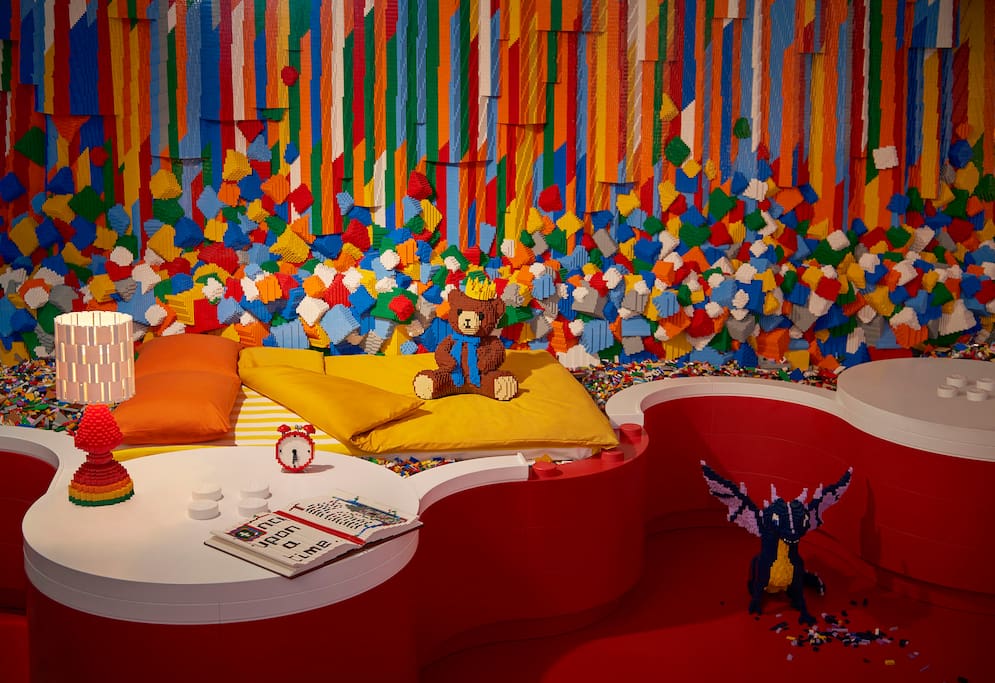 Flip the switch on your LEGO lamp and drift off to sleep underneath a magical, multicolored LEGO waterfall.
---
Room type: Entire home/apt
Property type: Other
Accommodates: 4
Bedrooms: 2
Bathrooms: 1
Bed: 2
Check In: After 2:00 PM
---
Amenities
Essentials
Towels, bed sheets, soap, and toilet paper
Kitchen
Kitchen
Space where guests can cook their own meals
Internet
TV
Essentials
Essentials
Towels, bed sheets, soap, and toilet paper
Heating
Air conditioning
Washer
Dryer
Free parking on premises
Free street parking
Paid parking off premises
Wifi
Wifi
Continuous access in the listing
Cable TV
Breakfast
Breakfast
Breakfast is provided
Pets allowed
Pets allowed
Assistance animals are always allowed
Family/kid friendly
Suitable for events
Suitable for events
The listing can accommodate a gathering of 25 or more attendees
Smoking allowed
Wheelchair accessible
Wheelchair accessible
Easy access to the building and listing for guests in wheelchairs
Elevator
Elevator
The home or building has an elevator that's at least 52 inches deep and a doorway at least 32 inches wide.
Indoor fireplace
Buzzer/wireless intercom
Doorman
Pool
Hot tub
Gym
Hangers
Iron
Hair dryer
Laptop-friendly workspace
Laptop-friendly workspace
A table or desk with space for a laptop and a chair that's comfortable to work in
Private living room
Private entrance
Private entrance
Separate street or building entrance
24-hour check-in
24-hour check-in
Lockbox, keyless entry, buzzer, or someone available at any time
---
Description
The Space
The newly opened LEGO House in Billund, Denmark has already drawn builders of all ages from all over the world. Now Airbnb and LEGO House are giving your family the chance to have the place to yourselves for the night—and to make your wildest LEGO vision a reality.
Your journey will start when Jamie, one of the finest master builders in the world, welcomes you into the LEGO House and sparks your imagination with top-secret LEGO tips and tricks. Then he'll join you for lunch served by two friendly robot waiters—but first you'll have to build your meal order out of bricks.
Next, the doors will close to the public and Jamie will lead you on a private expedition. You'll stand at the foot of the Tree of Creativity, built by hand from over 6 million bricks, and then explore the Masterpiece Gallery, showcasing LEGO creations from fans all over the world. From there, you'll head to the Experience Zones, where you can direct your own LEGO movie, engineer robotic cars and send them flying over jumps, design cities, and much more.
Since all this creativity will no doubt bring up memories of your favorite childhood LEGO creations, the next stop is the basement, where you can trace the timeline of LEGO history and rediscover the most iconic sets ever produced.
Finally, you'll reach your destination: a bedroom floating in a pool of bricks underneath a 6-meter-tall LEGO waterfall. Everything around you is made out of LEGO bricks: armchairs, lamps, the alarm clock, the TV, your favorite story book, and even the cat. But before you drift off into your most colorful dreams ever, there's building to do. After all, it was your winning idea that brought you here. Drawing on Jamie's expertise, you'll use the endless supply of bricks to make your vision a reality.
The next morning, after breakfast and before the doors reopen to the public, there's one final surprise. We won't reveal it here, but let's just say that in some small way, your family will leave your footprint in LEGO House long after you leave, just like the memories of your time here.
To enter, answer this question: If you and your family had an infinite supply of LEGO bricks, what would you build? Describe your dream creation between November 1 of 2017 at 9:00pm Pacific Time (5am GMT) and 11:59pm Pacific Time on November 16 of 2017 (17 of november, 7:59am), and you could spend the night among an infinite supply of LEGO bricks—and create a version of your entry with a LEGO Master Builder.
Winners will be flown in from around the world.
Guests should be a group of 2-4 people. All children must be at least 4 years old. You must be able to travel to Denmark for spending the night at the LEGO House on November 24 of 2017. Note that the experience involves some moderate physical activity and you may need to already have a visa to enter Denmark.
You must be able to spend the night at LEGO House on November 24 of 2017. Note that the experience involves some moderate physical activity.
Submissions should be 50-500 characters in English, French, German, Spanish, Italian, or Portuguese, Russian, Swedish, Danish, or 100-300 characters in Chinese (Simplified or Traditional), Japanese, Thai, Malay, Indonesian, or Korean . Please read the full contest rules under "House Rules," below.
Other things to note
House rules
• Play is mandatory!
• Parents are advised to wear LEGO-proof slippers at all times.
• If there's anything you miss in your bedroom, feel free to build it yourself.
• The bed is so comfy, you might need a brick separator in the morning.
• If 25 million bricks aren't enough, a real LEGO moulding machine is installed in the lobby.
• We know you're looking for that one rare brick, but please refrain from diving into the LEGO pool.
• No night at the LEGO House would be complete without BRICKfast in bed.
• State of the art home security: just throw some bricks on the floor before leaving!
Terms & Conditions
Night at LEGO House on November 24th of 2017
NO PURCHASE OR PAYMENT NECESSARY TO ENTER OR WIN. A PURCHASE OR PAYMENT WILL NOT INCREASE YOUR CHANCES OF WINNING.
When you submit a submission for this Contest, you agree with the Official Rules below.
Sponsor. The Sponsors of this Contest ("Contest") are Airbnb Ireland UC, the Watermarque Building, South Lotts Road, Dublin 4, Ireland ("Airbnb") and the LEGO House A/S, Koldingvej 2, 7190 Billund, Denmark ("Partner").
How to Enter. Participants who at the time of participation, have reached the age of 18 or the age of majority in their jurisdiction, whichever is higher, may enter the Contest from November 1 of 2017 at 9:00pm Pacific Time (5am GMT) until November 16 of 2017 at 11:59pm Pacific Time (November 17 of 2017 at 7:59am GMT) by following the process below. Submissions must be received through the below process by the close of the Contest to be eligible. It is not required to purchase any good or service to participate in the Contest.
Process: To participate in the Contest and to enter to win the prize described below, you have to:
Sign in with an Airbnb account.
Go to the Night At LEGO House competition listing page.
Click on the "Enter to Win" button by which you will be also accepting these Terms and Conditions and the Airbnb privacy policy.
Tell us what you and your family would build with an infinite supply of LEGO Bricks. In the form provided, write your answer in at least 50 characters but no more than 550 characters (the "Submission").
The Submission must be sent from the participant's Airbnb account to be verified and reviewed. Submissions will be accepted in English, French, German, Danish, Russian, Spanish, Italian, Portuguese, Chinese, Japanese, Thai, Malay, Indonesian Korean or Swedish. Each participant can only participate once and you represent that you are more than 18 years old or the age of majority in your jurisdiction, whichever is higher. To the maximum extent permitted by law, Airbnb is not responsible for computer or network problems, problems with servers, problems with email accounts or the failure to receive any Submission for any reason whatsoever. By entering the Contest, participants agree, on their behalf and any guest that as a winner they are permitted to share the prize with, that they may be contacted by Airbnb in relation to the Contest and agree to take part in any publicity that occurs as a result of the Contest and grant Airbnb and Partner and their group companies and agents the right to use their name and/or image and/or town/country of residence. In the event that the guest (or guest's guardian) does not agree to take part in such publicity, the participant shall not be permitted to share the prize with such guest.
Eligibility. The Contest is open to residents of the following countries only: United States, Canada (except Quebec), France, Germany, United Kingdom, Ireland, Denmark, Sweden, Russia, Spain, Portugal, Italy, India, Singapore, Malaysia, Thailand, Indonesia, South Korea, Japan, China, Australia, New Zealand, Mexico, Argentina (except Mendoza). If you are not resident in one of the listed countries, you are not eligible to enter or participate in the Contest. Residents of Brazil are not eligible. By entering eligible participants agree that the individual winner(s) will be selected from all Submissions received from these countries. Directors, officers, employees, independent contractors and agents of Partner and Airbnb, or their subsidiaries or affiliates, and the members of their immediate families or households, are not eligible.
Participants represent that they are willing and available to travel to Denmark to be there on November 24 of 2017. At the time of entry, participants must have legal means to enter Denmark and remain there for the duration of the trip, such as a valid passport and valid visa, if required, or EU Identity Card.
The winner may bring three guests.
Winner Selection. There will be one (1) winner. The judges will select up to ten (10) Submissions that score the highest to be Finalists. The participants who submitted those Finalists will be asked to verify their availability and eligibility to travel on the required dates. From the eligible Finalists, the judges will select the Submission with the highest score as the winner. The Submissions will be chosen entirely on merit, based on the following criteria applied by a panel of judges: Creativity (33%): How creative is the answer and how much does it delight us? Originality (33%): How does it surprise us? Is it a unique perspective? Responsive: How well does it respond to question (33%). If there is a tie, the judges will select the Submission that was submitted first. The panel of judges will be comprised of chosen members from Sponsor and Partner, and/or authorized personnel or consultants chosen by Sponsor and Partner, including at least one independent judge. If substantially similar Submissions are submitted by different entrants, judges will select only the best version of that idea, as determined by the judges in their sole discretion. The judges' decisions are final and binding.
Prohibited Content. Submissions/content must be the original work of the participant and not have been previously published, or entered in any other competition, and must not violate the rights of any other party, including but not limited to intellectual property rights or rights of privacy, publicity or other moral rights. Submissions must NOT contain: (a) advertising or commercial content for any party other than Airbnb or Partner; (b) content that endorses/promotes illegal or harmful activity; (c) violent, profane, vulgar, obscene, defamatory or otherwise objectionable material; (d) adult material; or (e) defamatory content. The Sponsors reserve the right to disqualify any participant who violates these prohibitions or any other provision of these Official Rules, or that the Sponsors deem inappropriate for any reason, in their sole discretion.
License. By submitting a Submission, participants grant each of Airbnb and Partner a perpetual (or for the term of the protection granted by the relevant intellectual property rights), worldwide, irrevocable, royalty-free, sub-licensable license to transform, edit, modify, reproduce, distribute, transmit, publish, communicate to the public, broadcast, perform, display, or otherwise use in any manner they deem fit (a) the Submission and all other information and material provided by the participant arising out of or in connection with this Contest at any time; and (b) the participant's name, likeness, photographs, personal information and all other personal attributes and forms of personality or publicity rights, in whole or in part, with or without modifications, in any form or medium (including but not limited to: internet, any printed medium distributed via press, billposting, point of sale advertising, flyers, leaflets…), whether now existing or later developed, for entertainment, promotional and/or advertising purposes and/or any other purpose. To the greatest extent permitted by law, participants agree to waive and not to assert or invoke any so-called moral rights in relation to their Submissions (including without limitation the right to be identified as the creator of the work and the right to object to derogatory treatment of the work). The participants also waive any revisionary rights or any rights that have a similar effect. The participants further agree that non-use of the Submission by Airbnb and Partner shall not be grounds for revocation of such license. For the avoidance of doubt, the license referred to in this paragraph is a fully paid-up license and entry into the Contest is adequate consideration for such license. By entering, you guarantee that your Submission is original as referred to above, and that you have all necessary rights to provide the Submission and to grant to Airbnb and Partner as applicable the rights set out in these Official Rules, as well as the consent of any person identified, depicted or referred to in the Submission. You will indemnify and hold Airbnb harmless for any breach of these provisions. Only the winner will receive a prize according to the next paragraph: 'Prize'.
Prize. The winner will receive, in recognition of their personal creativity and originality and as full and comprehensive consideration for the License described above, the following trip:
Overnight stay inside the LEGO House with up to three (3) guests.
One night accommodation near the LEGO House.
Flights (or train) and ground transportation for the winner and up to (3) three guests to and from an airport near the winner's residence to Billund, Denmark.
Food and drinks for up to four (4) people while in Billund, Denmark for two days.
Meeting with a LEGO Master Builder. A translator for this meeting may be provided if the winner and guests do not speak English or Danish.
Not included in the prize are: Passport or visa fees, and any other expenses not listed above. It shall be the sole responsibility of the participants to avail of the necessary authorizations including visas for such trip.
The total value of the prize is approximately 3600 EUR (which is 77,330MXN or 73,695 ARS)(assuming 600 EUR value + the costs of the return trips from the winner's residence to Billund, Denmark). Actual value will vary based on winner's home location. The Sponsors are allowed to ask for a written confirmation or proof of the place of residence and age of the winners and any guest(s) they are permitted to share the prize with before awarding the prize. No substitution or transfer of the prize is permitted. The prize may not be redeemed for cash. If due to circumstances beyond Airbnb's or Partner's control, Airbnb or Partner are unable to provide the stated prize, Airbnb and Partner reserve the right to award, as substitute, a prize of equal or higher value.
Notification/Announcement of Winner.
The winner(s) will be selected on or by November 18th of 2017 and will be notified by phone and/or via the email associated with the Airbnb account from which the winning entry was sent within twenty-four (24) hours. The winner must confirm their acceptance of the Prize in writing within twelve (12) hours of such notification. The Sponsors reserve the right to disqualify any winner who does not confirm acceptance of the Prize in accordance with these Official Rules, or who is in breach of these Official Rules, and reserves the right to select an alternative winner in such event. In the event of a dispute about the identity of a winner, the Sponsors will award the prize to the authorized account holder of the Airbnb account from which the winning Submission was sent. The Sponsors will publicly announce the name of the winner within 10 days of the close of the Contest on Airbnb.com and may also announce the winner through social media channels. If no winner is selected who is available to travel on the required day, the Contest may be forfeited and no prize granted.
Prize Conditions. Save as may be required by any applicable mandatory laws, the prize will be as referred to in these Official Rules and is provided as-is with no express or implied warranty or guarantee. Nothing in these Official Rules operates to limit or exclude the application of relevant consumer protection laws or the liability of Airbnb under such laws. This Contest is subject to applicable local laws and regulations, including but not limited to tax laws. The winner is solely responsible for any taxes applicable to or resulting from the award of the prize, and the Sponsors will have no obligation for any taxes that may be payable. Sponsors may require the winner, and where applicable, the winner's guest, to sign and return an affidavit of eligibility, a liability release and a publicity release permitting the Sponsors to use the winner's name, image and winning Submission in promotional materials where permitted by law and subject to applicable rules. Refusal or inability to sign and return such forms within 24 hours of receipt may result in disqualification and awarding of prize to an alternate winner. The winner and guests represent they will behave as good citizens during their stay at the LEGO House and that they will cooperate with the security personnel present.
General Liability Release. By entering this Contest, participants release the Sponsors and their agents from any liability whatsoever, on any theory, and waive all claims and causes of action arising from or related to this Contest and/or fulfillment and/or use of the Prize, to the extent permitted by applicable law. However, nothing in these Official Rules limits or excludes any person's or entity's liability for death or personal injury caused by their negligence or any other liability which may not as a matter of law be limited.
Data. By entering the Contest and submitting a Submission and any other personal information, participants are expressly consenting to the processing of their personal information by the Sponsors for the purpose of the Contest or any associated publicity by Airbnb or Partner. Airbnb's privacy policy will apply. Airbnb may share the Submissions with Partner and third party prize providers that may be located outside of your home jurisdiction, for Contest administration and prize fulfillment purposes. Participants who do not consent to the collection of their personal information will not be able to enter the Contest. For information on how to access or seek correction of your personal information, or how to make a complaint in relation to our handling of your personal information, please see our privacy policy at www.airbnb.com/terms/privacy_policy.
Interpretation and Disputes. Participants agree: (a) to be bound by these Official Rules and all decisions of the judges, which are final and binding; (b) that any disputes shall be governed by the laws of Ireland (or by mandatory local laws, if applicable), and shall be resolved only in the courts in Ireland (or in mandatory local jurisdiction, if applicable), without resort to any form of class action or other form of collective action, to the extent permitted by applicable law; and (c) that they consent and waive any objection to the jurisdiction of said courts for any such disputes.
Miscellaneous. The Contest is void where prohibited. If any provision or part-provision of these Official Rules is held by a court of competent jurisdiction to be invalid, illegal or unenforceable, it shall be deemed modified to the minimum extent necessary to make it valid, legal and enforceable. If such modification is not possible, the relevant provision or part-provision shall be deemed deleted. Any modification to or deletion of a provision or part-provision under this clause shall not affect the validity and enforceability of the rest of these Official Rules. To the extent permitted by applicable law, the Sponsors may suspend, modify or terminate the Contest if they believe, in their sole discretion, that malfunction, error, disruption or damage is impairing or will impair the administration, security, fairness, integrity or proper conduct of the Contest, in which case the prizes will be awarded among the eligible Submissions received that were unaffected by the problem, if possible. With reference to the Italian participants please note that this Contest does not constitute a "Manifestazione a Premio" under the provisions of D.P.R. four hundred thirty slash two thousand one because (i) both Sponsors are duly incorporated and established in an EU Country: therefore, prize competition rules of the Country of establishment apply as per applicable guidance from the Italian Ministry of Economic Development; (ii) in any event, winner(s) are selected and prizes are assigned to them on the basis of their personal writing talent and consequently the exception described under Article 6, par. 1, letter a) of the above mentioned decree shall apply. With reference to the Argentinian participants, please note that this Contest does not require previous and express authorization of Lotería Nacional SE, complying the rules of commercial loyalty (Ley de Lealtad Comercial N° 22802 and Decreto Reglamentario 1153/07) and personal data protection (Ley de Protección de los Datos Personales N° 25326) and other concordant and related rules applicable to this Contest. Furthermore, by being a Contest without intervention of chance it is not required to make a probabilistic calculation of the possibilities to obtain a Prize by a participant. The probability of being selected as a winner will depend on the quality of each submitted story, following the described criteria. To the extent permissible by law, any local language version of these Official Rules is for reference only, and the English version shall prevail.
---
About the Host, Jamie
Hi, I'm Jamie. True LEGO fans will recognize me as the designer behind the LEGO Modular Buildings and Architecture series. As a kid, I dreamed of becoming a LEGO Master Builder. I later became a finalist in a Master Model Builder competition, and soon after was invited to join the LEGO Creator design team. I can't wait to welcome you into the home of the LEGO brick and spend some time creating together!
--
Salut, je m'appelle Jamie. Si vous êtes un vrai fan de LEGO, vous m'avez peut-être déjà aperçu. Je suis le concepteur des séries LEGO Modular Buildings et Architecture. Quand j'étais petit, mon rêve était de devenir un Master Builder LEGO. Après être parvenu en finale de la compétition Master Model Builder, j'ai eu la chance d'être invité à rejoindre l'équipe de conception LEGO Creator. J'ai hâte de vous accueillir au cœur de l'univers LEGO et de créer des choses incroyables avec vous !
--
Hi, ich bin Jamie. Eingefleischte LEGO Fans kennen mich wahrscheinlich als den Designer, der hinter der "LEGO Modular Buildings and Architecture"-Serie steckt. Ich habe schon als Kind davon geträumt, ein LEGO Meisterbauer zu werden. Später war ich dann im Finale eines Meisterbauer-Wettbewerbs und wurde kurz darauf eingeladen, Teil des LEGO Creator Design Teams zu werden. Ich freue mich schon riesig darauf, euch im Zuhause der LEGO Steine zu begrüßen und gemeinsam mit euch kreativ zu sein.
--
Hej, jeg hedder Jamie. Ægte LEGO-fans kender mig mig som designeren bag LEGO-serierne Modular Buildings og Architecture. Som barn drømte jeg om at blive LEGO Master Builder. Senere kom jeg i finalen i en Master Model Builder-konkurrence, og ikke længe efter blev jeg inviteret med på LEGO Creator-designteamet. Jeg glæder mig til at byde dig velkommen til legoklodsens hjemsted og skabe noget sammen med dig!
--
Hola, soy Jamie. Los verdaderos aficionados a LEGO me recordarán como el diseñador de las series de LEGO Modular Buildings y Architecture. Cuando era niño, soñaba con convertirme en Maestro Constructor de LEGO. Después fui finalista en una competencia de Maestros Constructores de modelos y poco después me invitaron a formar parte del equipo de diseño de LEGO Creator. Me emociona mucho darles la bienvenida a la casa de los bloques LEGO y construir algo juntos.
--
Hej, jag heter Jamie. Sanna LEGO-fans kanske känner igen mig som designer bakom LEGO:s Modulära byggnader and Arkitektur-serien. Som barn drömde jag om att bli en av LEGO:s mästerbyggare. Senare blev jag finalist i en byggnadstävling och snart blev jag inbjuden att bli en del av LEGO:s designteam. Jag ser verkligen fram emot att välkomna dig till LEGO-bitarnas hem och tillbringa lite tid att bygga tillsammans!
--
Привет, меня зовут Джейми. Фанаты LEGO® меня знают, так как я являюсь дизайнером серий LEGO® «Модульные конструкции» и «Архитектура». В детстве я мечтал стать профессиональным строителем LEGO®. В итоге я дошел до финала чемпионата Master Model Builder и получил приглашение в команду дизайна LEGO® Creator. Я с нетерпением жду встречи с вами в Доме LEGO®. Мы придумаем замечательные модели!
--
Hola, soy Jamie. Los amantes de LEGO me conocerán como el diseñador de algunas colecciones de este juego tan apasionante. Desde niño siempre quise ser un master builder y el día que me convertí en finalista de la competición más famosa de LEGO sentí que mi sueño estaba a mi alcance. Poco después me invitaron a formar parte del equipo de diseño. Estoy deseando mostraros el hogar de este maravilloso juego y ayudaros a hacer realidad vuestros sueños e ideas.
--
Ciao, mi chiamo Jamie. Sono il designer che si è occupato dei LEGO Modular Buldings e della serie Architecture. Da bambino sognavo di diventare un LEGO Master Builder. Qualche tempo dopo ho raggiunto le finali in un concorso di Master Model Building: questo mi ha permesso di essere notato e, infine, di unirmi al LEGO Creator design team. Non vedo l'ora di ospitarvi in questo tempio dei mattoncini e di lasciare spazio alla fantasia insieme a voi!
--
Olá, o meu nome é Jamie. Os verdadeiros fãs de LEGO vão reconhecer-me como o designer por trás da série LEGO Modular Buildings and Architecture. Quando era criança, sonhava tornar-me um LEGO Master Builder. Mais tarde, tornei-me finalista numa competição Master Model Builder e logo depois fui convidado para me juntar à equipa de design LEGO Creator. Estou ansioso por recebê-lo na casa de tijolos LEGO e passarmos algum tempo a criar juntos!
--
大家好!我是Jamie。真正的乐高迷一定认识我——我是负责乐高模块拼砌系列和建筑系列的设计师。小时候的我梦想着成为一名乐高拼砌大师,后来我进入了乐高模型拼砌大师总决赛。不久之后,我应邀加入了乐高创意系列的设计团队。我非常期待在乐高之家中欢迎您的到来,与您一起共度创意时光!
--
どうもこんにちは、Jamieです。コアなレゴファンなら「LEGOモジュラー・ビルディング」と「LEGOアーキテクチャー」シリーズ開発責任者と言えばピンとくる名前かもしれません。子どもの頃からずっとLEGOマスタービルダーを夢見て育ち、マスターモジュールビルダーの大会でファイナリスト入りを果たしてすぐにレゴから声がかかり、今はクリエイターデザインチームで働いています。レゴの生まれ故郷のレゴの家で一緒にレゴできるの、楽しみにしています!
--
안녕하세요, 제이미(Jamie)입니다. 레고 팬이면 저를 아실지도 모르어요. 레고 모듈러 빌딩과 아키텍처(LEGO Modular Buildings and Architecture) 시리즈를 만든 디자이너랍니다. 어릴 때부터 레고 조립 전문가가 되고 싶었고, 커서 '마스터 모델 빌더(Master Model Builder)' 대회 결승까지 진출했어요. 대회 이후에 곧 레고 크리에이터 디자인 팀에서 같이 일해보자는 제안을 받았죠. 레고의 고향에 지어진 레고하우스에서 여러분을 만나 멋진 작품을 만들 수 있게 되기를 기대합니다!
--
嗨,我是Jamie。只要是真正的樂高粉絲就會知道,我就是設計樂高模組建築系列和建築系列的設計師。我小時候就一直夢想成為樂高拼裝大師,後來也在樂高模型建構師競賽中打入決賽,接著就獲邀加入樂高創意大師系列的設計團隊。我等不及要歡迎您來到樂高積木之家,和您一起發揮創意、大玩樂高!
--
สวัสดีครับ ผมชื่อเจมี่ แฟน LEGO รู้จักผมในฐานะดีไซเนอร์เบื้องหลังตัวต่อชุด LEGO Modular Building และชุด Architecture ผมฝันอยากเป็น LEGO Master Builder มาตั้งแต่เด็ก และในที่สุดก็ได้เป็นผู้ชนะในการแข่งขัน Master Model Builder หลังจากนั้นไม่นานผมก็ได้รับเชิญให้มาเป็นส่วนหนึ่งของทีมออกแบบ LEGO Creator ยินดีต้อนรับทุกท่านสู่บ้านเกิดของตัวต่อ LEGO เราจะได้มาสนุกกัน!
--
Halo, saya Jamie. Para fans LEGO sejati akan mengenali saya sebagai desainer seri LEGO Bangunan Modular dan Arsitektur. Saat masih kanak-kanak, saya berimpian untuk menjadi seorang Maestro Pembangun LEGO. Saya pun berhasil menjadi finalis dalam satu kompetisi Maestro Pembangun Model dan tak lama setelahnya diundang untuk bergabung dalam tim desain Pencipta LEGO. Saya tak sabar untuk menyambut Anda di markas kepingan LEGO dan berkreasi bersama!
--
Hai, Saya Jamie. Peminat tegar LEGO pasti mengenali saya, pereka bentuk di sebalik siri LEGO Modular Buildings dan Architecture. Semasa kecil, saya sering berangan-angan untuk menjadi Pakar Reka Bentuk LEGO. Saya akhirnya berjaya menjadi finalis dalam pertandingan Master Model Builder, dan kemudiannya dijemput menyertai pasukan reka bentuk LEGO Creator. Saya tak sabar untuk menyambut kedatangan anda ke rumah LEGO dan meluangkan masa membina dan mencipta bersama-sama anda!