昔の古民家になぞらえた造りの家です. 駅までの送迎をいたします。 This house is a Japanese traditional Kominka type which has a Irori (open hearth). Eating, drinking and talking around the warm Irori reminds us of Japanese good old days. Surrounded with rice fields, the house has cool winds through its windows and gives you a tremendous time away from a city. My town is at the halfway point of Tokyo and Osaka Kyoto. 【追加項目】脇本陣の近隣施設に大きなイベントがある場合、3人様以下のご宿泊をご遠慮させていただく場合があります。
What guests are saying:
"The residence is a short distance from Kikugawa Station. Our five young people will walk for about 15-20 minutes, but the host will provide pick-up and drop-off when we check in and leave, and the first night to pick up at Lilian Hot Spring. The house is like an old Japanese-style house with a kiln, but it will be cold even in the winter even if the heating is turned on. The host also changed our towels for us every day. We also collected clothes when we were drying in the courtyard. There are convenience stores, Maruko noodles, supermarkets and daily necessities shops, and Shizuoka's famous burger steak shop, which is about 20 minutes away."
Vacation rental located in the mountain side of Shizuoka City. UWANOSORA means "SPACED OUT" in japanese. Come to get away from it all. UWANOSORA is run by the family and does not have a service such as in Hotel. Unwind yourself and experience peace, quiet, and wild life.
What guests are saying:
"I went with 7 members of the company. There was a sense of cleanliness in the stylish space that exceeded expectations and the speed of the host's response, and the very spacious cleaning. The tableware and other items were all neatly prepared, which was helpful. The sound of the river and the vividness of the bamboo bush have healed my daily fatigue! I wanted to make a reservation again. I had a wood-burning stove, so I want to go next winter."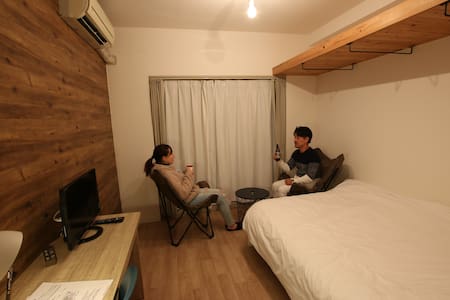 SUPERHOST
Apartment room · 2 guests · 1 bed · 1 private bath
365BASE outdoor hostel private double bed room
With the concept of a "secret base" we want you to enjoy such activities in Hamamatsu. We offer a comfortable and stylish space to live the life in the "365BASE outdoor hostel".
What guests are saying:
"It was about 10 minutes by train from Hamamatsu Station and it was very easy to get to. Room was very clean, and free services such as tea were substantial and were very good. There are also communal kitchens, bouldering facilities, and places to rest on a hammock, so you can enjoy a variety of things. The room was clean and easy to spend."