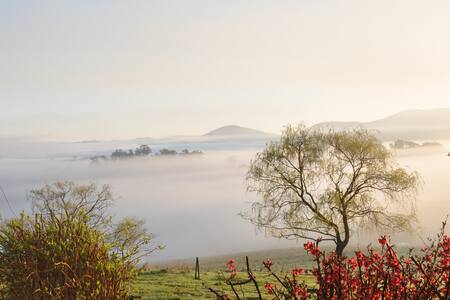 SUPERHOST
Entire house · 16+ guests · 9 beds · 2 baths
Arlamont - Private. Peaceful. Pristine. Perfect.
On the edge of the Blue Mountains, near Waldara, Jenolan Caves, Kanangra NP, Bathurst, Mt Panorama & Mayfield Gardens. Arlamont is the perfect home base to explore and unwind in the glorious Central Tablelands. You'll find comfort, warmth and privacy with 260 acres of stunning views surrounding a house brimming with history. Suited to couples, families and groups. Books, games, wildlife, a sky full of stars and pure mountain air awaiting your arrival. Only 2 hours, but a world away from Sydney.
What guests are saying:
"Trish communicated promptly and effectively prior to my booking to answer all questions I had. The house was lovely and warm upon our arrival and Trish was on site to show us around and answer any further questions we had. Trish is extremely warm, accomodating and hospitable. From when we arrived for check-in to the time we left we were looked after and Trish did everything she could for us to have a relaxing and enjoyable stay. We particularly appreciated the home-baked loaf of bread delivered in time for our breakfast and for Trish allowing us to bring our dog. The house is sparsely but tastefully furnished and decorated and was clean and tidy. The kitchen is well stocked with crockery, cutlery, cooking implements and a coffee maker. An abundance of linen can also be found in the linen cupboard to make sure you are provided with towels and extra bed coverings. There are a plethora of games available in one of the rooms to satisfy the interests of the young and the young-at-heart. The views are spectacular from whatever window you choose to perch yourself. I would be remiss to not mention the spectacular view of the Milky Way available at night in clear weather. If the weather permits make use of the fire pit located in the back yard for this astrological feast. Thank you, Trish, for a lovely stay! We definitely will be back to stay for a longer period sometime in the future. P.S. It is worth checking out both the folder located in the lounge room for the story of the house's builder and the photo album located inside the side entrance to the house for an insight into some of the memories made here in the past."
Hickory Moon is a fully self-contained house overlooking the beautiful Tarana valley. Private, luxurious and peaceful Oberon 5 mins Waldara Wedding Venue 20 mins Mayfield Garden 20 mins Lithgow & Bathurst 45 mins Katoomba 1 hour King size beds, cast iron baths, all new appliances and organic cotton bedding are features of the home. A fantastic, quiet location to relax and unwind with friends or family. Luxury in the Australian bush.
What guests are saying:
"At Hickory Moon we received courteous and prompt communication from Maxine. The design of the house and thoughtful furnishings provided for our full immersion in the uninterrupted view of the countryside. I didn't realise how tense I was until I sat outside in the absolute quietness and listened to the silence. We spent 5 nights in this extraordinary house at its extraordinary location. Oh, and the sheep were entertaining each evening and morning. Hickory Moon provided isolation at a location that is actually close to good food, coffee and local produce... and for us the cars at Bathurst. The house is fully screened so you don't need to worry about bugs and critters, and it is completely level, with access from the garage straight into the house via a glass walkway. I better stop writing, but Hickory Moon is sensational, and I'm not sure where else you get this experience for such good dollar value."