A solo 18 km del centro de Sevilla disfruta de vivir en plena naturaleza. Caballos, gallinas, perros, seran tus vecinos unos dias en los que podras descansar. Con todas las comodidades a pesar de ser una casa rustica, y bien comunicada con Sevilla.
What guests are saying:
"La Villa de Juanda is perfect for spending a few relaxing days with good company. Undoubtedly the best parts are the pool and its chill out area and picnic areas with the barbecue. The rest of the house is very good, the beds are very large and comfortable, the bathrooms are clean, the living room is spacious ... Of course we will repeat sooner rather than later :)"
Se alquila habitación independiente en chalet con parcela, en lugar tranquilo , disfrutando de la naturaleza y cerca de todo los servicios . A quince minutos del centro de Sevilla. Piscina privada ,huerto.
What guests are saying:
"A great antidote to Seville city hassles if you're touring by car. This cute little pool-house is in a garden on the very edge of the western suburbs, overlooking olive groves. To reach Seville city centre we drove 20 minutes in to Expo City at the end of Metro Line 1. Excellent parking there, free or 3 Euros max. next door if full. But the real benefit is you can reach all areas round Seville without having to brave inner-city traffic. No need to pay 80 Euros- plus for a guided tour of the nearby Coto Donana, the biggest nature reserve in Europe. Start by driving to El Rocio where there's a free birdwatching hide. We saw loads of flamingoes and winter wildfowl. The streets of El Rocio are literally just sand and there are rails to tie your horse up outside the bars, Wild-West style. Carry on through the reserve to the beach at Matalascanas. On the way back, sample local wines and great tapas in one of the six or more high-ceilinged Bodegas of Bollullos."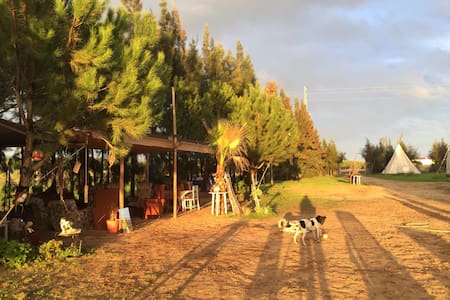 SUPERHOST
Private room · 16+ guests · 14 beds · 1.5 shared baths
Ecovillage | Accommodation | Tipis | Bell Tents
Welcome to our humble biodynamic farm and eco-camping! We are a small eco-village located on the Costa de la Luz beside the scenic protected nature reserve of Doñana. We are home to over 2500 goji berry plants, 100 orange trees, 50 olive trees, a food garden and some uncultivated land to ensure our land's biodiversity. You can choose to sleep in our spacious indoor wooden accommodation area, tipis, belltents - all for a charming and memorable camping and community-living experience.
What guests are saying:
"A lot of locals in Sevilla were confused that my next stop was Almonte. "There's not much to do there," they told me. "EXACTLY," I replied. Almonte and this stay that is just about an hour long walk away from the town (buses are available-but I would recommend walking) were exactly the relaxation I was seeking. The town was super sweet, charming, with incredibly kind people. Cynthia's community she has created on their farm was nothing less than magical. It is the perfect day to wind down and just connect with nature and with other great people staying in the space."