Unique Stays
High-up Homes: Revisit Childhood with Three Magical Treehouses
Get to know the stories and Airbnb Hosts behind some of the most creative treehouses in the world.
Written by
Jessica Cumberbatch Anderson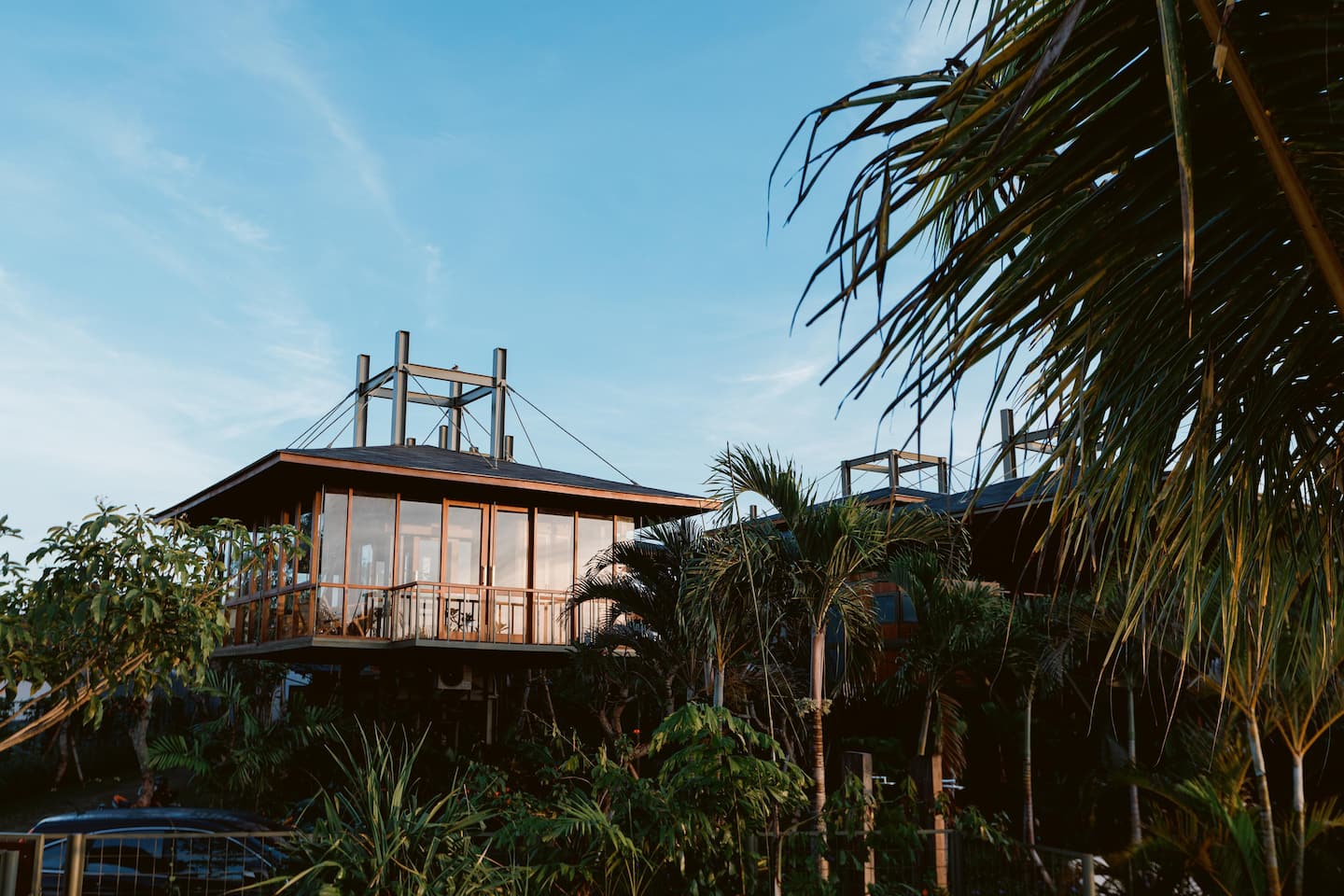 Sometimes getting away from it all simply means getting above it all. Thankfully, these days, treehouses and the brilliant vantage points that accompany them are no longer just for kids.
Meet three modern adaptations of the childhood treehouse concept and the Airbnb Hosts behind them: There's the cozy cabin with tree trunk interiors in the English countryside, a glass home surrounded by rice paddies in Bali, and a sleek two-bedroom cottage nestled among the trees just a short drive from Mexico City. Don't let their nod to simpler times fool you — these homes are a testament to true architectural prowess.
---
The Balinese Modern Stilt House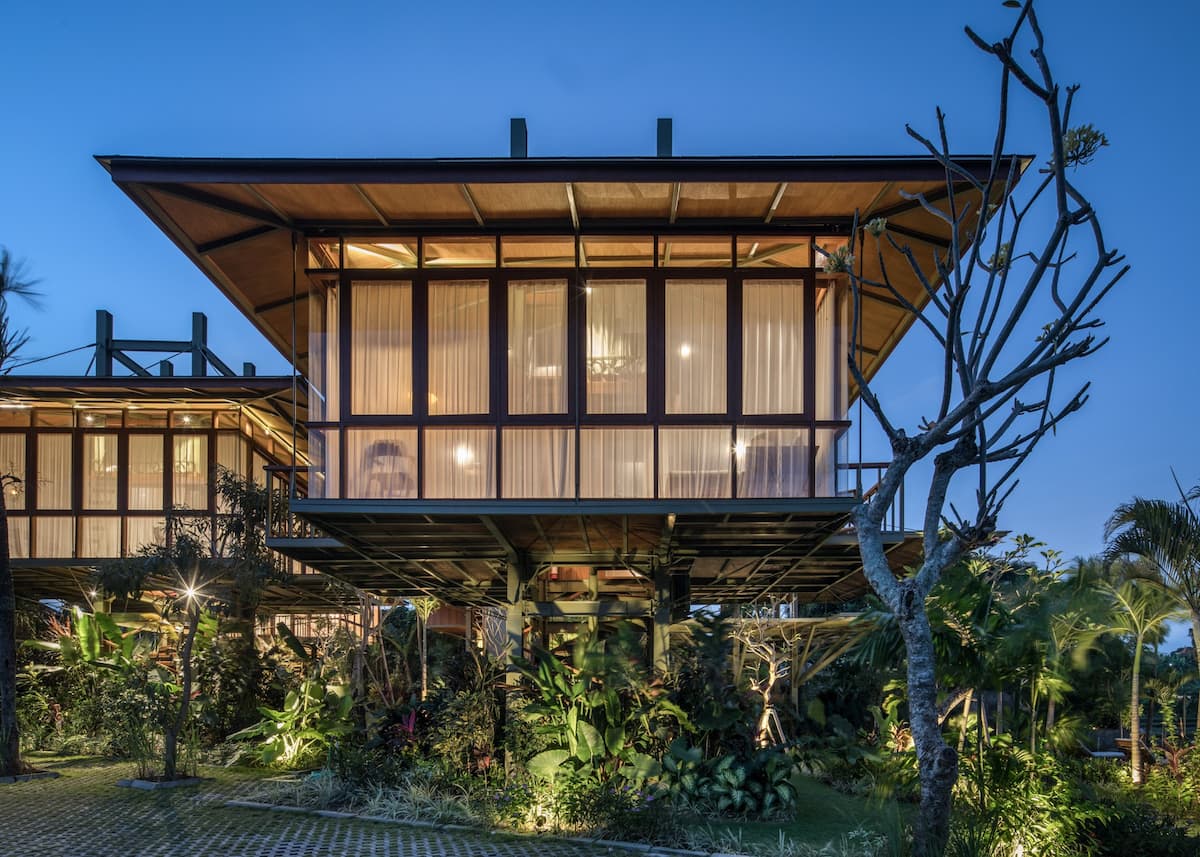 Photography by Airbnb Superhost Alexis Dornier, edited by Ananta Pradipta
Airbnb Superhost and architect Alexis Dornier, designer and co-founder of Stilt Studios, elevates the swank modern loft — literally — with his series of treehouses featuring 360-degree views of the rice paddies nearby.
The Story Behind the Home
Architecture can be slow and exacting. There are budgets, site considerations, and personal tastes to factor in. Alexis was looking for a break from that line of work when he and his business partner, Florian Holm, brainstormed building a series of prefabricated stilted structures on property adjacent to Holm's private villa in Kecamatan Mengwi, Bali, where he lives with his wife and their young child.
The area — which Alexis describes as "a beautiful village with very friendly people and a very relaxing environment on the one hand, and close to the hustle and bustle of Canggu's beach life and great restaurants on the other hand" — was an easy choice for the duo's first treehouse prototypes.
---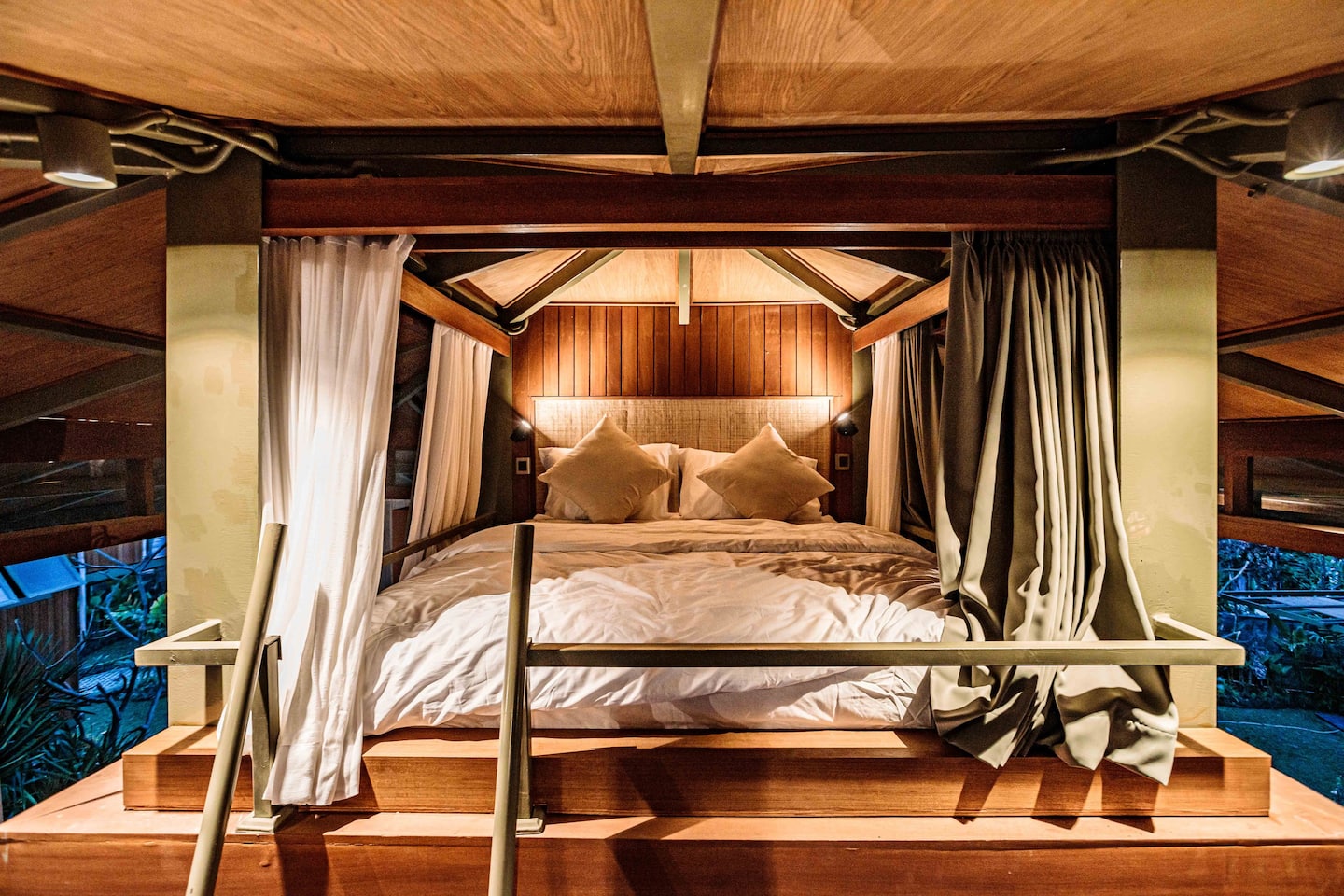 Standout Feature
Stilt Studios' tropical context is no doubt its best feature. "The experience is in what you see," Alexis says. "You don't have to spend a lot of energy to get this luxurious feel on the inside. Everything is already there." But letting Bali's incredible scenery shine didn't mean skimping on the treehouses' interior or architectural design. In fact, Alexis used it to his advantage, replanting trees around the homes to aid with cooling, shade, and privacy, and forgoing a traditional foundation that would disrupt the land beneath.
Instead, he anchored the unit around four center poles and suspended the roof from cables attached to the poles, which creates wide overhangs to protect the house from sun and rain. A lofted bed is nestled above the roofline inside, creating even more privacy and freeing up space beneath for a bathroom, small lounge area, and kitchenette.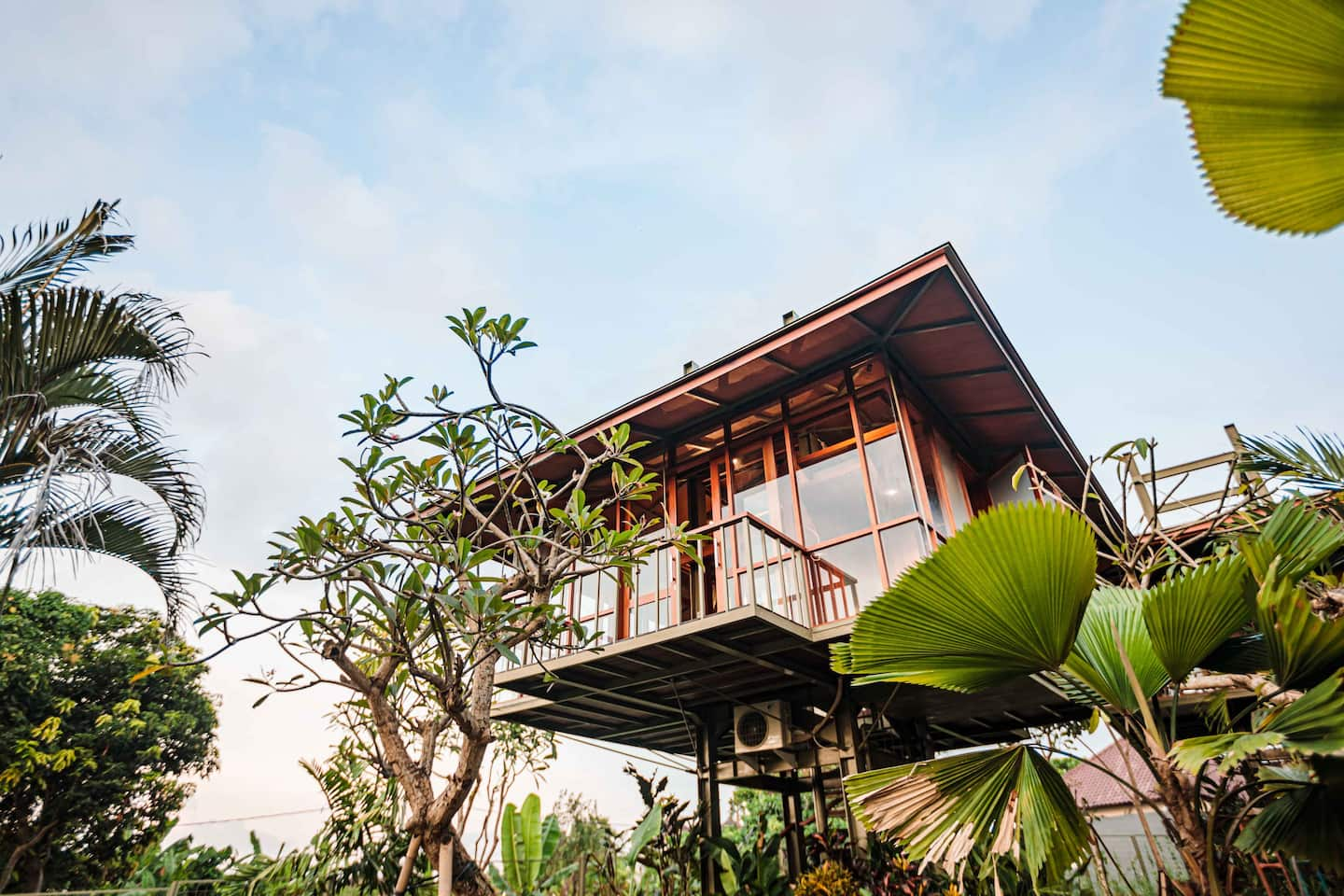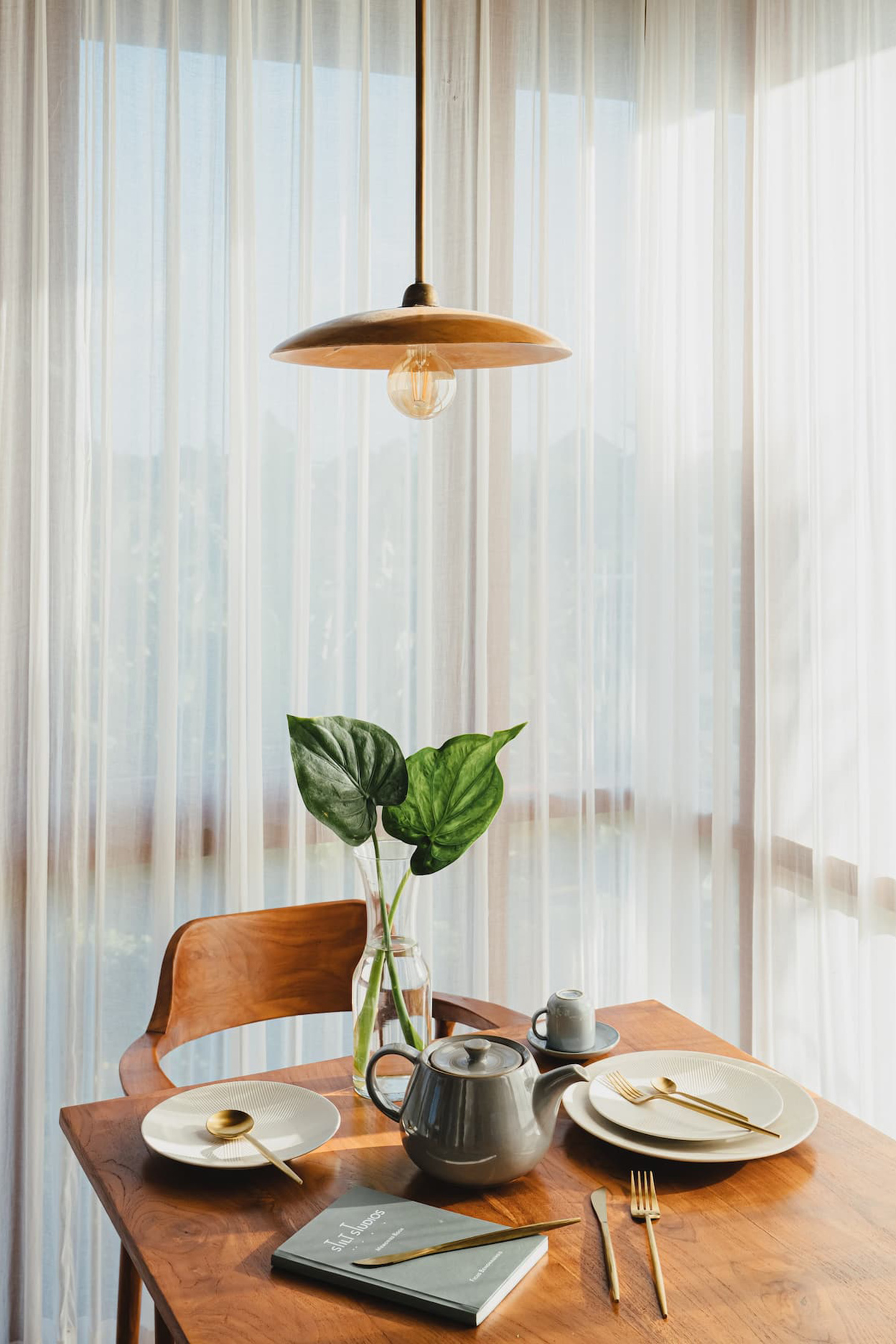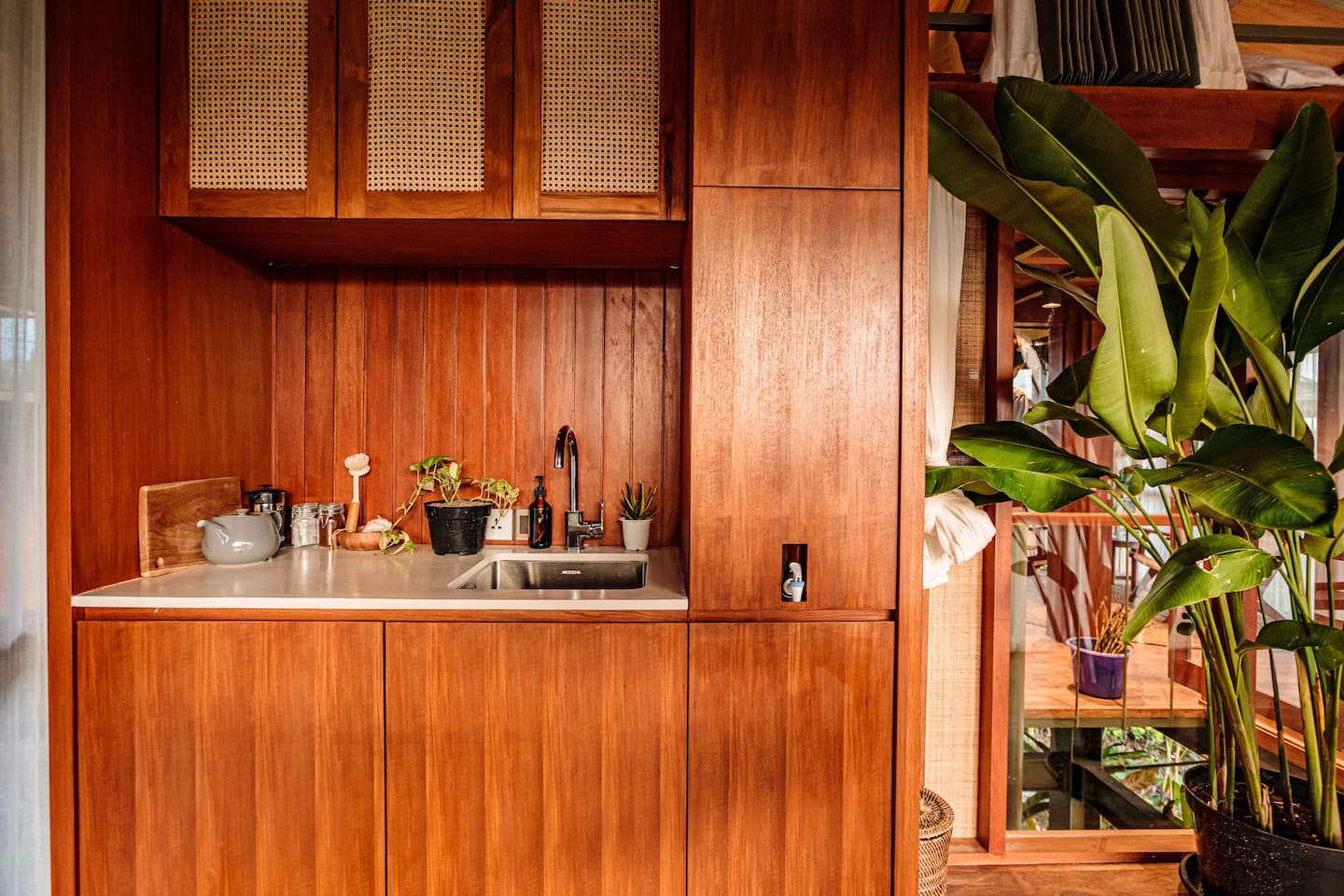 Favorite Guest Memory
Alexis has had his share of Indonesian celebrities passing through Stilt Studios, including a singing group who brought along some 20 family members, documented their stay on social media, and changed the way he viewed the details of his design.
"I wasn't really aware of how a simple ladder could start functioning as a motif," he says, pointing to one of the unit's most popular props for telling stories about the house on social media and beyond. "It's interesting for me to see the dynamics of this place creating different images or movie sets for people to explore. People are most fascinated by the DNA of the place."
---
The Mexican Forest Treehouse
Hosted by José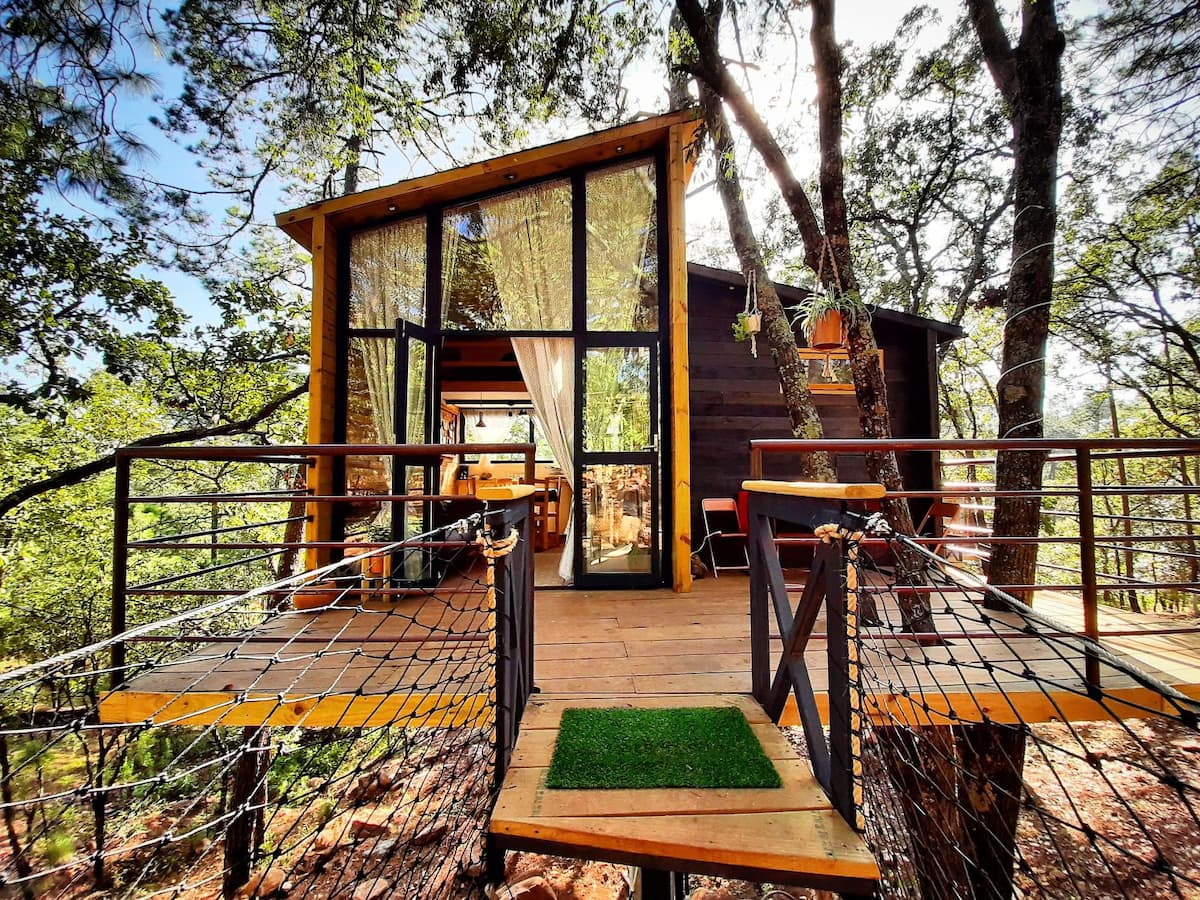 Photography by Airbnb Superhost José Ramón Uriegas
Steps from the hiking trails of Huasca de Ocampo in Hidalgo, Mexico, Airbnb Superhost José Ramon Uriegas Gutiérrez's Pinochueco treehouse is spacious enough to sleep four and high enough to overlook the colorful forest around it.
The Story Behind The Home
Creating Casa del Árbol Pinochueco was a family affair, the work of José and his fiancée, Anahi Mauriño, who are both architects; his brother, Erick Uriegas, an architectural engineer; and his father, Ramon Uriegas, a contractor. They sought to carve out a retreat from the bustling Mexico City life an hour and a half away, on forest land that's been in their family for years.
They started designing with two initial goals in mind: to be different from all of the other cabins in the area, and to blend organically into the lush setting around it. A treehouse felt like the natural choice and a good way to limit unnecessary deforestation. But José says that minimizing impact on the land by going the treehouse route really put his architectural skills to the test.
"It wasn't easy," he says, explaining how they built an iron platform to anchor the house and worked their way up from there. Sixteen feet up, to be exact. Due to the seemingly vast landscape, with its mountains, river, and waterfalls nearby, the setting can feel more like 26 feet high, José says.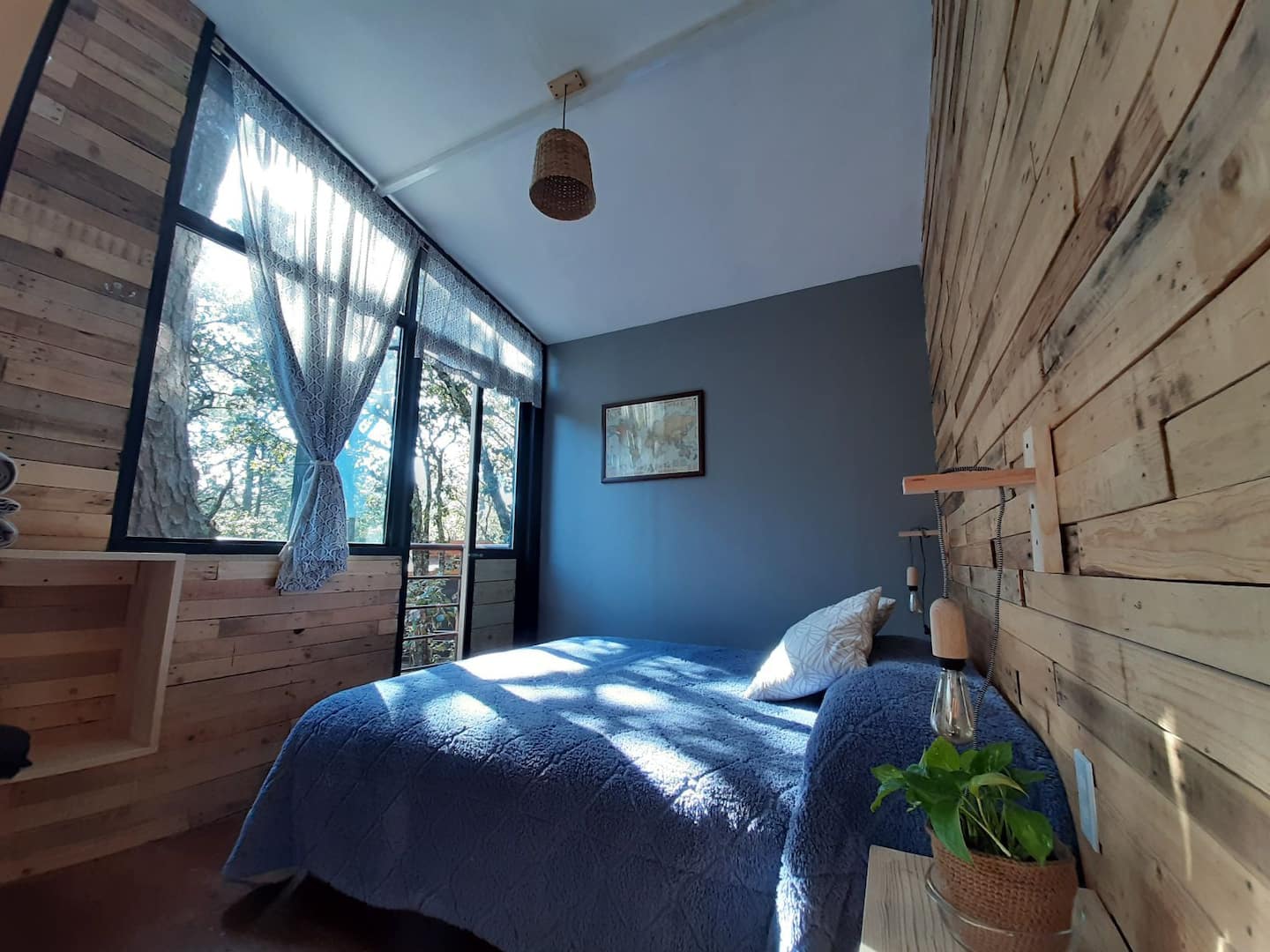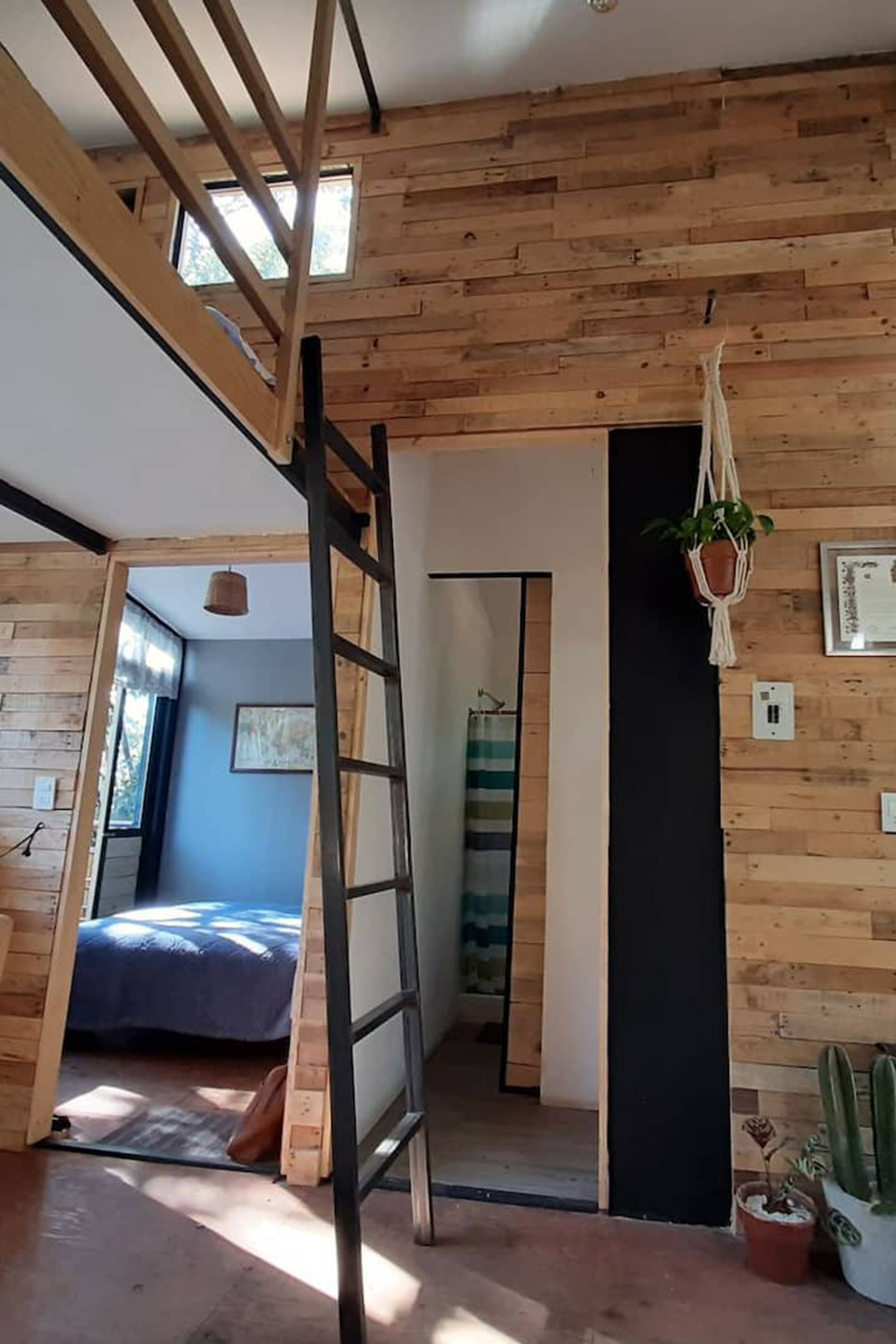 Standout Feature
Inside, Casa del Árbol Pinochueco's draw is its nostalgic quality and its cozy quarters — one bedroom, a full bath, small living area, and lofted bed. Less obvious, but equally appealing is the treehouse's sustainability factor, according to José. "We used all recycled materials," he explains. "When people see that we didn't make an impact on the ground, they really like it."
---
Favorite Guest Memory
Pandemic life has brought a new wave of guests to the Huasca de Ocampo area, travelers displaced by shuttered tourist attractions in Mexico City and hungry for some outdoor time post-quarantine. José doesn't have a favorite, per se, but considers this time to be especially memorable. "With all of the care we've had to take because of Covid, [it's nice to] talk with other people; we don't have to be just inside of the house."
---
The Classic English Treehouse
HOSTED BY Mark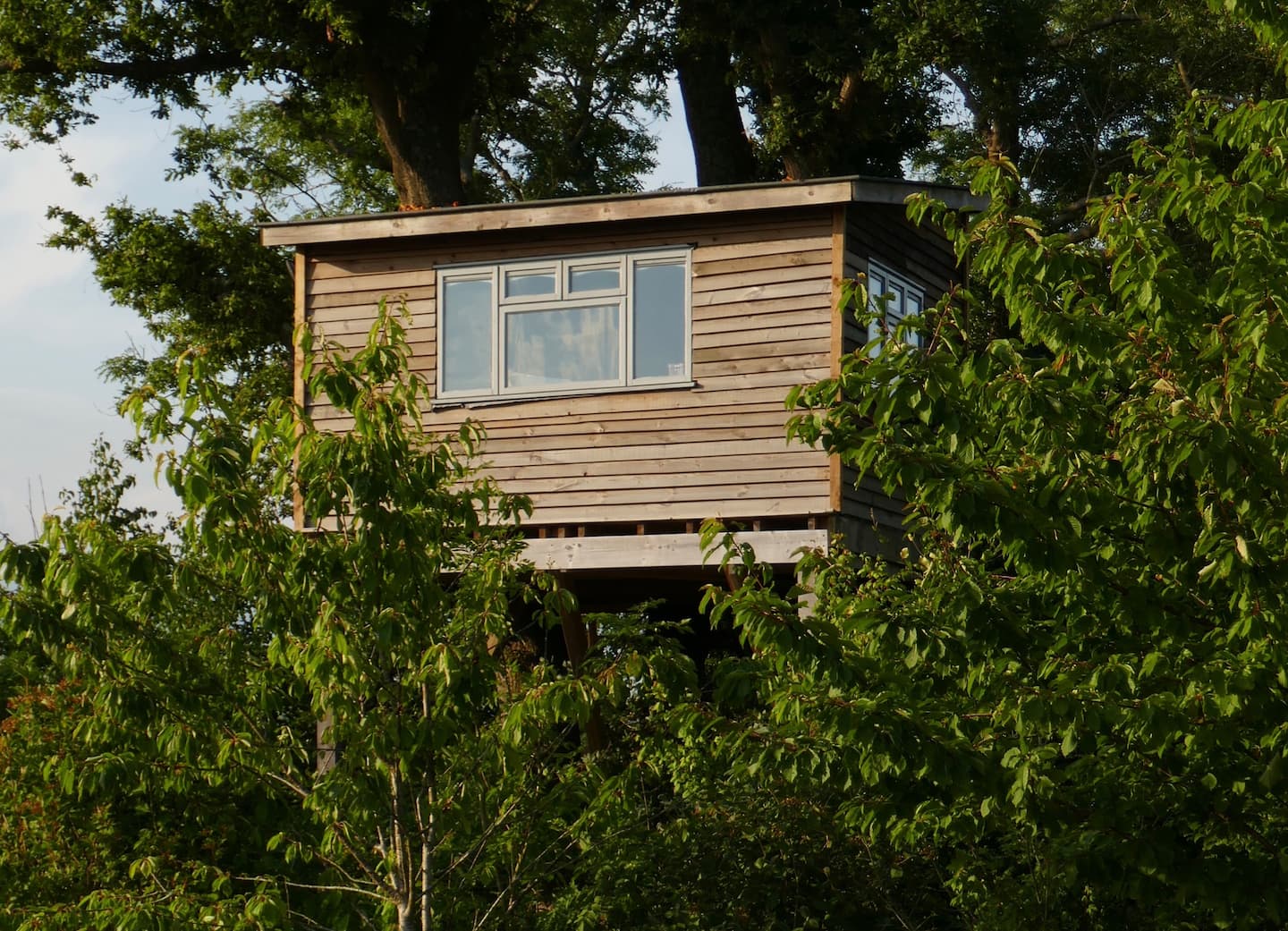 Photography by Julie Magnusson
Set on the edge of a barley field with sweeping views of the surrounding greenery, this studio-style retreat is brimming with vintage charm curated by Superhost Mark Nieman.
The Story Behind The Home
It's safe to say that Mark is in his second act. The former stockbroker turned farmer and Airbnb Host has been at it since 1997 when he purchased this property — a 15th-century farmhouse on the North Downs in Kent, about an hour and a half from London — and took a course in local horticulture to learn how to cultivate the land.
Among his farmsteading projects: converting a field of raspberries into the gardenscape it is today, and building a proper treehouse to take in the views. "We wanted to build a treehouse that was genuinely a treehouse and not just a building up in the air with trees around it," he says. The property's three oaks (two of which run directly through the house) would be just the place to do it. Mark had recently finished restoring the main house and had a surplus of old doors, panels, and pieces of wood to get the project going.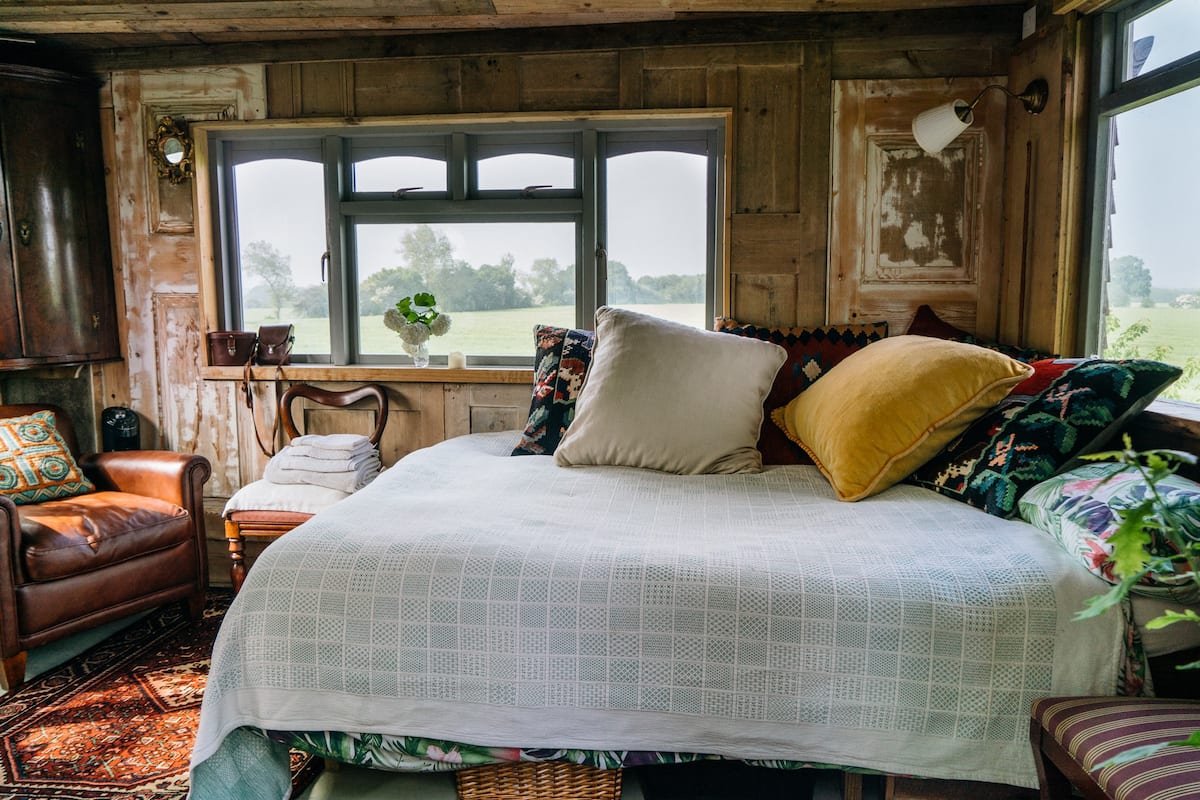 Standout Feature
While the treehouse's sweeping views and eclectic vintage decor are all worth writing home about, Mark finds that his delivery of home-baked bread in the mornings is the thing guests seem to love most.
"Everybody mentions the fact that they've got beautiful views, they're up in a tree … there's no noise apart from birds and the occasional squirrel running across the top of the treehouse." But, however beautiful the surroundings are, people seem to most appreciate that personal touch of a fresh loaf from the oven left outside the treehouse door.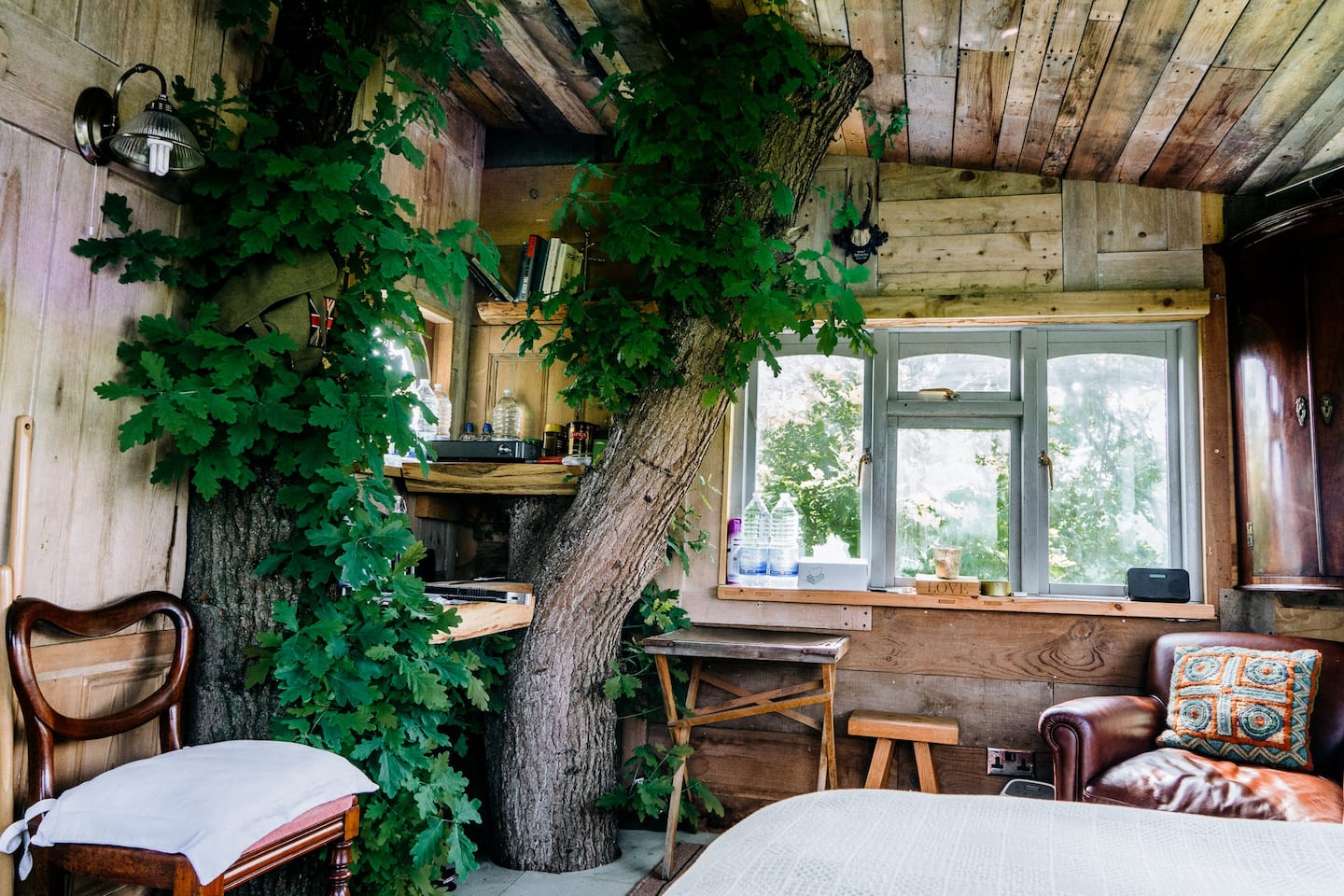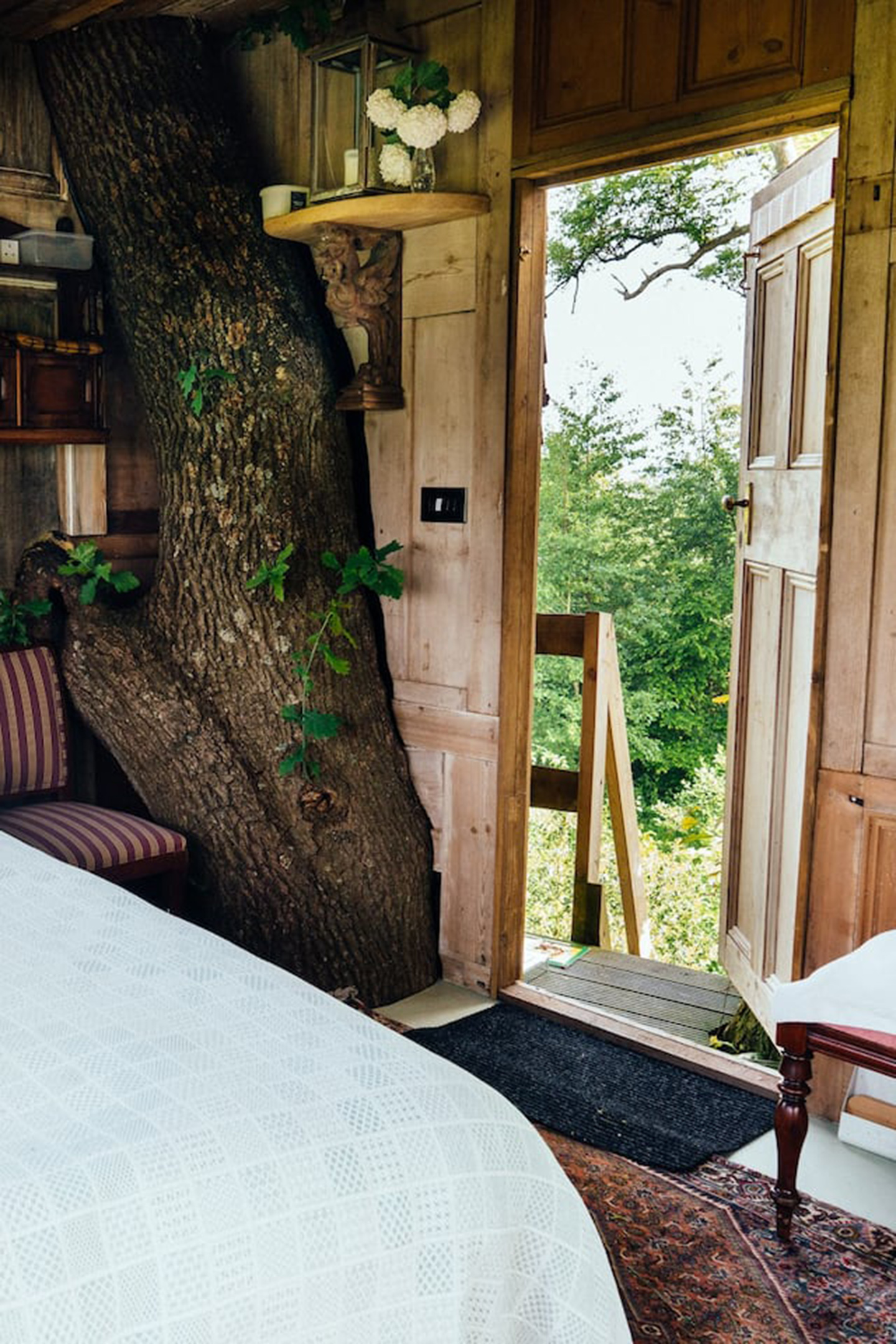 Favorite Guest Memory
Mark's treehouse has attracted a cast of characters befitting a storybook, from honeymooners to musicians shooting videos to a senior member of the British aristocracy. But the treehouse itself will continue to play the protagonist if one of its most memorable guests, an acclaimed children's author, has a say in it. "She said that she's going to write about the treehouse in her next book and dedicate it to my son, who she got on really well with when she was here," Mark notes. "She sent me a wonderful signed copy of her last book, which also featured a treehouse."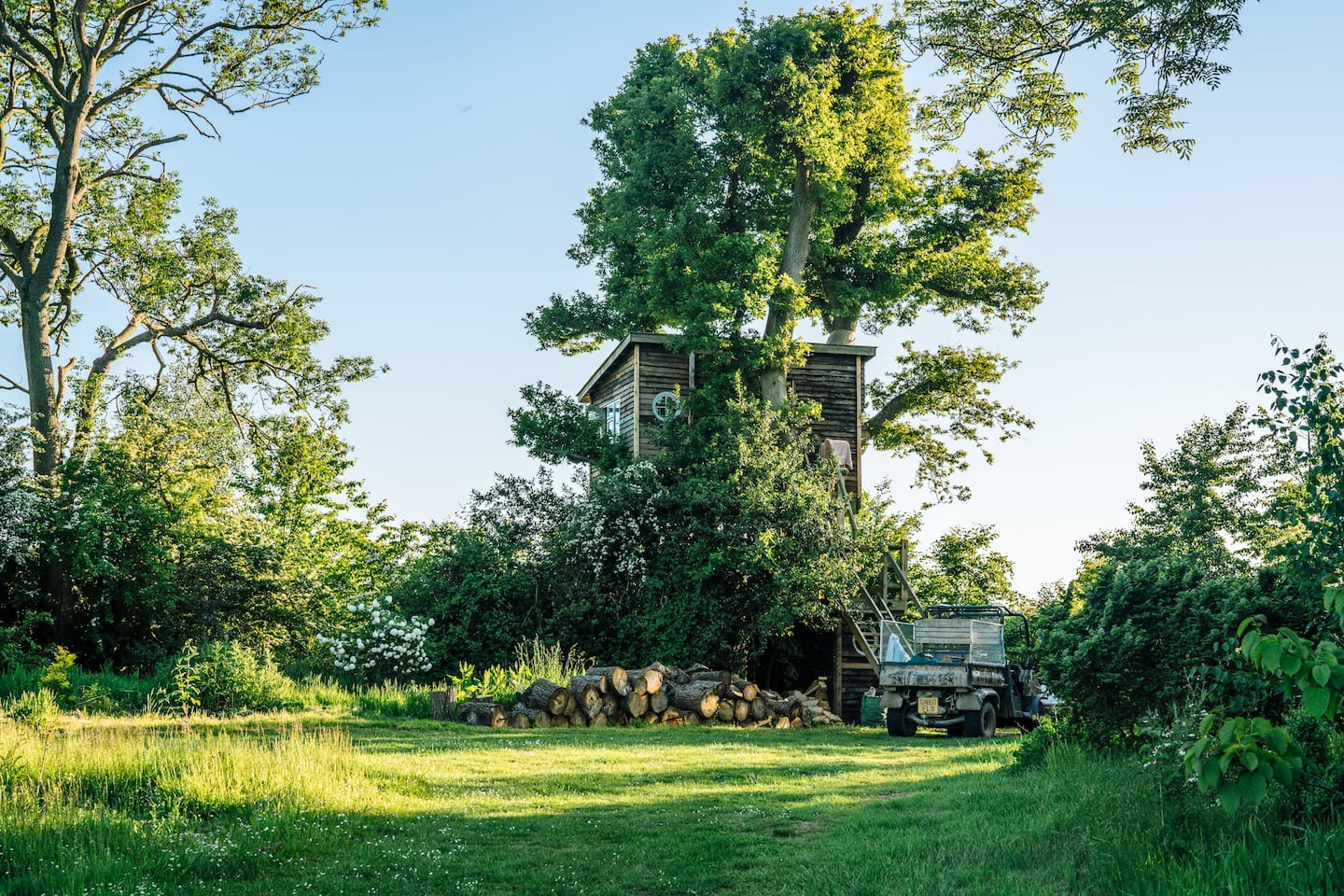 Written by
Jessica Cumberbatch Anderson
Jessica Cumberbatch Anderson is an award-winning writer, editor and content strategist with range across editorial, partnerships, video, and social media. At the heart of her creative process: good taste and a perfectionist spirit and a passion for telling a diverse array of stories. Jessica's work has been featured in both print and digital editions of ELLE Decor, Lonny, T Magazine, Architectural Digest, Better Homes & Gardens, and Martha Stewart Living, among others.
---
Explore treehouses on Airbnb
---