A raw Australian experience overlooking the lush vines of the McLaren Vale wine region. Set on a secluded hill top, you can light a fire in the pit there, watch the kangaroos hop and the sun set over the vale whilst sipping on a local wine. With an Aussie "drop dunny" toilet and kangaroos at you door step we offer an opportunity to get back to nature in a stunning camping spot whilst resting in a comfortable and cosy bell tent.
What guests are saying:
"Such a beautiful view from the tent and a comfortable stay even though it was cold outside. The fire was beautiful and was a perfect night away!"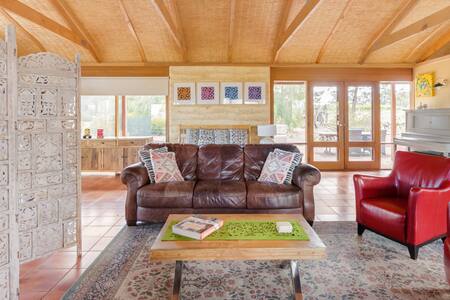 PLUS
Entire house · 4 guests · 2 beds · 1 bath
Country Living in Large Studio close to Celebrated Wineries
Take in views of the coast from the front door of this rural property. Enjoy the lofty room with high ceilings and exposed beams paired with terra-cotta tile flooring that give an expansive impression and create an ideal getaway for holiday makers.
What guests are saying:
"Amazing, we just had the best two night stay here. As soon as we cracked the door open, the kids were inside playing with the charming wooden toys and it felt like home. We didn't want to leave the place. Luckily after we finished the complimentary wine the first night we only had a very short walk to a winery to stock up for the next night. Highlights were: ~The perfect campfire set up, we sat and watched Bush tv when the kids went to bed (marshmallows included). ~The kangaroos coming to the edge of the property at dusk. ~We loved the record player and had it going non stop, the music selection was perfectly kid friendly, relaxing and good sing along tunes too. ~Plenty of hot water for everyone to have a decent shower!"
The all new accommodation is part of our eco-designed home that provides a truly peaceful haven to relax and take in the rural views. Close to SA's best beaches and world class local wine region. Private and secure entrance. 24h check-in available.
What guests are saying:
"My husband and I stayed here for our mini moon and it well and truly exceeded our expectations. Jayne and Colin are very lovely and hospitable and although the residence adjoins theirs, you have a lot of privacy and don't really notice. The place is beautiful and modern with lots of good amenities, the fridge and cupboard were stocked with breakfast foods and other bits and pieces, the bed is firm but very comfortable and they provide memory foam pillows which is huge for me given I get a sore neck using ordinary pillows. Furthermore the property itself is very secluded which means it's very peaceful and serene, whilst still only being 5 mins from the town. It's the perfect place for a couple to stay and have some down time together. Ben and I really loved our stay and will definitely be coming back."