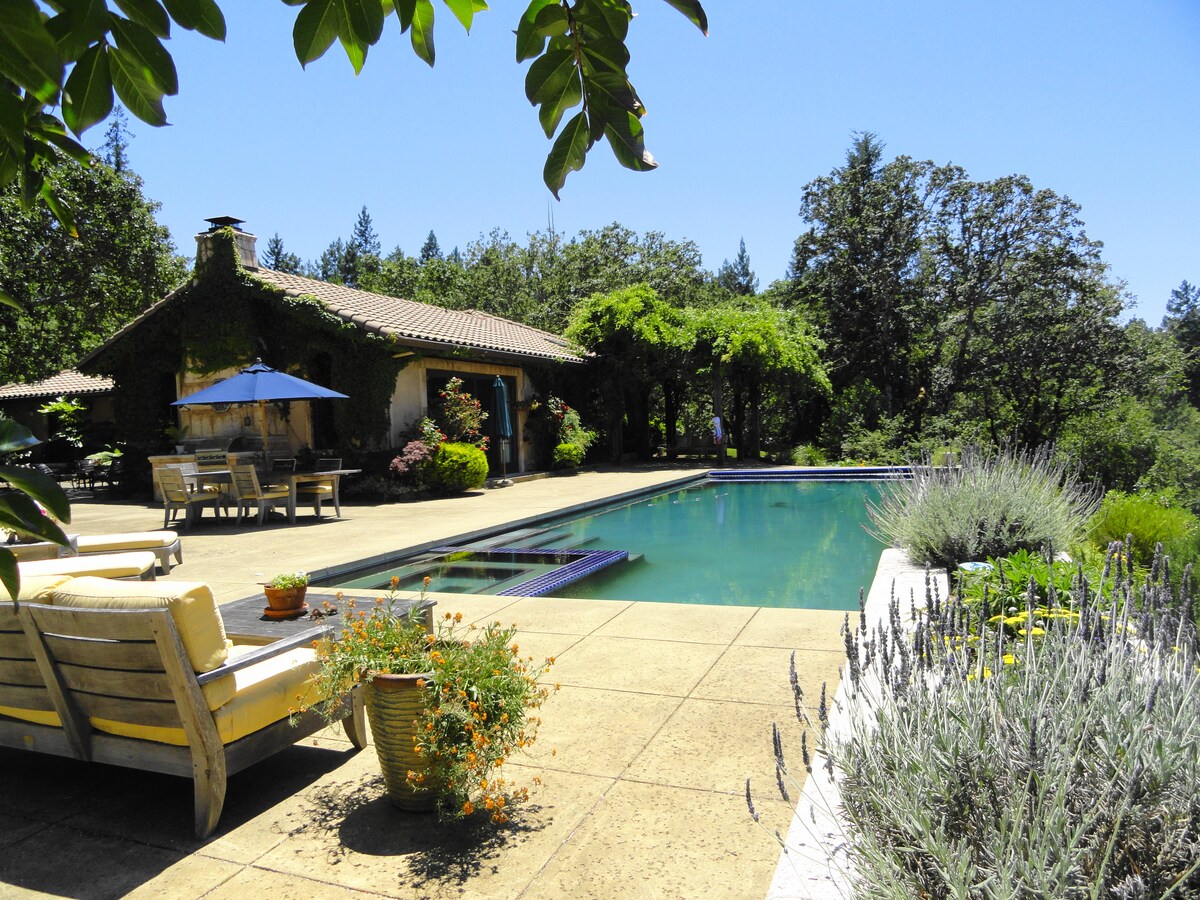 Entire home/apt
10 Guests
4 Bedrooms
5 Beds
About this listing
Mill Creek Estate is an exceptional Vineyard Estate located in the heart of the Sonoma Wine Country near the quaint town of Healdsburg and less than 6 minutes from the historic, upscale, and charming Downtown Plaza. The property consists of a main ho
---
Room type: Entire home/apt
Bedrooms: 4
Bathrooms: 4
Beds: 5
---
---
Weekly Price:
$7200

/week
---
Description
The Space
Mill Creek Estate is an exceptional Vineyard Estate located in the heart of the Sonoma Wine Country near the quaint town of Healdsburg and less than 6 minutes from the historic, upscale, and charming Downtown Plaza. The property consists of a main house and adjacent studio suite situated within an oak covered 15 acre setting. The gated property is nestled in the Sonoma foothills just west of town with views that are truly magnificent. From every direction one will see either intense natural beauty or miles of breathtaking gorgeous scenery. If extreme privacy is what you enjoy this is the place for your wine country vacation experience.
From Mill Creek Road, you will turn up a country lane which winds through an Oak covered forest across the gated 15 acre site to your doorstep. Reminiscent of homes built in early California, this 4 bedroom Estate has lots of exterior and interior stonework providing the perfect marriage of old world country charm and a casual, elegant California lifestyle. The living structures are tucked sensitively into the landscape under a canopy of trees which includes mature 100-year-old oaks. Designed for gracious country living, inside you will find walls of luxurious Venetian plaster, vaulted and cathedral ceilings, wood and limestone flooring and abundant windows throughout the house. The views from inside the house are as breathtaking as the views from outside. Beyond the double door entry and unique walk through gallery you will step into the kitchen and breakfast nook area. Adjacent is a separate dining room adding an air of formality to the dining experience. Around the corner are more French Doors that open onto an arbor covered terrace – perfect spot for dessert and port. The kitchen leads to an outside terrace for delightful alfresco breakfasts.
All 4 bedrooms have the convenience of having their own full bathroom, private outside terrace, and access via separate entry ensuring that each guest will have a private experience. The main house has 2 En Suite Master Bedrooms with King Size beds, satellite HDTV/DVR, and double French doors leading to an outside terrace. The secondary bedroom has a queen size wrought iron bed with double French doors that lead to their own outside terrace. The adjacent studio suite also has a separate entry and patio terrace with a queen size bed and a queen size futon bed, DTV and DVR and walk in closet.
The Living Room is the Family/Entertainment area with exposed wood beam vaulted ceilings, and double French Doors on both sides framing a view of the large infinity edge swimming pool and the magnificent Sonoma Foothills beyond. The room features oversize sofas and chairs, and a built in entertainment area with a Sony 46" HDTV and HD/DVR receiver w/surround speaker system. All in all there is a total of 5 HD TV's with HD/DVR receivers throughout the house. The built in cabinetry houses a mini bar, sink, wine storage cooler, refrigerator and ice maker to serve all your casual entertainment needs. Forming the centerpiece of the room is a large wood burning fireplace providing added warmth and comfort on a cool winter's evening.
Daytime activities will usually be centered around the heated 50 foot long infinity edge swimming pool and hot tub located just off the Living Room's double French doors which slide open creating an easy ebb and flow between indoors and out. Other activities can include bocce ball contests and gaming, croquet matches on the spacious lawn areas or wandering through our 2 acre Pinot Noir Vineyard. For the more active you will be ideally located for a hiking and or biking adventure.
Mill Creek Vineyard Estate is the perfect place for family and friends to gather in a relaxing atmosphere of comfort and serenity. Surrounded by spacious terraces and lawn covered areas, this is the ideal vacation home for those who cherish the outdoors. With most rooms opening onto an outside terrace you're never more than a step away from natural serenity. With the wisteria covered Arbor and many other sitting areas to choose from, you will find just the right spot to savor a spectacular sunset, read in the afternoon sun or enjoy a candlelight dinner on a warm summer's evening.
NOTE: Please Read House Rules prior to booking. Rental Agreement is required prior to check in.
Guest Access
All the amenities are available and not shared with the owners or other guests.
Interaction with Guests
The house is a dedicated vacation rental. We do not reside there.
+ More
---
MILL CREEK ESTATE TERMS AND CONDITIONS
Extra Cleaning
The rental contract includes a fee for normal cleaning at the end of the rental term.
If the condition of the premises requires extra cleaning beyond the norm or the
tenant requests extra cleaning services, the tenant shall be responsible for the cost
of such cleaning.
Reasonable
Tenant agrees to only use the premises as a private vacation residence for himself
Use
and the other individuals included in Tenant's party. Tenant will not hold an event,
wedding or other gathering that exceeds the maximum occupancy displayed on the
contract without written consent from the Owner. Tenant acknowledges that a
party or extraordinary gathering on the premise will cause an additional site fee
charge and may be grounds for immediate removal from the property. Tenant
agrees that he and the members of his party shall conduct themselves in a manner
that will not disturb their neighbors' peaceful enjoyment of their properties, and
that any consequences of their failure to do so shall be Tenant's sole responsibility.
Tenant further agrees that he will not allow the Premises to be used for any
improper or illegal purposes. Outdoor amplified music is prohibited by local
ordinance at vacation rental properties and also mandates strict outdoor quiet hours
between 10:00 pm and 9:00 am.
Right to Cancel
Tenant's deposit will be fully refunded if received no less than 60 days prior to the
start of the rental term. A refund of 50% of deposit will be granted for
cancellations occurring between 31-59 days prior to arrival date. All monies are
forfeited on cancellations within 30 days of the rental term due to the difficulty of
re-renting the premises on short notice.
Pets and
Tenant agrees not to bring or allow pets on or in the premises during the rental
Smoking
term without the express written consent of the Owner. Tenant agrees that he shall
neither smoke nor allow smoking in the premises during the rental term. Tenant
will be responsible for a fee of $1,500 for violations plus the cost of any cleaning
or damages.
Liability for
Tenant is responsible for all damages to the property caused by Tenant, the
Damage
members of his party, or their guests. Tenant is responsible for ensuring that the
property is left upon departure in the same condition and repair as upon arrival.
Right to Repair
Tenant shall provide prompt, detailed telephonic notice to the Landlord of any
damage or disrepair to or affecting the property. If such damage or disrepair is not
the result of the action or inaction of Tenant, and if such damage or disrepair
interferes with the use of the premises, the Owner shall have 36 hours to replace or
repair the same without a reduction in Tenant's rent.
Access to
Upon notice to Tenant, the Owner or his agents may enter the property for
Property
necessary maintenance, repairs, or other reasonable purposes.
Assignment or
Tenant may not assign this agreement or sublease any portion of the property
Sublease
without prior written consent of the Owner. No such approved assignment or
sublease shall in any way relieve Tenant of obligations and responsibilities under
this agreement.
Arbitration of
This agreement shall be interpreted in accordance with the laws of the State of
Claims
California. Each party waives his right to trial by jury in any matter and action
under this Agreement, including, without limitation, in any summary proceeding
based on termination, holdover or other default in which repossession of the
Premises is sought. In the case of any dispute between the parties (other than any
summary proceeding based on termination, holdover or other default in which
repossession of the Premises is sought), the parties agree that such dispute shall be
exclusively and finally resolved in arbitration, without recourse to any court, by a
single arbitrator qualified to resolve disputes of this nature by the American
Arbitration Association (the "AAA"), such arbitrator to be selected from among
the list of available AAA arbitrators according to the AAA arbitrator selection
procedures. The arbitration shall take place in the County of Sonoma, California.
Any party to this Agreement may initiate the arbitration by providing a written
notice to all other parties to the Agreement, which notice bears a current date,
states the name of the initiating party, and briefly states the matter to be arbitrated.
The arbitrator may allocate costs, fees and other expenses of the arbitration equally
among the parties to the dispute, except in the instance that the arbitrator
determines that a party has initiated an arbitration without a reasonable basis for
doing so, the arbitrator shall assess against that party the costs of the other parties
relating to the arbitration, including reasonable attorneys' fees.
Limitation of
The liability of the Owner or his agents shall be limited to damages arising solely
Liability and
from the Owner's gross negligence or willful misconduct, and then only up to the
Indemnification
amount of any rentals and deposits paid. In no event shall the Owner or his agents
be liable for any special, consequential, incidental or punitive damages. Tenant
agrees to indemnify and hold harmless the Owner of the property from and against
any liability for personal injury of property damage sustained by any person
(including Tenant's guests) at the property during the rental term as a result of any
cause, unless such damage was caused solely by the gross negligence or willful
misconduct of the Owner.
Swimming
TENANT ACKNOWLEDGES THAT THE SWIMMING POOL AND SPA
Pool
AT THE PROPERTY MAY BE UNCOVERED AND/OR UNPROTECTED
BY FENCES AND THEREFORE MAY CONSTITUTE AN INHERENTLY
DANGEROUS CONDITION FOR WHICH TENANT ACCEPTS FULL
RESPONSIBILITY DURING THE TERM AND, WITHOUT LIMITING
THE FOREGOING, TENANT WILL DEFEND OWNER AGAINST ANY
CLAIMS RELATED TO THESE CONDITIONS.
Rural Property
Property is in a remote location. As such, what would be considered normal
response time for public services in an urban area may not be available in this
location, i.e., police, fire and emergency services. Also, naturally dwelling animals,
reptiles and fauna are different then might be encountered in an urban setting and
some might be considered "pests" by some individuals, i.e., poison oak, raccoons,
skunks, rattlesnakes, coyotes, mountain lion, etc. some of which may be exposed to
Lyme's disease, yellow jackets, etc. Agricultural workers may enter the grounds
at any time without prior notification.
Miscellaneous
(a) All individual provisions, paragraphs, sentences, clauses, sections and words in
this Agreement shall be severable, and if any such provision, section, paragraph,
sentence, clause or word is determined by any court, administrative body, or
tribunal, having proper jurisdiction, to be in any way unenforceable, or to be in any
way in conflict with any law of any applicable jurisdiction, such determination shall have no effect whatsoever on any of the remaining paragraphs, provisions, clauses, sections, sentences, or words of this Agreement; (b) it is understood and agreed that time is of the essence for all purposes, and with respect to the performance of all obligations, under this Agreement; (c) this Agreement may be executed in two (2) or more counterpart copies, all of which counterparts shall have the same force and effect as if all parties hereto had executed a single copy of this Agreement; (d) this Agreement is the entire agreement between the parties with respect to the subject matter hereof, and no modification or addition to it shall be binding unless signed by the parties hereto; (e) the covenants, conditions and agreements contained herein are binding upon and shall inure to the benefit of the parties hereto and their respective heirs, executors, administrators, personal representatives, successors and assigns; (f) if there is more than one (1) Tenant under this Agreement, the Tenants shall be jointly and severally liable and each shall be deemed to confer upon each Tenant full authority to act on behalf of all Tenants under this Agreement; (g) the obligations and covenants between the parties are independent and the rent will be payable without offset, reduction or abatement for any cause; and (h) wherever the context so requires, the singular number shall include the plural, the plural the singular, and the use of any gender shall include all other genders.
MORE
Mill Creek Estate Guest Code of Conduct & County Regulations
We look forward to your visit to the wine country. Please be aware that there are strict local ordinances regarding vacation rental guest behavior. Please share the terms and conditions of your rental agreement and this code of conduct with others in your rental party. These terms of this Code of Conduct are incorporated by reference into your rental agreement and any violation may result in significant additional charges and forfeiture of your security deposit. Neighbors treasure their peace and privacy and neighborhood disturbances will not be tolerated.
Occupancy: Is governed by the county and is strictly limited to the number of guests specified in your rental agreement. Parties, weddings and events at vacation rentals are strictly prohibited by local ordinances.
Outside Noise: The County has imposed a curfew on outside activities and noise at vacation rentals between the hours of 10 PM and 9 AM. Please reduce noise levels by 9 PM and move outdoor conversations and activities indoors after 10 PM. Be aware that noise from loud voices, laughing and general socializing travels and echoes in this area and can result in neighbor disturbances.
Amplified Sound: County regulations prohibit outdoor amplified sound at vacation rentals at any time.
No Smoking: Smoking is not permitted inside any of the buildings of your rental property. Please be aware the wine country can be very dry and subject to dangerous fires.
Excess Energy Charges: Please be aware that leaving doors open, lights on, running the AC constantly and fiddling with pool and spa heaters may dramatically increase the energy consumption during your stay. Please review this section of your contract.
House Information Binder: Upon your arrival, please review the house information binder to understand how the house systems and appliances function.
Disrepair: You agree to report any problems immediately so we may address your concerns as quickly as possible. The Owner shall have 36 hours to replace or repair any damage or disrepair.
Other Terms and Conditions: Please review your contract carefully and note the terms regarding your security deposit, excess cleaning and garbage, pets and swimming pool liability.
+ More
---
None
Smoke Detector
Carbon Monoxide Detector
First Aid Kit
Safety Card
Fire Extinguisher
---
We had a wonderful and very relaxing trip at Don's lovely home. The house is located down a quiet country road, but still close enough to downtown Healdsburg, which was perfect for us.
There was plenty of room for each of the 4 couples without feeling crowded. The pool and backyard were designed to create the ultimate space for relaxation, with a great view as a bonus. The house is very well stocked with essentials and the grill area is perfect for cooking on nice summer nights. We had a wonderful trip and would definitely rent it again!
+ More
Don's home was absolutely beautiful! The house is gorgeous, the view is breathtaking... it's the real deal.
We had the best time at this place and would love to go back :)
+ More
This property is great. The house was very well appointed and comfortable. It's in a good location and easily accessible from Healdsburg square. The outdoor space was perfect - quiet and relaxing, perfect for grilling, bocce, and swimming. Don was very friendly and accommodating
+ More
About the Host, Don
My wife, Janette and I have owned and operated our vacation rental since 2007. It is a beautiful and special place which we love to share with our guests.
+ More
Healdsburg, California, United States
Member since February 2013
Response rate:
90%
(last 10 contacts)
Response time: within an hour
---
Explore other options in and around Healdsburg