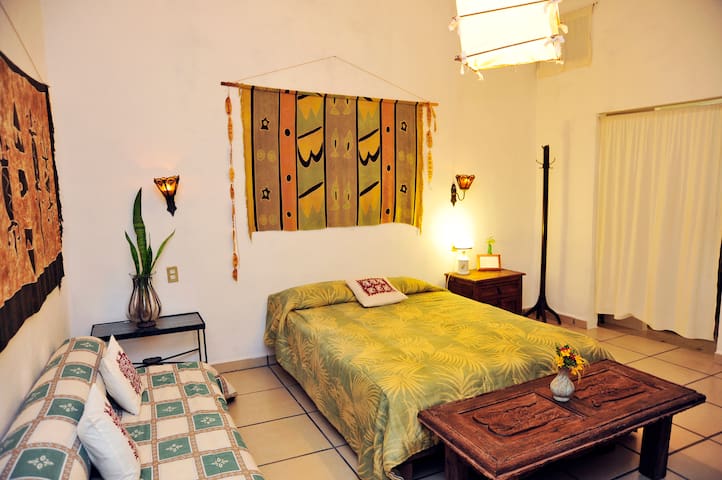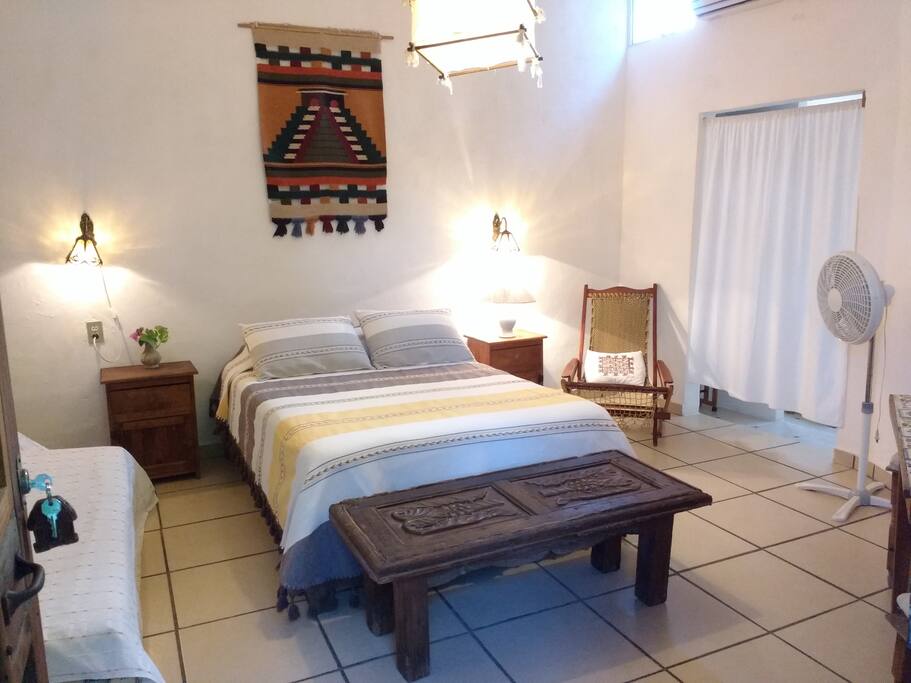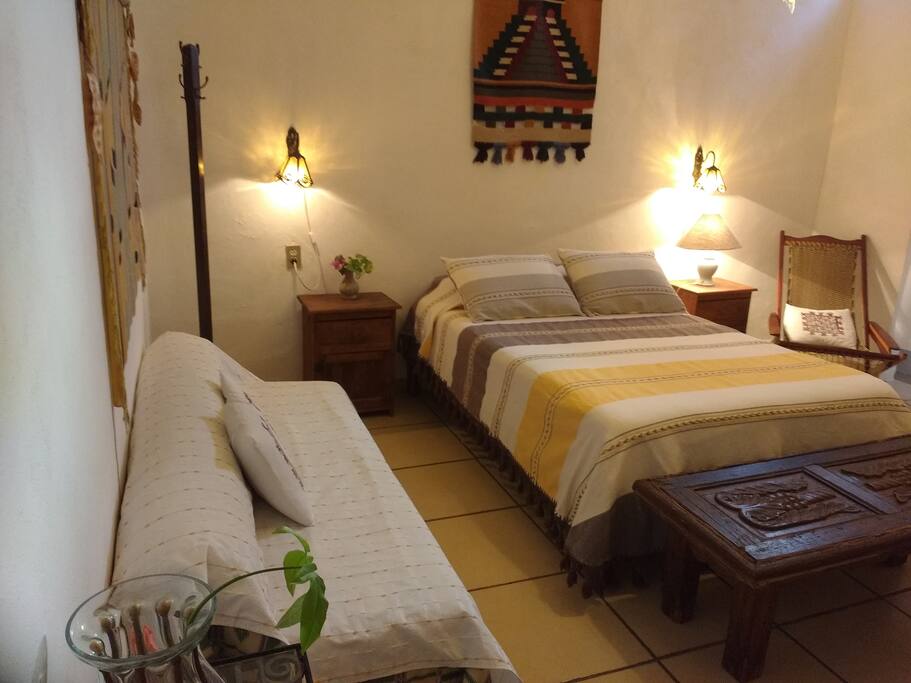 About this listing
The room #5 is the most recent room built: it is also the less rustic and more traditional one, with A/C. Located on the second floor of the building, it is a very bright room with a large bathroom. As all our rooms, it is fitted with many Mexican arts and crafts items.
The space
Casitas Kinsol is a Guest House with 8 rustic rooms for rent in Puerto Morelos, on the Mayan Riviera, 25 minutes South of the airport international of Cancun, conveniently located between Cancun and Playa del Carmen, and 4 blocks from the main bus stop in town. It resides in the part of the town where the locals live (in a Mexican low income neighborhood), called "La Colonia" of Puerto Morelos and it is only 3 miles to the beach: this is the perfect location for a full immersion in a Mexican local neighborhood.
Surrounded by many eateries, grocery stands and stores, the guest house offers 8 romantic and rustic rooms and bungalows: 4 with kitchenettes and 4 without. All the rooms have basic amenities at low prices for double occupancy. The rooms come with private baths, hot showers, air fans and each with unique decor designed by the owners. Most of the rooms come with WiFi. 3 dogs and a cat are full-time hosts on the property.
- All our rooms are now listed on AirBnB so that you can choose the one that you really like. We may have some rooms available even when the AirBnB calendars show no availability - Please contact us to inquiry about availability -
THE ROOM 5:
- The Modern Room is on the second floor on the southeast corner of the property above room 3. It is a tile and stucco designed room with one full-size (double) bed and one futon accommodating a 3rd person ($12.00 US extra per night). It offers a large full bathroom with plenty of natural light (through a skylight), hot shower, ample storage spaces. It comes with air conditioning ($5.00 US Dollars extra per day). It has screened windows throughout. No kitchenette.
A DIFFERENT CONCEPT IN LODGING:
- No luxury. Rustic bungalows / huts (palapas) and rooms with a touch of sophistication that comes from the unique and personal decoration of each room. Only 8 cabins/palapas (bungalows) give a cozy ambiance and friendly atmosphere. Some rooms come a thatched roof - The breakfast is NOT provided -
A CONVENIENT LOCATION:
- You are downtown Puerto Morelos, the township (not the beach / port area), two blocks from the main square on the West side of Highway MX307; however you may wake up to the multiple songs of the birds and the roosters.
- Less than five minute drive to the beach (3 miles). We rent bicycles (at extra cost) so that the beach appears even closer.
- Easy access to cheap public transportation (minibus or taxis). The first class long range bus stop (ADO) is 3 blocks away, within walking distance.
- Half way between Cancun and Playa del Carmen; this is the perfect location to explore the Riviera Maya (25 minutes to the airport of Cancun, 35 minutes to Cancun, 30 minutes to Playa del Carmen, 1 h 45 minutes to Tulum, 4 hours to Chichen-Itza).
- In the heart of the local population: this means that you can find plenty of affordable and tasty small restaurants and eateries within 2 or 3 blocks around the property. Convenient stores, mini-market stores, grocery stores, bakeries, butchers, and also fruits and vegetables stands are nearby: get a quart of freshly squeezed juice for less than MX $20.00 Pesos -
- GPS coordinates:
- Latitude: (PHONE NUMBER HIDDEN)"N
- Longitude: (PHONE NUMBER HIDDEN)"W
AFFORDABLE PRICES:
- Rates starting at $39.00 US dollars per night for a couple ($12.00 US Dollars per extra person per night). This price includes:
- a clean bedroom with its private bath (with hot water in the shower).
- daily maid service in the room.
- each room comes with one full size bed. Some rooms have also an extra individual bed.
- a fan in each room - No A/C: the natural breeze, the shade provided by the vegetation and the traditional materials used in the construction of the bungalows and the rooms help provide most of the rooms with a nearly constant temperature.
- WiFi wireless internet access reach all rooms (except the room 8): so, bring your own laptop or web enabled smart phone. -
PERSONALIZED SERVICES AND FRIENDLY ATTENTION:
- We (the owners) spend endless hours on the property and we love to do our best to make sure that your stay will meet all your expectations. We know most of the "out-of-the-beaten-paths" tours, excursions and hidden paradises of the area; feel free to ask for advises and recommendations -
PETS ARE WELCOME:
- We have pets on site: three dogs (a mini pinscher and two "malich") and a cat: they work hard as hosts and they love to be petted at any time of the day or the night. Your pets are welcome (at extra cost) if they are well behaved and friendly to other pets and humans. They are NOT allowed to jump on furniture, to be on the bed / to be in the bed -
VISITORS FROM ALL OVER THE WORLD:
At Casitas Kinsol, we have had visitors from 74 countries:
Albania, Algeria, Angola, Argentina, Australia, Austria, Basque Country, Belgium, Brazil, Bosnia, Canada, Chile, China, Colombia, Croatia, Cuba, Czech Republic, Denmark, Dominican Republic, Egypt, El Salvador, England, Estonia, Euskadi, Finland, France, Germany, Holland, Hungary, Iceland, India, Iran, Ireland, Israel, Italy, Kosovo, La Reunion, Lithuania, Mexico, Mongolia, Monte Negro, Netherlands, New-Zealand, Nigeria, Norway, Peru, Philippines, Poland, Portugal, Romania, Russia, Scandinavia, Scotland, Slovakia, Slovenia, South Africa, South Korea, Spain, Sweden, Switzerland, Tahiti, Tanzania, Thailand, Turkey, Ukraine, United Kingdom, United States, Uruguay, Venezuela, ... -
Feel free to look at our web site for more information and photos: you can find it by doing a search with the keyword "Casitas-Kinsol".
Guest access
Common areas accessible to the guests:
- the yard / garden
- the relaxation area with hammocks.
- the sitting/dining areas: if the guests order some food (pizzas, tacos, ... for example) from the surrounding restaurants, the guests are welcome to use the sitting/dining areas. Most of the eateries and restaurants in the neighborhood will have food 'to-go'/ 'to-take'.
- the hammocks in the yard.
- the sitting areas in the yard.
Off limits:
- the range, the utensils, the ingredients and the food in our fridge in the common kitchen area. The guests can use the range in the common area only to prepare coffees and teas. NO COOKING or MEAL PREPARATION is allowed in our common kitchen area.
Interaction with guests
When all the rooms are not rented, we love to stay overnight at the property. We spend endless hours on the property and we interact as much as we possibly can with all our guests.
When the opportunity arises, we love to go out with our guests, on a tour to some local attraction, or, for a drink at a local neighborhood bar or even a snack at a local restaurant. Any proposal to go out is always welcome.
Other things to note
- We have pets on site: three dogs (a Chihuahua / mini Pinscher and two "malich") and a cat: they work hard as hosts and they love to be petted at any time of the day or the night. If you have allergies or if you cannot stand to have animals around you, please do not book a room with us.
- We are located in a typical Mexican neighborhood, not the most good-looking one: a typical low income Mexican area. Expect kids and dogs playing on the streets, Mexican music when celebrating events (birthday, baptism ceremonies, "quincenieras"), ... loud and noisy vehicles, ...
- We are NOT located on the beach side of the town: the touristy and sophisticated part of the town.
---
Bathrooms: 1 (Private bathroom)
Pet Owner: Dog(s) and cat(s)
---
---
Extra people: 12 / night after 2 guests
Always communicate through Airbnb
To protect your payment, never transfer money or communicate outside of the Airbnb website or app.
Learn more
---
Bedroom 1
1 double bed, 1 couch
---
Not safe or suitable for infants (Under 2 years)
Check in time is 3PM - 11PM
- Check out before 12:00 pm. Check in after 3:00 pm. Late check-out and early check-in can be accommodated; ask us for details.
- No curfew: if you come back late at night, please maintain a quiet atmosphere so that the other guests can have a restoring sleep. Some rooms have only mosquito screens (no window): please, keep the volume low and maintain a quiet atmosphere.
- Candles are provided as emergency lights when the electricity goes off. You may use them for romantic purposes, however, never leave a candle unattended.
- For the safety of all residents and guests, please register any overnight visit or guest that you may have.
- For the safety of our 4 legged guests and hosts, make sure that all gates are latched and locked at all times.
- The towels are not to be used as rugs or beach towels. Beach towels are not provided.
- Some rooms do not have windows - only mosquito screens -: please maintain a quiet atmosphere.
- Toilet bowls: Only human waste! Absolutely no toilet paper, hygienic towels, Q-tips, ... !!! The basket next to the toilet bowl is for these items.
- If you drove to Casitas Kinsol, make sure that your car is parked along the sidewalk in front of Casitas Kinsol. In Puerto Morelos, the property owners think that they own the sidewalk in front of their property; as a result any vehicle that is not theirs is not welcome!!!
THE KITCHEN IN THE COMMON AREA
It is for the only use of the owner. The kitchen in the common area is only to prepare coffees and teas. NO COOKING or MEAL PREPARATION is allowed.
However, you are welcome to use the sitting/dining areas if you ever order some food (pizzas, for example) from the surrounding restaurants. Most of the eateries and restaurants in the area will offer the food 'to-go'/ 'to-take'.
ROOMS WITH A KITCHENETTE:
- Please wash the kitchen utensils as soon as you used them; failure to do so, will attract all kind of bugs and vermin in the room.
- When you leave Casitas Kinsol, you are expected to leave the kitchenette and all the utensils washed and cleaned. Failure to do so, a cleaning fee will be charged.
ROOMS WITHOUT A KITCHENETTE:
- the kitchen in the common area is only to prepare coffees and teas. NO COOKING or MEAL PREPARATION is allowed.
- If you use the kitchen utensils, you wash them and store them back in their location.
- Wash the kitchen utensils as soon as you used them; failure to do so, will attract all kind of bugs and vermin.
FOOD IN THE ROOM:
Remember that Casitas Kinsol is located in a tropical area: leftovers of food will turn bad in few hours (the fruits ferments, the cookies lose their crunchy feel, the meats oxidize, …). Do not leave food in the room (even overnight) unless you want to have the visit of hungry friends (ants, cockroaches, flies, …). Use Ziploc bags and put everything in the fridge.
LAUNDRY SERVICE:
No laundry service is provided on site. However, there are many inexpensive laundries within walking distance of Casitas Kinsol (where you drop off your cloths and get them back, washed, dried and folded); you get back your cloth on the same day (if you drop it early morning) or the next day. The cost is between MXN 13.00 Pesos and MXN 15.00 Pesos per kilogram (around 2 pounds). Some laundries apply a minimum charge of 3 kilograms.
SMOKING:
- Absolutely no smoking in any rooms.
- Should you decide to smoke in the yard / garden: make sure that you do not "smoke" the guests or any room around you.
THE HAMMOCKS
If your room is not fitted with a hammock, you can always use one of the hammocks in the common areas, on the floor above the kitchen area or in the garden area. Be cautious when using the hammocks.
ENERGIES and RESOURCES:
- Help us keep our low rates: save water and electricity. Shut off fan and lights when you leave the room.
- Report any water leak (toilet flushing all day day long, ...).
Help us be environmentally responsible:
- by reducing the amount of detergent used: If you plan in re-using the towel, do not through it on the floor.
- by recycling and reusing organic materials in a compost process.
- by reducing our impact on the underground phreatic and aquifer waters: do not flush medications or any chemicals in the toilet bowl.
RECYCLING
Casitas Kinsol tries to limit our impact on the environment. Help us by reusing the plastic bottles of water: refill them with the purified 5 gallons water bottle available in the kitchen area. A cooperation of MXN 5.00 Pesos per liter or quart is greatly appreciated (please leave the money in the "green" box on the table by the water jar).
Organic waste goes to a compost system in the backyard of Casitas Kinsol; please drop the organic waste (no paper, no cardboard, no cigarette, no plastic, ...) in the appropriate bin ("green Organic") in the kitchen of the common area.
Some of the bottle of beer are recycled: you get your deposit back when you bring the bottle back to the convenient store or to the grocery store: make sure that you go back to the same store and make sure that you bring the original receipt.
Put the aluminium cans on a side: the employees that collect the trash, are always happy to make some extra money by reselling the aluminium by the weight. One of our neighbors is an elder woman with limited income and she always look forward to collecting the aluminium cans that we have.
PETS:
- Pets' owners: pick up IMMEDIATELY after your pet. Make sure your pet does not jump on furniture and on guests' laps.
- Non pet owners: make sure that all gates are closed and locked at all times for the safety of our 4 legged guests.
- Casitas Kinsol's dogs are NOT allowed OUT of the property without supervision or a leash: do not let the dogs out even if they beg you.
THE INTERNET
For those of you using free music or free video and movies downloads: you are most likely using a PPP (point-to-point protocol) applications where you allow this application to use the hard disk of your computer or of your electronic device for storage for other users. By allowing these applications, you surely get free music and movies, but you are also allowing the application to use the whole bandwidth of the internet connection, therefore leaving almost no internet connection for the other guests. Please disable (temporarily) these applications, while you are at Casitas Kinsol.
THE KEYS
Your room comes with two (or more) keys: one for the door of the room and one for the padlock on the main gate. We do not operate a front desk: please take the keys with you when you leave the room or the property.
INVITED GUESTS
For the safety of all residents and guests, please register any visitor or guest that you may have. Maintain the doors and the gates locked at all times. If your guests stay overnight, a third, a fourth or fifth occupant in the room will be charged $12.00 US Dollars per night (per person); make sure to notify us so that we can provide the extra persons with the towels and amenities needed.
SERVICE / TIP / GRATUITY:
- The gratuity, also called tip or "service" is NOT included.
- It is NOT mandatory, however, your maid will surely appreciate it (should he/she deserves it).
- It is left to your appreciation and it is completely discretionary.
- 10 to 15 % would be an excellent tip.
IN CASE OF EMERGENCY
If no one of the Casitas Kinsol's staff is on the property, you can reach either Christine or Alain on their mobile phones. You can call them free of charge from the desk phone that is located in the common area, below the information panel. An information sheet is by the desk phone so that you can quickly dial the numbers. This phone is for emergency use ONLY. This phone is NOT to make or to receive any personal or business related phone calls. This phone is NOT to call any 800 numbers in the USA or Canada, or in any other country (it will route your call to an 800 number in Mexico, being therefore a different company that you would reach).
---
Strict
Cancel up to 7 days before your trip and get a 50% refund. Cancel within 7 days of your trip and the reservation is non-refundable.
---
---
We can only recommend Christine and Alan's place to any family or couple or individual traveler. Their home is beautifully decorated and very cosy. Our room was super nice and clean. We stayed only for one night but would definitely want to return as especially our son loved the dogs, cat and garden. Thx Christine and Alan for being such lovely hosts.
---
This was about as perfect as you could get. This place is truly amazing. You couldn't find better or more helpful hosts. It was a paradise. And the location was great too. You are near everything, and just a short walk, or a cheap cab ride ( 25-30 pesos) to get to the beach. A few mins walk to the bus stop/main road. 24 hours mini marts within a few blocks. It was very convenient at all hours. If you are looking to party hard and be loud I would find a different place. Other than that, do yourself a favor and book this place.
Dear Jeff, Thank you so much for your nice comments; we would like to bounce back on the private comments your sent us and therefore take the opportunity to clarify the situation of the kitchen for the future guests. We are very sorry that you misunderstood the concept of our kitchen and that you would have liked "the public kitchen ... a little more guest friendly": as we introduced you to the site / property upon arrival, we believe that we were clear enough when we said that "this kitchen" is our own private kitchen, and that it is located in the open space / common area, and, that the guests could only use it for coffees or tea preparation. For the guests that want to have a in-private kitchenette of their own, we do offer 4 larger rooms with kitchenette: these rooms are listed on AirBnB as the room #1, #6, #7 and #8. Thank you again Jeff for the opportunity to comment; and we sincerely hope to have you back at Casitas Kinsol.
---
Christine was away during my stay but her partner Alain was a superb host. The location was fantastic and there was easy access to both Cancun and play del carmen. My flight was delayed by many hours on my arrival day but Alain stayed up and waited and greeted me with a smile at 2am. Thank you again! Always on hand to offer local advice and help me brush up on my spanish. Puerto Morelos is a beautiful spot that offers you the chance to live more like a local and gets you away from the toursit traps and hotel complexes. I highly reccomend staying with Christine and Alain, the accomadtion is stunning, clean, comfortable and a home away from home. Its a uniqie experience staying here and one you will not regret. Book it now :)
---
Lovely accommodation. Great bikes.
---
What a wonderful place to stay! Casitas Kinsol is located near to taxis, convenience stores, a collectivo stop and restaurants. It is easy to get to the beach by inexpensive taxis, very inexpensive collectivos or by bike. The owners know the area well. The place itself is lovely - it is like an indoor garden with trees, flowers, and birds. 3 dogs and a cat that are friendly and funny round out the experience. My room (which I called my tree house) was cool and lovely and quiet. The other guests were terrific, too: considerate and interesting (from all over the world). The owners have thought of everything which made my 8 day stay comfortable. Their attention to the environment was great, too.
---
Born in 1962 in Germany, my mom was from Colombia, my dad was from Germany. Since the age of 5, I moved from country to country and was exposed to many different cultures: Spain, Columbia, Mexico, Panama, Dominican Republic, Belize, Guatemala, Switzerland, France, USA … My parents would never speak to my brother and myself in German, therefore, I never learnt German.
My mom, Luz Acevedo was an artist who exposed her oil paintings in major permanent expositions such as "El Jardin del Arte" in Mexico City, and Tepozotlan (Mexico State).
I studied to be a biochemist engineer and I discovered at a young age that I love paintings. I self taught myself different techniques such as oil color, water colors, acrylics and collage. My love for arts and my passion as a bio-engineer bring me to my current project: acrylic painting on natural leaves from plants found in the Yucatan peninsula (by Cancun on the Mexican Riviera) in Mexico.
I have worked in the eco-archaeological park, Xcaret, as a project leader in 3 major departments: the botanical garden, the aquarium and the cultural events.
I am an active member of an Aztec dancing group, the "Concheros": these dancers aim at preserving the traditions of the natives and they strive in providing the coming generations with the values and philosophy of life of the native ethnic groups that show deep respect to the nature.
My current project combines the essence of nature with the techniques of acrylic painting, depicting the expression of native cultures in their traditional costumes and attires. The main challenge of the project resides in the diversity of supports on which I paint. The uniqueness of each leave leads to an ad-equation of the painting technique and therefore each piece is unique cannot be reproduce.
EXPOSITIONS
- from March 1989 to November 1991, "Galeria Azteca", Costa Careyes Hotel in Jalisco, Mexico
- from May 1992 to November 1993, "Galeria del Sol" San Carlos , Guaymas in Sonora, Mexico
- from January 1994 to October 1998, "Xcaret" Museum of Cultures Eco-Archaeological park Mayan Riviera, Mexico
- from January 1997 to October 1998, "Quinto Sol" Fine Mexican Art, Cozumel, Mexico
- from April 1999 to December 2004, "Maroma" Hotel on the Mayan Riviera, Mexico
- from April 2000 to Today, "Casitas Kinsol", Puerto Morelos on the Mayan Riviera, Mexico
- from February 2004 to September 2006, "Ceiba del Mar" Hotel & Spa Resort in Puerto Morelos, Mexico
- from May 2007 to November 2008, "Acorn Benevolent" gallery, Grand Avenue, Saint-Paul, MN
Languages:
English, Español, Français, Italiano
Response rate:
100%
Response time:
within an hour
Exact location information is provided after a booking is confirmed.
Explore other options in and around Puerto Morelos
More places to stay in Puerto Morelos: