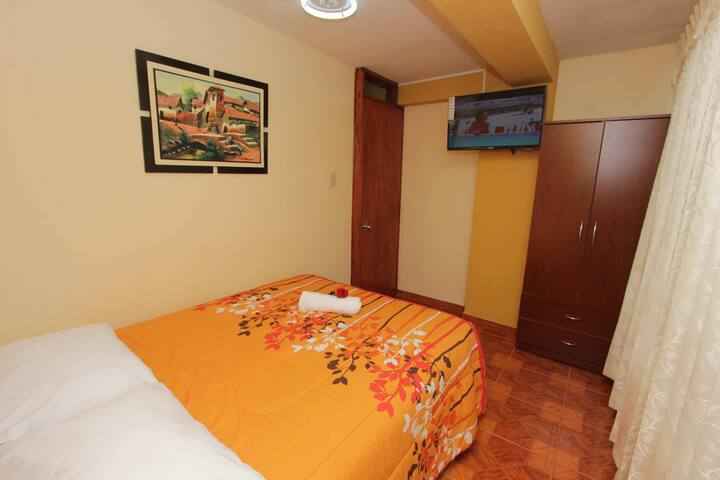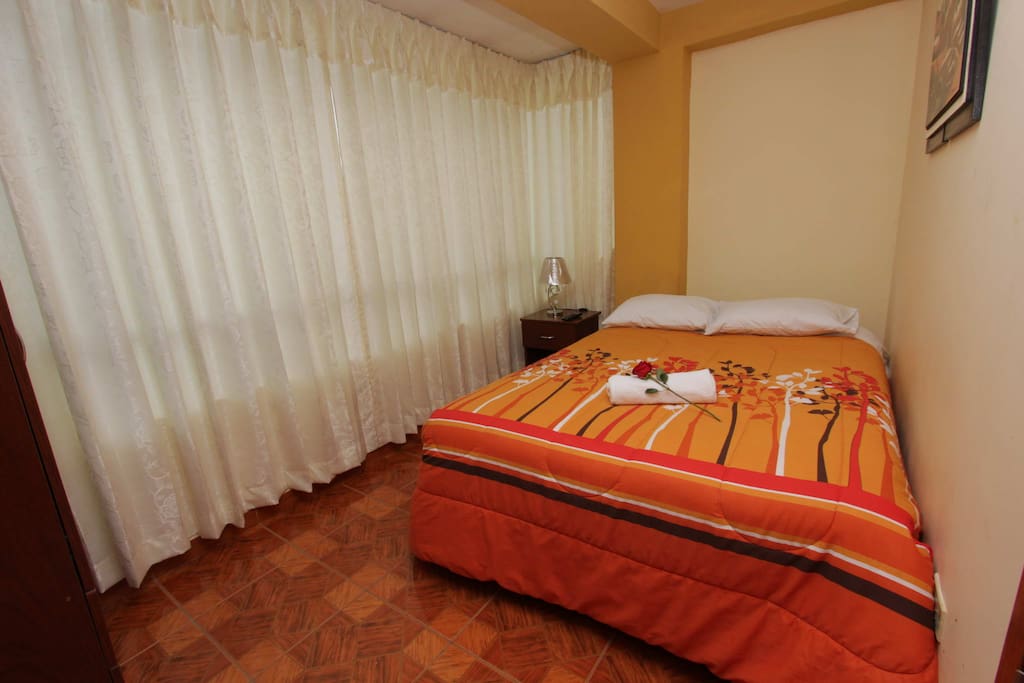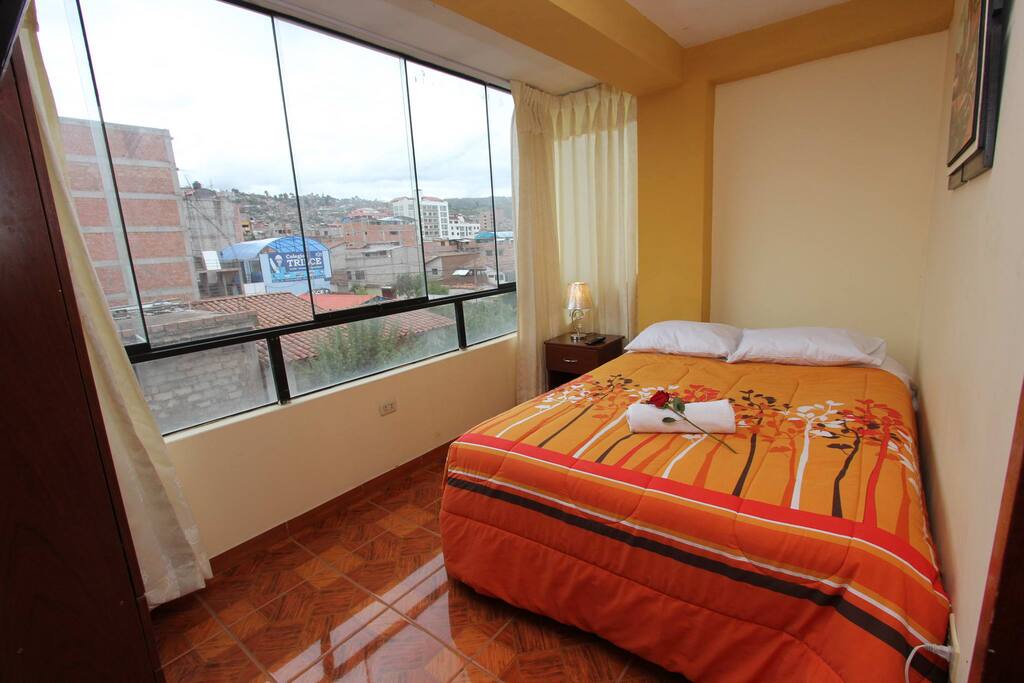 Apartaments for you stay in Cusco
The space
Our Mini department has :
01 bedroom with double bed, TV , wardrobe , nightstand lamp and chair
01 bedroom single bed, TV , wardrobe , nightstand lamp and chair
01 small living room
01 bathroom with shower
01 stereo
phone
cable
Internet with wifi
heating
intercom
Hot water 24 hours
One of the mini departments have also:
01 small kitchen with refrigerator, gas stove, microwave oven , blender , extractor , blender , thermos pots, dishes
On the 7th floor we have a shared space, which guests can use at any time, this is :
01 dining
01 bathroom with shower
01 spacious kitchen
01 laundry area
INCLUDES:
- A set of towels and extra sheets ( stay of 5 or more days includes change of linen , towels )
-Includes soap and toilet paper in the bathroom
Other services not included :
Intermediate - Amenities ( includes butter juice marmalade milk yogurt) USD 15.00
Daily cleaning USD 20.00 per day (up to 3 people)
- Laundry (price to be determined)
- Transfer from airport to the apartment or vice versa USD 15.00
-Garage USD 5.00 per night
-Laptop on request (price to be determined)
-Breakfast , lunch and / or dinner (price to be determined)
-Tours and travel packages ( price to be determined)
Secure - Transport in Cusco (price to be determined)
Very friendly people. They showed me the way around the apartment and helped me with finding cheap laundry. I really emulgeer the apartment, only downside for me is that it got cold at night.
---
One of the best thing that happen to us during our long trip in Peru was to get to know this wonderful family. Roy and his wife are very nice, intelligent and understanding. They will go out of their way to make you feel comfortable and to help you. As they know Cuzco and Peru very well, they will show you places and things to do that tourists would not know. You will also feel the values and the culture of the Incas simply by communicating with them. As for the apartment itself, the location couldn't be better. It is in a quiet neighborhood but at the same time in a walking distance from downtown. There are very cheap cafes and shops on the same street. You will not regret it if you stay there. One very important advise: if you want to book a trip to Muchu Picchu or to any other place, ask them first because they really know very well. Una de las mejores cosas que nos ha pasado durante nuestro largo viaje en Perú fue conocer esta maravillosa familia. Roy y su esposa son muy agradables y inteligentes. Se hará todo lo posible para que el turista se sienta cómodo y le ayudaran de todas maneras posibles. Como ellos saben Cusco y Perú muy bien, mostraran los lugares y cosas que los turistas no sabrían. En cuanto al apartamento, la ubicación no podría ser mejor. Se encuentra en una zona tranquila, pero al mismo tiempo se puede caminar al centro desde alli. Hay cafés y tiendas muy baratos en esta calle. Usted no se arrepentirá si se queda allí. Un consejo muy importante: si usted desea reservar un viaje en Machu Picchu o cualquier otro lugar con una agencia, Roy y Marlene podran ayudarle porque realmente conocen muy bien todo en Cuzco.
Muchas Gracias Veronika e Israelle por sus lindas palabras solo nos dejamos llevar por el cariño que sentimos por cada turista que visita nuestro país y concretamente nuestra ciudad como es el Cusco. Queremos que nuestros huéspedes se sientan como parte de nuestra familia y nos interesa mucho su seguridad. Una ves mas muchas gracias por habernos elegido ser sus anfitriones ojala regresen y estaremos para servirlo nuevamente.
---
There are no words to describe how Roy and his family were kind and helpful with us! We really appreciated meeting them and we are very thankful for every little (and huge) help they offered us! The apartment is cute! Very well equipped. Everything is clean and new and the bed is veeery comfortable! We really loved our stay and look forward to come back soon!
---
Estuvimos alrededor de una semana en casa de Roy, eso quiere decir que estuvimos muy agusto!! Fue nuestro punto para preparar el viaje a Machu Picchu y alrededoresde Cusco. Roy y su familia nos ayudaron en todo lo que pudieron, muy buen acceso a internet y a 10 minutos andando del centro. Zona tranquila para dormir. Sin duda, muy recomendable!!
---
Explore other options in and around Cusco
More places to stay in Cusco: