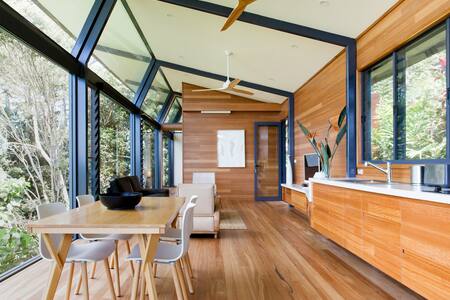 PLUS
Entire house · 2 guests · 1 bed · 1 bath
Chill Out Naturally In Treetops Hideway Overlooking Byron
Pop open the complimentary Prosecco and take in incredible views all the way to the ocean. Perched high amongst the trees in 10 acres of private rainforest, this award-winning, architectural home offers peaceful luxury, plus cool eastern furniture.
What guests are saying:
"My partner and I stayed here for 3 nights. The place was spotless and exactly as described and pictured. We were fortunate enough to meet the host one afternoon (they live next door). He was very lovely and made us feel very welcome throughout our stay. The location is great and the views are amazing. It's located up on a hill in a very tranquil area amongst the trees. It's a short 10min drive to beaches and shops and restaurants/bars. The place itself is very stylish and it had everything we needed. The host went above and beyond with all the added extras and finishing touches. We were able to watch Foxtel, Netflix, and other streaming services on the Smart TV, and we never had issues with the WiFi. The kitchen has kettle, toaster, microwave, stove top, fridge/freezer, small pantry, cutlery, etc. There's an outdoor seating area with a Weber bbq and clothes washer/dryer. There's also a dining area, sofa bed and air-con (although it wasn't needed with the nice afternoon breeze outside). The bathroom was stocked with luxurious amenities. Bath towels and beach towels were there for us to use. We loved our stay here and will definitely be back the next time we're in Byron Bay!"
1 of 2 large pet friendly self-contained cottages, with deck and private outdoor area overlooking rainforest. Large dam for swimming, 3km from Byron (bikes available). Peaceful rural setting with large waterways which attract a big variety of birds. There is a fire pit to sit around and look at the star-filled night sky For cabin 1 https://abnb.me/L2bt9WIrEP
What guests are saying:
"I almost don't want to review Bruce and Penny's farm stay because I want to selfishly keep it a secret from the masses, but that would be against the values of inclusivity and equity that Bruce and Penny clearly embody. The farm stay is beautiful and the cabins very comfortable - a lovely mix of rustic simplicity and modern amenities set amongst a little oasis at a very pleasant distance from the heart of byron. The opportunity to swim/kayak in the natural water source, run your dog, pat their own dog, or walk amongst and/or hand feed the livestock was the perfect escape from city craziness, particularly during a difficult time for the country (COVID-19 shut down). Perhaps the best part of the stay was the personal greeting from Bruce and Penny who are such remarkable and unassuming, helpful and welcoming people. Both fantastic and personable hosts with a wicked sense of humour, and a commendable view of life and how it should be lived. Well done on living your best lives, and thank you for being willing to share that which is even more special."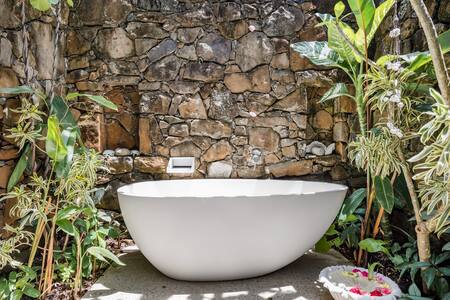 PLUS
Entire guest suite · 2 guests · 1 bed · 1 bath
Byron Bay Studio with a Cosy Patio and Alfresco Soaking Tub
Family owned and operated we are dedicated to meticulous cleaning, all detail, surface and linen cleaning is personally managed to the highest standard. Sit at a quaint breakfast table surrounded by grainy wood walls within this airy guest suite. Step out onto a leafy garden patio or find rejuvenation in an alfresco soaking tub within a stunning spa-style bathroom with a glass wall and marble floors. The Studio is in the perfect location, minutes to the beach and the finest restaurants, bars, cafes, shopping and nightlife. Walk everywhere, no traffic & no parking to contend with.
What guests are saying:
"What a wonderful stay! From the tranquility of the outdoor bath, open light bathroom, lush, comfortable bed and every amenity that you'll need for your stay. This place offers it all! Only minutes from the town centre, yet still tucked away in a quiet little sanctuary. Lovely additions such as the fresh fruit upon arrival, lemon, lime and mint in the fridge (for afternoon drinks), Byron Bay coffee, and incense to enjoy on the outdoor patio - are just some of the enjoyable extras provided to guests. I would highly recommend Buhwi Bira Studio to anyone looking to stay in Byron. Thank you for such a lovely experience!"