Welcome to the Sea Fan, a large two bedroom unit of modern Caribbean feel and with full amenities. Sea Fan is nestled right on the beach and claims its little piece of the idyllic and iconic shoreline of the beautiful Long Bay beach on famed Northshore coastline of Tortola. Enjoy views of the ocean right from your deck, bask in the rays of the Caribbean sun steps from the beach, snorkel to Alfie rock, or hike to the famed Smugglers Cove. Join us for your on Island adventure.
What guests are saying:
"The Sea Fan is just a perfect gem for anyone looking for a no fuss, ultra relaxing, quiet stay. The view is breathtaking, the beach literally couldn't be closer to the house. The unit is on the 2nd floor so you get a nice breeze and a gorgeous morning view from the deck with your coffee. We we're 2 adults and 2 kids (4 and 6). They had a blast at the beach. We could watch them from the porch. There was a perfect sandbar for them to swim to. Lots of towels supplied. Kitchen, rooms, and bathroom had everything we needed. Clean and organized. The location is perfect west end! Close to smugglers although smugglers seemed more touristy than it used to be. Close to Cane Garden Bay, very touristy on a cruise ship day but the AOK water park bouncy house had no one on it...huge score! We stayed all day. Stephanie and Ava couldn't be nicer! We are pretty familiar with island life so we didn't ask many questions but we didn't have to because they supplied everything we needed. We left our pails and noodles because theirs got washed away in the storm. One suggestion for dining...Dove in Road Town across from the ferry was Excellent! We did virgin Gorda and dinner on our return, with the kids. We rented snorkel gear from the dive shop in nanny cay. Brewers was fun! But really the hilight was not leaving our little almost private beach for the first 4 out of 10 days. Long Bay villas is still closed so there is no one on the beach. There is a nice beach restaurant next door. All in all it felt like our private home and beach. Our kids are totally spoiled 😆 We really had the perfect time in this perfect spot! Thank you Stephanie and Ava!"
This comfortable villa has been our family dream for many years. Prices are base rates for 1-2 guests, include all local taxes and are always negotiable depending on the season, number of guests and length of stay. Please contact us for a quotation. COVID-19 - Update: We understand that planning a holiday is challenging during this time, so it is no problem to change or adjust your reservation multiple times. At this time flights quickly change or new flights come available.
What guests are saying:
"Where to start on Pelican Peak?! This was really a wonderful property to stay at. Our family of 6 included my parents and my wife and 2 kids (13 & 11). From the moment we entered the property we knew it would be a great week. The space is beautiful, very clean, and extremely well thought out. What really makes the place are the outdoor spaces. When here, you'll spend 95% of your time outside taking in the amazing view of the Atlantic and Jost Van Dyke, as well as the beauty of Apple Bay, the West End of Tortola, and eastern St. John USVI. The view is stunning and greets you upon waking in either master each morning. The property manager (Lynn) was delightful and gave us the full tour after meeting us at the car rental location and showing the way to the home. She was available whenever needed and provided quite a bit of valuable insight into local establishments and grocery shopping. Madeline, the housekeeper, stopped in midweek and was just as delightful and keeps the place spotless. Willem made the whole process simple and communicated quickly and clearly what to expect. A+ Please note, you will want a good 4x4 vehicle and a competent driver as the single lane path up the hill can be a bit daunting at first. We rented a 7 passenger Montero from Jerry's and the vehicle did great. After two or three trips it becomes second nature. This is the cost of having a spectacular view. Having a little grocery (C&D) at the turn off of the main road made for a perfect landmark for the hidden turn as well as a great stop when we needed ice or just to pick up some simple things. The resident cat "Habibi" was a really wonderful addition. She stays close by in the outdoor spaces and spends much of her day lounging and moving from spot to spot as the sun moves and temperature dictates. We are "cat people", so she spent quite a bit of time in laps and being pet, but she's also quite independent and would be just as happy being ornamental. Overall, we had a wonderful trip and truly enjoyed this space for our week. We absolutely hope to be back!"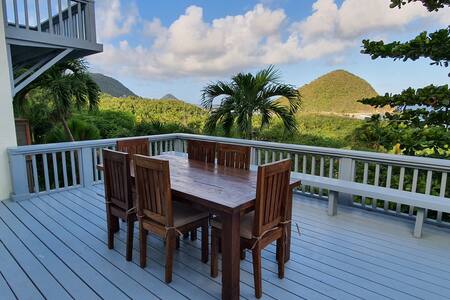 SUPERHOST
Entire house · 6 guests · 3 beds · 3 baths
1 minute walk to Long Bay beach - 3 Belmont Grove
1 minute walk to the pristine white sand beach of Long Bay. This newly refurbished (Dec 19) home is located in the prestigious neighborhood of Belmont, West End, Tortola. Smugglers is a 15 minute walk or 2 minutes in a car. The famous waves of Apple Bay are just over the hill 2 minutes drive in the other direction. This village is THE prime location for vacationing in Tortola with Sugar Mill, Coal Pot, Tropical Fusion and Sebastian's restaurants in very close vicinity.
What guests are saying:
"Thomas's home is beautiful. The West End is the best location on the island. Roadtown is the downtown, busy, area of the island. The West End is the quiet, slow, relaxing area of the island. Thomas's rental is a 15 minute drive from the West End Ferry terminal. This West End terminal allows you easy access to other Virgin islands. (both US and British). You must have a vehicle to get around on the island. You MUST have a vehicle that is NOT A CAR!! We rented a car, and we broke the car on the 2nd day. The hills are not hills, they are mountains. There are speed bumps every 30 seconds. If you rent a car, each speed bump will rip off a part of the underbelly of your car. Rent something that is raised higher off the ground, Explorer, Jeep, anything that is NOT a car. Thomas's home is spacious and clean. The home is exactly as the pictures look on the website. The Master Bedroom deck has the best view. Thomas is very helpful with tips and suggestions of where to go, how to get to different islands, etc. He is very responsive when you call and ask questions during your visit. Thomas is an excellent host. You never feel as if you are bothering him when you call with questions. I could continue to type and sing his praises, but I am sure I am running out of space. Thank you Thomas!! - Kimberly"