Our package include: Pick up and drop off at Elnido airport, breakfast/Picnic Lunch indoor and outdoor water activities, your first day stay with our private boat and crew at your disposal. (Except both Lagoons tour) Extra charged: our chef dedicated diner menu created daily based on your advance preferences, allergies, vegetarian etc., drinks in can and alcohol as reasonable prices. Massage, scuba diving sessions with speed boat charged separately. Visit big and small lagoons on request.
What guests are saying:
"Indeed very exclusive. At Terra Nova, we felt the true meaning of exclusive. Unlike multi-unit resorts, it is small so we were alone when we gazed at the wonderful scenery or views. The boat crew took us to different islands and beaches where there were no tourists and seashells are still abundant. No one else but ourselves on the boat, no crowd when we swam with fish and no one to share the various remote islands where we picnicked everyday. Every Terra Nova staff, especially Guy, Tesa and Neal were very courteous, warm, helpful and friendly. We had the liberty to go nowhere or anywhere anytime, and request meals anytime and anywhere. They catered to our every need. We felt very much at home. Many resorts claim to be "exclusive" yet you still bump into many people, fight over kayaks or schedule boat rides with other guests. Terra Nova offers genuine exclusivity, very private and away from the crowd."
Located in Corong-Corong beach, facing the spectacular Bacuit Bay, our villa offers all the necessary comfort (aircon, hot water,...) in a stylish decoration. Its nice garden is right in front of the sea. We are at walking distance from nice restaurants, tourist attractions, booking office, high-end hotels, and at 10 minute-ride to El Nido town. We can accommodate 4 persons max. If you are more than, we suggest you to check if El Nido Garden Villa is available, it is behind this villa.
What guests are saying:
"We had planned to spend the last three nights of our vacation in the Philippines in El Nido at Isabelle's charming Beachfront Villa. Isabelle was very communicative before our stay about how to find the place, the check-in procedure, details about the house, and where to eat/shop in the local vicinity. She went so far as to provide options for transportation and gave us tons of information on local activities and tours. While she notified us that she wouldn't be there during our stay, her co-host Kevin would be there to greet us and show us the ropes of the house. Upon arrival, the house was even more beautiful than we imagined. Set on Corong Corong Beach, it is a gorgeous little property nestled between small resorts on a pristine white sand beach dotted with mountainous islands on the horizon and bangkas (traditional Filipino boats) lining the turquoise waters of the bay. The view from the house is stunning. The location is also perfect. My wife and I rented a scooter and explored the island, visiting the upscale resorts at Lio Beach, exploring the downtown area and its beaches, and we both agreed that this is the place to be in El Nido. You have a real sense of community here. It feels safe, and everything is within walking distance. Furthermore, the boat tours departing for the islands, and lagoons leave steps from your backyard gate. Kevin was an outstanding host. Our trip was unfortunately cut short due to the outbreak of the Covid-19 virus, and in a time of need, he bent over backward to help us out in an uncomfortable situation. His flexibility and understanding left a lasting impression on us. We will be back to fully explore the islands, bays, and lagoons and soak in the rays of this little slice of paradise. We wish all of the local workers, small businesses, and tour operators the best during these difficult times. Salamat!"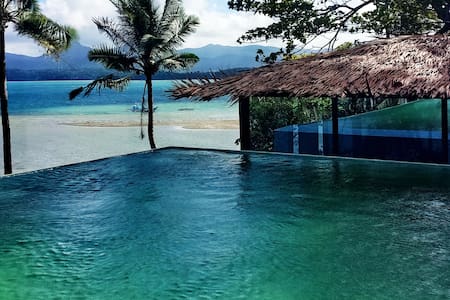 SUPERHOST
Entire villa · 6 guests · 3 beds · 2 baths
BeachFront Villa Overlooking Nature & InfinityPool
The Villa is located at the end of the neighborhood on a small mountain facing the sea and the beach where the nearest neighbor lives 200 meters away. Share 1 roof with 2 access doors on each side being 2 independent apartments, both with kitchen and private bathroom. 1 Infinity pool with the spectacular view of the famous islands of the tourB, 1 lounge where you can relax. We will experience the sounds of nature, the humble life of 1 fishing village that technology has barely reached
What guests are saying:
"The best place ever in palawan ... private beach, private house with the amazing view and beach ! And you have a private bacuit bay front of the house 💯 The village is pretty tipical and awesome people. All the staf is with you 24h/24h for anything you whant with talky walky. For is the best host ever in Palawan. And get just you clothe everything is in the villa alcool, food etc.... Thanks a lot again ander you best 👌"