SUPERHOST
Entire apartment · 7 guests · 3 beds · 2 baths
D3 Sisters, 2 bedroom/2 bath with Balcony (unit 2)
This is a gorgeous two bedroom/ two bathroom apartment. It has a masters bedroom with a queen size bed. The 2nd room is a family bedroom, furnished living area and comes with equipped kitchen, propane provided for cooking, WIFI, Cable TV, CCTV, complimentary drinking water, outdoor grill area, perfect view of the city and part of Burnham park from our Terrace, easy access to famous tourist spots, takes about 10-15 minutes walk to Burnham park.
What guests are saying:
"This listing has very good location. Juliana, the caretaker, was very welcoming. She even let a small glass that we broke pass. There's a store immediately across. They offer you extra mattress if needed and it comes with several utensils as well. The shower heater was really good too! (Unlike others I've stayed where it doesn't really make the water hot) If you have elderly with you, make sure they can take flight of stairs as it's necessary to reach the rooms/area. If you're bringing a longer vehicle, it could be difficult to jam it in the parking space as it has limited space (at least what was offered to us)."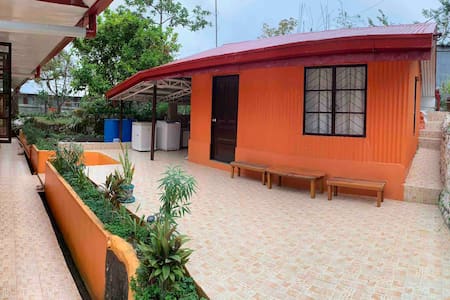 SUPERHOST
Entire guesthouse · 4 guests · 2 beds · 1.5 baths
La Trinidad Hikers Nook (Cozy Nook in the Hill)
Live with the locals in this small house in the middle of the hill. Ideal place for hikers and backpackers. On top of the hill is Mount Kalugong and nearby is another hiking place Mount Yangbew. One short ride to La Trinidad Strawberry farm or walking distance for those who likes walking. One short ride to supermarkets and La Trinidad Vegetable Trading Post where you can buy very fresh veggies to cook. 7 kilometers away from Baguio City.
What guests are saying:
"Dulce's place is an ideal fit even for high end professionals from BGC or Makati who may want to take a respite from Manila's hustle and bustle. Guests will have to trek a very steep slope, or take about at least 106 steps (hollow blocks made for steps) to get to Dulce's house of orange. To us, we thought this was a pleasant exercise to burn some calories or to stretch some lethargic nerves. But whatever energy may be spent to climb to Dulce's place will surely be compensated for by the comfort Dulce's house affords its guests. Since the place is nestled on a high elevation, guests are treated to a cold breeze, fresh, clean, soothing air. Guests may lounge around on a damp morning on the wooden stool chairs, while sipping a cup of coffee and enjoying the advantage of a panoramic view where the strawberry farm is seen from atop. The place is peaceful and quiet. Amenities are well provided. Guests may cook, with all the utensils provided. Guests may do their laundry too, as the washing machine is on standby. There's hot shower too. There's wide space to linger in for some good chat. Dulce's place is easily accessible from Baguio City. Guests may take a PUJ plying the route from Baguio (over at Magsaysay) to Upper Tomay or to Camp Dangwa that passes through Barangay Cruz. Guests should alight at Oliweg Road upon reaching Barangay Cruz past the Provincial Capitol, Petron Station, and Mommy La Restaurant and Bakery. Dulce's aunt, Tess, who looks after the house, is very helpful and accommodating. Dulce's place is worth the money. We will definitely go back and take Dulce's place again."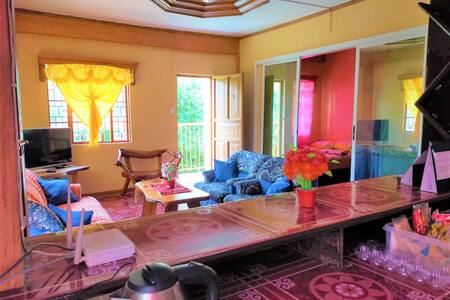 SUPERHOST
Entire apartment · 10 guests · 4 beds · 1.5 baths
ZILLON HOMES Apartment #2 - Transient Baguio ₱300
Our home for transient in Baguio City is peaceful,refreshing environment w/ trees& gardens nearby. 300/person per day. Whole apartment w/ 2 wide bedrooms will be exclusive for you for privacy. Good for families & groups. Can cater up to 8-10 persons. W/ bedding,hot shower,internet/wifi,TV,towels/shampoo/soap/tissue, drinking water, fridge, can cook & complete kitchen utensils. Accessible along jeepney/taxi way.Can arrange pick-up from/to city center&bus terminal.We offer Affordable tour package.
What guests are saying:
"We stayed there Overnight, and I must say that it is more than What I expected, The quality of the photo here In airbnb is not Good, But when we came in It looks Good and Super clean, maybe they forgot to give us towels but It was ok since we have personal towels, They have complimentary supplies like coffee, tissue, sugar etc. and they have honesty store and we didn't expect that, you dont have to go outside if you forgot something, the bedsheets are clean and if you also wanted a service they have car to pick you up from the terminal once you are arrived. I think the only downside, its really far from the tourist attractions, but there's a taxi when you walk outside. All in all it was superb. Godbless to this owner of airbnb We had a Great and safe stay in your lovely place."