Welcome to this Öland village with lovely barns. A secluded and quiet place, a short drive from shops and beaches. Here you can experience the magical light, nature, beaches, the sun, relax and enjoy peace and tranquility. Singles, couples, families with children, large and small groups. We welcome everyone to Öland, the island of the Sun and the island of the Winds!
What guests are saying:
"I made this reservation at the last minute so I could do some sightseeing at the end of a business trip. My Airbnb experiences are usually good, but this one was exceptional and I can't say enough good things about it. Some details: 1) The location is perfect. Very close to the bridge from the mainland and relatively in the middle N-S of the island, so very convenient to explore either north or south. Also, some very impressive historical sights nearby. The house is in a very quiet farm community. Really gives you the feeling of being miles away from everything, however, in reality you aren't far at all from restaurants and shopping. 2) Hospitality was fantastic. Ida is a wonderful host. Very attentive to every detail and very helpful. I only wish I had more time to spend talking with her as she clearly enjoys her guests. Her directions were much appreciated since the GPS signals are not always reliable on Oland. 3) Apartment is very nice. Plenty of space, TV and WiFi, a nice compact kitchen for light cooking, outdoor patio, plenty of parking, grill. It is connected to the main house, but separated by a door and hallway, so very private. Apartment can be separated by a door into two halves, so that could be attractive to families or groups. There is one bathroom with shower. 4) Ida's local knowledge is very helpful. Also, a stack of local maps and books which was very helpful in laying out an itinerary In summary, a fantastic stay and highly recommended. The location is wonderful and very peaceful. If I had been able to stay longer, I would have relaxed outside on the patio. Oland is full of sights and they are very conveniently accessed. Ida and her parents are wonderful hosts."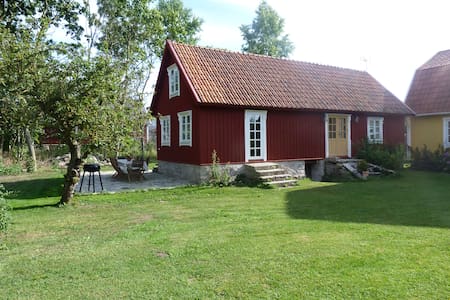 SUPERHOST
Entire cottage · 6 guests · 5 beds · 1 bath
Nyrenoverat gårdshus med nära till natur och bad.
Renovated charming farmhouse on Öland. The house is located on the east side of Öland in the village of Åkerby. This village is located along the eastern road but still secluded thanks to the garden. Proximity to the sea, Strandtorp or the Bjärby bath no more than a few kilometers away and only 15km to the bridge fortress and just under three miles to Kalmar makes it suitable for many different day trips.
What guests are saying:
"When asked what I thought of our stay with Patricia and Mårten, I wrote that it exceeded our expectations. Because that was it. But that does not say everything. Because I really had very high expectations. The pictures I saw here on Airbnb were amazing and I did not really think it could really be as cozy as it looked in the pictures. I did not have to worry. It was just so cozy and a little more. I want to keep this accommodation quiet both to have for myself and that it should be free when we want to come back. At the same time I want to shout out to everyone how wonderfully cozy it was. The farmhouse is carefully renovated and genuinely welcoming. You also feel genuinely welcome with the family through everything from clear descriptions and communication to the obvious place you get here as soon as you jump out of the car. This is a gem in a quiet and cozy area on Öland. In the farmhouse there is everything you could possibly need during your stay plus the one that you did not know you needed. The host couple has thought of everything. We will gladly return here. Do you want to read more thoughts and see more pictures from our stay here, it is at this link >> https://litemerarosa.com/2020/07/02/ my-Smultronställe-PA öland /"
My accommodation accommodates couples, solo travelers and business travelers.
What guests are saying:
"Our hosts Kicki and Jonas were friendly, down to earth and so helpful during our stay. The yardhouse was cosy, clean and nicely styled. It's a small space, but we fit in two adults and two kids without any trouble - and our stay was during gorgeous summer weather so we spent 80% of our time outside anyway. The area around the house is so beautiful. A park nearby overlooking the harbour. Quaint cobblestone streets and only a few blocks from the main part of Kalmar. We felt just a stone's throw away from the centre of everything. We'd stay again!"