Find places to stay on Airbnb
Discover entire homes and private rooms perfect for any trip.
What guests are saying about homes in United States
Over 77,000,000 guest reviews with an average of 4.8 out of 5 stars
"We had a great time staying here! It was a quick overnight for us as we were heading to Grand Canyon next day, but was perfect accommodations! Loved the private area and we made use of back patio and fire pit. Sky was clear on all the big and small details and was great having some info on places to eat. We didn't get a chance to meet Sky but really enjoyed the place she had for us! :)"
"Darrell welcomed us and showed us around the grounds. The place was cute as a button and we loved the entire experience! The whimsical experience of the "stars" on the trees at night was totally unexpected (an effect put on by lasers) & gorgeous. The mornings were my favorite time there. The house has a fancy coffee maker so we would enjoy coffee & relax in one of the many loungy areas on the property. We heard so many cool, wildlife sounds too. It really relaxed us both. You would have to try really hard not to relax here actually. The bed outside was nice too. Oh, and the shower is beautiful! The property gave me a lot of landscaping ideas for our own house. Bed was comfy, couch was cool & comfy too. Overall, a wonderful experience that I hope to enjoy again."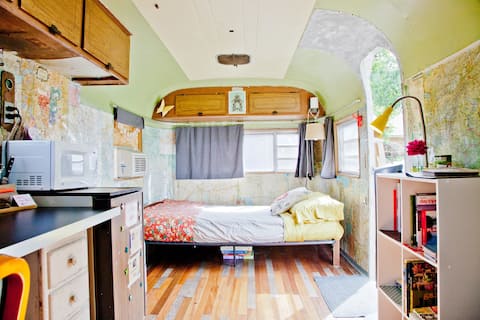 "We had a fantastic stay at Marcella's, was definitely one of the highlights of our trip. We felt welcome from the first moment we arrived and felt very comfortable in the airstream, which is tastefully furnished and decorated. Austin was quite cold during our stay but we found that the heaters warmed up the airstream quite quickly. We didn't have a car during our visit but it wasn't an issue as there is a bus service within walking distance that goes to the university and also downtown. Marcella and her family are wonderful hosts and wonderful people, do yourself a favour and stay at this great place."
24/7 customer support
Day or night, we're here for you. Talk to our support team from anywhere in the world, any hour of day.
Global hosting requirements
All hosts must meet hosting requirements and maintain a minimum rating to be on Airbnb.
All-star hosts
From fresh-pressed sheets to tips on where to get the best brunch, our hosts are full of local hospitality.
Add dates for updated pricing and availability