Find places to stay on Airbnb
Discover entire homes and private rooms perfect for any trip.
Discover Airbnb Categories
Discover
Airbnb Categories
Find homes you would never have known to search for.
Explore more
What guests are saying about homes in United States
Over 77,000,000 guest reviews with an average of 4.8 out of 5 stars
"Everything was described. Amanda was awesome! Even though she was on a trip herself, she managed to get everything set up and ready for our arrival, including welcome brownies! She also has great suggestions for anything you would want to eat or see. Parking was pretty easy to find on the street, if not, there's a parking spot in from of the house that we could use. I would definitely stay at her home again."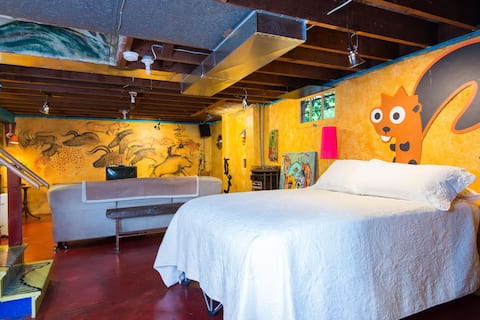 "Bob and Karen were absolutely amazing hosts. They made us feel extremely welcome - they laid out an array of breakfast options for us on arrival (bagels, different fruit, coffee, oatmeal, juices in the fridge.. etc) as well as a large variety of brochures for the surrounding areas. The guides to walking Portland came in particularly helpful. The space itself is gorgeous, and very clean and inviting. The bathroom in particular I was impressed by, since I am a GIANT stickler for having a pristine bathroom, and their bathroom did not disappoint - the fixtures look brand new. It's very easy to get in and out of the house as well - street parking is convenient, and the lock box system they provide is genius, since no chance you'll ever lose the key! The location is less than a 10 minute drive from most of the popular tourist destinations in Portland, and my boyfriend and I had no trouble getting around (and parking) in our rental car. If there was one downside at all about this place, it's that you are in the basement, so any activity upstairs (walking around, running water), you will be able to hear. Bob and Karen have thoughtfully provided earplugs though, and neither my boyfriend nor I had any issues with the negligible noise. It's apparent that Bob and Karen have put a ton of thought into what would make a visitor feel at home, and I loved every one of their hospitable touches :) "
"Incredible views and quiet neighbourhood! Mathias' place has a stunning view of LA and was amazing to stay at. I spent several days working and sitting out on the patio. It's perfectly situated for walking/hiking to Griffith Park and a Gelson's market with coffee shop is at the bottom of the hill, also within walking distance. What more could you ask for? Amenities were perfect for me as I brought groceries and needed a fridge. I was able to cook simple meals with what was available. Parking is available for those with a rental car. I had no troubles finding parking on the street. Overall, the perfect quiet getaway with beautiful views!"
Travel with peace of mind when you book on Airbnb
Protection with AirCover
The most comprehensive protection in travel. Always included, always free.
Flexible cancellation options
Cancellation options make it easy to re-book if your plans change.
24/7 customer support
Talk to our support team from anywhere in the world, any hour of the day.
Add dates for updated pricing and availability