Enter your check in date in the format mm/dd/yyyy
Enter your check out date in the format mm/dd/yyyy
Listings you can book without waiting for host approval.
Enter dates to see full pricing. Additional fees apply. Taxes may be added.
This July and August, you can try one of these 100 highly-rated homes, at all price points, and experience a local's view of Sonoma. 24-hour check-in, Instant Book, and local wine and snacks let you just sit back and enjoy your trip.
A large garden apartment located in an upscale semi-rural neighborhood midway between San Francisco and LA near scenic Highway 1. Beautifully decorated in cozy "Tahoe Lodge," the loft is close to wineries, beaches, and golf courses.
Welcome to our Pinecone Loft and Garden! We have enjoyed creating a welcoming, cozy, and comfortable "cabin" for the enjoyment of friends and family, and now our Airbnb guests. The private, open and airy studio-style loft space is well-lit by skylight and dormer windows and accessible via an exterior stairway separate from our home. Located in a quiet, rural neighborhood of one-acre homes, the Pinecone Loft puts you right in the middle of California's gorgeous Central Coast, with easy access to Highway 1 and Highway 101. Cheerful gardens surround the property, typically in bloom from spring through fall. From the Pinecone Loft you'll be close to the area's renowned wineries, beaches, lakes, fishing, golf, shops and activities. One of the region's best bass fishing lakes, Lake Lopez, is just 20 minutes away. (Scroll down to "Lake Lopez Fishing" to see how we can arrange to accommodate you with an expertly guided day of fishing.) Golfers, take note! The award-winning Cypress Ridge Golf Course is a minute down the road, with both Blacklake and Monarch Dunes golf courses an easy 10 minute drive. Just 15 minutes up the breathtakingly beautiful Pacific Ocean stretch of Highway 101 is the Avila Beach Golf Resort. (Scroll down to "Golfing" to see the special "insider" golf discount we are able to offer to our Pinecone Loft guests!) ~With the ability to sleep 5 very friendly people, but suggested for 2 and still very comfortable for 4, the space is furnished with one memory foam topped queen size bed, another queen size air mattress bed in the elevated loft area and a 90" sofa (not a sofa bed). NOTE: The loft area above the bed is accessed by a 4-step vertical ladder. Kids (and some former kids) love the sleeping loft's "secret spot." ~The living area features a 42" flat screen TV, 90" sofa, chairs and hassocks, and a cast iron pot-bellied electric fireplace. ~The eat-in kitchenette is outfitted with a game-friendly table and 6 chairs, microwave, sink, toaster oven, rice cooker, slow cooker, toaster, hot water pot, coffee maker, blender, and a small refrigerator. ~ There are several nearby restaurants and many to choose from who will deliver. ~There is a shower, sink and toilet in the private bath. ~All linens are provided. ~Looking forward to some quiet time with a good book or your iPad? You're welcome to kick back on your deck and enjoy the peace and quiet and a great view. ACTIVITIES & SIGHTSEEING There are so many options for activities and day trips here! ~Arroyo Grande is an agricultural area with ranches, farms, orchards, flower growers, wineries and vineyards that are a feast for your eyes and taste buds. ~Thursday nights are the world famous Farmer's Market in San Luis Obispo, named the "Happiest City in America" in National Geographic's book "Thrive". Arroyo Grande holds its own Farmer's Market each Saturday. From the Pinecone Loft you're less than 10 minutes away from the Village of Arroyo Grande, the quaint heart of a historic turn-of-the-century Western town that offers a wonderful walking tour of antique shops, restaurants, and a creekside park. WALKS - HIKES - BIKING You might begin by strolling leisurely through our gardens-or hop in the car for a 10 minute drive for a beach walk to hunt for sand dollars. (Hint: Try Pismo Beach!) Opportunities abound for short or long walks or bike rides in the bucolic environs surrounding the loft. Popular hikes in San Luis Obispo are Ontario Ridge, Bishop's Peak and Madonna Mountain. There are many bike trails locally including the Bob Jones Trail in Avila Beach. GARDENERS Explore local retail and wholesale nurseries nearby such as Native Sons (1.3 mi.) and Ramirez Nursery (4.3 mi.) nearby. Get your succulent fix at the local Farmer's Markets or for hardcore fans, visit J. Woeste in Los Olivos. Take a drive through Dinosaur Caves Shell Beach neighborhoods, the San Luis Botanical Garden or up to Cambria Pines to see how the local natives approach seaside gardening. You definitely won't want to miss the free Cal Poly Leaning Pine Arboretum which is open year-round, except Sundays. RESTAURANTS & FOOD GROCERY/DELI OPTIONS Nearby Restaurants, Food Delivery Services and Grocery Stores: Just 1/2 mile away is the nearby Craig Center which offers breakfast, lunch and dinner at Tanner Jack's Restaurant, as well as a great deli and local wine and beer selection at JJ's Market, and award-winning pizza and fried chicken is available for eat in or delivery at Palo Mesa Pizza. Across the street from that marketplace you'll find other food options such as Taco Loco, and a fresh strawberry stand. FOOD DELIVERY If you're tired from playing all day, make it easy on yourself and just dial up the Menu Club, or Café Runner. (Website will not allow us to post links so just search for these names + .com for their websites) for better than room service! We're always happy to recommend restaurants and taverns that suit your tastes in our nearby areas. LOCA...
Guests describe our neighborhood of 1 acre homes and gardens as peaceful and quiet. One even compared it to a Norman Rockwell painting :)
This is a lovely private loft in a very nice neighbourhood. The place very clean and well equipped. There is a comfortable seating area with TV and a great kitchenette. Because it is a loft, the ceiling is very low on one side of the bed, so it is a little tricky to get in and out. Other than that, the accommodation is very nice and prettily decorated. There are restaurants close by. The host was very good about keeping us informed.
Susan
August 2016
Edmund and Rebecca's loft was perfect for our stay. The loft is very clean, quiet, and comfortable. I would definitely stay at the loft the next time we visit the central coast area.
Jenelle
June 2016
Rebecca was very responsive before and during our stay. She provided some helpful tips on places to explore in the area. The loft was very cute and cozy. My kids loved the loft bed. The space was clean and stocked with towels and dishes.
Amanda
August 2016
Rebecca was great. She was prompt in communicating back. The place was beautifully maintained and clean. Had a cabin lodge feel. Pictures were an accurate representation. Close to the beach in a very nice and quiet neighborhood. Hope to stay there again if Rebecca will have us back.
Alberto
July 2016
Edmund and Rebecca made us feel so at home. It was personalized to our family with juice boxes for our kids and a note of welcome. The loft was exactly as described and what pictures show. Very clean! The neighborhood was gorgeous!
Aimee
September 2014
It was a short one night trip for us and everything was great. Place was clean and the location convenient.
Andy
November 2016
The apartment was lively. It was very clean and we enjoyed our short stay to the fullest. Would stay there again immediately if I was again in the area.
Moritz
August 2016
Spacious, quiet loft in a great location! Three of us enjoyed our brief stay at Pinecroft on our way up Hwy 1. Hosts were welcoming and hospitable.
Patrick
May 2015
Room type
Entire home/apt
---
Property type
---
Accommodates
4
---
Bedrooms
0
Arroyo Grande
The SloStudioLoft is essentially one large room (photos) with ladder to upper loft (2 beds), and down below the studio has a lounging area: coffee table & sofa (futon), 1 queen bed, bar, kitchen, dining table, and small desk area. We provide breakfast foods, all amenities for bathing, etc. WiFi, Sat.TV, DVD & BBQ. Sleeps 6+ on 4+Q/D beds, W/D **Some holidays not included. Airbnb "Smart Pricing" is "On" for this listing; Airbnb may change the rates daily depending on local Airbnb availability.
Your accommodations include a full complimentary breakfast for you and your guests to prepare in the privacy of your secluded sloStudioLoft. Free parking on premises! sloStudioLoft is located at the northern perimeter of the Edna Valley AVA, and just 6-8 minutes from downtown San Luis Obispo, California. We are about half-way between San Francisco to the north (230 miles, 370 km), and Los Angeles to the south (170 miles, 273 km). We are at the southern tip of the world-famous Big Sur Coast, with Carmel-by-the-Sea about three hours to the north along Highway one. The sloStudioLoft is surrounded by trees in a quiet residential neighborhood with a newly renovated and private (for your use only) swimming pool, slide, and travertine patio. There is a grass lined seasonal creek in the rear of the property under sycamore and pepper trees. When you arrive you will be greeted with soft background music playing through remote speakers from the iPod. Auxiliary cord can be used for listening to your personal iTunes Library, or music streaming on your mobile device. The sloStudioLoft has been recently renovated providing you and your guests all the amenities you may need for a comfortable and relaxing stay. The high ceiling and loft provide a feeling of spaciousness; our guests enjoy the kitchenette, bar, dining area, and flat screen satellite TV without ever feeling "cramped". The kitchenette (see photos) includes a 2-burner gas stove, mini fridge, counter-top convection oven, and a microwave. It is well stocked with everything you need to prepare a meal including dishes, glassware, silverware, pots and pans, bowls, knives, spices and cooking utensils. Enjoy dining indoors or outdoors on the beautiful stone patio. Seating for 6 (++). The outdoor propane grill is great for pool-side, summer-time, or any-time BBQ's. The loft above (w/ ladder access) sleeps 4 guests in 2 queen/double -size beds (each with 4" memory foam), and down below the queen bed sleeps 2 more comfortably (also with 4" memory foam, see photos). A comfortable double bed futon/sofa now provides an additional sleep and lounging area down below. ***We also have a very comfortable queen-sized 6" foam floor pad with linen, pillows, comforters, and additional towels, all available for your children or additional guests. The newly redesigned and upgraded bathroom, shower & laundry room are accessed through a doorway for your private use. (We sometimes share the laundry, accessed by an outer locked door for your privacy.) The private and secluded travertine stone patio winds around the pool and opens out through a gated lawn-banked seasonal creek. All outdoor area is private and available just for you during your stay. Our friendly, family golden retriever "Sadie" may want to play with you, but just close the blinds. She'll get the hint. Our guests enjoy a private, keyless entrance to the the sloStudioLoft. The entry door opens to a private patio and sun-warmed pool & slide in the summer (May-September). Guests enjoy sunbathing on the secluded patio lounge furniture throughout the year. The gated and fenced seasonal creek-side lawn area is a safe place for your non-barking dog to roam if you choose to bring along your pup (see "Pets" below). Laundry facilities available; please be conscious of our SLO water shortage and California drought. We respect your privacy, but are available to make your stay as comfortable as possible; please let us know in advance if you have any special needs. •Pets There is a $25 Pet Cleaning Fee. Pets will be charged as an additional person/per day ($15/day). Pet owners will assure that their dog is respectful of the Property, not allow barking, and avoid leaving pet alone in the StudioLoft, unless host is available to help care for your pup during your absence. •PROPERTY AGREEMENT We ask that our guests read and agree to comply with our Prop. Agreement which you will receive after booking via email, and sign upon arrival. The pool is an amenity. There may be a rare occasion that pool maintenance must be done in order to comply with providing a safe and sanitary environment for our guests. •Taxes Airbnb rate does not yet include 13% San Luis Obispo Bed and new County Tourism Tax. We ask that you pay the tax upon arrival. Thank you for your compliance with this new San Luis Obispo City and County ordinance. We want you to feel as though you belong right at home here at the sloStudioLoft. Therefore we will message you easy check-in instructions. Please review carefully prior to your arrival. Your privacy is important to us during your stay, although we are always available if you need anything. We will provide you with a "pre-visit" email list of "what-to-do" and "where-to-go" in SLO that may be helpful in planning your activities and making reservations. When you arrive you'll find a "Concierge Binder" describing some of our favorite Bars, Beaches, Restaurants, Galleries and Wineries, and Trips and Tra...
Our quiet and very safe neighborhood is on a cul-de-sac, therefore minimal car traffic is rarely heard. In the mornings you can hear the birds singing in the trees surrounding the property. This is an exceptionally secluded, upscale residential neighborhood including young families with children, as well as older, retired couples who built their own homes 30+ years ago. Please be respectful, and monitor the "noise level" of your group or party after hours. • Uber: now available here in SLO Our guests love the local safe and friendly drivers for quick trips downtown for dinner or "bar-hopping." Some of the drivers are also available for a "Private Chauffeured Wine Tasting Tour of SLO County." A day rate is predetermined by you (can be very reasonable). • Local Bus: San Luis Obispo Regional Transit Authority Our local city bus transit is a 4 minute walk, just 3 blocks to the corner. #1 Bus Stop- SLO City Transit, which takes you to the Downtown City Center, approximately a 10 minute bus-ride. From there transfers are available all over the county including Hearst Castle. • Amtrak Train: Scenic California Coast: Coast Starlight - Seattle - Los Angeles Pacific Coast Surfliner - San Luis Obispo - Santa Barbara - Los Angeles - San Diego • San Luis Obispo Regional Airport (SBP) Great way to get here in about an hour from SFO, LAX, or PHX non-stop, adding a minimal amount to your R/T ticket if you do not want to drive (although I wouldn't miss SB, BigSur, Carmel, etc). We have recently spent a lot of love-filled energy and time remodeling and renovating our home to improve the comfort and beauty we have come to enjoy. After booking we will send you an email including a Prop. Agreement and Pool Waiver for your review at home, and then signature upon your arrival. We hope you will "holiday" here in SLO for a day or more so that you too can appreciate some of the beauty that surrounds us here on the Central Coast. Thursday Downtown Farmer's Market, beaches, hiking trails, biking trails, downtown boutique shopping, concerts in the plaza, wine-tasting and semi-annual wine festivals, music festivals, film festivals, jazz festivals, and so much more! All of this is only minutes away! Our rates are lower in the fall, winter, and spring. During the summer we know you'll enjoy your secluded patio, pool & slide during your stay!
Ryan's place has it all , the welcome card written in our native language, very thoughtful , the soft music was very well received, extremely detailed instructions saved our time, comfy beds and complement breakies , we watched "Seven"on bed. :p. In all,an enjoyable and satisfied living experierence .Thank you Ryan Chris
畅
January 2016
What a fabulous place! We felt right at home and Carla was so nice and helpful. Plus, her adorable dog, Sadie, welcomed us as well! The location and setting was gorgeous. We will definitely come back!
Lisa
November 2014
The place is super cute. Comfy beds, very clean, and well stocked kitchen. The pool looked great but it was too cold to swim when we were there. Carla was there to meet us and was very helpful!
vanessa
April 2016
The studio loft was great! The neighborhood was very quiet and was in a great, central location. Loft was very clean and fully stocked and Carla was super helpful with suggestions on what to do in SLO!
Dan
October 2014
Was more then we expected, in every aspect. Neighborhood beautiful, host wonderful. Restocked everything each day and Carla was uber friendly. We loved the pool as well it was so warm and the only one in the area all our friends were jealous. It was perfect
Casey
September 2014
This was a great place to stay while in San Luis Obispo. Very clean and cozy. The hosts ensured and respected our privacy, but still provided a nice welcome, with a bottle of wine on the table and some milk and OJ in the fridge. We loved the big couch too (great for watching movies in the evening)! I would strongly recommend this place, and would definitely stay here when/if I'm in SLO again!
Ashley
March 2014
STAY HERE! IT'S AWESOME! Carla was excellent. Super friendly but respected privacy. Extremely accommodating. This studioloft unit is really really beautiful. A great place to stay. The kitchen is loaded with everything! ...and it has a piano!
Chad
July 2014
I didn't meet Ryan but Carla (Ryan's mom) was very responsive and flexible regarding my last minute booking and check in time! The unit was very clean and helpfully labeled with delicious staples in the fridge. It was also close to great hiking, the main drag, and other attractions in SLO. The bed was EXTREMELY comfortable with soft sheets which made up for the fact that the unit isn't completely sound proof. Plus, there is the cutest golden retriever, Sadie, who always wants to play!
Felicia
November 2015
Room type
Entire home/apt
---
Property type
---
Accommodates
6
---
Bedrooms
1
San Luis Obispo
Arts | Culture | Food | Wine All located just steps from our newly remodeled, luxuriously appointed condo with private entry and private patio. The loft is centrally located a few blocks from SLO's downtown cultural hub, gourmet restaurants, Thursday night Farmer's market, Historic Mission, creek-side dining, hiking trails and more. Just a few minutes drive away from town, you will find yourself in the heart of Edna Valley wine country. The Perfect Location to come experience the "SLO Life"!
The Loft was entirely designed with Airbnb guests in mind. All amenities have been thoughtfully provided in order to make your stay comfortable, enjoyable and memorable. Like you, we love to travel, and appreciate the fine details that set a place apart from the ordinary. We have put that experience to use here, and hope that you will feel pampered and fortunate to have found such a refined setting in such a fantastic location. And speaking of location....the location can't be beat!! You are truly in the epicenter of all SLO has to offer, but JUST far enough away from the bustling downtown area to not be bothered by the noise, late night crowds, etc. Hiking trails abound here and the iconic Pismo and Avila beaches are just a beautiful 10 min drive away. There is information provided in the loft about all the events and things to do in the area. There really is something for every taste here in lovely San Luis Obispo! Guests will have exclusive access to the entire home. Your Reserved parking space is just steps from your front door. Laundry facilities are on site. You have a private patio on which to sip your morning coffee or enjoy an afternoon wine and cheese plate. We are available to answer any questions and offer suggestions from where to eat to what to do during your visit here in SLO county!
Uptown in downtown Sally Loo's Wholesome Cafe - Just down the street. Great for coffee and breakfast. Farm-to-table eatery. Novo - Creekside Dining | Global Fare Big Sky Cafe - Natural, wholesome food Luna Red - Stylish eatery with regular live music & lounge Foremost Wine Co. - Hip farm-to-table bites & intn'l wine list Local Events: When you arrive check out the "House folder" for links to SLO County calendar of events and other activities. Traders Joe's 3977 Higuera Street Market Sidewalk 1401 Osos St Lincoln Market & Deli 496 Broad St Train | Plane | Ride Share | Bus SLO Amtrak train station is just .4 miles from our condo. SLO County Regional Airport - 2.8 miles. Regional Bus service has easy access The heart of Downtown SLO is a 3 minute walk For transportation to or from the airport may we recommend Ride Uber at San Luis Obispo County Regional (SLO) Airport
Room type
Entire home/apt
---
Property type
---
Accommodates
4
---
Bedrooms
1
San Luis Obispo
* Spacious furnished * Panoramic Ocean View from Grover Beach to Avila * pergo flooring and updated appliances; fridge/microwave included * Granite kitchen and bath * comfy pillow-top queen bed * close to waters edge; Park has picnic/grills
Great! Items left in the fridge definitely worked for us, since we showed up at 2 amish.
Jatina
June 2016
This is a wonderful one bedroom in Pismo Beach, its quiet, clean, and close to all of Pismo - I highly recommend the place. Frank is quick to respond and helpful.
Thomas
July 2016
great
Janice
June 2016
Just what I needed. This is a perfect space for quiet relaxation. Everything was just right. The view is just as described. I sat in that front window enjoying the views of the ocean each day. Just a short walk to Shell Beach or a short ride to Pismo, you're right where you need to be. Frank was a very courteous, helpful and kind host. He gave me some nice info about things to do around town for which I was thankful. I'll be back!!!
Roderick
June 2016
We had a very nice time at this condo. Perfect location for our daughters Pismo beach wedding! I would of loved to stay longer... but back to work we must do.
Janice
June 2016
good
Janice
June 2016
My first AirBnB experience! Overall place was great and Frank was very helpful when I had questions. Location was great, had an ocean view and was walking distance to Spyglass Inn and deli. Place was very comfortable, water pressure was good in the shower. Had almost everything you needed in the kitchen to cook. Overall very nice.
drew
July 2016
Room type
Entire home/apt
---
Property type
---
Accommodates
2
---
Bedrooms
1
Pismo Beach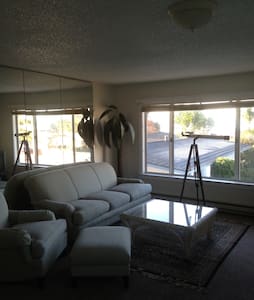 Upstair guest loft with its own kitchen and bathroom, outdoor deck area and private entrance is located in the heart of the Central Coast, which is half way between L.A. and San Francisco. Escape the city to experience the central coast and all it has to offer ~ golf, beach, wineries, hiking and biking just minutes away. We are located only 2 miles off the 101 Freeway which makes us very convenient when traveling up or down the California coast.
Weekend, holiday and seasonal prices can apply. Our neighbors are cows, chickens and horses. This listing is for a private guest loft, which is located upstairs & above the detached 3-car garage at our home. This unit is UPSTAIRS. We do live on the downstairs level with our 2 kids and a cat. It loft-style and is very open and includes a large living space and a bathroom. It is very spacious (450 sq. feet) and will accommodate 2 people, and up to 4 people if some are willing to sleep on a futon. The nightly rate is for up to 2 guests. There is an additional $10 fee for each extra guest up to a maximum of 4 guests. Please count all children when you make your reservation. The guest loft has its own separate entrance with parking. There are stairs Please note: We do live on the premises and do park in the garage downstairs so you may hear some noise, and we are sometimes rushed in the morning to get out the door to school, and when possible we do like to work out in our yard. There is not a separate bedroom in the loft. Bathroom includes shower only. LIVING AREA: The living area has a futon, and a dining table. KITCHENETTE: Includes microwave and stove, small sink, mini fridge, coffee pot and cooking utensils and pots and pans. ONLY FOR UPSTAIRS GUEST LOFT and upstairs deck located just off the unit. As we do live here, you most likely will see us. If we may not be able to greet you when you arrive, we will make sure that you will have access to the guest loft as scheduled. We are always available by text/phone and are often not far from home.
Located only 2 miles off the 101 Freeway on a quite cul-de-sac. Within miles from the beach, wineries and golf. This is an UPSTAIRS guest loft. We do have a dirt driveway. We do have livestock just over our back fence that often wakes up before the sun (cock-a-doodle-do & a moo, moo, here and a moo, moo there). We do have 2 kids often running in and out of the house, as well as other family and friends. We do love our privacy at the end of a long day, as we love early mornings.
The place was cute and perfect for my boyfriend and I's short getaway. The room was spacious, bed comfy, and perfect size kitchen for making breakfast. Great location to the beaches, wineries, and cute small towns. Would definitely stay here again.
Renee
December 2015
My sister and I stayed at here over Labor Day weekend so I could attend a wedding in Santa Ynez. We had a great time exploring the central coast and this was an excellent home base. It was clean & quiet! A great spot.
Katie
September 2016
Bobs loft is AMAZING!! clean, big and a really nice area!! had a great time there! He send us information before we arrived about check in! everything was easy! we would definitely stay there again!
Verena
July 2016
Nice place. Easy communication. Awesome balcony!
Dario
August 2016
Bob and Kirsten's place was absolutely amazing! They were excellent communicators and were very understanding when we got in much later than expected. They made us feel right at home! The loft was beautiful- newly renovated with great farm views! We loved it so much! So accommodating! Thank you!!!
Brittany
December 2016
Highly recommend Bob's place. This was my second time. I loved the use of the kitchen. Did all my cooking during a week. Very relaxing place, quiet and easy access to my locations. Thanks Bob and wife. Will be back again.
Tony
November 2016
I'd give all the stars I got and even more :) our stay with Bob was awesome! The property had everything we needed, was super clean and even more beautiful then we expected from the pictures! He was so helpful with tips for our stay and made us feel like home in any way! We would have stayed longer and definitely recommend this house and family to everyone traveling around this area! Thanks again
Charlotte
October 2015
Great host communication and home!
Lindsay
March 2016
Room type
Entire home/apt
---
Property type
---
Accommodates
4
---
Bedrooms
0
Nipomo
Great Dane Guest house is a private, pet-friendly space in the heart of downtown Solvang. Steps away from restaurants, wine tasting rooms, theaters and more! Fully equipped with kitchen, bath and private garden balcony.
Newly remodeled, our one-bedroom loft offers clean modern living, with a touch of Danish charm. The bedroom features a queen Sleep Number bed with adjustable firmness for two, Distinguished Guest 300 thread count linens and down bedding, all nestled in a cozy nook. Linens and towels are freshly laundered with detergent that is hypoallergenic and contains no dyes, phosphates, ultraviolet brighteners or perfumes. In the bathroom, a unique vintage glass block window allows the light to come in while preserving your privacy. It's the perfect spot to have a soak after a day of site-seeing. The loft also has a full kitchen with stove, oven, and fridge, and is equipped with everything you need to cook dinner or prepare your morning cup of coffee. The living area provides plenty of space for you to spread out and play games, watch a movie or just read a book. The Danish modern furniture is all convertible, allowing for two additional guests to each have a twin bed to themselves. If you get tired of being inside, spend some time on the private balcony, which overlooks our courtyard garden. Featuring drought tolerant and primarily native plants, the garden changes season-by-season, and always lends a little color to your scenery. It's the perfect place to dine outside or relax with a glass of wine. Access to the loft is easy with your own private parking space and gated entrance just down the stairs. Each building is separate, so you will not have anyone staying below you. Our loft accomodates 2-4 people -- a perfect spot for a couple or a small family. Our rentals are also pet friendly, so your dog (Or cat? Rabbit? Turtle?) is welcome. Bedding and towels will be provided, along with toiletries such as soaps, shampoo/conditioner and lotion. We offer EO Products, which are free from synthetic fragrances, cruelty-free, gluten-free, and GMO-free. If this unit is booked for your required dates, we have another rental on the same property that may be available. Click link below to see the cottage https://www.airbnb.com/rooms/5588866 **Please note that Solvang requires a 12% occupancy tax be collected on the rental rate. Airbnb does not provide a method for including the tax with the initial price, so it will be added to your booking AFTER you have requested or made the reservation with instant booking (this means I will contact you with a price alteration, and you will then have to approve a price increase in the amount of the required tax and the reservation will be updated). The tax is based on the nightly rental rate, and not on the cleaning fee. A Transient Occupancy Tax Certificate from the city is on display in the unit.** The loft is a private second floor space that has it's own entrance. The balcony deck overlooks our courtyard garden. The yard below is available as well, and pets are free to use any part of the property (including front yard). The unit is behind the main house but accessed from either the street or the alley, with your own parking spot just below the entrance. There will be nobody above or below you. There is a hot tub in the yard, but for safety reasons, it is not offered with the rental. Each unit does not have its own BBQ, however you are welcome to use our BBQ which is located in the Courtyard area. We live on the property (there are three homes) in the front house. We are available for anything you might need, but are also happy to leave you completely on your own. Whatever works best for you! A private entrance means you can come and go without any interraction with us or other guests. There is another rental (under remodel currently), so you may see other guests as well. But you have your own private space, both indoor and outdoor. **We may be available for pet sitting, depending on timing and/or prior arrangements. If you think you may be interested in pet sitting, please try to let us know as early as possible. While we are often home, we do like to travel as well, so we may not always be available.
You cannot be any closer to the heart of Solvang than The Great Dane Guest House. We are situated less than one block from the main street of town, Coppenhagen drive. Whether you've come for shopping, wine tasting, dining, adventuring, etc. - you will find everything is within a very short walk. We will provide anything you need to know about local restaurants, wineries, hikes, biking, shops, etc. The famous Solvang Horse Trolley comes by about every half hour Monday-Friday, which is worth a ride if you'd like to know a little about the history of our little Danish town. Right next-door is the award winning Mirabelle Restaurant. We would be happy to make a reservation for you if you'd like. Also, if you enjoy gambling or shows, you can walk one block to Hotel Corque and catch a free shuttle to the Chumash Casino. Parking is a cinch in Solvang. You can leave your car right in our driveway, and make your way on foot. If you don't feel like walking, you can rent a surrey cycle for up to 8 people. Or, catch a wine tour bus and travel in style to all of your favorite wineries. There is also an Amtrak bus stop two blocks from us, so if you're coming by train, consider making that connection. One block away is Hotel Corque, where you can catch a free shuttle to the Chumash Casino. There are also shuttles to Santa Barbara, LAX and points in-between. **Note - The rental provides one parking spot on the property. If you have more than one vehicle, there is plenty of free street parking with no limitations on time or days of the week. On extra busy weekends, you may have to park further out, but it would be very unusual not to have a spot within one block of the cottage** Our city requires a 12% Transient occupancy tax, which will be added to your booking once you have requested a reservation (this means you will have to approve a price increase in the amount of the required tax upon confirming the reservation). The tax is based on the nightly rental rate, and not on the cleaning fee. A Transient Occupancy Tax Certificate from the city is on display in the unit. Rental rates vary. Please see calendar for rates specific to the days you are reserving. Our rental is situated directly behind Solvang Festival Theater - a charming outdoor theater that hosts plays and music events mostly throughout the summer. From the loft, you can actually see the theater (unfortunately not the stage) and listen to the shows. While the shows can be heard clearly while outdoors, you can hear them only slightly while inside. We love hearing the shows in the evenings and have never found it to be a nuisance. But you should consider that if you prefer perfect silence. The shows are in the evenings, usually finishing up around 10pm. During the day, Solvang is a bustle with tourist activity and the tingling of bells on the trolley horses. But, by about 6 pm, things quiet down considerably and you rarely hear any noise at night.
It was very clean and quiet. Beautiful quaint loft in a perfect location for wanting to walk around Solvang. The hosts were very attending and private. We couldn't have had a better time!
Alain
February 2016
Listing was as described. Excellent location. Well maintained. Stocked with amenities (soap, shampoo, wifi, kitchen untencilsm etc). Met Amy briefly and she was very welcoming. Would use it again. Note: Ceilings hug the roof line, making them low in some areas. Wifi service had difficulty supporting Netflix, but was fine for internet browsing.
John
May 2016
Joy and Amy's house is very quiet and beautiful. Highly recommend to stay in their house.
HUA
February 2016
The place was charming , clean and very nice ! Thank you so much for being such an amazing host ! I had the most magical time ..
ari
August 2016
Great spot to stay in Solvang! The place was very clean and just half a block from the main streets of Solvang. Perfect location! We really appreciated the binder containing suggestions for attractions and restaurants. Amy and Joy were very kind and quick to respond to any inquiries we had!
Diana
March 2016
I absolutely loved this place. I'm a wine blogger, so I've spent many-a-days in various wine country hotels and homes/apartments. This place way phenomenal. Perfect location, well stocked kitchen. The unit was ADORABLE! I can't say enough good things about the place. Can't wait to be back!
Heather
December 2016
This place is absolutely adorable and quite charming! The location is perfect and you can stumble to any cafe or restaurant in town. I have been to Solvang many times and have stayed in the very overpriced and not very updated hotels so this was a great find! I will stay here again the next time I come if it's available!!
tricia
September 2016
I'm all about detail and from the second you walk in, little notes of welcome for my family and I to see was such a treat. The loft was amazing. Everything in the pictures are accurate. The loft is so close to town, walking everywhere was convenient! I will definitely have to come back and stay longer.
Laarni
May 2016
Room type
Entire home/apt
---
Property type
---
Accommodates
4
---
Bedrooms
1
Solvang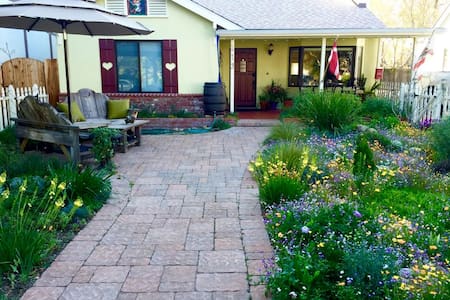 144 Ocenafront Ave. This spacious 2 bedroom 1 and a half bath oceanfront loft is perfectly situated in the heart of downtown Cayucos with amazing ocean views.
The open layout is perfect for entertaining friends and family and the home has been finished with exceptional materials. You will love the gourmet kitchen equipped with high end appliances and beautifully finished. The 2 bedrooms each share a deck off the back side of the unit facing the downtown area, and there's a great deck off the living room to enjoy amazing ocean views and enjoy the sunset. The loft area above the bedrooms is very large and serves as the third sleeping area. The full bath is a jack and jill that connects to the 2 bedrooms, and there is a half bath off the living area. This is one of the most unique and special properties in Cayucos. This unit is part of a small commercial building, the downstairs has a local shop that faces inland towards downtown. There is a 1 car garage available for guests, additional parking is on the street. Washer and dryer, high speed wifi is available. Contact us today to secure your vacation at this exclusive property. This is a professionally manage vacation rental and the entire home with all listed amenities are available for guest use. Feel free to inquire if you have any questions. This home is professionally managed and the property manager is available 24/7 to respond to guest issues. Routine issues are handled during normal business hours.
Cayucos by-the-Sea is located on California's scenic Central Coast, halfway between Los Angeles and San Francisco. Cayucos sits quietly between the Pacific Ocean and the rolling hillsides of open ranchland and is what some people call "the last of the California beach towns." Listen to the quiet and stillness that only a small town in an untouched countryside can provide. Cayucos is the perfect remedy for those who suffer from the ills and frustrations of life in the fast lane in our crowded cities. Peaceful, underdeveloped ranchlands with cattle grazing on undulating, oak-crested hills provide a respite for the city weary. A car is recommended, parking is available No Pets and no smoking on premises. A 1 car garage is available, additional parking is on the street. IMPORTANT PLEASE NOTE: From late June to mid Aug this home books from Friday to Friday. Holiday Season: reservations that block both Xmas and New Years may not be accepted, unless they are 10 days or longer. These policies may be relaxed within 30-60 days of arrival. Please contact us with any questions.
Room type
Entire home/apt
---
Property type
---
Accommodates
6
---
Bedrooms
3
Cayucos
This loft bedroom guest suite offers updated comfort, with perfect location, stylish décor, and easy convenience--walk just a few steps for your own wine-tasting experience.
This loft bedroom guest suite offers updated comfort, with perfect location, stylish décor, and easy convenience--walk just a few steps for your own wine-tasting experience. Enjoy the wines of San Marcos Creek Vineyard literally steps from your front door, yet all with a feel of privacy and intimacy. You will love the views of ranching out the back window and of the winery itself out the front window. Leather and woven furnishings, granite counter tops, whimsical details all complete the sense of arriving at home when you walk through the door. The open loft bedroom overlooks the warm living area, with sleeper sofa tucked in a nook on the main level. Every comfort of home in the midst of wine country, your perfect home base for exploring. Private parking, easy drive to Paso Robles.
Convenience: 7 Area Golf Courses, Area Fitness Center, Close to Water Park, Close to Wineries, Concierge/Spa Services, Day Trips to Beaches & Wineries, Hearst Castle & Cambria Nearby, Hiking Trails, Lakes San Antonio and Nacimiento, Miles of Wine Trails, Movie Theatres, Nearby Churches, Nearby Grocery, Nearby Medical Services, Personal Chef Upon Request, Wine Appreciation Class Option Local Activities: Wine Festivals, Art Galleries, California Mid State Fairgrounds, Central Coast Destinations, Close to California Missions, Concert Venues, Hearst Castle, Library, Museums, Olive Oil Farm nearby, Paso Robles Event Center, Symphony Orchestra, Children's Museum, Paso Robles Downtown Library, Concerts in Park & at Wineries, Atascadero Zoo, Antique Stores, Art Galleries, Paso Robles Event Center Amenities: Living: Ceiling Fans, Central Air/Heat, Ironing Board/Iron, Quality Linens & Towels, Hairdryer, Smoke Alarms Business: Wireless Internet Entertainment: Satellite TV, Flat Screen TV, Multiplex Movie Theatre Nearby Kitchen: Blender, Coffee Maker, Cookware/Pots & Pans, Microwave, Refrigerator, Granite Counter tops, Breakfast Bar, Toaster Oven Outdoor: BBQ Grill, Covered Patios, Off Street Parking Geographic: In a Working Vineyard
What a lovely place!We have a good time!Thanks!
min
July 2016
First time ever using an Air BnB Rental and we could'nt be more pleased. Stayed at the Crush Pad over the weekend and had an amazing experience. The accommodations were perfect with complete access to the lovely vineyard and surrounding grounds. The pleasant staff on hand were even nice enough to give my daughter a bag of crackers to feed the ducks & peacocks, which she absolutely loved! Roberto & Kimberly were gracious hosts and we cant wait to make it back soon.
Christopher
August 2016
Roberto and Kimberly's place was a joy to stay at. It is located on the most beautiful, relaxing vineyard you can imagine. Inside was immaculate, fully stocked, and consistently cool on a 100°+ weekend. Communication was a breeze, and they were accommodating and easy to work with. I never actually met them in person, but the staff that I did meet in the tasting room were extremely inviting and kind, and their dog was super friendly and calm. Needless to say, I will be staying here again. As a side note, their wine is delicious as well and I plan on purchasing more from them in the future!
zack
June 2016
The unit was just as advertised, and Roberto and Kimberly were fantastic. We enjoyed their hospitality, the location and area immensely. Very private but close to town and sites. The bonus was the great wine. Cheers!
Walter
January 2016
Roberto and Kim know how to welcome their guests! When we arrived, there was a bottle of wine with four glasses waiting for us. They were gracious hosts and made sure we were comfortable. The space (inside and outside) was spectacular. The views of the winery and the lake were just stunning. The peacocks on their premise add a special charm. We used the kitchen a lot. Roberto and Kim had all the utensils you'd need to make a simple breakfast, lunch, or dinner. We will certainly be back to visit.
Candice
December 2015
Such a lovely time. Beautiful grounds with lots of friendly wildlife...like peacocks (we even saw their baby), ducks, rabbits, etc....The accommodations themselves were just great. Very comfortable, so clean, thoughtfully appointed, peaceful. Hosts/owners were so nice, and fun to visit with. We even had a tasting that came with the room. I spent hours wandering/exploring the vineyard. I haven't felt so good in a long time. My family wanted to live there, or at least stay there more days. Will DEFINTELY return. Conflicted about giving a good review because we want to keep it all to ourselves.
Drew
July 2016
This place is fantastic. Perfect for two people. Very quiet and charming being at the vineyard. We would definitely go back again!
Jocelyn
January 2017
This place is wonderful! We had a fantastic stay in Paso Robles and Kimberly is a wonderful host. The kitchen is fully stocked if you choose to cook...grocery stores are nearby. The property is really beautiful and there are even a few peacocks on the property. The bed in the loft area is VERY comfortable and the room is spacious. There is a separate pull out couch off of the living area as well. There is a patio with a BBQ and a patio table if you want to cook out. We will definitely stay there again.
Michelle
June 2016
Room type
Entire home/apt
---
Property type
---
Accommodates
4
---
Bedrooms
1
Paso Robles