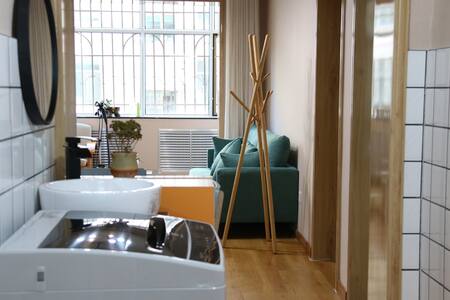 SUPERHOST
Entire condominium · 8 guests · 5 beds · 1.5 baths
大佛寺景区正对面(闹中取静)|近甘州巷子甘州市场美食街 乘车5m|市博物馆旁|往丹霞便利|美式 2楼
大佛寺景区正对面、紧靠市中心广场、博物馆(免费)等标志性景区,近甘州市场、甘州巷子美食街区,距高铁西站8分钟车程,交通生活便利,环境清幽、闹中取静。美式风格,布局整洁、卫生干净、房屋通透、阳光充足、环境静谧,是您休息住宿、消除旅途疲劳的不二选择哦!
What guests are saying:
"The landlord is very enthusiastic and has a smooth communication. Before I checked in, I couldn't pick it up. I sent a video about how to get there. Very thoughtful. The residential area where the house is located is not good for parking. It can only be parked in the parking lot of the Big Buddha Temple area across the street. The distance is very close and it is convenient. The landlord also bears the parking fee. The room was clean, comfortable and easy to use. The landlord also sent two bottles of mineral water and two bottles of iced black tea, and two cans of beer in the refrigerator were also given away for free. It can be said that it is very intimate. The bedding is linen, very comfortable, just like it. The house is a little old, in the city center, next to the Zhangye Museum. The only downside is that you walked down the street to cross an alley and turn two bends. The perception is not very good. But as I said before, this is in the city center, even if it is safe at night. It's just that the alley looks old."
Hello, Welcome to the home 【Desert • Where the clouds lives】, Nice to meet you, and it is my pleasure to share travel and home with you. Design Inspiration: The blue in the desert, it's the sky you look up, it's the water in the desert, it's the veil of a girl, it's the crown of the ancient emperor. We use the blue in the desert to built a home, let the heart live here.
What guests are saying:
"The room is very good, like the decoration of the homeowner and my own home is very similar to the Nordic wood gray. My bedroom also has a projector to live up very warm and familiar. If you bring your parents to the northwest, you will want to stay."
柔软的异乡时光,美式风格的装修,简洁,色彩艳丽,布置合理,空调,液晶电视,Wi-Fi,热水,洗衣机,还有你展示厨艺的空间,应有尽有,在疲惫的旅途中,睡个美美的美容觉,自然醒来做一顿可口的美食慰劳辛苦自己,美哉~~才叫不辜负美景和旅途!!
What guests are saying:
"Super good experience, the place is very easy to find, it is very convenient to live here. The noodles and side dishes with ramen noodles across the gate are delicious. The room was very clean and beautiful, and it was a good night's sleep. The homeowner patiently guides the surrounding play, a super good stay experience."