[Kevin+·a small room] - The room follows Nordic style, hard stone peaks, clear blue sky, pure and innocent snow and ice, we put these elements into our room, and the exterior is also practical. At the same time, a lot of new entertainment facilities have been added, and Kevin+ welcomes you.
What guests are saying:
"A very good value for money hotel - entertainment facilities are very full ~ suitable for friends gatherings, the owner is intimate, fast reply, the location is also very good ~ snacks are also a lot, great!"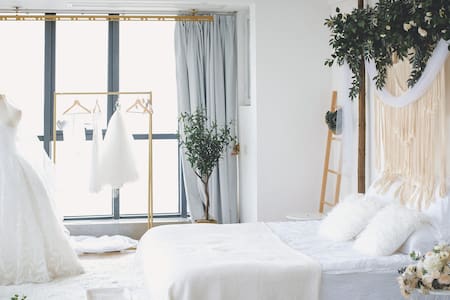 SUPERHOST
Entire apartment · 2 guests · 1 bed · 1 bath
【書寧•宿】徐州首家‖婚纱试穿‖高级感‖文艺拍照‖高层 巨幕‖美食街商圈购物‖近万达师大建筑学院
Because I especially like taking pictures and traveling, I want to combine taking pictures with the homestay, and I will provide clothing suitable for taking pictures, so that the little fairies can take various pictures ~ 1. Wedding theme homestay, you can try on a wedding dress. In addition to a feather wedding dress, a light wedding tutu is also provided. It is also paired with a veil skirt, gloves and other props for convenient photography. Flower arches and various photography props, various flowers such as eucalyptus, cactus, cosmos, vintage roses, olives ~ 2. The room is at the 29th floor, with a large floor-to-ceiling window. The sun is particularly good. Sitting on the carpet or sofa in front of the large-floor window is very comfortable and suitable for taking pictures. 3. The room is equipped with a projector and an oversized curtain. If you want to watch movies during the day, we are also equipped with blackout curtains, nestled on the sofa, holding a pillow to watch movies, very comfortable 4. The room has a microwave oven, an oven and a small electric pot. You can make some simple baking or cook a small hot pot ~ 5. Makeup remover, makeup remover, band-aid, cotton swab and other items are also provided in the room for the convenience of the little fairies ~ 6. The rooms are all white, please be sure to put in the disposable slippers we prepared at the door, keep it hygienic, thank you 😜 7. If there is a little fairy who needs cooking, be careful not to get the oil on the white carpet and the bed sheet ~ Please clean it when the pot is used up ~
What guests are saying:
"Very good, I like the female ticket very much, very suitable for couples, the overall room is clean, the location is good and not afraid of noisy downstairs"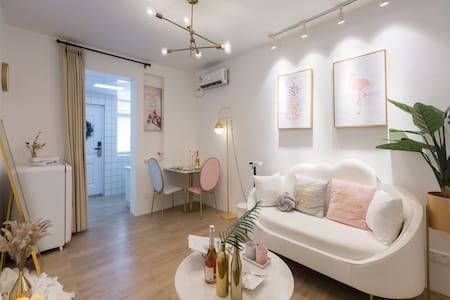 SUPERHOST
Entire condominium · 2 guests · 1 bed · 1 bath
【Bonnenult.Rm2】市中心/苏宁金鹰核心商圈/Ins粉白系/一居室/有投影/可做饭
* If the date you want to check in has been booked, you can click on my avatar to view other listings, or consult online, I will confirm if other listings are available. * The house is located in the center of the city, with a convenient location and convenient transportation. It only takes 5 minutes to walk to Suning Golden Eagle Business District. The room is clean, tidy, bright and airy, bedding is changed for each guest, WIFI, TV, washing machine, refrigerator, hair dryer, slippers, bath towels, towels, shampoo, shower gel, hand soap, toothpaste and toothbrush, paper towels, pots, utensils, tableware, Basic spices are readily available. The house provides an electronic password lock, one guest and one password, which can enjoy exclusive space. * You don't have to worry about service, if you have any need for help, you can contact me at any time. Whether it's transportation routes or attraction suggestions, surrounding dining consultations, etc., or other circumstances. Located in the city center, it only takes 5 minutes on foot to Suning Plaza, Golden Eagle Golden Land and other commercial circles. There are many bus lines nearby, such as No. 2, No. 47, No. 48 and No. 34. On the east side of the district is a food street, which is a gathering place for various authentic snacks and online red shops in Xuzhou; There are many convenience stores and vegetable markets around; Nearby are Carrefour, Su Xiansheng, and other large supermarkets.
What guests are saying:
"Super nice house, although this is not the case, but the landlord is also very beautiful to change the room, the design is very strong, the house looks like the landlord is a tasteful person, and the room is relatively clean, The room is fragrant, there are disposable items and slippers, there are also paid supplies, the price is not very expensive, very convenient. The landlord can also respond to the tenants in a timely manner. This is worthy of praise. I am afraid that there will be no accidents during the stay in a strange city. The bed is also comfortable, the balcony light is also good, although the community is very old, but there is a hole in the door."