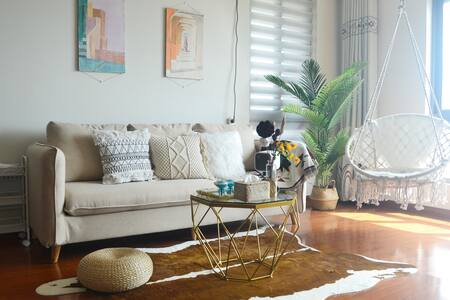 SUPERHOST
Entire condominium · 4 guests · 2 beds · 1 bath
「暖暖」摩洛哥风格*吊床吊椅*可住4人*火车站/秋雪湖/海陵区/碧桂园/美好易居城*网红打卡地
"Warm" gives your dear guys a warm home where you can enjoy the city boutique homestay and experience the local life. There are 2 rooms, one is a 1.8-meter net red hammock, you can experience the feeling of the big red swing in Bali. You can sleep at night and you can put four feet down. The other room is also a 1.8-meter bed, full of pink full of girls. There is a projection in the living room, you can comfortably sleep on the sofa to watch a movie, as well as a hanging chair, you can sit on it and watch the scenery and enjoy the good times. All daily necessities are complete, one customer and one change, the community take-out can be sent, you can not go out to enjoy the food at home. You can chat with your friends. There is also a small tent room, the love of the children. About other fees: 1. The kitchen can cook, but the tableware troubles the small partners to clean themselves. If you need aunt to clean the trouble, you can pay 20 yuan for the aunt. 2. If you meet in advance, please inform us in advance, a certain cleaning fee will be added, and the specific amount will be communicated privately~
What guests are saying:
"Miss landlord is very good hhhh reply very timely and very patient. The house is beautiful! Very clean, consistent with the description, cost-effective, chair hammocks are great, the projector is also very clear, very home feel, the fly in the ointment is a bit remote. The floor is high and the night view is super beautiful! It is also beautiful at sunrise! Great stay experience"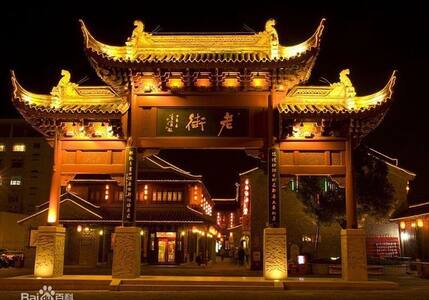 SUPERHOST
Entire apartment · 6 guests · 2 beds · 1 bath
天德湖旁的凤凰曦城东苑(apartment near the tiande lake park)
My property is close to Tiande Lake Hotel (five star), Tiandehu open-air hot spring, Tiande Lake Park, Zhoushan River Riverside Park. Because Tiande Lake Park is the largest park in Taizhou, 5 minutes walk from Riverside Park, two minutes walk from the Riverside Park, the morning air is fresh, the evening is full of red, and you can take a hot spring. 10 minutes drive from Taizhou Street, 1000 meters from the city center, 1000 meters from the long-distance bus terminal, 30 km from the Qin Lake Wetland Park. 35 km from Taizhou Airport. Train station 10 km. Need the landlord to pick up, buy early tea and other reservations can be made in advance. You will love my home. My home is suitable for couples, adventurers traveling alone, business travelers, families with children, furry companions (pets).
What guests are saying:
"Although not luxurious decoration, but very clean and tidy ~ The bedding is clean ~ In a residential area where the occupancy rate is quite high, you can experience the life of the locals ~ The uncle of the landlord also communicates well, and has questions and answers ~ When I check out, I am ready to clean in time with a clean replacement ~"
* 房源内设施为房东精心设计打造。家具皆从宜家、全友、美乐乐定制。室内loft结构木楼梯、地中海式吊顶、植物墙绘、吊篮等都洋溢着清新宜人的小资风情。 * 弹性和柔软度舒适的宜家沙发适合窝在上面发呆、看书或者看电视。窝在美乐乐吊篮里,一边摇晃一边欣赏窗外的蓝天白云或者夜景,带你进入轻松悠闲的快乐时光。 * 楼下可免费停车。门上有密码钥匙盒,24小时可随时入住。 * 房源适合情侣、家人朋友结伴旅行、商务旅行人士、旅行达人等。
What guests are saying:
"The location is good, the nearby rainbow is newly opened, not far away. The air conditioner on the first floor is not too warm, and the rooms on the first floor are too air-conditioned and cold. The curtains on the second floor room are not too light-proof, and they wake up when they sleep on the second floor "