New York
Get to know the city that never sleeps
Rent local accommodations on any budget, anywhere in the world on Airbnb.
Explore
Find the perfect place.
Book
View your itinerary.
Choose from over 1000 places to stay in New York
2500 stóp kwadratowych stropu TriBeCa z sufitami odsłoniętymi o długości 13 stóp, podłogami z drewna i oknami. Trzy sypialnie, dwie łazienki, duża kuchnia, pralka / suszarka, sztuka i nowoczesne meble. Posiadamy nasz budynek, mieszkamy w lokalu i jesteśmy do dyspozycji przez cały czas. Jesteśmy zgodni ze wszystkimi prawami lokalnymi i lokalnymi.
Zabytkowy loft z luksusowymi udogodnieniami. Winda z prywatnym kluczem otwiera się na pełen słońca loft z drewnianymi podłogami, nowoczesną kuchnią z urządzeniami Miele i centralną klimatyzacją. Dwie sypialnie mają łóżka typu king-size z białą pościelą. Główna sypialnia mieści łazienkę. Trzecia sypialnia ma łóżko małżeńskie z białą pościelą. Duża druga łazienka ma dużą wannę. Salon i jadalnia są wyposażone w nowoczesne meble z połowy wieku i 55-calowy telewizor. Udogodnienia: Winda z kluczem prywatnym Bezpieczny szybki internet bezprzewodowy (Wi-Fi) 42-calowy telewizor z podstawowym kablem LG pralka i suszarka Czajnik elektryczny Mini piekarnik kuchenka mikrofalowa Zmywarka Piec parowy Ekspres do kawy Mata do jogi Żelazko i deska do prasowania Suszarka do włosów w każdej łazience Rozmiary AeroBedów o rozmiarze Queen dostępne dla dodatkowych gości Świeże ręczniki, pościel, poduszki, kołdry Loft jest używany wyłącznie dla gości. Mieszkamy na poddaszu obok i spotkamy każdego gościa przy zameldowaniu. Z przyjemnością pomożemy Ci w trakcie pobytu. Zalecamy zapoznanie się z przewodnikiem przed przyjazdem w celu uzyskania sugestii dotyczących restauracji, barów i sklepów.
Usytuowany przy cichej, zabytkowej kamienicy w zabytkowym budynku z żeliwa, kilka kroków od hotelu TriBeCa Grand i hotelu SoHo Grand, który mieści się w obfitości restauracji, barów, sklepów, zabytków, galerii i skarbów Nowego Jorku. Kroki ze wszystkich głównych linii metra (1,2,3,4,5,6, A, C, E, N, Q, R, J, M, Z). Kiosk CitiBike znajduje się na końcu naszej ulicy z 30 + dostępnych rowerów. Za specjalne uroczystości pobierana jest dodatkowa opłata.
Room type
Entire home/apt
---
Property type
Loft
---
Accommodates
12
---
Bedrooms
3
Tribeca, New York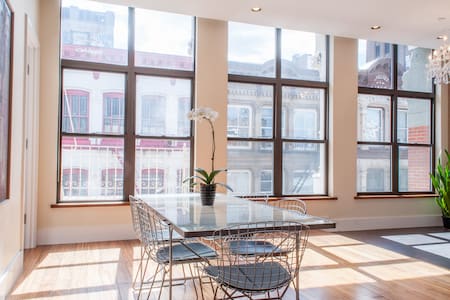 DETAILS: Designer-decorated luxury two bedroom features king-sized beds with premium mattress, feather-filled pillows and modern furniture and lighting. Full-sized Sleep Sofa located in the living room, sleeps two persons.
LUXURY 2 MASTER BEDROOMS WITH 2 EN-SUITE BATHROOMS, 1/2 BATHROOM WITH CENTRAL PARK-FACING VIEW (1280 sq. ft) DETAILS: Designer-decorated luxury two bedroom features king-sized beds with premium mattress, feather-filled pillows and modern furniture and lighting. Full-sized Sleep Sofa located in the living room, sleeps two persons. This quiet Upper West Side apartment is located on a high floor overlooking Central Park with floor to ceiling windows and 10' ceilings. LOCATION: The Upper West Side is an upscale, primarily residential area home to New YorK City's cultural (Metropolitan opera, Juilliard school of dance, drama & music), intellectual hub (Columbia university) and artistic workers (Lincoln center). Great atmosphere and so many great restaurants, wine bars and coffee shops. Not to mention the night life...The UWS is a hip yet mature place to be. It is really changing with the addition of all the new development condos going up, this place is a meca of ultra luxury super high end condos. UWS is also known for landmark buildings and brownstones from the late 1800's. There are a lot of rich and famous people that call this neighborhood home. Great location for those who like to jog in beautiful Central Park (one block away); perfect for foodies, Whole Foods and Whole Foods' Wine Store are located right across the street, as well as number of shops on the same block: Sephora, 24/7 Duane Read, Birch Coffee, dry cleaners, TJ Maxx, Michaels, Starbucks, Bofa, Chase, Crumbs Coffee and Modell's to name a few. AMENITIES: - 24-hour doorman (There is no concierge service available) - Security surveillance throughout building - Full gourmet kitchen with dishwasher, refrigerator, gas stove-top and convection oven, toaster, nespresso machine, coffee pot, kitchen supplies and Nespresso. - 60" Samsung Smart LED TV - Apple TV air-play your Mac, iPad, iPhone - High-definition Smart TV/Cable with free Netflix and Pandora accounts - Free Wi-Fi - Wireless Speakers for your iPad, iPhone, Laptop or Droid - Hairdryer - Iron - Air Conditioning/Heating - All bedding and towels - Shower/Bathtub - In-unit washer/dryer. SUBWAYS: - 1 block to B and C subway lines - 3 blocks to 1,2,3 subway lines. NEARBY RESTAURANTS: - Ocean Grill, Cotta, Porter House, Buceo 95, Kefi, Ozen, Café Frida, Recipe, Momoya, Per Se, Rosa Mexicano, and more. ENTERTAINMENT: Museum of Natural History and Planetarium, New York Historical Society, Central Park, 5-minute cab ride to Lincoln Center, The Metropolitan Opera, Time Warner at Columbus Circle, and 7-minute subway ride from Times Square. NEARBY GYMS: Equinox on Broadway and 92nd street. Reebok Sports Club on Columbus and 67th street. GROCERY STORES - Whole Foods and Whole Foods' Wine Store (right downstairs from building). HOUSE RULES: Turn Off A/C units when you leave the apartment. This is a non-smoking apartment. Drug use and rowdy behavior (parties) will not be tolerated, quiet hours are between 11PM and 10AM in the morning. No random additional "outside" guests allowed and no pets. Your ID will be checked upon arrival. Keys must be surrendered upon departure. Please treat the apartment as your own (or perhaps as your best friend's!) so that when I return, I find it as I left if for you. No need to wash the linens and towels before you leave, but please tidy up, take out garbage, and remove food you do not want. Remember, this is my home, not a hotel room. Any damage done to property must be paid for by renter. Thank you! PACKAGES/DELIVERIES: Please note, as this is our residence we cannot accept any deliveries without prior arrangements. All deliveries must be arranged with us first, and delivered to us during your stay. Other deliveries will not be accepted. Thank you for your consideration.
Room type
Entire home/apt
---
Property type
Condominium
---
Accommodates
8
---
Bedrooms
2
Upper West Side, New York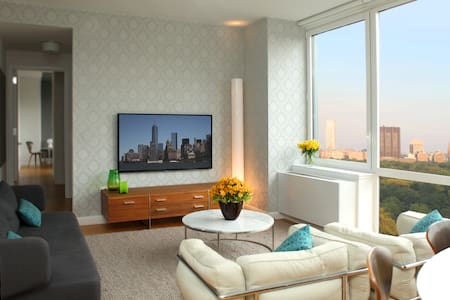 フォート・グリーンとの国境にあるクリントン・ヒルのすぐそばにあるこの1ベッドルームコンドミニアムでは、ニューヨークでの滞在に必要なものすべてを提供しています:CとGまで徒歩3分、アトランティック・ターミナルまで徒歩8分マンハッタンで20分以内に、ウエストビレッジで25歳に、ユニオンスクエアへ30歳未満で行くことを意味します。偉大なカフェやコーヒーショップ、レストラン、書店、フォートグリーンとクリントンヒルのフリーマーケットへは徒歩5分です。フォートグリーンパークまで5分、プロスペクトパークまで徒歩15分(1マイル)。 Susan SarandonとMos Defがこの「フード」に住んでいる理由があります。それは基本的にニューヨークで最も偉大な町です。私の考えでは。しかし、ねえ、それが私がここに住んでいる理由です。 アパート自体は次のとおりです:それは、中世の狩猟用ロッジシェイクのように記載されています。か何か。あなたがそのようなことをしているなら、たくさんの本やレコード、音楽があります。リルのキッチンで調理しながら曲を聴くのに良いステレオ。巨大なベッドルームとは、寝室で2寝ることができ、必要に応じてリビングルーム/ダイニングルームのエアマットレスに1〜2寝ることができることを意味します。私はここで、あなたと同じようにここにとどまっているすべての人たちと同じように、私の友人と同じように、ここでそれを愛しています。 アパート全体があなたのものになります。 私は任意の質問/アドバイス/ニーズ/ etcのためにtxt経由で利用可能です。
Room type
Private room
---
Property type
Apartment
---
Accommodates
3
---
Bedrooms
1
Clinton Hill, Brooklyn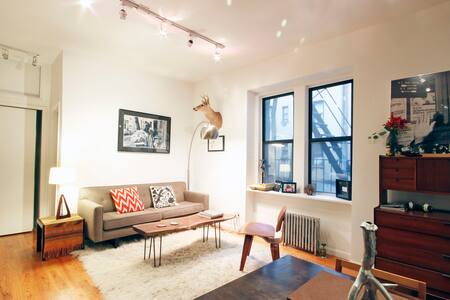 As seen on