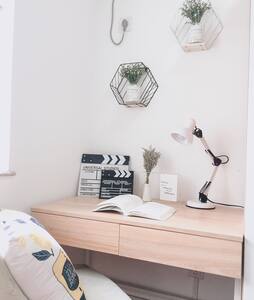 SUPERHOST
Private room · 1 guest · 1 bed · 1 shared bath
2「腾讯滨海大厦「海岸城「后海地铁站「深圳湾「来福士「南山书城站」花园社区套房内15㎡温馨小屋
Romm ₂ There are all desks, chairs, beds, wardrobes, and air conditioners in the house, and they are new. There is a dining table in the hall, and there is a row of snack cabinets, which contain biscuits, instant noodles, potato chips, snail noodles, etc. to be enjoyed together. The house is warmly decorated, and the room door is equipped with a code lock for safety and privacy. Whether you are here to play or work, live long-term or temporarily. This cottage will definitely give you a homely feeling. Speaking of geographical location, convenient travel, complete supporting facilities, Metro Line 9 Nanshan Shucheng Station is a 5-minute walk. Downstairs is a small supermarket, and across the road is Coastal City Mall and Maoye Department Store. There are also many bus stops downstairs. Ps: Take a taxi from Exit D of Nanshan Metro Station on Line 11 and Exit D of Houhai Metro Station on Line 2 to the community for reimbursement! ! ! ! !
What guests are saying:
"Great location, easy to get about the city and close to the CBD and the fancy malls and good bars in Nanshan district. The landlord Chen is very nice, responsive and hospitable. Price is reasonable and the apartment is nicely furnished. A five-star host. I strongly recommend to book with Chen."
Apartment address: Jiufang Shopping Center next to Shenzhen North Station 【landlord】 Hi, my name is Tim, and I am a renter, buddha hostel ~ I live here with my good friend, a good-looking little brother. In the entrepreneurial stage, I work as a social company. (Not GAY!) I also have two very good cat stars, gradually, 1 year old, if you mind cats, do not book. We are very easy-going and humorous. You don't have to be restrained when you come to my house. It can be said to be very comfortable, because we basically stay in the room and play games hahahaha, the living room is for you. Watch the movie and listen to the song great! The area around my home is really luxurious, a paradise for eating and drinking. It is Longhua Center. You live here is very cost-effective ~
What guests are saying:
"Transportation: Five minutes from the subway station, very convenient to the surroundings: There are many restaurants and other shops, and Jiufang is next to it. Well, thoughtful arrangements. There are British short cats in the room, docile relatives. Easy to take a bath, drying clothes quickly on the balcony, kitchen, projection, etc. can be used casually"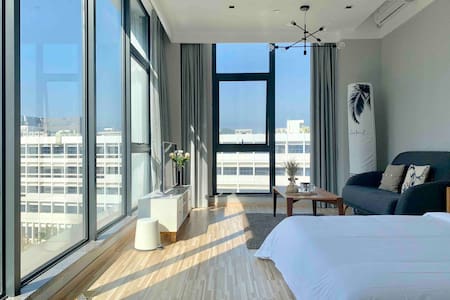 SUPERHOST
Entire condominium · 2 guests · 1 bed · 1.5 baths
猫筑·A#紧邻南科大校区#地铁5号线塘朗站#大落地窗#米家智能家居#100寸投影#赠送早餐#免费撸猫
The house is equipped with millet projection, wireless network, washing machine, refrigerator and other equipment; there is a paid washing machine room on the 4th floor elevator, which can be used for WeChat payment, laundry can be dried, once 10 yuan; 3rd floor elevator has vending machines. Night owls can buy snacks, instant noodles, drinks, and even family planning supplies. The elevator on the 1st floor has a great coffee shop. First, you can drink coffee and read books. It is more than 600 square meters. There are not many in Shenzhen. Such a large coffee shop; it offers light meals, light food, etc.; there are flowers, cats, yes, you are not mistaken, it also buys flowers, also carries out floral training, and most importantly, it is a cat coffee. At present, there are 10 different types of cats in the cat, in the innermost independent area, remember to use disposable liquid to disinfect before entering, wear disposable shoe covers, cat lovers should not be missed; 5 minutes drive from Shenzhen North Railway Station, Futian Xiangmi Lake is a 15-minute drive, Shenzhen Bao'an Airport is a 30-minute drive; the subway station is Tanglang Station, which takes about 5 minutes to walk to the property, about 500 meters.
What guests are saying:
"Amazing place to stay! Came for 2 nights and decided to stay for 5 months. The place is extremely clean, the pictures are spot on! What you see is what you get, there is a coworking space in the buildong, a great cafe with delicious coffee, Pizza, and Burgers downstairs. The location is ideal for anyone in Pekking university, with a great minimarket around the corner that has anything you can imagine. The staff were PHENOMENAL! (Especially Cho) They helped us speak to the bank in Chinese when we had an issue with our account and spent almost 4 hours helping us! The laundry room on the 4th floor is great! Room service twice a week! Projector works phenomenally, building is brand new and modern built maybe 2 or 3 years ago, great overall place. Cons: bed is a bit uncomfortable and hard, only 1 pillow for a person (i always sleep with 2) , a bit expensive (but worth it) breakfast is not something any westerner will eat and is exactly what you see in the pictures. Bottom line: I stayed in 5 different places and hated rhe area, apartment, and building until I came here! If you are coming from anroad this is where you want to stay!"