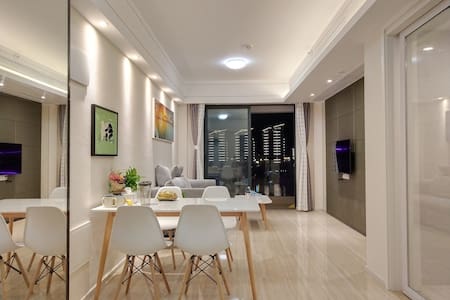 SUPERHOST
Entire condominium · 3 guests · 2 beds · 1 bath
三亚市第一市场高端社区与张嘉译吴京沈腾比邻而居超大落地窗看鹿回头 出海游艇 近大东海 三亚湾
The high-floor floor-to-ceiling windows and large balcony living room and bedroom of the first market of Haitian Shengyan can see the yacht sailing from the sea. Nordic minimalist design and Shen Teng Wu Jing Zhang Jiayi living next door Room facilities Central air conditioning, independent kitchen, wardrobe, Internet LCD TV, 100M Wi-Fi, (24 hours hot water) second floor sky garden, swimming pool, children's playground. First-floor yacht marina, Walnut Bar restaurant, Spleen card bar, tuna Hisense hot pot buffet, pepper kitchen coriander coconut chicken blue pepper fish and other net red restaurants Jinyi Studios KFC, Pizza Hut, large commercial supermarket, Jiefang Road pedestrian street, the first seafood market Just 200 meters across the road from the East China Sea, Sanya Bay Coconut Dream Corridor is 10 minutes away. Oversized underground parking lot 300 yuan per month
What guests are saying:
"The room is very neat and the scenery near the marina port is very good! The landlord's eldest brother is also very nice. Anything that is not enough will be delivered in person. I will stay here next time! Five-star praise to the landlord's big brother!"
SUPERHOST
Entire condominium · 2 guests · 1 bed · 1 bath
【Seven's Home】 三亚湾/椰梦长廊/高层/超大海景/躺在床上看海(入住四晚,免费接机)
Location: 50 meters to the beach, the best location in Sanya Bay, near the Moon Plaza. Crossing the road when the community goes out is the famous Sanya Coconut Promenade. Near Jiefang Road Pedestrian Street, Unit type: The room is a classic apartment house, 45 square meters, one bathroom, one hall, one kitchen, balcony with sea view; large floor-to-ceiling windows with sea view in the living room. The balcony is equipped with stylish hanging chairs, looking at the sea view, and relaxing. Landscape: Invincible front-line sea view; looking at Fenghuang Island from a balcony, admiring the starry sky; blowing warm sea breeze, watching sunrise and sunset; facing the blue sea directly. The bedroom lies on the bed and you can see the sea, Decoration: The landlord personally designed the decoration, which is full of fashion in simplicity, and pays attention to details to make you feel at home.The furniture is selected by the landlord himself. Safety. Let you enter the room and feel happy. Facilities: Suitable sofa, double bed, wardrobe, drying rack, cosmetic mirror. Wired and wireless network, Internet TV, air conditioner, refrigerator, water heater, electric kettle, fully automatic washing machine, complete appliances. Kitchenware and tableware are complete, you can go to the seafood market to buy ingredients and cook by yourself. Star hotel towels, bath towels, one change per guest, cleaning and disinfection, disposable toiletries. Services: Provide travel guides, anti-fraud matters, free luggage storage, free courier collection. Buy discount tickets for diving. Supporting facilities: residential garden gazebo, parking lot, access control system, surrounding supermarkets, pharmacies, hospitals, banks, farmers' markets, etc. Transportation: 7 bus lines at the gate of the community, leading to various attractions.
What guests are saying:
"Very caring landlord, providing pick-up and luggage storage services, also gave us a lot of travel guide recommendations, answering questions, simply praise, attitude is also very good. Of course, we are also very satisfied with the room, the price is super high, and the community walks right to the Coconut Dream Corridor. You can also see the sea view on the balcony, which is a very good living experience."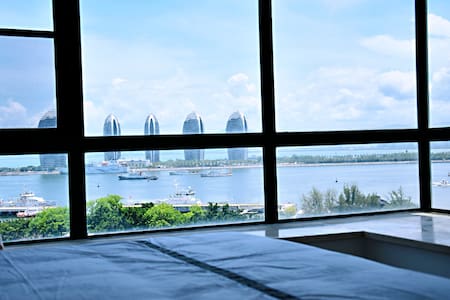 SUPERHOST
Entire condominium · 3 guests · 3 beds · 1 bath
【帽儿3】全面消毒/周租8折/全海景亲子房/距海边200米近大东海可住4大1小一室二厅/游泳做饭免费
If this room has been booked, you can click on my avatar page to pull down to see the bottom of the "Maoer" family can also choose other houses! "Maoer" house photos are real shots, what you see is what you get! This house is a family room. The room design and facilities fully take into account the humanized needs and occupancy of adults and children. 【facility】 Equipped with children's beds, strollers, children's tents, toys, children's toilet seat covers, shampoos, shower gels, milk mixers, milk warmers, bottle sterilizers, children's special towels, slippers, sand digging tools, etc., It can be used for cooking, with cooking utensils, tableware and seasoning. Equipped with adult disposable toiletries, bath towels, towels, slippers, shower gel, shampoo, hair dryer, etc. The bedroom and living room are all air-conditioned and equipped with LCD TV, refrigerator, washing machine, etc. Free wifi. Separate toilet (24 hours hot water bath is proper)! 【landscape】 Lying in bed to see the sea and Sanya Phoenix Island's landmark wide terrace can also enjoy the invincible sea view, the night scenery is more charming. 【Room type】 This room type is one room, two halls, one kitchen, one bathroom and one terrace, 70 square meters. The main bedroom is a 1.8m * 2m large bed, and there is a children's bed. The double sofa bed in the hall can accommodate 2 people. 2, 3. 【position】 The house is less than 300 meters away from the beach. The community is located between Sanya Bay and Dadong Seaview Area, looking at the sea from the mountain 【Nearby】 There are many supermarket restaurants within 500 meters. Near Luhuitou Scenic Area, Dadonghai Beach Bathing Spot. There is a bus stop at the door of the community. Shopping malls: Summer Department Store, Fishing Village Market, Construction Bank, etc.
What guests are saying:
"With a two-year-old child, I stayed at the late night on the first day of the five nights to watch the night view. The second day of the taxi ride, Dadonghai people were more than the third day recommended by the landlord near the neighborhood. There is a basic playground in the children's play area. The sand is also good. You can go to Xiaodonghai in the afternoon. The taxi is also the starting price. You can catch the small crab. On the fifth day, you go to Luhuitou and go to the nearby Banyan Tree afternoon tea. Enjoy a whole beach and children's play facilities, which is highly recommended. I went to Yalong Bay after the check-out. I am a little uncomfortable. Yalong Bay is really too many people. I miss the bed and breakfast for a few days. It is a real vacation to focus on digging sand and being dazed."