Great Apartment in Santa Ponsa seafront, swimming pool, great for big fammily. Marvelous views to the sea and bay of Santa Ponsa. Cristalines water just in front of the apartment. Located on the beach front with direct access to the water, swimming pool umbrella in solarium with direct access to the waters crsitalinas.Aire conditioned in all rooms. Porter service. Garden, terrarium.
What guests are saying:
"Fantastic "home", an apartment that feels like a house. With all the touches including placemats, dishwasher, coffee, loo paper, sun beds, buckets and spades beach towels etc. really felt as though you were staying at a friends place. What an amazing view, and location. Photos don't do it justice- you are on top of your own little beach on the med. There are hundreds of restaurants and supermarkets within a stones throw. We were 3 women, mother daughter and aunt, and we couldn't have wished for a better set up. We each had our own bedrooms and 2 bathrooms. A very spacious apartment that could easily host a big family. Santa Ponsa whilst away from the charm of the old city, gave us everything we needed for a late October break. We found it easy to get around with a hire car, from this location. One note would be as a non European the parking on site is very very tight, so fitting a large family car would require confident reversing skills in a narrow steep driveway. Even our mini required a 6 point turn to get out. Absolutely doable but think about the size of your hire car. Great value for money and Miguel was great with his communications. Big tick from me who has stayed in many Airbnb's around the world"
Apartment 100 sqm, fully equipped, located in a very peaceful area next to 3 different beaches and fresh air filled with the fragrance of pine trees. Ideal for couples and families who would like to relax and enjoy Mallorca in all seasons. From Airport of Palma you can get to my place just in 25 mins drive or about an hour on express bus which stops nearby.
What guests are saying:
"This place is beautiful! The view and the cozy homey feel is what won me over! A few of my go-to questions when picking my stay: - Kitchen was very well stocked! I was so happy to be able to cook full meals with ease. (Like real pots/pans and a full refrigerator/freezer) - WiFi was great, we were able to be on our phones and edit pictures and videos without hassle (not always something you can say when traveling) -Parking was a breeze -It would have many things easily walkable during peak season, off season I'm glad we had personal transportation -Eroski is about a 10 min drive, the grocery store I'd recommend -TV was nice and had Netflix, sometimes it's just nice to unwind with familiarity It is a great location (probably even better during the peak seasons). We rented Vespas and were able to see some amazing coves within an hours (super fun) drive. The coves and beach within Santa Ponca are enough to enjoy your stay, but it's amazing how many beautiful spots are within such a fun drive through picturesque towns! I am 100% satisfied we picked this place, and really happy we added this stop to our trip!"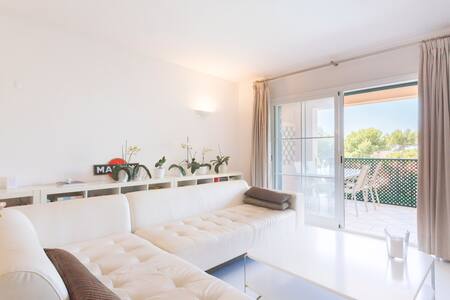 SUPERHOST
Entire apartment · 4 guests · 2 beds · 2 baths
COMFORTABLE APARTMENT WITH POOL,GARDENS &SEA VIEWS
Comfortable apartment in quiet and residential area, with sea views and great communal gardens and swimming pools. Well communicated and very close to the beach. Ideal for a great holiday with family or friends. Conditioned with everything you could need
What guests are saying:
"From the center of Santa Ponza it is 2 km, so the car is necessary. The apartment is in a very quiet location. At 21 o'clock it is really quiet. The apartment is beautiful and clean. In the kitchen could be a bit more equipment (knife, kitchen board) I can recommend the accommodation for families. We had wonderful holidays. Thank you Carmen !!!!"