Filters
Entire Home

Listings where you have the whole place to yourself.

Private Room

Listings where you have your own room but share some common spaces.

Shared Room

Listings where you'll share your room or your room may be a common space.
Room Type
Price
Size
Social Connections
Employee host
Instant Book
Superhost
Neighborhoods
Amenities
Property Type
Host Language
×

Close
Browse listings you can book immediately since you plan to arrive soon.
3 Rentals
We recommend booking a place soon.
We recommend booking a place soon.
Look for the lightning bolt for faster booking.
3 Rentals
We recommend booking a place soon.
We recommend booking a place soon.
Look for the lightning bolt for faster booking.
Cosy, comfortable and spacious 40sq m room, ensuite bathroom. Pure cotton bed linen and big fat bath towels. Situated in the old cave co-operative of the small tranquill and picturesque village of Trilla. Parking, Wifi. Meals available on request.
Unique building, one of the old and original cave co-operatives. Partly renovated, leaving many of the original features intact. wifi Horses Tennis Walking/hiking Dolemans Swimming Cooking I do live here. I am availble to interact, help, suggest places of interest, organise meals, outings, workshops, massage sessions, salsa dancing, etc as much or as little as you wish. I love how nature is displayed at its finest. Hard rustic, beautiful and true. The originality and friendliness of...
Trilla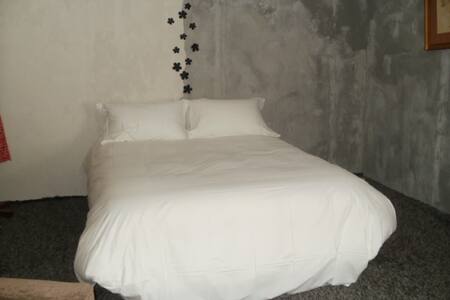 Light and spacious loft space hosting 10 comfortable beds with cotton bed linen. The shower and bathroom is shared. Breakfast terrace. Stunning scenery, nature walks, horses,and wildlife. Meals, snacks, smoothies and drinks at your request.
Unique old and original cave co-operative located in the small and friendly village of Trilla. Beautuful veiws from the large open plan spacious loft. Wake up with the sun rise. Feel free and refreshed. wifi all touristique amenities I live here to , so if wished there is ample opportunity to mix and meet my fourlegged friends. I also offer myo fascia release massage, equine behavoir workshops, cooking lessons including an introduction to Raw Food. Salsa dancing lessons can be arrange...
Trilla
Stunning views and spaciousness, modern, comfortable, and open allow this apartment to sleep up to 6 persons. Situated in the loft space of an old winery in a small village. Enjoy connected individuality freedom of spirit.
The apartment is situated upstairs in the building which was an old winery. Guests have access to all outside spaces. There is also an original bathroom inside one of the wine vats, and also a massage room. Easy parking available. I am normally around, I live in another part of the building, and am very happy to suggest or arrange any tourist activities you may wish to do. I can also cook for you . Organise wine tastings. Cranial Sacral massage is also available. I Love this area for i...
Trilla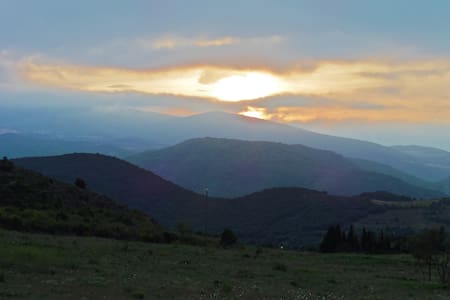 Instant Book
Secure a reservation instantly
Instant Book
Book without waiting for your reservation to be accepted