Enter dates to see full pricing. Additional fees apply. Taxes may be added.
La Ripolina BIO è un agriturismo che si trova vicino Buonconvento tra le Crete senesi e la splendida Val d' Orcia. Siamo in mezzo alla campagna sulla cima di una collina davanti ad un panorama senza fine. Aria pulitissima e relax
La Ripolina BIO è un agriturismo che si trova vicino Buonconvento tra le Crete senesi e la splendida Val d' Orcia. Siamo in mezzo alla campagna sulla cima di una collina davanti ad un panorama senza fine. Aria pulitissima e relax
The host canceled this reservation 309 days before arrival. This is an automated posting.
roberto
Laura is a very open and welcoming hostess. She as understanding of the area and is up to date to local events near Buonconvento. The facilities are good and la ripolina has a very romantic tuscany feeling. The wifi is only available at the reception desk but Laura was going to change this soon, so that there is internet in every room :) The silence is the nicest thing in la ripolina, its really a nice place to replenish your energy.
Sean
July 2015
Le logement et le cadre correspondaient tout à fait à l'annonce . Calme et volupté dans cet environnement très Toscan , très italien , très esthétique ..... Le sourire , la bonne humeur de Laura en plus, et ses tomates et basilic qu'elle nous offre chaleureusement .... Merci pour ces moments de bonheur simple.
Karinne
August 2015
Room type
Entire home/apt
---
Property Type
Apartment
---
Accommodates
3
---
Bedrooms
1
Buonconvento
The Ripolina is an organic farm located near Buonconvento between the Crete Senesi and the beautiful Val d 'Orcia. We are in the middle of the country on top of a hill in front of an endless landscape. Clean air and relax
All the apartments are in restored old Tuscan farmhouses. Each has a fully equipped kitchen, bathroom with shower, and outdoor space with table and chairs and endless landscape All guests can freely use the swimming pool, barbecue, mountain bikes, gym, table tennis and a playground for the little ones Laura and her family is at guests' disposal for advice on what to visit or eat, solve the problems that may arise and sometimes even cook with them and for them.
The place is beautiful, in front of Montalcino, 25 km from Siena, on the Via Francigena, the old pilgrim route. The view is over the Siena hills and ranges up to Monte Amiata and beyond. We are 3 km from the village of Buonconvento which is on the sr2, within easy reach of Siena (25 km) and also directly from Rome. Nearby Montalcino, Pienza, Montepulciano and many beautiful abbeys and spas. In Buonconvento there is train and bus station Near the Ripolina there is everything: a close riding center, spa, places of art and culture. But above all we offer ourselves and our hospitality.
Our apartment was fantastic. Great central position for visiting Tuscan towns. But also a great place to just relax by the pool. Everyone very friendly.
Prue
August 2015
Thanks for a great stay Laura! Perfect location, very quiet on the hill. The accommodation was very good, big swimming pool, bbq facility and the free bikes. She also provided advice and information when asked. We really felt at home on vacation ;-) I certainly can recommend this location!
Geert
August 2015
The accommodation was Belvedere A, a one bedroom upstairs flat with kitchen/dining room and a very small shower room. The shared swimming pool and the area around it was very pleasant and clean, the garden pretty and well maintained. The house was clean but very basic, with a bed with two zipped together single mattresses which were poor quality. The roof leaked during a thunder storm directly over the bed.
Vanessa
June 2016
My friends and I had a fabulous time at Laura's. The surrounding countryside was stunning, the apartment was lovely and we enjoyed every minute of our stay. We were particularly interested in learning about the local wine.
Katie
August 2015
La Ripolina is in a beautiful location, on a hill surrounded by fields of sunflowers. It also has a wonderful, nicely maintained swimming pool that's a great place to begin or end a day of exploring the Tuscan countryside. However, the apartment itself was very uncomfortable. It didn't appear to have been thoroughly inspected or cleaned in some time - there were cobwebs in places and a dead bird caught between the bedroom window and screen. The apartment was also extremely hot, and we were given only a small tabletop fan that was entirely inadequate for cooling down the bedroom at night. Worst of all, the apartment was swarming with flies and mosquitos (there are window screens, but the bedroom screen was ill-fitting and the mesh had separated from the frame). When we notified our host about the bugs, she gave us two old cans of bug spray that were each about 25% full. With a bit of attention and work, La Ripolina could be a fantastic place, but right now I can't recommend it unless you are looking for a very basic (student hostel-style) arrangements.
Michael
July 2016
Laura and her family made us feel very welcome at her villa in Tuscany. The apartment had everything you needed. It is about 30 minutes drive out of Siena. We used the BBQ that was supplied quite often and it was perfect for the hot summer nights. The pool and gardens were beautifully maintained. Laura and her husband, Mario were a wealth of knowledge and gave us recommendations if we needed them. We will definitely stay there again, when we visit Tuscany.
Rose
July 2015
Laura greeted us warmly and provided us with answers to all or our tourist questions. The location was central for wine country, Sienna and San Gimignano. It was a bit of a drive for a day trip to Florence. Rustic apartment with fantastic pool - much appreciated during the recent August heat wave. Good Wifi signal at the reception area. Not mentioned online was a very good breakfast buffet as an option. We enjoyed our stay at this quiet peaceful country neighbourhood near Buonconvento.
Gina
August 2015
Laura nous a reçu avec beaucoup de gentillesse et son accueil était très chaleureux. Elle a su répondre à toutes nos questions tout en respectant parfaitement notre intimité. Le cadre est magnifique et le logement est très fidèle à sa description.
alain
August 2014
Room type
Entire home/apt
---
Property Type
Apartment
---
Accommodates
3
---
Bedrooms
1
Buonconvento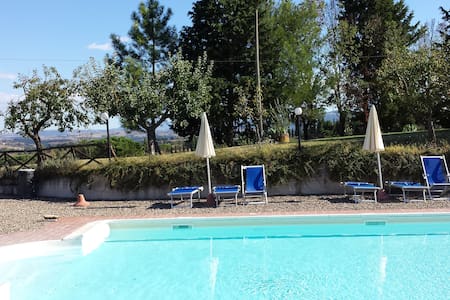 La Ripolina BIO è un agriturismo che si trova vicino Buonconvento tra le Crete senesi e la splendida Val d' Orcia. Siamo in mezzo alla campagna sulla cima di una collina davanti ad un panorama senza fine. Aria pulitissima e relax
Ripoli
La Ripolina was the perfect place for visiting Tuscany! Laura was very welcoming and efficient and made good recommendations about local restaurants and places to visit. Our room was comfortable with a beautiful view, and we really enjoyed meeting other guests from all over the world while eating a delicious breakfast each morning. If you want the real Italian experience in the Tuscan countryside, I cannot recommend La Ripolina highly enough. We would definitely go back.
ellen
September 2015
Stunning location. Swimming pool offered great relief from the heatwave. The breakfast spread is extremely generous and varied each mourning. Our room was big and the house was very quiet. Met some lovely travelers during breakfast time.
James
July 2016
Laura was great and even stayed up late to let us check in because we had issues traveling earlier in the day. The room was nice and the b and b had a very good breakfast spread the next morning. We spent most of the day on the vineyard walking around, eating grapes off the vine and got a nice tour from Mario. The location is spectacular with breathtaking views around every corner.
Eric
September 2015
La Ripolina is a great place ! We got there at the afternoon hours, following Laura's description on how to reach the farm. We got to a real Toscany atmosphere place, with a great view and peaceful area. The room was comfortable and clean, the area outside the room gave us a calm and homely feeling, and of course an excellent, fresh and tasteful breakfast. We spent 2 nights at La Ripolina, and my guess is that next time we should spend some more time. Highly recommended !
Dror
October 2015
Amazing location in a very picturesque setting, right in the heart of Tuscany. Very good breakfast, with warm and pleasant advice from Laura!
Nikita
August 2015
As we were arriving in the evening, finding the place was a difficulty as there were no signs or further description on their profile page. But once it was morning, the view and lovely breakfast compensated for all that. We really enjoyed our short stay and would recommend it to anyone who is looking to use it as a base while exploring the region of Tuscany.
aleks
September 2015
Very nice stay! Great for relax and families. Great place to stay and explore Tuscany!
Vanessa
September 2016
Laura's place explains why so many people love Toscane. It is one of those places in the countryside where you can shoot a random picture and use it as a postcard. Laura is very welcoming and the breakfast she makes is special: everything she serves is homemade and delicious!
Jascha
August 2015
Room type
Private room
---
Property Type
Bed & Breakfast
---
Accommodates
3
---
Bedrooms
1
Buonconvento
Vivi una vacanza indimenticabile nella medievale Pieve di Piana,situata nel cuore della Toscana autentica di fronte a Montalcino e circondata da vigneti. L' appartamento può ospitare sino a 10 persone, ideale per ritrovi familiari o gruppi di amici.
Passare una vacanza abitando nella medioevale Pieve di Piana non è da tutti! L' appartamento si trova in questo complesso posto sulla via Francigena, l' antica strada percorsa dai pellegrini per andare a Roma, e vi hanno soggiornato anche 2 Papi. E' molto grande e particolarmente adatto a gruppi di amici o famiglie numerose. Ha un cortile privato recintato dove è possibile mangiare all' aperto e dove possono giocare i bambini senza pericoli o tenere gli animali domestici che ci seguono nelle vacanze . Gli ospiti dell' appartamento potranno usufruire della piscina aziendale, della palestra, delle biciclette,del ping pong . Vicino a noi un maneggio convenzionato e varie stazioni termali. Io e la mia famiglia siamo sempre in azienda, disponibili per i nostri ospiti. Poi l' azienda agricola è biologica, potrete gustare i nostri ortaggi e il nostro vino.
We had a lovely, restful two week holiday, the house was cool, clean and very grand with beautiful views. Laura was a very friendly host and helped us out when needed. We hadn't realised that the pool was a ten minute walk away, but this was a blessing as the walk through the vine yard was lovely and it meant that we didn't have to worry about our children taking themselves off to the pool.
Ellen
August 2016
La Ripolina si trova in una posizione davvero bellissima. Ho passato una vacanza molto piacevole, sfruttando la piscina, godendo del sole e della bellezza del panorama intorno. Laura è stata gentile e tempestiva negli interventi che abbiamo richiesto a fronte di alcuni inconvenienti. Era quello che stavo cercando e vorrei tornarci.
paola
September 2015
Très bonne adresse, situation idéale pour les familles avec enfants. Nous étions au calme dans la grande abbaye un peu a l'écart des autres appartements et de la piscine. L'accueil de Laura et de son mari a été très chaleureux. Merci encore pour cette belle soirée du 14 Août. Adresse définitivement à recommander.
Laurent
August 2015
Nous avons vécu ces 15 jours au milieu d'une carte postale de Toscane. Laura et Mario sont adorables et donnent plein de bons conseils. On peut rejoindre la maison près de l'église en empruntant un chemin dans les vignes de toute beauté ! Bref, un séjour merveilleux. Merci !!!!
Frédéric
August 2016
Room type
Entire home/apt
---
Property Type
House
---
Accommodates
10
---
Bedrooms
4
Buonconvento