Now SOLAR-POWERED!! Discounts available- Student, Long-term or last minute Clean, safe private accommodation in a great neighborhood, close to subway,grocery stores, park, bars, outlet shopping,restaurants. FREE PARKING, Air conditioner,just perfect!
Ask for discounts if you are interested in booking, we offer Student discounts Long - term discounts (longer than 5 nights) Last minute discounts Wonderful living arrangement in a safe, beautiful neighborhood of Somerville, about 4 miles from Boston downtown. We live in a large home, and want to open the spare bedrooms out to our guests. This 'room' in question is actually a basement level 1 bedroom, 1 bathroom unit, with its own entrance. It doesn't feel like a basement because it has its own entrance and a window, feels like a regular room. the home is over 100 years old so it has some character. It has no cooking facilities. It has its own entrance, if you want to move in and out. We have a hot plate available for long-term guests that you can use if you use it responsibly and follow all safety precautions while using it. It has a large unit that contains a living room with comfortable seating area, and kitchen/dining area, a bedroom that can loll accommodates a queen bed. And a full bathroom leading off the living room. It is like a studio apartment with the privacy you need. There is an AC in the bedroom. Windows bring in light in both the room, and the living area, it is a nice place to crash in after a long day shopping and sight seeing. It has plenty of storage, and a closet to hang your clothes in. Bedroom - Real bed Living room - Sofa bed (comfortable ikea unit) Location - House is located in Somerville, which is a town just north of Boston, and to the East of Cambridge. Its about 10 min by car to Boston downtown (about 3-4 miles), so its great. Public transport options - There are 3 subway lines at varying distances to the house, depending on where you want to go. The Boston transit system is a well-connected one, and there's Red, Green and orange lines at close distance to our place. Orange Line - Sullivan Station - Less than a mile away - frequent buses take you within 5 min. Bus stop less than a minute (website hidden) Line - Lechmere station - Bus stop to get to the station is a 5 min walk, takes you to Lechmere Red Line - Davis Square Station - same bus stop as for orange line, but go the opposite direction. Orange line is closest at 1 mile away. Right opposite out home is a beautiful public park, that has 2 tennis courts, a basketball court, baseball field, soccer ground, and even a public pool that is open from may onwards. Available for you to use. Parking We have parking available (a visitor permit if you want for 2-3 days), or a long term parking on our dedicated drive way. Extras available - iron and board wireless internet towels washer dryer in the unit Whatever else you might need. We are a functioning household, so we will be able to accommodate your requests at a reasonable rate. Neighborhood - Lots of restaurants close by grocery store just few minute away (stop and shop) dry cleaning, convenience stores, few min walk I will be updating the guidebook to the listings shortly, to make it easier. Please ask me any questions you have. We are not new to hosting, although this house is new. We welcome our guests with open arms, and make their stay pleasant and memorable. Pls ask me any questions you have.
Its proximity to boston downtown and proximity to public transport stations. Safe area with plenty of restaurants and grocery stores. Assembly square outlet mall just opened up within walking distance with stores like j p licks and Saks 5th Ave. And an imax theatre. Theres lots of fun stuff happening there. We've a large park just minutes from our home.
Not worth it... the place is dirty and outdated. Photos do not display holes in the red painted walls and fallen leaves on the floor. Sheets wasn't clean...
Anastasiya
2016-11-28T00:00:00Z
Just stayed in Somerville these hosts were wonderful. Made our arrival which was very early in the morning very smooth and were very flexible with check in and check . Will definitely stay again if in the area and recommend this spot.
Steven
2016-10-24T00:00:00Z
Anjana and Karthik were wonderful hosts. Very kind and helpful. I had everything I needed for my stay and if there was something I had a question about, they were quick to respond. Their place was perfectly situated for my visit. Halfway between the city and the suburban towns where I had business to tend to. A short distance from Davis Square as well, which is full of good bars and restaurants.
Christopher
2014-01-11T00:00:00Z
Listing was accurate. Nice place, but definitely worn. I just needed a place to sleep for a work trip, and this was great for that. Very affordable for a place that isn't shared. I didn't think the walk to the Assembly Square T stop was that bad either (though I admit I walk a lot where I live). Hosts were kind and available.
Erin
2015-11-20T00:00:00Z
We felt very welcomed at Anjana and Karthik's! We were pleased to meet there pretty little daughter. The place was great and clean, we didn't miss anything! Thanks :)
Margue
2015-07-21T00:00:00Z
The apartment has a great location near a bus stop, also there is some good and cheap places to eat around. Moreover, the apartment was clean and comfortable.
Gabriela
2014-07-09T00:00:00Z
The place was great, and easily accessible to public transit. The neighborhood was nice, safe, and close to restaurants.
Nicholas
2015-05-24T00:00:00Z
Hosts were very kind, welcoming, and willing to help me move my things which was nice. Private off-street parking was great. Great value if you need a basic private place in Somerville. Will stay here again.
Alexander
2016-12-12T00:00:00Z
Room Type
Entire home/apt
---
Property Type
House
---
Accommodates
2
---
Bedrooms
Somerville, MA, United States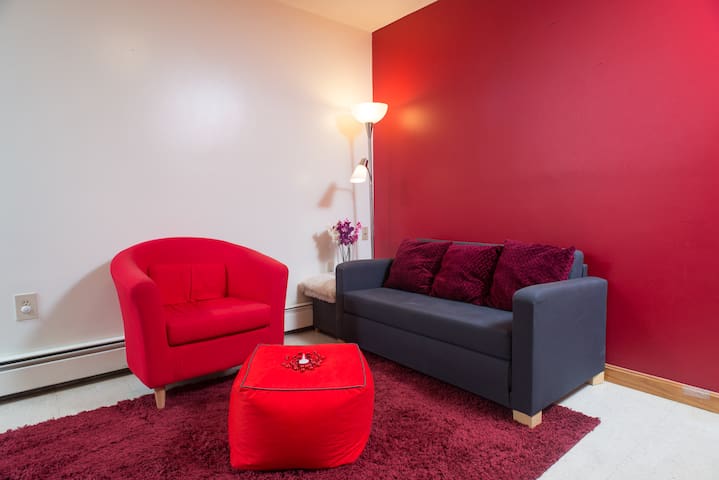 Ask for great discounts for last minute, student, long term stay (more than 5 days). Cozy and clean 2 bedrooms (1 queen , 1 full bed) with private bath available -SOLAR POWERED HOUSE WITH FREE PARKING, located 1 mile from subway on frequent bus route, and flexible check in timings for you , has shared entrance. We can accommodate up to 3 people. Very quiet and safe neighborhood. Shops and restaurants close by. Welcome!
Private bedroom(s) and bath available in close distance to the Subway station. Equally located between Orange, Red and Green line subways, it is a great area to stay while you explore the best of Boston. It is very quiet while being close to the hustle of the city. If you have a car, we have parking, for 3 days, or 2 days, or for more than that too. We have a dedicated parking spot, and a beautiful park right next to our home. This listing is for 2 bedrooms upstairs - one has a queen bed, and the other has a full bed. It has a private bathroom available on the same level. So if you want separate sleeping arrangements, we can offer it with this listing. We may be able to offer accommodation for up to 3 guests for an extra charge, depending on the number of dates requested. We live on the first level so we share the entrance, the living room and the kitchen. You climb the stairs to reach your bnb. You are more than welcome to use our kitchen to eat in, to use the fridge to store perishables, and to make yourself a cup of tea or to hang around in the living room. We do have a toddler who we try to clean up after, so excuse us if the common space is not up to par with your rooms. Ask for discounts if you are interested in booking, we offer Student discounts Long - term discounts (longer than 5 nights) Last minute discounts It is a home, and we ask that you respect our rules, one of the biggest being no slippers indoors, unless it is one designated for the house. And the other thing being please follow garbage protocol, we are a family that recycles and compost and strives to be eco-friendly. Ask for the designated bins so you can segregate the waste you generate while in the household. We know you will love your stay here, like our previous 300+ guests have. We love to hear your stories. We may be busy, but we will take the time to be social, and converse with you if you like that sort of thing. If you are here to sight see and are too tired, that is fine too, just feel free to treat it like your own place. There is no cooking facilities, but you can use the fridge to store small items. We have multiple guests, so we like to have space available while still using it, so we ask that you don't stock up for a week. We can provide 2 towels for your use, included in the price. There is a washer dryer in our basement that you can use. Most Importantly, make sure you have a wonderful time in Boston when you visit! There are tons to do here!
bedroom available in close distance to the Subway station. Equally located between Orange, Red and Green line subways, it is a great area to stay while you explore the best of Boston. We have a dedicated parking spot, and a beautiful park right next to our home which has a pool. Very quiet neighborhood, and there is a beautiful park right next door with a pool, tennis courts, and a play area for kids 1 year - 10 years. Borrow our tennis racket for a game or borrow our bikes and go explore the neighborhood. Ask for discounts if you are interested in booking, we offer Student discounts Long - term discounts (longer than 5 nights) Last minute discounts
Very hospitable people. The room was just as described. It was quiet and I had my privacy.
Omar
2015-03-31T00:00:00Z
Karthik was a very friendly and also host although I didn't get the chance to talk to him much. He helped me find my way around the area but also respected my privacy. The room was nice and convenient. Although the space to unpack my things was really limited so you have to keep that in mind if you are travelling with much luggage. Altogether I had a good time at Karthiks and Anjana's house.
Anna
2014-12-29T00:00:00Z
Staying with Anjana and Karthik was great!! Booked for a night and ended up staying for two weeks. It felt like I had joined a small family including sitting down to dinner once or twice. The room is basic but comfortable, just what I was looking for. Thanks for a great time, will definitely be in touch if I'm in the area again Liran
Liran
2014-03-24T00:00:00Z
I did not see much of Anjana and Karthik, as they have just had a baby (so it´s quite understandable), but her parents were visiting, lovely people, who showed me around the house and helped me get settled in. When I did see and speak to the hosts, they were very friendly. The room is as in the pictures, it was clean and the bed was comfortable. I thought it was going to be a little closer to the train station, 15 minute walk, or a short bus ride, but buses are not that frequent. Nevertheless, it is quite close to Boston centre and also to Cambridge.
Nadia
2014-10-15T00:00:00Z
My stay at Anjana and Karthik's house was really nice. They are very welcoming and very accommodating. The communication is very efficient. They agreed to make a discount when I asked them about it and they offered me to share their dinner a few times. It was like being home for a moment. Two buses run from the house to Sullivan square Station. You need to get the buses schedule but you can also walk to the station (15/20 min). If you take the bus you can be in Downtown Boston in 30 min max. They are shops and restaurants near the house. I definitely recommend this place for a stay in Boston.
Kavita
2014-05-14T00:00:00Z
The room was small but clean, but had everything I needed. The hosts are very friendly. If you have to go to Cambridge, as I did, I have to say that it takes quite a while to go there with public transportation. (Thats the missing star) For all others, I can recommend it to stay here. Michael
Michael
2014-06-01T00:00:00Z
Anjana & Karthik are amazing people an made me feel very welcome. The room and bathroom were clean. Quick walk to the bus and Orange line into Boston in 30 minutes without the headache of traffic.
Jed
2015-05-19T00:00:00Z
Anjana is the perfect host, discreet, welcoming and available. Her place is very nice and the room lovely and clean. Bus is very close to the house and also places to buy food and eat. Anjana and her husband gave us also good recommendations for useful apps and hotspots. They also provided us with coupons for Lyft and a great mexican restaurant. I highly recommend her and her place.
Sandra
2016-06-01T00:00:00Z
Room Type
Private room
---
Property Type
House
---
Accommodates
3
---
Bedrooms
Somerville, MA, United States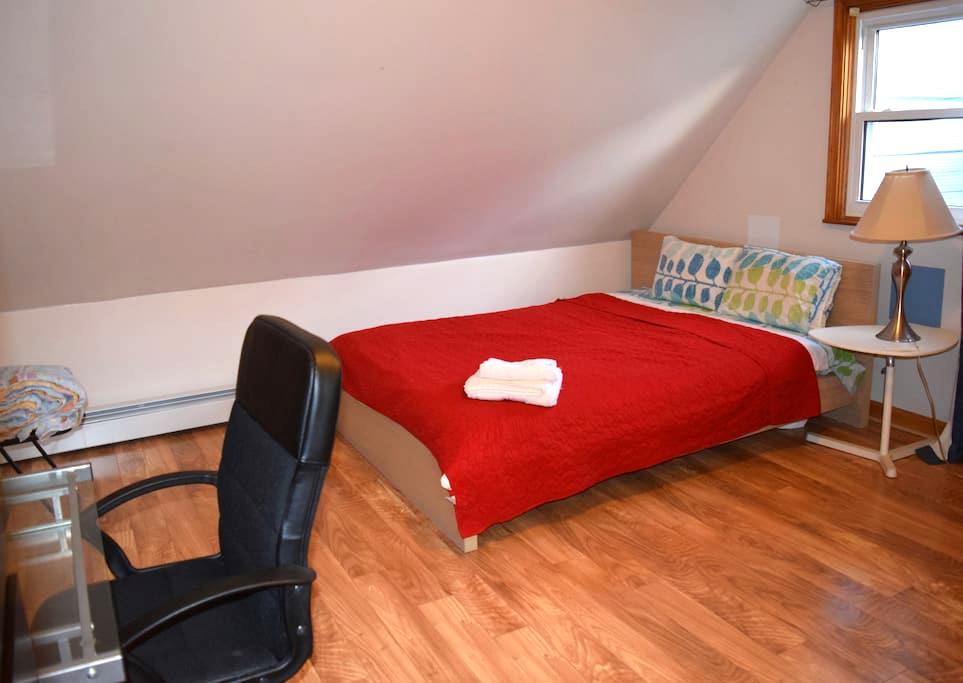 Enter dates to see full pricing. Additional fees apply. Taxes may be added.