Enter dates to see full pricing. Additional fees apply. Taxes may be added.
This is a brand new building in the heart of Çukurcuma. A beautiful apartment in a beautiful building. It is decorated tastefully, and everything is thought for your comfort. All linens and towels are provided. Very central!
Urban studio, with its modern and minimalist interior design, offers you elegance and practicality. What is most significant about Urban studio is its windows reaching from the floor to the ceiling. Once you open the curtains, you fill your flat with sunshine and chill while listening to the birds singing . Along with the comfort, Urban Studio has everything you need ranging from cutlery to towel, kettle to TV, bookshelves to big mirrors. The video intercom allows you to see who is at the door, increasing the security level. For an elegant and a comfortable stay, Urban Studio is your flat! Guests have access to all in the apartment. Me and my colleagues are 24/7 available for any kind of requests & questions.
Urban apartment surprises its guests with the surrounding variety of shops. If you're an antiques lover, Urban gives you a next-door-neighbour antiques shop. If you want to have a Turkish breakfast but also a smoothie, Holy Coffee is right there to provide you on your street. Regardless of its quietness, it is surrounded with Auction House, designers' jewelry shop and art galleries. If you walk 2 minutes up to Sıraselviler Caddesi, you'll encounter supermarkets, corner shops, meze shops, pharmacies, ATMs, cosmetic shops, wine and spirit shop, restaurants and even vegan cafes. Therefore, Urban ensures you that whatever you need will be in your reach within 10minutes walk, including Taxim Square, Galata Tower and the tram line passing through Tophane to the Old City. Pls note that there is a small mosque that gives the street its name right across and there are calls to prayer 5 times a day. If you need to check out later than noon, I will request half of the daily price charged. If you need to check out even later than 17:00 hours, I charge full day price.
The host canceled this reservation 8 days before arrival. This is an automated posting.
Fatih
The place was beautiful and the location fantastic. Highly recommended.
Leonardo
October 2016
My host was sure to be available for questions when I got off the airport transfer shuttle they provided for an extra fee. The fee was at a large premium compared to getting a taxi, and the shuttle did not actually know where he was going when I got in leading to a gruff and uncomfortable welcome. I would not recommend forking over the cash for the shuttle -- just get a taxi to Istiklal and use a maps app to find your way. The posting is accurate, the space is great, except that there was no laundry detergent -- I had to find that on my own. The lack of dryer wasn't much of a problem--a small rack for line-drying was provided, but it was a surprise for me since I hadn't read the listing thoroughly. The bathroom was amazing; I loved it. There is a minaret right next to this unit, so be ready for a really authentic experience since daily prayers will be blasting in to your unit quite clear.
Lincoln
August 2015
The location for this apartment is extremely well situated. Right in the heart of a beautiful neighborhood wih coffee shops restaurants and antiques. The pick up and drop off of keys was very professional. the apartment was tasteful and clean.
Cecilia
November 2015
I loved my time staying in this studio! The location was perfect, you could cut over a few streets to the main street that led into Taksim or you could meander down a few streets to get to Istiklal which led into Galata and down to the water. Very convenient, and there were a few great breakfast spots very close. The interior of the apartment was great and everything looked just as the photos show. I was offered a portable wifi to rent which was amazing and came in handy throughout my stay. The host was very easy to communicate with as well. If I come back to Istanbul, which I really hope I do soon, I will definitely stay here again. Highly recommend!
Michael
November 2015
Ishil provided me an amazingly smooth arrival. The apartment is incredibly beautiful, just like the pictures, definetely the best airbnb I've stayed in and true 5 star interior. I would totally live in this apartment permanently, so gorgeous! Ishil is so easy going and very easy to communicate with! Loved it so much
Leon
August 2016
Absolutly worth the value! We had great time in this lovely clean apartment and the location is fantastic!
Netta
January 2016
The neighborhood was perfect (lots of great restaurants and antique shopping) and the space was really elegant. The bed was extremely comfortable and having the washer was key. Ilker, Soner's contact, was extremely responsive and helpful.
Claire
October 2015
Room type
Entire home/apt
---
Property Type
---
Accommodates
2
---
Bedrooms
0
Cihangir, İstanbul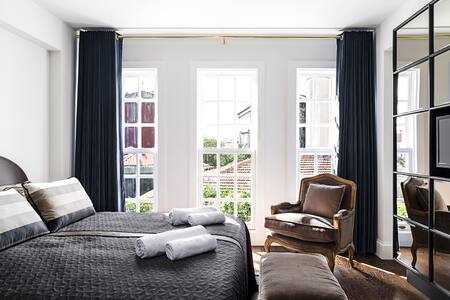 Our apartment is in the entrance floor in a new building. It has 1 bedroom, 1 bathroom and a living room with an open kitchen. The living room is furnished tastefully - a very comfortable sofa, flat screen TV with satellite and DVD player. Kitchen is fully equipped; you will find everything you need! Especially in the spring and summer time, you'll enjoy the balcony! As seen in the photos, it has an amazing view. There is a natural gas combi heater, air conditioner in the living room, hair dryer, clean sheets and towels and free weekly cleaning. Wireless and a diaphone buzzer is a standard in all our flats. Apartment is ideal for couples and/or families. There is 1 double bed in the bedroom and a very comfortable sofa bed for 2 in the living room.
The location is very convenient for those who want to explore the city! It is between Tophane and Cihangir, so close to the Bosphorous as well as the old city route. In two minutes down the way, you arrive at the Tophane tram stop from where you can reach Sultanahmet in 10 minutes. Or 5 minutes up the way, you arrive in Cihangir and then the Istiklal pedestrian area, where you will find many good restaurants, cafes, shops and markets. It is also easy to arrive with a taxi, right across the Italian Hospital. German Hospital is also 10 minutes away.
Cihangir 111 was one of the best places I stayed in abroad. The location is close to Tophane tram station, and the trendy streets around Cihangir yet far enough from the party noises of Taksim nightlife. The apartment was very clean, well equipped and quiet spacious for a couple. I believe even four people could stay there comfortably. The livingroom boasts a view of the sea and topkapi palace, which was a nice addition to a morning drink on ths couch :) The neighborhood has small grocery stores, a great breakfast place, and cafes nearby. The only warning I might add is the location is on a steep street so unless you are fit to climb (I did it with a baby bump), use a cab, or come home from Taksim direction that way you only need to walk downwards. The host was very kind, prompt and responsive to any questions I had. Looking forward to staying with them again!
Kati
April 2014
I thought the apartment was simply amazing like in the photos and very clean and fully equipped. The view from the balcony was really nice. The location was great in the centre and next to a tram station so getting around was easy. Soner and his team are really helpful and nice. I would definitely recommend this apartment.
Serge
April 2016
Had a great stay, good location, apartment is new and everything works. A little difficult to check in because when i arrived nobody was there and also not taking phone calls, but that things happen some time, and in the end it was a great experience
Artur
May 2016
Very nice flat in a very good neighbourhood. Everything as discribed on the homepage. Nice view from the balcony, everything was very clean, good shuttle service from and to the airport and very convenient service! Thank you very much, we will definitely recommend you!
Waltraud
May 2014
Really great apartment! Everything is very new and modern, we were most impressed by how well equipped the flat was, you have kitchen equipment enough to cook basically anything. There is also a washing machine and various cleaning supplies. We were provided with multiple towels and bedsheets which was great for our one week stay. 3 of us stayed here very comfortably and the sofa bed was very comfortable for sleeping. There is also a cute balcony that overlooks a nice green area and further to a great view of the water and sights on the other side, really enjoyed having breakfast here in the mornings. We enjoyed the location, it's a couple minute's walk from the Tophane tram station but also walkable to most significant places (within 15-30 mins). It was good to be away from the more expensive touristy area and overspending, but still being able to easily get to sultanahmet during the day. It is also close to istiklal street for the evenings. Note that this general area is very hilly and you need to go up a steep street to get to the place, nothing difficult so it wasn't a problem for us as it is mostly like this around the area. The host responded quickly and was accessible at all times. When an issue came up it was handled on the same day so we had no major problems. There is one bathroom and this is not attached to the bedroom so if you are more than 2, there is no need to go through the bedroom which is also more convenient. Multiple grocery shops and fruit stalls within a 3-5 minute walk. There is also a big flat-screen TV and the internet works very well. Only thing to keep in mind, bring your own adapter if yours are different from the Turkish sockets as this is not provided. We loved the place, highly recommended and worth the price.
Sahar
March 2013
Everything was great, airport-transfer and check-in/check-out were uncomplicated. The apartment was just as displayed in the profile. We especially enjoyed the balcony with the Bosphorus-view and the good location. Sultanahmet was easy to reach with the tram just down the road and Cihangir/Beyoglu is the perfect place to hang out (nice cafes, boutiques, restaurants, etc). The only deficit of the apartment on the ground floor: the bedroom lies right next to a highly frequented road and therefore is quite noisy, so we moved to the couch in the living room and then it was fine. We would still highly recommend this place and book it again!
Elisabeth
September 2014
Жилье нам очень понравилось, все необходимое для комфортной жизни в квартире было. Квартира чистая, опрятная, много посуды и кухонной утвари, хороший телевизор. Апартаменты удачно расположены, до всех основных достопримечательностей мы добирались пешком от 10 до 25 минут. На метро ездили всего 2 раза и то с экскурсионной целью(через пролив Босфор). Очень приятная тихая веранда с видом на Босфор, Султанахмет и небольшой парк, там мы ежедневно завтракали и ужинали. Выше по улице находятся 2 супермаркета и дальше, ближе к Таксиму, обменники валюты. Сервис у Сонера очень высокий, четкий трансфер из аэропорта и обратно. Немного шумновато днем в спальне, но это не умаляет общей положительной оценки.
Andrew
September 2015
Wij hebben begin oktober 4 dagen gebruik gemaakt van dit appartement. Het appartement was ruim, schoon en volledig ingericht. Het balkon is prettig om met mooi weer nog even buiten te zitten (in de ochtend zonnig in de (na)middag in de schaduw). Er is inderdaad uitzicht op de Bosporus en oude stad, maar wel op geruime afstand. Wij werden (door de verhuurder georganiseerd) van het vliegveld afgehaald en voor de deur afgezet wat erg plezierig was. Het appartement ligt op loopafstand van de Galata-toren en omringende wijk, waardoor je snel in het bruisende leven van Istanbul stapt. Daarnaast is het op 2 minuten lopen van tramlijn T1 die je snel en goedkoop naar de oude stad brengt (Bazars, Moskee, Topkapi, etc) of de andere kant op naar de boten richting Prinseneilanden. Ook op loopafstand van een boulevard met vele 'Nargile Cafe's' voor een Turkse thee en waterpijp. Eén kanttekening/verbeterpunt; het 2 persoonsdeskbed in de slaapkamer is erg klein (meer een 1-persoons).
Jasmijn
October 2014
Room type
Entire home/apt
---
Property Type
---
Accommodates
4
---
Bedrooms
1
Cihangir, Istanbul