Enter dates to see full pricing. Additional fees apply. Taxes may be added.
Goog food, relax, walking, nature
"Il Comignolo" was born from the will to let tourists live the magic and exclusive atmosphere of such territory, according different tastes and needs, but over the mass expenditure, faithful to a "slow" lifestyle. We're sure that slowness is the main ingredient to catch the sense of a trip in this side of Calabria, able to amaze you when you'll discover the authentic heritage it keeps. Who finds himself here, for casuality or for choice, will discover the taste of a trip intended as a lovely pause of reflection and discovery, beyond the commonplaces. A village of historic Italian-Albanian origins dating back to 1400 – at the estreme North-Eastern border of Calabria - in province at Cosenza, at the Southern slopes of the biggest protected area of Italy - Pollino National Park. In this Eastern side you're captured by the nosy and extraordinary beauty of the landscape, characterized by rocky hills , called "timpe" in local slang, forming the Raganello torrent's canyon, a sought-after goal for passionate and sport-loving people willing to go along its 13 kilometres of throats. Civita lies in such a superb landscape, watching towards the horizon the peaceful and sensible sea of the Ionian coast, where Great-Greek ancient cities were born. Il Comignolo is an ancient residence of the beginning of the '800, made up of different spaces of common use where passing times to dedicate to the socialization , the reading and the pure and simple privacy. It is developed into three levels, offering two possibilities at the same time: feeling "at home" and being part of the everyday life of its owners, isolating itself undisturbed in the quiteness of the own sets. Il Comignolo is above all a house, with a lived soul, to be lived. Essential style, household linen of "grandma's bottom drawer", product of the craft skills of the loom weaving. Warm and delicate lights. Il Comignolo's rooms invite to rest and contemplation, meditation and privacy. Mask and Oriental; the rooms recall the name of some of the many chimney pots which give nobility to the roofs of Civita and represent one of the precious goods to preserve. Colours and flavours mix together in a spur of senses which let the Comignolo's breakfasts be an experience to which dedicate the time they're worth of. Each morning has a new taste and is the opportunity to discover the fragrance of mulberriess and blackberries or the local figgies; the flavour of the ricotta and the cheese served with honey, coming from the Pollino's farms. It will be never missed the right atmosphere Il Comignolo usually creates to exalt the taste and the simplicity of the flavours, rigorously local, to let each new day be a good day.
My stay in Il Comignolo was a lifetime experience. The room was cosy and extremely comfortable. Stefania and her family were really welcoming and made me feel like home. I had the chance to know a little bit about italian culture and even learn some italian. Civita is a beautiful medieval town full of lovely kind people. Couldn't recommend it more, you really must live the experience to know what I am talking about.
Magdalena
September 2013
Stefania is a SUPERHOST *~* Actually she is a Queen of best BnB in Italia. You will be blessed and lucky if you stay in her magical beautiful Calabria style Home. She spent years remolding it to absolute soulful beauty. The home is 3 floors. Stefania shares the 1st floor with you in her magical kitchen where gourmet breakfasts are awaiting you, as well as a dining space and living room area. 2nd floor a cozy fireplace and private quarters. 3rd floor 2 guests rooms each with private baths and balcony's and a lounge area with desk and sofa and another veranda to soak up sunshine or catch sunrise or sunsets! Privacy is great here! You feel as though you are in your own home. If you are in Calabria you must stop for a few nights or a month to visit the beautiful village and Stefania home that she graciously shares with Travelers. One could only dream of finding such a beautiful spot. Located in Pollino National Park And right above the Raganello River and Gorge ~ Walking, Hiking, River Rafting and Canyon adventures await. I was a solo traveler on this trip and had heavy luggage. I used public transport which stefania helped suggest to me. As well as she picked me up at bus stop so gracious of her, and delivered me back to bus upon departure. Stefania has tons of helpful suggestions on where to go while in Civita or surrounding villages or towns or day trip to beaches. Or if you just want to lounge sun and meditate, lots of space to do as you wish. Her Breakfasts are delicious and delightful all locally sourced organic foods! Espresso or tea! Baked goods and local homemade jams. Lucky if you get a pepperoni (Calabrian sweet peppers) and egg breakfast! Yummy. If you wish to take cooking lessons they are available for a pasta class, or local foods, Stefania arranged for me! I learned so much. Meditation on the veranda's is perfect! The guest rooms (2) have cozy comfy beds! Sleep sound in the quiet mountain air. Great Hot showers or Cold if its summer! Rooms are Big. I stayed in the one with slanted ceiling. If you are extra tall you may take the second room which has a higher ceiling. Luna the cat is entertaining, sweet as sugar and she follows you around if you wish. Great restaurants and Bars close by. Fresh Farm markets several times a week in the main piazza. Historical church. Also a few local grocery stores and a yummy gelato store. The piazza comes alive at night. The stars shine bright for you here. Don't miss out on the L Oasi' del Raganello cafe, short walk, to get fresh almond candy with honey or sugared, almond milk, almonds so fresh you haven't tasted anything like this. As well as a great place for local homemade wine, antipasto and view of Raganello gorge and just delightful family who hosts you at...
Mermaid
September 2016
This place is like a dream and Stefania is a welcoming host. Superb in all aspects.
Dedda
July 2016
I had a perfect time staying here. Stefania was lovely, very friendly and helpful and immediately made me feel very comfortable in her home. It was a calming peaceful room with a combination of modern luxuries and earthy comfort although the bed quite hard but comfy enough for me. Very quiet and peaceful and the village is wonderful and set amongst stunning scenery with great local walks and a tour of the village that Stefania has put together into a beautiful booklet.
Lawrence
June 2015
A very cosy place in a beautiful little town. Spotlessly clean bathroom with a very good shower and a great view from the balcony. The room has a very low ceiling due to the inclined roof but still looks spacious. Stefania put much love into furnishing and decorating this nice old renovated house. The underfloor heating made it warm even in the winter time. We felt very comfortable right away and can highly recommend this place!
Jesko
February 2014
Such a wonderful experience! I would highly recommend staying at Stefania's lovely home. Civita is an amazing little town in the mountains and the B&B is the perfect base to discover the region. This was the highlight of our trip.
Shara
August 2014
My wife and I loved our stay at Stefania's place. It is right in the middle of a national park, and very quiet. We recommend it!
Ricardo
July 2016
Stefania's home was beautiful. The house looked amazing and our room was perfect. Excellent shower! Breakfast was different both days and was delicious. Whilst in Civita we did canyonning (which Stefania booked for us) and went to the Kamastra restaurant (recommended by Stefania)... Both were excellent! Civita is an incredible little town perched on the edge of the stunning Raganello Canyon. Well worth a visit. Just make sure you watch your head on the rustic beams getting out of bed in the morning! :)
Chris
September 2015
Room type
Private room
---
Property Type
---
Accommodates
2
---
Bedrooms
1
Civita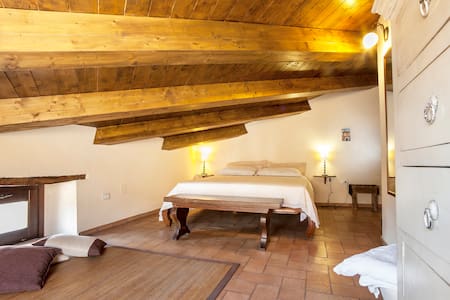 "The Fireplace" is a traditional house, decorated with attention to details that evoke the spirit of place and history owners. There are many areas of common use and all the comforts of a real home.
We offer conviviality, spirit of discovery, love of authentic things. Our big old house from the soul, with 2 rooms with private bathroom and panoramic veranda and above all privacy. In winter you walk barefoot on the tiled floor heated summer we refresh ourselves in the waters of the generous stream Raganello, father of the canyon among the longest in all of Europe to cross and live to 360 °. We are at the entrance of the protected biggest in Italy, the Pollino national park and only 18 km we can bathe in the Ionian Sea. "The Chimney" is created from the restoration of a house of the first 800, clad entirely in brick, stone and wood. The house is on a hill and offers a glimpse of an eagle on the Ionian coast and the rocky peaks of Pollino mount. The rooms are distributed so as to offer guests the opportunity to stay in comfortable living. The breakfast, made from local products, have homemade jam with Pollino fruits and succulent baked goods food civitese tradition. All house. Ever
Tranquillità, silenzio, profumi, vista panoramica, natura, hiking, trekking, relax. Bus di linea verso Cosenza, Castrovillari e costa jonica Realizzazione in house di gadget fatti a mano esclusivi e originali. Pupazzi di stoffa, casette in terracotta. Distribuzione di una piccola guida locale che invita alle camminate e alla scoperta. Possibilità di degustare e acquistare prodotti locali.
We went there for one week with my girlfriend, and we had the best holiday in Civita, in big part thanks to Stefania's house! It is very unique, large, comfortable, the room had every comfort, was clean and had a small terrace. Civita is an extremely nice and quiet place and is a perfect starting point for visiting the region. But above all the atmosphere was very nice, thanks to Stefania and Giuseppe who made every effort to welcome us and make our stay as pleasant as possible. Thank you so much for the great time!
Fabrice
August 2013
Civita is a hidden gem, we were so amazed by the beautiful scenery surrounding this village. Stefania was a wonderful host, very welcoming and friendly. Her breakfasts were generous and delicious, and her tips on restaurants and attractions in Civita were very helpful. We look forward to visiting again.
Emily
August 2013
Civita is a beautiful village between high mountings its a nice place to relax, enjoy natural sites and do trekking. The II Comignolo B&B is a mix of a modern living in an old tradition family house. I stayed in the big room cause its has a modern style. The double bed is comfi and the private bathroom is new and well equipped. Beside you have your own balcony. My host Stefania is Kind and makes sure all your living needs are met. She prepares many kinds of breakfast in each morning in the 4 nights I stayed in the II comignolo. You eat in the big family kitchen and you get to meet her husband Josep and their little daughter Sofiya. Stefania speaks little english and I speak little Italian so we managed very well. I recommend this place because the location is beautiful and near the walk down to the Devil"s Briadge. The place has a mix character of old and new. The host is cheerful and kind.
Jamal
September 2013
Stefania was the perfect host, opening up her home to us and making us feel very welcome in Civita. Her guide book on local walks was very useful, and her involvement in the local community is amazing. We would definitely recommend staying with stefania if you are planning on visiting Civita.
Tim
June 2015
Il Comignolo and Civita is a wonderful place to stay. Stefania welcomed us with wine and nuts from the region and prepares one of the best breakfasts we have ever eaten! The room is light, comfortable, and equipped with an excellent on-suite bathroom. You can also use the communal spaces in the building which are all homely and lovely to spend time in. Civita is a quirky town nestled in the mountains and a perfect place to spend a few days exploring the national park. Bring walking boots and ask Stefania for information, she is a wealth of knowledge about the region.
matthew
April 2015
Civita is a great place to visit and Il Comignolo the perfect place to stay. The house is an experience in itself ... clean, friendly and comfortable with a built-in quirkiness that comes from the empathy of Stefania herself ... ably assisted by young Sofia. It's situation is also perfect, being no more than a few minutes walk from the town square where there are bars and restaurants. Highly recommended ... I know I will return.
Niall
July 2014
Highest recommendation possible. We just loved it here - the most beautiful village in Italy, according to me! Stefania's house was so gorgeous: Quirky, beautiful, stylish, quiet, amazing views. So so helpful, while also so relaxed. Mille grazia. Oh, forgot to super amazing homemade gourmet breakfasts... xx
sophia
August 2014
We absolutely loved this room and we absolutely loved Stefania! Civita is a fantastic place with views galore and a great hike down to the gorge. Loved the town, and Stefania's location was about as good as it gets! Stefania speaks fairly good English, and we got along just fine. Breakfast was wonderful (our first eggs on this trip!). You won't be disappointed with this listing!
Steve
June 2014
Room type
Entire home/apt
---
Property Type
---
Accommodates
4
---
Bedrooms
2
Civita