930+ guests in over 330+ reservations, so far, have enjoyed our little oasis with us. Very safe clean quiet neighborhood. Our happy dog loves company too. Solarheat Pool. New Hot tub Spa. (pool/spa may be closed in colder seasons). Continental BREAKFAST. Relax in luxury beds. Enter through the arch into completely Private living room which includes 92" TV w/theater quality viewing, cable tv, fast WIFI, private bath and 1 or 2 Bedrooms. Park on drivewy free or ADD'L CHARGE FOR GARAGE PARKING.
GARAGE - will fit a vehicle the size of a Dodge Grand Caravan or Smaller. The garage is an extra charge of $12 per night. Message me prior to the reservation if interested. This is a private suite in our home which includes a private living area with 92 inch screen TV you see in the photos. With a 2 person reservation, you get a one bedroom suite. With 3 or more, you get a 2 bedroom suite. I choose to have only one guest reservation in our home at a time. I could choose to have 2nd reservation for bedroom 2 or even a 3rd bedroom on upper, like most do, but at this time I would rather not for the comfort & feeling of security of our guests. ONLY our family and you and your guests will be here during your stay. Children under 7 years old have been a behavioral issue here when they choose not to behave or follow adult supervision. We have an open pool, stairs, etc. and this can be nerve racking, causing us to worry. Please consider your child and if he/she is not the type to listen, choose elsewhere. Thank you. If younger than 7 and you consider your child/children VERY well behaved, we will be happy to have them but it at our own discretion. So get ready for some questions. We did choose not to have any young ones here anymore, but i miss them ( the good ones) so I changed my mind. BEAUTIFUL MORNING SUNRISE VIEW FROM YOUR SPACE WHERE YOU SEE THROUGH THE PALM AND REDWOOD TREES ACROSS 20 ACRES+. You just have to get yourself up out of the super comfortable beds to see it. I am told that this is not an easy task. Also have enjoyed watching the occasional storm from these rooms. YOUR BEDROOMS, LIVING ROOM AND BATHROOM ARE TOTALLY PRIVATE AND SEPARATED FROM THE REST OF THE HOME. FRESH AND CLEAN All Bedding and towels are freshly cleaned prior to each new guest arriving. The rooms are thoroughly cleaned with each new guest CONTINENTAL BREAKFAST Served in our newly remodeled (11/2015) kitchen. We usually provide muffins, oatmeal, orange juice (fresh squeezed when in season... August/sept/Oct may not be fresh), coffee, tea, hot chocolate, milk and sometimes some other little bonuses. I am also known for my homemade cinnamon rolls. It does take all day to make these but if this is a favorite of yours, let me know prior to arrival and I'll try and schedule to make some instead of muffins. ************IMPORTANT************* Kindly take a few minutes to read through all the information we have provided on our site. Check the calendar for your desired dates. On your Profile page, Fill out all requested verifications. (3 for USA, 2 for out of Country) Upload a true photo of yourself and type a bio on your profile page about who you are. This is recommended by Airbnb and it has worked for us. Send a message with the purpose of your stay and who you are traveling with. We like to make sure we work for you needs and want to make sure our stop is a perfect place to be with your desired destinations. Having our guests give us 5 star reviews is important to us so we wouldn't want anyone unhappy with your choice to stay here. Check with all persons reserving to see if there are any cat or dog allergies or fears. The pets are not allowed in the airbnb section of the home but the fur is still airborne. All pets are friendly. I describe Koda, our malamute/husky as a big teddy bear in a dog costume. Many people compliment on how calm and well behaved our dog is. He would love to show you the tricks he has learned. (for a reward, of course) Lastly, check that all guests would be able to go up and down stairs as the BNB rooms are located on the 2nd level. ************************************** IMPORTANT ALSO!!! The listed price is based on 2 persons to a bed. 2nd bedroom is available to use only if you have booked for 3 or more. If you are 2 persons wanting separate bedrooms, there is a $14 additional fee to do so. Just plug in 3 people instead of 2, and the price will automatically adjust for the use of both bedrooms. Large groups of 4 or more, please message me to confirm the bedding arrangement. 1 guest = Queen bed 2 guests = Queen bed 3 guests = 2 Queen beds 4 guests = 2 Queen beds 5 guests = 2 Queen and Twin Bed 6+ guests = contact me for bedding arrangements THE QUEEN BEDROOM #1 Queen Size Mattress with 600 TC sheets. Super comfy. Most tell me they slept in because they just didn't want to get out of the bed. Have a great nights sleep. Heating Blanket, Ceiling Fan. Closet and Drawers. View & privacy, including the sunrise. THE QUEEN BEDROOM #2 Queen Size comfortable Mattress with 600 TC sheets. Currently has no TV. But you still have the 92 inch TV in your private family room. Can add a twin bed to the room if desired (with a booking for 5 or more) Let me know prior to arrival. Heating Blanket, Ceiling Fan. Closet & small drawer space. FAMILY/ENTERTAINMENT ROOM. If you have a large group, this room is great additional space. Depending on how big your group is, we may set up beds in here as well. YOUR family room has 2 VERY comfortable couches (great for sleeping or napping), a desk, microwave, mini refrigerator/freezer, pantry. If you need more refrig/freezer space, we have more space in our own for you. Also the 92 inch screen TV, yes 92, with Bose sound system. We currently also offer Netflix, Pandora, Full Cable stations and WII (if you can figure that out) Wifi is available here too with Comcast HIGH SPEED INTERNET SERVICE (best in the area). We also have a large movie collection or you could rent from Redbox down the street for the newer releases. You have a private bath with Shower/Tub Combo. For our larger groups, we do have a bathroom at the bottom of the stairs with a shower that you are welcome to use. It is our guest bath and not exclusively for you, but anyone is welcome to use it. GREAT STOPPING SPOT FOR TRAVEL You probably can't find a home more smack dab in the center of CA than ours. We are also just off the main artery of travel for California by car. Interstate Hwy 5 is the quickest route running through California reaching the borders of Canada to Mexico. From I-5 to Hwy 120 Manteca, go 2 exits to Airport Way right. First left, first right. YOU'RE THERE. So easy, So convenient. MAIN ATTRACTIONS. * Midway point between SAN FRANCISCO and YOSEMITE. * BIG LEAGUE DREAMS SPORTS PARK. Baseball, Slow and Fast Pitch Softball played in 6 Replica parks of different pro fields of our nation. Also Batting Cages, 2 restaurants that overlook the fields and an indoor soccer field. * BASS PRO SHOP (Look it up, too much to describe) No one has ever been sorry they took the time to check this place out. Its a store with so much more. Only 2 in California and one right here. People drive many miles to see it. * DELL OSSO FARMS FAMILY FUN". The Dell Osso's opened their farm up about 12 years ago and have added so much every year. Millions of people visit each year. Depending on the season will tell you what they are offering for your families to enjoy included Pumpkin Farm, Winter fun, Mud Run, Rodeo, etc. Look it up. With the exception of my daughter, whose room is upstairs,on the opposite side of the house from airbnb and includes her own private bath, we rarely use the upstairs. Our master is downstairs. Some people never see her. Between college, studying, 2 jobs, boyfriend, and the gym…you rarely see her. NO PETS! NO SMOKING! NO DRUGS! If you must smoke, please smoke on the sidewalk, away from the house. Looking forward to meeting many people from many places. We will do all we can to make your stay a happy one. Yours, Phil & Gerry
We live in a very pretty 14 year old safe neighborhood where neighbors actually know each other. Our home is 3000 square feet and just 2 of us live here now with the maybe occasional relative visiting overnight. We have plenty of parking and you will, in fact, park on driveway, near the front door. If you have any valuables you are concerned about, like bicycles, motorcycles, I even had someone with lots of bottled beer, let me know and we will put it in the garage or house. NO need to take chances. PLEASE TAKE ALL VALUABLES OUT OF YOUR VEHICLE! The highest amount of crime in Manteca seems to be auto's being broke into. Although our area seems to be the most crime free area in the entire city, I would hate to take that chance. In our 5th year of doing Airbnb with about 850 guests and we have never had a problem. DRIVING DISTANCES 118 miles E- YOSEMITE National Park (2.5 hrs) - 90 mile E - Dodge Ridge Snow Skiing (under 2 hrs) closest 55 miles E - Scenic Hwy 49 drive (1 hr to how far you want to go) 1.5 miles E - BASS PRO SHOP 3 miles E - Highway 99 58 miles E - Jamestown/Columbia Gold Panning (1 hr) 60 miles E - Begin Calaveras County Wineries in Sierra Foothills (1.2 hrs to Sonora) MANTECA LOCAL WINERIES TOO! 2.5 miles W- Highway Interstate 5 75 miles W- SAN FRANCISCO (1hr 20 min) 50 miles W- Enter San Francisco Bay Area (Castro Valley). (45 min) 80 miles W- Pacific Ocean Beaches (1.5 hrs) 4 miles W - Dell Osso Farms Lathrop fun times (look it up) 1 mile N - BIG LEAGUE DREAMS & Costco - 30 miles N- Lodi Wineries and tasting rooms (35 min) 60 miles N - Sacramento(1 hr) 69 miles NW - Jelly Belly Factory Fairfield (1 hr 15 min) 160 miles NE - South Lake Tahoe (2 hrs 45 min) 62 miles NE - Columbia Gold mining town (1 hrs 20 mins) 85 miles NE- Calaveras Big Trees (1.5 hrs) 72 miles NE- Mercer Caverns (l.5 hrs) 138 miles SW- Monterey (2 hrs 15 min) 12 miles S - Blue Diamond Almond Factory (14 min) 12 miles S - MODESTO, CA (14 min) 19 miles S - Gallo Center for the Arts (Theatre) (20 min) 322 miles S - Los Angeles/Hollywood (4.5 hrs) 355 miles S - Disneyland (5 hrs 15 min)
Loved my first AIRBNB stay. Lovely house, lovely yard, lovely hosts. Best part is the house comes with Chickens. I didn't have much time there but it was a great visit. The chickens even provided breakfast.
Sally Ann
2015-08-20T00:00:00Z
Gerry and Phil are great hosts. We felt welcomed into their home and had a great night's sleep. And in the morning we totally enjoyed Gerry's cinnamon rolls. Wow, they tasted great! Thank you Gerry and Phil for having us into your home.
Jerrie and Becky
2015-02-02T00:00:00Z
Gerry is the best host ever! She was SO SO sweet. I arrived late (about midnight) and she stayed up to show me around the house. The space is amazing!! Much bigger than it looks in the pictures. There is the room, private bathroom and basically private living room with a 92 inch television. Gerry made me fresh squeezed orange juice and cinnamon rolls in the morning- amazing! Her dog is the sweetest. Sometimes I worry about staying in places with big dogs, but he is very well trained and friendly. Unfortunately, I did not get to use the pool and hot tub, but it looked like a great opportunity. Gerry is one of the best Air BnB hosts ever and you can't beat the value. Please stay here!
Abby
2014-11-22T00:00:00Z
We had a really good stay at the beautiful house of Gerry & Phil. There was a real warm welcomewhen we arrived. The room we stayed in was very nice, with two bedrooms, one for our 3 daugthers (age 11, 13, 14) and one for ourselves. The gigantic TV is a great asset and we enjoyed watching Mama Mia on that. During the breakfast we well looked after by Gerry, who is a really friendly hostess, always in for a chat. We had a very good contact with Gerry & Phil and enjoyed very much. Gerry even showed us the wonderful baseball area nearby. The swmmingpool is really great and especially the girls loved that very much. The garden is very well looked after and we even had a nice barbecue. In total we stayed for six nights. We went one day to Yosemite, which is a good 2,5 hours drive and visited San Francisco, which is closer and about 1,5 hours away. We want to thank Gerry and Phil for the very nice time with them and their beautiful house and garden.
Ferrie
2015-07-29T00:00:00Z
This was indeed an AMAZING stay. Where should I start.. With the nice bed, the great pool, jacuzzi, crazy HUGE tv, or start with the blueberry muffins that were waiting for us in the morning? We absolutely LOVED staying here. Tired from our 1,5 month journey Gerry & Phil thought of what we needed before we could even think of it ourselves. Never met such sweet accomodating hosts. We were sad to leave.
Esmee
2012-08-31T00:00:00Z
I HIGHLY recommend staying with Getty and Phil! They are warm and welcoming into their spacious and clean home. I loved the quiet space after my son travels many hours on a long road trip. We enjoyed having our own rooms, comfortable beds, a HUGH (8ft +) tv screen, and fresh squeezed OJ in the morning! THANK YOU GERRY and PHIL! WE WILL BE BACK next time we are in your area!
Ellen
2013-12-27T00:00:00Z
Where to start.... to sum up my thoughts, if you want an amazing stay, book here!! Luxurious bed, pool, spa, breakfast, hammock, GREAT conversation, and the most accommodating couple. You have set the bar! Thank you both, our stay could not have been better!!
Lena
2016-07-25T00:00:00Z
Had another good stay at Gerry and Phil's. Thank you!
Rob
2014-08-15T00:00:00Z
Room Type
Private room
---
Property Type
Bed & Breakfast
---
Accommodates
12
---
Bedrooms
Manteca, CA, United States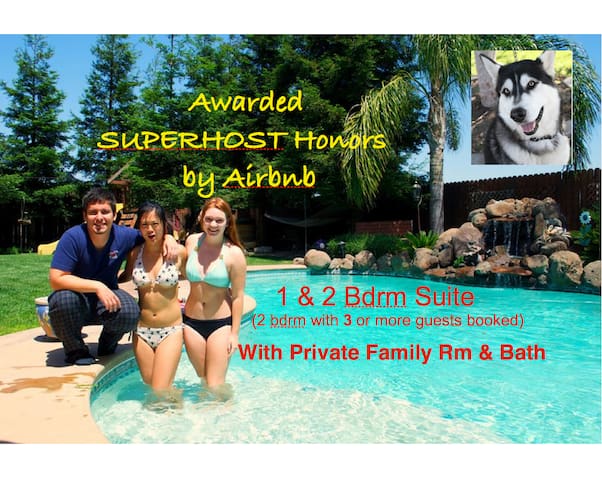 2017 BOOKED. 2018 BOOKING FOR FULL WEEK ONLY AT THIS TIME. Partial week can only be booked up to 6 months in advance. I only have 7 days available per year. (2017 was reserved by a returning guest for 5 days, 2 days booked for another).
ANYONE STAYING THE FULL 7 DAYS HAS THE CLEANING FEE WAIVED. The 7 days must begin on a Saturday night and leave the following Saturday. TAKING RESERVATIONS FOR 2018. 7 days per year total available. THE PROCESS OF GETTING THE DATES YOU WANT. Inquire first on the dates you want by sending me a message. When you give me the dates, I will have to check availability with Dolphins Cove. I will let you know to go ahead and reserve those dates if they say they are available or let you know they are already booked for that time. If available, I will reserve with them and then confirm your reservation. CLEANING FEE. As stated above the $50 cleaning fee is paid directly to Dolphins Cove, by you, upon arrival UNLESS you are the first reservation for the year. PARKING AND HOW TO SAVE DISNEY PARKING FEES…. One of the BEST KEPT SECRETS is that the location backs up to one of Disney's Parking Lots. We usually, leave our car at the cove and walk to the lot, passing the city bus stop, and take the tram to Disneyland for FREE. It looks like the walk from Dolphins Cove to the actual tram stop is 1/4 to 1/3 mile. I never timed it, but since I walk a 20 minute mile, I would say it is 5 to 10 minute walk at most. We asked Disney first if it was ok to do this and they said it was no problem and enjoy. We SAVE $18 a day in Disney parking lot fees and leave our car at the timeshare. The only negative to this is they said the only time this parking lot closes is when there is rain, as the electronic equipment they use is out in elements and therefore they close this lot. Then your choice is to take the city bus, your car to the other parking lots or walk, which is approximately 1.1 miles. In all the years we have gone at all different times of the year, we have never had a problem. Lucky I guess. SAVE MORE THAN USING HOTELS Remember through us, you pay no other fees like hotel tax, resort fees, etc. Only, I believe, the 6 % to 12 % fee to Airbnb which is added when you make the reservation. You will see this before you confirm. DESCPRIPTION OF ROOMS We fell in love with this place, Dolphin's Cove, when we stayed there and took me a while to find a 2 bedroom to purchase. We are owners, not someone trying to sell timeshares. Look it up on the internet. It is a Wyndham Vacation Resort Timeshare. If you have been to timeshares, you know how nice they are. All resort rules MUST be followed. This unit has sleeps 6 with: * 1 king size bed (bedroom 1) * 2 twin size beds (bedroom 2) * 1 queen size pull out sofa (in living room) * Balcony or Patio RESORT AMENITIES • Outdoor Swimming Pool • Outdoor Children's Pool • "Get Out & Play" Activities Program • Exercise Equipment/Fitness Center • Outdoor Hot Tub • Game Room • Picnic/BBQ Area • Putting Green • Laundry Facilities • Daily Activities • Grocery Store Nearby • Late Check-ins • Movie Rentals • Sorry, no pets We love it there. With timeshares, just bring your clothes and food and your pretty much set. Everything you pretty much need is there to use. Kitchen has your pots and pans, utensils, dishes, glasses cup and many more items. Just bring your food. No elevators so request a first floor if that is necessary. Let me know when you inquire to reserve so that I know to ask for that. It is only a 2 story resort. This place has beds for six adults, maybe more, if you have small children. Keep in mind that this is a small family friendly cozy time share resort. Not the 5 star high rise timeshare resorts you may have visited before and that come with the high price tag as well. Another hint is that we like to get a room just down the hall from the rec room. The bathroom is nice there and we utitlize it as a second bathroom. Works out great and this can be a lifesaver if you know what i mean. LOL. Lately, when I have been reserving they are now asking if I want the 1 bath or 2 bath with my 2 bedroom unit. So it may be an option if the 2 bath is still available. Tell me when you inquire if a 2 bath is something you would like to try for. RIGHT NEXT DOOR TO A DENNY'S. One More thing. If you look at the street view of the property, you wiil notice a driveway, which is ours to the left and behind it is an orange building next door that is on Harbor Blvd, same street at Disneyland. That Orange Building is Denny's. We would go for breakfast with their $2,$4,$6, $8 menu and then head to Disneyland. Cheap Breakfast for the Disneyland area and it is practically on your doorstep. Just another helpful tip. I can't control it if they change their menu though. DAILY EVENTS CALENDAR (ADULT AND KID FUN) Dolphins Cove has an event calendar they will give you for social events they have for the week when you arrive. Look up the resort to see more. FREE LAUNDROMAT AT THE RESORT & COMPLIMENTARY DETERGENT IN YOUR ROOM.
Many restaurants within walking distance. The convention center is too. You can walk to the parking lot directly behind here to take the shuttle to Disneyland. But it is no short walk for some. About 1/4 to 1/3 mile to the actual shuttle. Get used to it….cuz with Disneyland, there is lots and lots of walking. My daughter completely wears me out each time we go where I think I'm going to die. But I don't.
The place was perfect! First, Gerry has been very thoughtful with us before our arrival by sending us many helpful informations and confirmations. Secondly, at our arrival at the Dolphin's Cove, it has been the best welcome by font desk employees I have ever seen. Finally, the room was clean and spacious, well furnished. The pool is heated and clean, with BBQ beside. The Dolphin's Cove is a wonderful place to stay and Gerry and Phil are the perfect hosts.
Carl
2014-03-08T00:00:00Z
The place was as described, very comfortable. Lots of pillows, which I like. I was very busy, so I did not spend much time in the place, but it was in a great location and everyone who works there was very nice. Gerry was very easy to communicate with. Always responded quickly. I would gladly stay there again.
Lauren
2015-01-26T00:00:00Z
What can I say in so many words to say the least! Fantastic people firstly, you couldn't ask for better hosts. Secondly, the location was brilliant! A good 10 minute walk to Disney! Big tip..walk to the park and ride off the main drive then take the free shuttle to Disney, it's free and its a short walk from the resort. Thirdly, coming from abroad you never know what to expect, all I can say the resort was magic and a great experience for us all! Very roomy, big separate bedrooms for the kids and best of all peace for my wife and I with so much for the kids to do to at the resort. This in all honesty gave us some downtime even after the long days at Disneyland. Thanks Guys and thanks to the staff also at Dolphin Cove. Count us in next round back. A Big tick to the Aussies and our English folks looking for a place to stay! Chris & Family
Christian
2013-10-05T00:00:00Z
Gerry is amazing, from the moment I first made email contact with her, she has been nothing but helpful. She has a wealth of knowledge which she willing shares. She goes way beyond what is expected of her. Staying at Garry's place is like being at home, it's so comfortable and lovely. Travelling with a party of six can have its challenges but staying at Gerry's place made it easy. There were two big bedrooms and two big bathrooms, a pool, a time out area and most importantly a laundry! I would highly recommend Gerry's place to families and singles. My son got sick while we were there and there is 24 hour help, I was given extra bedding, which they took away the dirty ones and cleaned. The help service was a blessing. If you are going to get sick while travelling, this was the perfect place to do it as we had so much help given to us.
Jodie
2015-04-11T00:00:00Z
We wanted to bring our two girls (2 and 4) to Disneyland for the first time. We were nervous about spending outrageous amounts of money and getting a substandard place. I found Gerry's listing on airbnb and not only was the room at dolphin's cove more than we were looking for (size, location to Disneyland, amenities, etc) but it was super affordable. Also Gerry was invaluable in answering my questions and giving me advice. We are totally going to stay here again.
Nick
2013-11-06T00:00:00Z
Gerry and Phil were great and communicated well about check in. Really great little resort. I would recommend this place and go back.
Hilary
2017-03-10T00:00:00Z
Gerry & Phil were awesome to work with. They answered all concerns and gave very helpful advice throughout our planning stages. Dolphins Cove was absolutely perfect for our family. We certainly recommend the place and especially working with Gerry and Phil Perry.
Ron
2012-11-30T00:00:00Z
My stay at Gerry & Phil's condo was perfect. They were very welcoming and communicated before and after the reservation. They accommodated some special requests and I can't think of anything that could have been better.
Chris
2016-01-26T00:00:00Z
Room Type
Entire home/apt
---
Property Type
Apartment
---
Accommodates
6
---
Bedrooms
Anaheim, CA, United States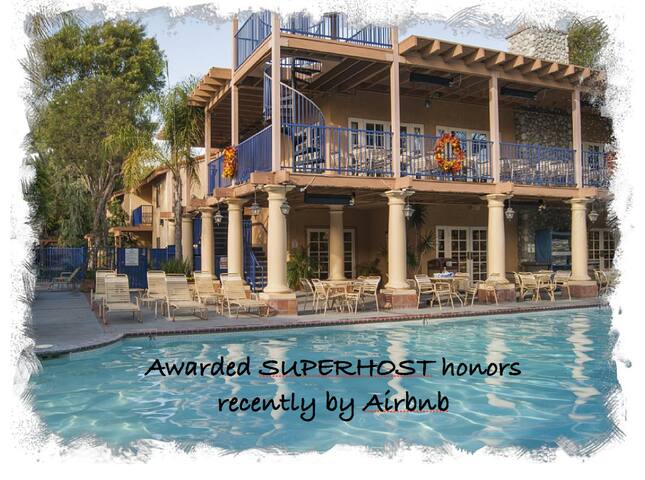 Enter dates to see full pricing. Additional fees apply. Taxes may be added.