Filters
Entire Home

Listings where you have the whole place to yourself.

Private Room

Listings where you have your own room but share some common spaces.

Shared Room

Listings where you'll share your room or your room may be a common space.
Book without waiting for your reservation to be accepted
Room Type
Price
Size
Social Connections
Employee host
Instant Book
Superhost
Neighborhoods
Amenities
Property Type
Host Language
×

Close
Browse listings you can book immediately since you plan to arrive soon.
3 Rentals
We recommend booking a place soon.
We recommend booking a place soon.
Look for the lightning bolt for faster booking.
3 Rentals
We recommend booking a place soon.
We recommend booking a place soon.
Look for the lightning bolt for faster booking.
Come enjoy our little oasis with us. Our happy big dog loves company too. Relax by the pool or in the Jacuzzi (Spring Summer Fall). CONTINENTAL BREAKFAST. Relax in luxury beds. In Private room, 92" TV w/theater quality viewing (movies,sports,etc) Learn More
This is more of a private suite in our home. With a 2 person reservation, you get a one bedroom suite. With 3 or more, you get a 2 bedroom suite. Sorry but due to uncontrollable circumstances we will no longer accept young children (9 years and older ok) BEAUTIFUL MORNING SUNRISE VIEW FROM YOUR SPACE WHERE YOU SEE THROUGH THE PALM AND REDWOODS TREE ACROSS 20 ACRES+. You just have to get yourself up out of the super comfortable beds to see it. I am told that this is not an easy task. (al...
Manteca
Room type: Private room
Property type: Bed & Breakfast
Accommodates: 12
2015 NOW SOLD OUT RESERVING FOR 2016. Only 2 days left and only bookings for Sunday thru Thursday nights. No Friday or Saturday reservations left. Learn More
******************FIRST AND FOREMOST!!!!*************** The Dolphins Cove time share, which this is, does charge a $50 CLEANING FEE WHICH THEY REQUIRE UPON CHECK IN In addition to the fee you pay airbnb, you will be required to pay the cleaning fee directly to them. It is a one time $50 fee for the entire stay, due upon check in. I do not charge you on this site. ANYONE STAYING THE FULL 7 DAYS HAS THIS FEE WAIVED. The 7 days must begin on a Saturday night and leave the following Satu...
Anaheim
Room type: Entire home/apt
Property type: Apartment
Accommodates: 6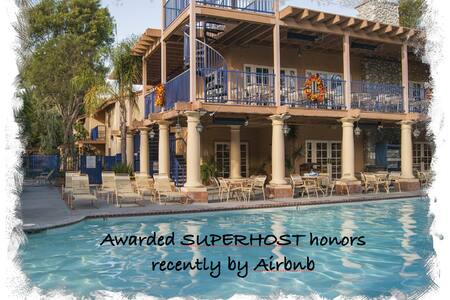 BOOKED FOR 2015. Learn More
UPDATE: JAN 11, 2015…… ONCE AGAIN, FRIENDS HAVE DECIDED TO BOOK OUR UNIT HERE. SO AS IT HAS HAPPENED EVERY YEAR, IT WILL NOT BE OFFERED ON AIRBNB. TRY AGAIN NEXT YEAR. FIRST COME, FIRST SERVE. _______________________________________ For the last 8 years we have offered this unit to rent, but then different friends tell us that they want it so I again have no bookings through airbnb. This is the reason for no reviews yet. Never had a vacancy or unhappy guest. The dates of  6/28 thru 7/...
South Lake Tahoe
Room type: Entire home/apt
Property type: Apartment
Accommodates: 3
Instant Book
Book without waiting for your reservation to be accepted