Enter your check in date in the format mm/dd/yyyy
Enter your check out date in the format mm/dd/yyyy
Listings you can book without waiting for host approval.
Enter dates to see full pricing. Additional fees apply. Taxes may be added.
This July and August, you can try one of these 100 highly-rated homes, at all price points, and experience a local's view of Sonoma. 24-hour check-in, Instant Book, and local wine and snacks let you just sit back and enjoy your trip.
Private, inexpensive, and in an extraordinary setting and location! Cream of the Hudson Valley, and setup especially for guests!
So its a garret, and its above the garage and you have to walk by the gardening tools and up a flight of stairs, but...Its minutes to the Mohonk Preserve and Minnewaska State Park...Four miles to High Falls and Stone Ridge, the High Falls Food Co-op, restaurants (The Egg's Nest, The Kitchenette, or vegetarian @ The Rosendale Cafe), little shops (check out vintage country furniture and other wares @ "Downtown" in Accord from 12-5 on weekends), antique stores, three fabulous family-run farm stands, and a three season flea market (in High Falls on Sundays from April thru October)...Three minute stroll down to private Rondout Creek access...Two minutes to scrumptious views of the ridge from the lawn...AND its cheap, beautiful, very friendly and private at the same time... Has a mini kitchenette, bath with shower (no tub), and most things you might need! The Garret is about 500 square feet of open living space with WIFI, a king size bed, Moroccan carpet, pickled pine floors, lofted ceiling, AC, warm in winter, big comfy velvet covered couch, just a few pots and pans and utensils, two burner stove (no oven), under the counter fridge, and big wall of windows with view of Minnewaska in winter. All this on 30 acres minutes from hiking/climbing/biking in the Mohonk Preserve and Minnewaska State Park. We are located just 90 miles from the George Washington Bridge in NYC. Off exit 18/New Paltz on the New York State thruway, it is a twenty minute scenic drive over the Shawangunk Ridge, just past the famous Mohonk Mountain House and trailheads for the Mohonk Preserve. Although we do definitely offer one night stays, it is for last minute availability or mid-week stays mostly (Sunday through Thursday). Generally we like a two night minimum stay on the weekend and for some holidays, three nights. Contact us and we would be happy to see what will work! We have three other rentals which might interest you! On this property but in another building is The West Wing, an 850 square foot apartment for two, no kitchen, but lots of comfort and style. Located just .6 miles down the road, (as seen on the Google map below as Catherine Harnden House) and across the creek, we rent out two houses, the 1840 Carriage House and the 1840 Greek Revival, both on the same 10 acres.
My husband and I had a great stay here. The room itself is beautifully decorated and spotlessly clean. It's stocked with all the essentials: iron, hair dryer, pots and pans, coffee pot and kettle, and cooking utensils. The property is also gorgeous and has access to a picturesque river. It was wonderful to wake up to the song of birds, and we saw lots of other wildlife on the property. Sterrett was a very friendly host and offered suggestions on hikes, running trails, and restaurants. We'd definitely stay here again if we come back to the area.
Leslie
May 2015
We had a wonderful experience staying at the garret! The space was perfect for my husband and I and our son. It was very clean and comfortable! The grounds are very nice too and you get a great view of the mohonk house which was really cool. Would definitely recommend this space if you're looking for a great location close to hiking and getting away from it all.
Ashley
June 2015
There is nothing I can say that hasn't already been said about The Garret, but trust that the actual listing does live up to the hype. The room is huge, the grounds are lovely, and it is the most comfortable bed I have ever slept on. Everything was hotel-quality clean and the space is decorated very nicely. I came during bad weather so I didn't venture out much, but sitting beside the small pond directly outside of the barn door was more than enough to remind me that I'm out of NYC. Sterett was a lovely host: always available via text to address any question or concern but gives visitors their space (I only saw her during check-in). I would definitely recommend staying here!
Nzinga
January 2015
We had a wonderful time at the garret! Great location, nice garden setting, very comfortable room and a nice short hike to the creek! Thanks for a great stay.
Claudia
July 2015
What a beautiful and picturesque getaway the Garret is! We were blown away by the accommodations--the room was gigantic, clean, beautifully decorated and all-around wonderful. Sterret filled us in on all the information for local dining and shopping nearby, though we ultimately decided to stay in and enjoy the warmth and comfort of the Garret. Will be back for sure!
Elyse
October 2012
Sterrret's place is absolutely beautiful. We had the best time and her suggestions for things to do in the area made it even better. My husband and I are in love with the location and this stay was in a "best of" category. It was so great to be able to wake up and make breakfast, take the dogs for a walk on the beautiful property and simply just relax watching the snow fall. We can't wait for the next trip and seeing this place in the warm weather. I highly recommend. And we plan on visiting again and again!
Nichole
February 2014
This was our second time staying at the Garret, and it was just as lovely as before. The space is pristine and beautifully decorated, and the location is perfect. We had a great weekend exploring the region, hiking, and relaxing in the Garret. We hope to come again soon, and maybe try out another one of Sterret's wonderful properties.
Mandy
April 2015
We would highly recommend The Garrett for a place to relax and enjoy nature.
John
July 2015
Room type
Entire home/apt
---
Property type
---
Accommodates
2
---
Bedrooms
1
High Falls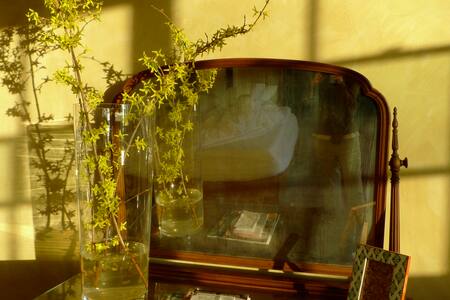 RELAXING/COLORFUL/EXPANSIVE/PRIVATE On a park-like ridge just up from the creek, looking back at Mohonk Mountain House and Preserve with wild gardens all around, is a large wing you can have all to yourself! There is no kitchen, but a few essentials such as under-the-counter fridge, microwave, tea kettle, coffee maker, and a few utensils and dishes are there for guest use.
In High Falls, with views of the Shawangunk Ridge and the Mohonk Preserve is a 850 square foot private apartment we like to call the West Wing. It has an expansive, lofted living area and one beautiful red bedroom with a private bath. It is on 30 acres with private creek access and just a 90 minute drive from the George Washington Bridge and NYC. A couple of miles up the road are a number of trailheads into the Mohonk Preserve. The historic and charming villages of High Falls and Stone Ridge are just 4 miles away and New Paltz is 11 miles, with every amenity that you might need for a great country stay! The West Wing is attached to the main house by a private 20 foot long hallway with floor to ceiling glass and views out over the lawns and gardens to the ridge beyond. The large living area includes a spiral staircase to a separate loft for guest use with a 14 foot long by 4 foot wide built-in which is great for lounging or sleeping. There is comfortable seating in the living area underneath the large hanging Moroccan lantern, in three club chairs and on the teak day bed. A flat screen TV is included with HBO, network, Netflix and Apple TV. The dining area has a glass and metal table that seats four, an under the counter refrigerator, microwave, electric tea kettle, and a coffee maker. There is no kitchen on site for guests' use. The bathroom is off the bedroom and has a separate shower and separate tub. The floors are polished concrete with radiant heat. There is AC in the living area and a ceiling fan in the bedroom. The AC does a fantastic job of keeping the whole space comfortable in summer. A large beautiful antique carpet in the living area brings the whole space together! Although we do offer one night stays, we prefer a two night minimum stay on the weekend and for some holidays three nights. But please contact us and we will be happy to see what might work!
The West Wing is a stunning space. Beautifully decorated with so many places to sit and relax. Next time we would like to stay for longer than one night so that we can take full advantage of such a relaxing environment. I miss it already!
EMMA
March 2015
We just enjoyed a lovely, restful weekend at the West Wing and were not surprised since we've stayed at Sterrett's other properties before. She consistently provides immaculate, serene settings with beautiful decor and amenities, and is always welcoming and communicative. This was probably our favorite (we previously stayed at the Garrett and the Carriage house) because of the easy access to the field where our pup loves to run and explore. We hope to come back soon.
Cindy
April 2016
Wonderful stay in the beautiful respite Sterrett has designed. The surrounding views are phenomenal. Sterrett was helpful with identifying local trails for hiking and also very hospitable. Thanks for a great stay!
Lena
July 2015
This was an incredible experience, probably one of the best I've had on AirBnB. Sterett was an amazing host and her place is impeccably designed and super comfortable!
Chirag
November 2015
Absolutely wonderful place! This was our second visit at Sterrett's (last time we stayed in the garrett) and we loved it! The West Wing is beautifully decorated, spacious and spotlessly clean. Sterrett met us out front upon our arrival with a warm greeting and provided a brief explanation as she showed us our room. Sterrett has many recommendations for the area. She is a very gracious host! We will definitely be back!
Sarah & Patrick
September 2014
Sterett was a delightful and accommodating host while making it feel like we had the whole property to ourselves! The West Wing is absolutely stunning. I felt relaxed the second I pulled up to the property. Even though it was a little rainy and overcast, I hardly noticed because of the abundance of books, games, beautiful artwork, and music choices available all around us. Some of my own personal highlights were the loft and huge window seat area, spiral staircase, beautiful chandelier, Sonos speaker, and a mini private deck off the main area. The West Wing is decorated with purpose & so very charming. It was a great getaway from the city. We can't wait to visit again.
Kaitlyn
May 2016
What a great stay!! The west wing was a perfect getaway from the city. So cozy and private! Sterrett was a great host with lots of recommendations for what to do in the area. If you're looking for a unique dinner experience let Jeanette cook you a personalized meal at her house. Very cool!! We will definitely be back. Thank you :)
gail
December 2015
Phenomenal experience. Sterrett cordially welcomed us and directed us to the property (stunning drive from the city up, by the way). Upon entry, your mind will probably be blown by how nice the space looks. Absolutely well-decorated, the living area/dining room is spacious, well-lit and adorned with interesting knick-knacks and statuettes. There's ample seating space, there's two seats in front of the TV (which has apple TV aka you can find and watch anything you like), there's a loveseat on the right of the room, there's a small dining table in the back. A microwave, fully stocked cabinet of diningware, minifridge and cutting board are found in the back of the room as well. The bedroom is great as well, comfortable, clean and spacious. The bathroom is huge, with both a shower and a whirlpool bathtub. Not to mention there's a small upstairs area to potentially do yoga/meditate in and the kicker, there's SO MUCH space outside to explore. The neighborhood is phenomenal too- Sterrett provides information about the local attractions that are worth checking out. All in all, this is paradise. GO.
Shayan
June 2015
Room type
Entire home/apt
---
Property type
---
Accommodates
2
---
Bedrooms
1
High Falls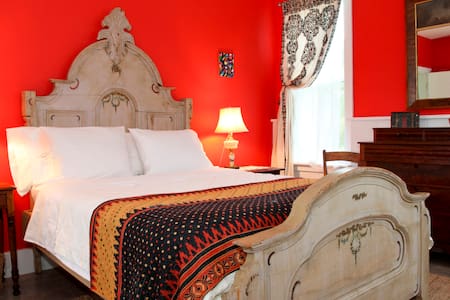 Character, warmth, privacy and charm all rolled into one cottage, 4 miles from two historic Hudson Valley villages with fabulous hiking, biking, swimming holes, farmer's markets, apple picking, vintage shops and flea markets.
On a ten acre country property along with an historic 3-bedroom Greek Revival brick house which is listed separately, is the Carriage House. Located near the village of High Falls, it is minutes from the Mohonk Preserve and Minnewaska State Park and numerous hiking trails and carriage roads open to the public on the Shawangunk Ridge. The world famous Trapps rock climbing area is also in the neighborhood! It is an easy 90 minute drive from New York City via the George Washington Bridge. Owned by an artist and writer, the whole property is available year round on a flexible basis. The Carriage House is approximately 1000 square feet with an open living area, great light and an enjoyable gas fireplace. WIFI is available as well as a flat screen Sony TV outfitted with Apple TV and a Netflix account for guests, and of course access to iTunes if you would like to purchase a movie. And we now have a SONOS sound system that you can hook into with your mobile device or computer for access to all the music on earth and an incredible selection of news, radio, etc. There is excellent light throughout the house with views of an expansive meadow on one side and a gurgling seasonal stream on the other. The open kitchen includes an under-the-counter sub zero refrigerator, a Viking gas stovetop, and a Viking wall oven. There is a Weber gas grill on the porch just off the kitchen. The large bedroom with a king-size memory foam topped bed, includes a sizable teak writing desk and seating area. The tiled bathroom has a large soaking tub with jets. Linens and towels are provided. We also now have a brand new laundry room right in the cottage with a washer and dryer for guest's convenience during longer stays. The CH is furnished with unique and interesting pieces from around the world including a soft Moroccan carpet and floor pillows by the fire! There is central heat and AC guests can adjust to their own comfort levels. The CH is very cosy in the winter and delightfully cool in summer. It was completely renovated in 2011 with an attention to "green building" practices. A delightful place to settle in for a bit, with everything you need for a great stay in the country! Less than four miles from the door you will find everything from spectacular, walkable scenery, charming country lanes and villages, wine stores, pharmacy, antique shops, numerous restaurants, a privately run grocery store, a health food store, post office, and a gas station. Live music and bars can be had on weekends in High Falls and New Paltz. And let's not forget the farm stands and swimming holes and Lake Minnewaska! We do have specials sometimes that will show up on the calendar so please do check there if interested! There is a two night minimum, but if it is last minute or mid-week, contact us and we will see if we can work with a one-night stay if that is what you would like! The whole cottage, and a beautiful field and property just 4 miles from restaurants, food co-op, farm stands and walking trails! Guests have complete privacy but excellent access to me or a caretaker if needed for any reason!
For anyone staying in the vicinity I would highly recommend choosing this perfect little carriage house. The place is charming, with original doors and wooden floors, but kitted out for every modern comfort with things like a Viking stove, a little Sub Zero fridge and very proficient HVAC. The quality and attention to detail in every item that was chosen for this sweet little place is immediately evident: an unbelievably comfy king-size bed (with a soft flannel duvet cover that we loved), high-quality fluffy white towels, carefully and tastefully chosen decor comprised of Indian antiques, beautiful textiles and the perfect amount of interesting tchotkes (I loved the antique pencil sharpener and pencils on the desk in the bedroom). As big floor-sitters, we often opted for the thick, comfortable rug in front of the fireplace instead of the comfy sofa: there are more than a few great places to curl up and read, including a cozy chair in the bedroom. We liked cooking in the little kitchen: you wouldn't want to cook a giant, multi-course meal there (and, really, why bother when you are surrounded by dynamite restaurants), but its perfect for two people. There is a well-seasoned cast iron skillet that practically cooked our breakfast by itself, and the kitchen is adequately provisioned to cook a small breakfast, lunch or dinner for two. We ate our dinners elsewhere (that could be a whole review on its own), but cooked all of our breakfasts and a few lunches at the house. We LOVED this place! Would absolutely come again, and recommend it highly. Sterrett is a very nice lady who was patient and accommodating when we got there much later than expected, and was great to communicate with, always very quick to answer either an email or a phone call. She really made things quite perfect and very personal. I would recommend the carriage house for a weekend away from NYC, a week exploring the beautiful surrounding environs (there is SO much to do around here, wow), attending a wedding (which is why we were here), a hiking or wine-tasting adventure, or to anyone looking to just chill out in an extremely cozy little bungalow and just spend most of their time reading and sleeping (what a luxury). I should explain that I gave the house a 4 out of 5 when it came to "was the house well represented by the photos" because it was so much cuter and more special than in the photos! The pictures on the site don't do it justice - I mean that in a good way! - as it is hard to capture just how charming this place is in a photo, and we were delightfully surprised upon walking through the door.
Logan
October 2011
Our third time staying at the Carriage house, the perfect way to spend my birthday weekend! We spent the whole weekend barbecuing out on the huge veranda, looking out at green grass and deer grazing. Thanks again, Sterrett for a lovely stay!!
Pilar
June 2014
This was our second time staying at one of Sterrett's places and it was even better than the last. The Carriage House is a wonderful, peaceful retreat that was just perfect for our weekend getaway. The cottage is exactly as shown in the pics - great lighting and decor - and very warm/snug. The property was covered in snow and it snowed even more while we were there so it added to the beauty and tranquility. Sterret, as always, was the nicest host - easy communications, warm greeting, and provides everything you can possibly need. We really appreciate that her places are pet friendly because our dog just loves it. To top it all off, we had a SUPERB private dining experience at Jeannette's popup restaurant across the street (Sterrett's recommendation).
Cindy
March 2015
We had a great experience here. Her neighbors were super-friendly, the house was clean, the bed was unbelievably comfortable, and the kitchen had everything we needed to make some fantastic meals. We'd definitely come back here to stay again in the future. Thanks again, Sterrett!
Chris
February 2016
This was my second time booking this house. Again, we had a great stay in this beautiful, clean, and spacious home. I'm sure I will go back for third visit soon.
Suzy
October 2015
Sterrett's place is a great location for a relaxing weekend away from NYC. Her place was clean, modern, easy to get to, and surrounded by nature. I wholeheartely recommended the Carriage House to any Airbnb-er looking for a quiet Hudson Valley Getaway.
Jonathan
July 2016
My boyfriend and I have been trying to find the perfect quick weekend getaway from the city and were so happy to stumble across this adorable cottage! Everything was set up perfectly for us upon arrival and in no time we were cooking, sitting by the fire, listening to music on the Sonos, and playing scrabble! We were just a hop and a skip from the Mohonk Mnt. House & New Paltz which we have always loved so it was easy to take a little lunch and shopping break as well. It was perfectly cozy and we even got a little snow!! We will definitely be coming back :)
RICK & GRACE
December 2016
Sterrett has always been such a wonderful host and her properties are beautifully appointed, warm and a calming getaway from NYC. We've had great experiences renting from her as a couple, with friends, and with our dog.
Roya
May 2014
Room type
Entire home/apt
---
Property type
---
Accommodates
2
---
Bedrooms
1
High Falls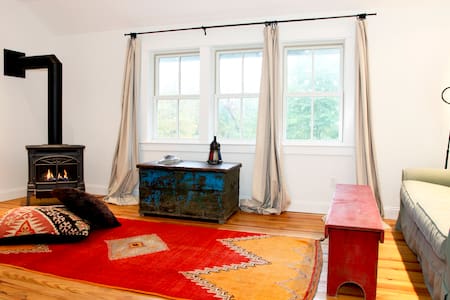 A beautiful country house with character and creature comforts, close to the cream of the Hudson Valley! Historic villages, swimming holes, hiking, biking, farmer's markets, vintage shops and flea markets. Available year round just for guests!
(Prices for holiday stays are not reflected in the calendar but are available upon request. Sometimes we offer great deals and get asked if the price is that low because its for just one bedroom in the house. The price does vary depending on the date and number of people staying. You always get the entire 3 BDR house! And this beauty is rented year round, just for guests to enjoy!) The first photo shows the private driveway leading right up to the house, not a public road. It is nicely set back from the road, with lots of lawn and a big field to romp in, sled, walk your dog, watch deer and other wild critters. This house is a Beauty with lots of character and plenty of room to spread out and get comfortable! In High Falls on 10 acres, minutes from Minnewaska State Park, the Mohonk Preserve and the Mohonk Mountain House, it is surrounded by fabulous scenery, gorgeous country roads, numerous hiking trails, carriage roads and the world famous Trapps rock climbing area. It is an easy 90 minute drive from NYC via the George Washington Bridge and 15-20 minutes from New Paltz. Owned by an artist and writer, the property is available year round just for guests! You won't find any of our clutter, just clean white cotton sheets, fluffy white towels, and curious art and comfortable furniture! And a new SONOS sound system which they say offers all the music on earth! There are three large, airy and well lit bedrooms with two king beds and one queen. All the beds are topped with memory foam for a great night's sleep. The second floor has central AC which tends to keep the entire house including the first floor cool in summer.The old-fashioned radiators keep everything toasty in the winter. And of course there is the fireplace in the living room with plenty of firewood for you. The main bedroom has its own private, tiled bath with a large soaking tub and a marble sink. The second full bath is also tiled with Italian tile and has a great round copper mirror and a deep-soaking tub. The kitchen is outfitted with stone countertops, high-end appliances and the basic necessities including a variety of quality cookware and spices. The large, comfortable living room is centered around a wood-burning fireplace and ringed by the original, beautiful lead glass windows looking out over the lawns and meadow. The house is furnished with Moroccan, Middle Eastern and Asian rugs and furniture.The beautiful original floors are all in tact and were recently refinished with natural oils. The beautiful old plaster walls and original details such as the walnut banister, the marble mantelpieces, and the extensive wood trim inside and out give the house a feeling of real character. Modern conveniences were added such as two new bathrooms and a remodeled kitchen. The front porch has a large Moroccan mosaic table and chairs plus a gas grill just off the kitchen for outdoor meals. The back porch with rocking chairs and a wicker couch overlooks the meadow towards the Rondout Creek and Catskill Mountains. The property is expansive with great space for dogs to run, kids to sled, and people to stretch out and relax. Less than four miles from the door you will find everything you need; a privately run and fully stocked grocery store, quality wine and liquor store, health food co-op with fresh organics, post office, gas station and numerous restaurants. Live music and bars can be had on the weekends in High Falls, Rosendale and New Paltz. And let's not forget the farm stands and swimming holes and Lake Minnewaska. This is civilized country living at its best! The Carriage House is also available and can be seen and booked on its separate listing. You are welcome to use the whole house! This house is a rental year round and you will not find any of our things anywhere! I love meeting guests when they arrive to make sure they have everything they need, are comfortable in the house, and have their bearings in the neighborhood.
Where to start!? Historic villages, world class rock climbing, lakes, waterfalls, swimming holes, hiking, golf, flea markets, farmer's markets, apple and berry picking, historic sites, antiques, restaurants, and just poking around or soaking up the quiet and fresh air! Having a car is really the best way to explore the countryside, get to swimming holes, farmer's markets and hiking. The nearest towns are High Falls, Stone Ridge, and Accord which are 4 miles away. New Paltz is just on the other side of the ridge and the Mohonk Preserve, about 15 minutes. Woodstock is an easy country drive of 30 minutes to the north. And of course the Hudson River and all the historic houses are about 45 to 60 minutes away for a great day trip. Please scroll over the calendar to check the exact pricing on the calendar. The rates vary by day of the week and season. We do also sometimes offer great rates on certain days that vary throughout the year. Contact us and we would be more than happy to confirm the price!
Our family, including two toddlers, really enjoyed the stay at Sterrett's place. A couple weeks prior to our stay, Sterrett sent us a list of things to do in the area, which served as a great guide to planning our trip. Upon arrival, she met us at the property and explained everything about the house and the surroundings. The house is beautiful, clean, full of character, and well equipped. It was really hot during our stay but the house stayed cool the entire time thanks to A/C. We all loved taking leisurely walks around the property and our kids were thrilled to spot wild animals like deer and rabbits. The toys were also a big hit with the kids. Overall it was a fun and relaxing experience for us. I would recommend Sterrett's place to anyone(URL HIDDEN)
Min
July 2015
The 1840s house is a jewel !!! The moment you open the door you fall in love and don't want to leave... only to the balcony or patio which has a very peaceful and great view. The only thing you hear are the birds. The house is perfectly restored with great taste, comfort and beautiful details!!!!! It is spotless clean with a great equipped kitchen and a gas barbecue outside. The idilic place to spend some days with your family or friends. She even have all kinds of table games and a great music system. Also she provide and extent list of places around High Falls. If you love art and beauty this is the ideal place. Each room have unique art objects, colors, antiques, lovely details... Sterrett did a wonderful job. We just love it !!!!!
Nilsa
May 2016
My colleagues and I wanted to get away from the bustle of NYC for a collaborative work session. Sterrett's home was the perfect retreat. Sterrett met us promptly and gave us a tour of her home. It's a beautiful, historic home with modern amenities like a new kitchen and Wifi. All around we had an extremely positive experience!
Ken
October 2011
Sterrett was a superb hostess. She met us upon arrival to give us the lay of the land and made herself available to us the whole weekend for info and advice. The house is spectacular, decorated in great style and modernized with new comfortable amenities including Apple TV and updated kitchen and bathrooms. There is a wood burning stove in the living room that is fully stocked and ready to go. We had a nice fire going in the evenings. All the objects in the home are very well blended and balanced, and all very interesting pieces. This includes the 3 bedrooms upstairs, which are all very spacious with great natural light. We had a hard time picking our individual rooms because they were all so unique. And the beds are super comfy, enough for me to ask where they were from. All the windows in the house have thick fabric shades making it easy to control the light during the day and privacy at night. It gets a ton of sun, so you will find yourself using them. The property is well kept, and there is a river just beyond the base of the property that you can walk to. There are several visible houses from the front and back of the house that are not in the photos, but they are not too close for comfort. Town is less than 15 minutes to drive to, and has all the good food and spirits you'll need to stock the fridge for your stay. I will definitely be back, highly recommended!
jude
March 2015
Beautiful house...thank you so much!
Valerie
September 2014
This charming, warm, inviting house was perfect for a group of six celebrating New Year's. Sterrett was so helpful and accommodating to our group - from making sure the heat was up and house ready for our arrival to allowing a little extra time for checkout. We all absolutely adored the house - everything from the funky and unique artwork, cozy living room with fireplace and Sonos speakers, spacious dining room, modern kitchen and spacious and inviting bedrooms. Each room was so unique and truly made our weekend there so special. We even got the chance to take advantage of the sleds in the basement for a bit of sledding on New Year's Eve day! The area was also so charming - we spent a bit of time in High Falls and New Paltz and really loved the cute little towns. We are already talking about coming back during the summer! Thank you for such a great stay and making our holiday so special.
Maureen
January 2017
This place is not to be missed...what a treat! Super clean and everything was as promised with Sterrett. You can tell she's put a lot of love and a personal touch into the restoration of this home. The beds were comfy, the kitchen was great for preparing meals and the wood stove in the living room was the place to gather after a day of exploration. Perfect weekend. Wish we were still there and hope to get back soon.
Nick
November 2011
House was exactly as described; well furnished and not filled with too much "stuff", comfortable, easy to "live in", very clean, and spacious. It was perfect for 6 people. Could not have been more relaxing and easy to be in.
David
January 2015
Room type
Entire home/apt
---
Property type
---
Accommodates
6
---
Bedrooms
3
High Falls