Enter your check in date in the format mm/dd/yyyy
Enter your check out date in the format mm/dd/yyyy
Listings you can book without waiting for host approval.
5 Treehouses
· Vernou-la-Celle-sur-Seine
5 Treehouses
· Vernou-la-Celle-sur-Seine
Enter dates to see full pricing. Additional fees apply. Taxes may be added.
This July and August, you can try one of these 100 highly-rated homes, at all price points, and experience a local's view of Sonoma. 24-hour check-in, Instant Book, and local wine and snacks let you just sit back and enjoy your trip.
La cabane Gabrielle d'Estrées est une cabane de 20 m2 nichée dans un chêne centenaire. Elle dispose de 10 m2 de chambre et de 10 m2 de terrasse orientée plein sud et dotée d'un hamac.Dans la chambre vous disposez d'un lit pour 2 personnes 140 x 200, d'un broc avec de l'eau et de toilettes sèches.La cabane est accessible avec deux échelles de meunier et est située au coeur du parc privé du Chateau de Graville à 15 kms de Fontainebleau.Vous devez venir équipés d'une housse de couette ou d'un duvet, d'une lampe de poche et d'un téléphone portable chargé.Nos arrivées se font tous les jours de 14h à 18h sauf le dimanche de 16h à 18 heures. Vous devez libérer à 11h le lendemain matin.La cabane est équipée d'un poele à bois qui fonctionne toute l'année.
Diane was a fantastic host. The treehouse was amazing. It was like reliving our childhood although with all the comforts a warm wood burning stove, duvet, delicious meal including the most decadent mushroom soup that Diane made for us because it was chilly the evening we arrived. We walked in the forest in the morning after a breakfast of pastries, hot coffee and other goodies were delivered in a basket at the base of the 150 year old oak tree. Such a perfect, romantic place to stay. Diane even called other Airbnb locations for us to stay when we were departing hers. The history of the chalet dating back to 1200, the 300 hectares to roam in the warm sun, priceless.
Shannon
October 2015
An utterly charming experience. The chateau, grounds and treehouse were very beautiful and comfortable. This was one of the best nights of our trip. We loved the location and atmosphere with all the farm animals and acres of forest. Service was superb as well, very clean, great breakfast, thoughtful touches like fresh flowers and firewood for the stove. We loved it! Highly recommend to anyone visiting the Paris area. :)
Amy
September 2013
Magical experience in a beautiful tree house. Great idea.
Toby
September 2015
Our stay in the treehouse was one of the highlights of our incredible honeymoon in France. I knew it would be a one-of-a-kind experience but it was even more special than I had hoped! We were running late due to some trouble picking up our rental car, but Diane was very responsive and understanding through messaging. We were greeted by the very nice Angelique and given everything we needed to know. The treehouse Gabrielle d'Estrées is one of a handful of incredible feats of engineering. They are in their own way works of art! So many special touches like the carved windows and lanterns, and the experience of pulling up your breakfast in a basket by rope! Our candlelight evening was incredibly romantic. My only worry was needing to use the composting toilet in the night - since the pictures were taken, they have moved it to an outhouse on the ground and installed a wood stove in its place. Probably a better idea but I was nervous about climbing down at night. The hot showers in the morning were also very appreciated! Wish we had had more time to walk the grounds. Some day we will return with children! It was magical.
Lindsay
September 2015
Our stay in the tree house was just amazing! We had a wonderful time. The staff was friendly and could give us all the information we needed in English as well. That was necessary, as we aren't able to speak French properly. The dinner was delicious as well, really romantic with the candles and the basket who have to get up by rope. After we managed to light the fireplace, it was really nice being inside, listening to the birds or relaxing in the hammock. Diane answered every question fast and friendly. Unfortunately, we didn't meet in person - maybe next time ;) Thanks a lot, we will definitely come back! Stephie and Matt
Stephie
April 2015
An amazing experience! With wonderful hosts!! Couldn't recommend more highly!
Ann
May 2015
It's truly a unique experience! The treehouse is a solid build with a lot of character and a lovely breakfast. It's a bit hard to find but worth the search in this wonderful environment.
Paul
August 2012
Highly recommended. Secluded, romantic, magical, and wonderful. Book immediately. The treehouse is actually part of a complex of five treehouses all run by the same chateau, each secluded completely in its own part of the woods. The breakfast was delicious with warm pastries. The dinner was good but if we could go back in time, we would probably arrange a picnic ourselves. The welcome was fantastic and everyone spoke very good English. They even gave us bug spray and a wine opener because we forgot. In short, we will return!
Gahl
August 2016
Room type
Entire home/apt
---
Property type
---
Accommodates
2
---
Bedrooms
1
Vernou-la-Celle-sur-Seine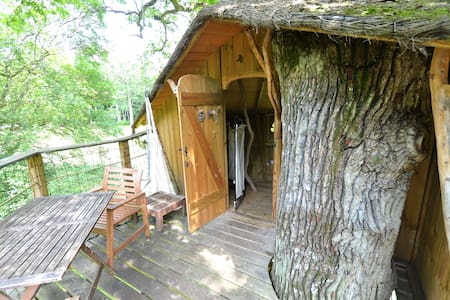 Chambre perchée dans un tilleul à 6m du sol sur un terrain boisé à quelques pas d'une maison ou vous pourrez profiter de : cuisine, salle de bain avec douche, wc. Dans la chambre perchée : petite terrasse, lit double, chauffage électrique, wi fi.
La chambre perché se trouve à une heure de Paris, près de Fontainebleau, sur un terrain arboré comportant trois habitations. L'une d'elles est à votre disposition pour profiter d'une cuisine, d'une douche et d'un wc au confort modeste. Sur place vous pouvez profiter des bienfaits d'un sauna (voir la construction penché sur les photos) ainsi que d'un massage par une professionnelle diplômée. Nous pouvons également vous servir un repas élaboré avec des ingrédients de saison, locaux et naturels . La cabane se trouve à la sortie d'un charmant petit village reposant offrant des endroits exceptionnels au bord de la rivière avec de nombreuses promenades à pied et à vélo (GR 32) A moins d'un kilomètre vous trouverez -une épicerie, bar, tabac, tennis, pêche, le château d'Augerville réputé pour son golf de 18 trous, un restaurant et une chocolaterie. A 5 km, la base de loisir de Buthiers: acrobranche,poney club,mini golf,simulateur de glisse,spider filet,VTT,tir à l'arc,trampoline,structure gonflable,piscine,patinoire,escalade intérieur et extérieur et son centre d'astronomie. Tarifs -fourniture des draps et serviettes : 20€ -sauna 20€ -massage (1h) 50€ -repas entre 15€ et 45€ suivant le menu
A 1 heure 15 de Paris par l'autoroute du sud. Vous pouvez aussi y accéder par le RER D - terminus Malesherbes qui se trouve à 7 km et prendre un taxi. Pensez à apporter vos draps et serviettes, nous pouvons les fournir moyennant la somme de 20€. La façade de la cabane est entièrement vitrée et ne comporte ni rideaux ni volets.
We had a lovely stay at the treehouse of Jean Pierre and Agathe. We were welcomed in the afternoon and Agathe showed us the treehouse and the rest of the quiet en beautifull green place. Agathe cooked us a delicious meal with local ingredients. It was a wonderfull experience and we had a great time.
Dave
July 2015
We spent two nights in the quirky little treehouse, surrounded by the sound of birdsong and a frog chorus at night. Everything is very charming, Agathe cooked us a delicious meal of locally foraged vegetables one evening. The treehouse itself is quite small with a live tree growing inside, everything else you need is in the house a few steps away. Tres enjoyable!
Liz
April 2015
I needed to take time to focus on my writing and this was the perfect place for it. Peaceful, quiet and completely surrounded by nature. Jean Pierre was a perfect host!
MARY
July 2015
Jean-Pierre, was very amiable and helpful, especially when my arrival turned out to be much later than I'd planned which was very appreciated! The tree-house looks out onto a gorgeous forest glen, and really is a different and exciting experience! One of those chances to do something totally different that only Airbnb offers! There are a few things to consider when staying here. First, my worry about not having 3G reception which would have been a deal-breaker for me, proved unfounded and sitting on the balcony of the tree-house doing emails wasn't a problem. The thing I hadn't expected was how loud the birds turned out to be, rousing just after 4am, and how bright the tree-house is as most of the windows are bare. This led to only a few hours of sleep every night as by 5am, it was too loud and bright for me to sleep. Plan to sleep early, when you stay here. Lastly, the tree in the middle of the tree-house, adds an interesting ambiance, but it also limits the usable space significantly, Basically there is the bed, and the balcony and little other useable room. There is no place to store things and luggage will be best left in your car. The hosts provided a usable bathroom and shower facilities in another building, but for the time you plan to spend in the tree-house, plan on very limited space.
Michael
May 2015
The treehouse is amazing and Jean Pierre and his friends made us feel very welcomed !
Bi
November 2015
After the reservation on Airbnb, we received a detailled (and fun!) description of the location by email. We had some delay in traffic on our way to France, so we arrived kind of a late, in a wrong street. But Agathe helped us to find the place. She showed us the treehouse and the facilities. We slept really well, and as it was dark when we arrived, the next morning was such a surprise! It is a clean and superspecial place to spend a night, and Agathe is very helpful and relaxed! Enjoyable!
Mirjam
June 2016
Agathe was a wonderful host (and a warm lovely person) and her home set up is totally idyllic! Staying in the tree house was a great experience, and the sauna made it all the more memorable. Couldn't recommend more.
Cara
April 2016
Glorious experience in a beautiful setting. Loved watching the sun come up through the trees.
William
April 2015
Room type
Entire home/apt
---
Property type
---
Accommodates
2
---
Bedrooms
1
Augerville-la-Rivière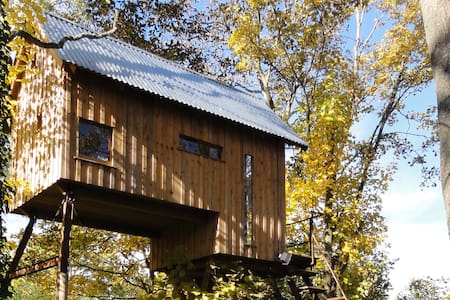 La cabane Anne Malet est une cabane de 50 m2 nichée dans deux chênes centenaires. Elle dispose de 35 m2 de chambre et de 15 m2 de terrasse orientée plein sud. La cabane familiale Anne Malet est accessible avec un escalier en colimaçon et est située au coeur du parc privé du Chateau de Graville à 15 kms de Fontainebleau. Elle dispose de 5 couchages : 1 lit double de 140 x 200 et 3 lits simples de 140 x 200, d'un coin toilette avec broc avec de l'eau et de toilettes sèches en bas de la cabane. Les enfants à partir de deux ans peuvent accéder à la cabane. Vous devez venir équipés d'une housse de couette pour le grand lit dimensions 200 x 200 et de 3 housses de couettes dimensions 140 x 200 ou de 4 duvets, d'une lampe de poche et d'un téléphone portable chargé. La cabane est équipée d'un poele à bois qui fonctionne toute l'année. Nos arrivées se font tous les jours de 14h à 18h sauf le dimanche de 16h à 18 heures. Vous devez libérer à 11h le lendemain matin.
The experience was fantastic and different, we have 2 techno-connected boys, that were forced to leave their technology alone for a short while. The weather was pretty horrible, but the location is awesome, and the cabin / tree house was dry, warm once the fire was going, and perfect for a stopover. Breakfast was simple and excellent(URL HIDDEN)
Kevin
April 2015
We had a wonderful stay in the Anne Malet Treehouse at Chateau De Graville. Our host was quite helpful in explaining the facilities available to us and was obliging with our requests (we requested that we have our breakfast quite early as we had a long drive the next day). The treehouse itself is adorable and the beds were very comfortable. They provide all the bedding apart from doona covers, which you need to bring yourself. Also if you are coming in the spring/summer months, you will definitely need to bring mosquito repellent. The breakfast provided was delightful and filling, though if you are gluten intolerant I suggest you mention this to the host as it is heavy on the pastries. All in all it was a beautiful and very enjoyable stay, and we would highly recommend it to anyone passing through Graville. Angus, Tatiana & Lucia
Angus
July 2015
We loved every minute of our stay in the Cabane Familie, it was clean, original and very exciting. My kids loved everything! From falling asleep to the light of the wood stove to waking up to breakfast hanging from the tree, Everything was just perfect! Great communication with the host, easy to find map to your treehouse, and close to fontainebleue if you need anything. It is definitely worth it, a highlight of our trip to France.
Teresa
October 2014
A truly unique experience staying in a tree house by Château de Graville. Our boys age 7 loved climbing up the wooden staircase and lighting a cozy fire inside the tree house. Breakfast was very good and what fun it was to wheel it up in a basket. The cold plate and picnic basket were also very delicious and plentiful. The staff was always very helpful and very nice people to talk to. The forest is amazing with all the birds, horses and sheep. We would definitely like to come back and we highly recommend a stay in the tree houses as it doesn't compare to anything else. Thanks for a great experience and see you again!
Stina
August 2014
The reservation was canceled 40 days before arrival. This is an automated posting.
Amelie
Brilliant. We stayed one night, slept like roses on wonderful beds. Completely relaxed by the roar of the fire and the croaking of the wood. The delightful breakfast magically appeared in the morning at the base of the tree. We saw nobody, heard nobody and felt free for a while. Like two birds in a little nest. When we flew back home, we passed Diane and we just had to stop to thank her. We highly recommend this getaway to anybody looking to disappear for a night or two. Practically speaking: beds are wonderful, the fireplace is better than a 50" TV, roomy enough to sleep 5. Terrace is wonderful. Cabin stays very warm when heated. Breakfast is excellent in it's simplicity and suits the environment. Toilets are adventurous but charming nonetheless. Parking is close to the cabin yet out of sight. Very tranquil and private. Correct and warm hosts. Only downside is you don't want to leave.
Jef
March 2015
Superbe expérience familiale hors du commun dans une cabane très bien aménagée et équipée. La cabane occupée était très discrète et hormis un animal nous n avons croisé personne. Le petit déjeuner dans les arbres était très bon. Une soirée éclairée à la bougie et sans accès à de l'eau courante, cela faisait longtemps... L accès aux douches dans le château est un plus surtout après une journee de canicule mais si ces dernières pourraient être un peu mieux aménagées. Bravo pour les explications et l accueil. Merci
Thomas
July 2015
deux jours absolument inoubliables dans un cabane perchée en haut d'un arbre, le calme, le soleil, le rire des enfants, un domaine sublime aux couleurs de l'automne. A refaire !!! Je vous le recommande , cet endroit est un havre de paix. ps: prenez des vélos!!!
Juliette
October 2015
Room type
Private room
---
Property type
---
Accommodates
5
---
Bedrooms
1
Vernou-la-Celle-sur-Seine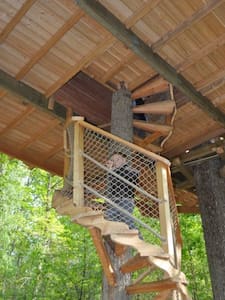 The treehouse exceeded our expectations. What an amazing place! A unique and luxurious little hideaway. Beautifully designed using quality materials - something everyone must see and do! Axelle & Eddy were incredibly helpful, friendly and lovely to communicate with. We really enjoyed our stay!
Martin
July 2016
I can't recommend the TreeHouse enough. We had spent a busy 5 days in Paris and it was a well needed relaxing haven for us to chill. First of all Axelle and Eddy are simply the best hosts you can ask for. They left us alone but were there in an instant if we needed anything (not that we did as everything was thought through to the finest detail). I am honestly honoured to have met such welcoming, lovely and interesting people. The Treehouse itself is perfect. Warm, Cosy and has everything you could need to feel comfortable and its like a home from home except you have great vistas of nature. I have recommended this to all my friends and we will be back. Thanks again Axelle and Eddy x
Kevin
February 2015
Un nid douillet et lumineux, bien pensé pour notre confort et très joliment décoré ! Nous avons passé un très bon moment en famille, grâce à l'accueil chaleureux d'Axelle et Eddy, du soleil et de l'écureuil roux.
Laure
April 2016
Magnifique cabane et accueil chaleureux
Delphine
October 2016
Magnifiques Vacances, que dire de plus :-)? Merci à tous les 4 pour tout!
Sophie
August 2016
Une semaine merveilleuse passée haut perchée dans les arbres.Axelle et Eddy sont des hôtes accueillants,sympathiques,disponibles et serviables à l'écoute des besoins et du bien-être de leurs invités.Maison charmante très bien décorée et propre .Tout est comme décrit sur l'annonce et même mieux ☺ . Problème de wifi rencontré au premier jour (mon fils devait être connecté pour travail )mais Axelle a réglé le problème rapidement et (URL HIDDEN) recommande la maison perchée dans les arbres à tous .J'y reviendrais sans aucun doute.Dépaysement et calme assurés dt la région est belle à découvrir.
Jacqueline
September 2014
Room type
Entire home/apt
---
Property type
---
Accommodates
4
---
Bedrooms
2
Le Plessis-Feu-Aussoux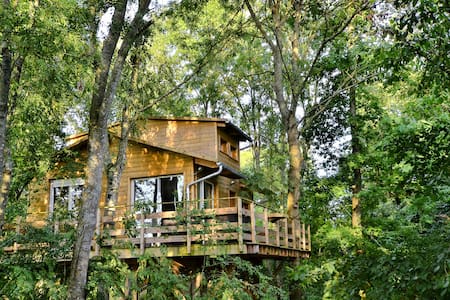 Floating in the trees, watching the wildlife, listening to a choir of birdsongs in the early morning as you enjoy the first rays of sun with stunning views of the forest. Experience the Tree House at Caribou; an original and unique experience. La piscine et les autres activités sur le site sont disponibles en échange d'une compensation financière, n'hésitez pas à nous demander les tarifs !
This large and beautiful oak supports a wonderful wooden chalet that sleeps up to 4. The trunk of the tree passes through the structure to create a real "back to nature" ambience. With access by Rope Bridge, the tree house is fully insulated and features electricity and heating. There is also a private terrace perfect for dining and relaxing with family and friends. Guests will have access to their accommodation, bathrooms, showers, the pool, forest and the dining room if participating in mealtime. You will be staying with my family on our property. You will have interactions with our staff, other guests and us throughout your stay. Coming to Caribou gives you a true oppurtunity to travel through meeting our international team of volunteers, to travel through their different languages and cultures. Our team is made up entirely of volunteers, long-term travellers who come from all over the world. In taking part in all facets of Caribou life, the volunteers contribute variety, their expertise and an international dimension to Caribou, they bring different and original approaches that stimulate exchange and discovery. So, during your stay, you will be able to talk with open and friendly people, always ready to share their cultures, stories and points of view.
Caribou is located in the famous Fontainebleau Forest where you will experience challenging climbing and beautiful biking and hiking. Caribou is easily accessible by car. If you are coming by train, a shuttle is available to pick you up at the Fontainebleau Station. Extras: Sport and Activity Pass: 30 Euro (Includes Treetop Adventure Courses, Climbing Wall, Team Sports, Sauna, Hot tub, Gym, Bouldering Gear and use of Bikes) On site massage: 50 Euro for 40 minutes or 70 Euro for 90 minutes Meals: 30 Euro for 5-course meal with wine included.
We stayed two nights in the treehouse at Caribou Adventures and had a mixed experience. The pros: great location, exceptionally beautiful spot in the forest; close to great climbing sites; members of volunteer staff who were there at the time were helpful, welcoming, and friendly and took us out into the forest to climb with us; there was access to bikes and climbing gear for guests (but at a cost). The cons: our ride picked us up at the train station 2 and a half hours late even when we had settled the arrival time with the owner days beforehand; the site was already one of the most expensive we found in that area through Airbnb and advertises itself as a sports/adventure park, but ALL of the amenities cost a significant amount extra on top of the already expensive lodging. We ended up spending almost $700 in less than two days just to sleep, eat (and we didn't even eat meals one of the two days), and borrow bikes and crash pads to climb; the vast majority of the staff are help-ex volunteers from abroad which creates a strange atmosphere between volunteers and guests; the whole experience just felt a little unprofessional and disorganized to us. All in all, it was a beautiful spot and we met some wonderful people but we wouldn't go back. The price for the experiences and amenities is in no way worth what you get in return.
Matt
July 2015
The host canceled this reservation 16 days before arrival. This is an automated posting.
Marie
We had so much fun at Caribou! The staff was wonderful and attentive. We had so much fun getting to know everyone over a family style dinner with great local beer and wine. The next day, we took bikes into the mountains and it was more than I ever expected! The treehouse was so charming and the sound of the wind and birds was so relaxing! Thanks for making our travels so memorable!
Kari
April 2016
Great place for an adventure. Hosts are relaxed, very community feel and almost an extension of your house environment Do not expect luxury but if you are ok with that, it is a great place for fun with kids and the family
Joydeep
September 2016
Excellent place to spend New Year's Eve 2017. The cabin is well-heated & comfortable even in winter!
Francis
January 2017
J'ai séjourné 3 jours à Caribou Aventures avec mon fils de 6 ans. Nous avons dormi dans la cabane Tree House. Celle-ci est confortable (literie, éclairage, chauffage) et facile d'accès (pont de singe éclairé pour accès de nuit, à 200 m de la piscine et de la maison). Vous pouvez toucher les branches de l'arbre à l'intérieur de la cabane et les voir traverser le toit. Le nombre d'activités proposées sur place est impressionnant : acrobranches, tir à l'arc, musculation, piscine, sauna, vélo, tennis de table, tous les sports collectifs avec ballon ou sans. Ce qui a retenu notre attention est la gentillesse de l'équipe internationale qui gère le domaine. Le responsable et propriétaire est un passionné de sport qui sait instaurer une ambiance conviviale mais aussi parfois susciter le dépassement de soi dans les épreuves sportives qui jalonnent la journée. Nous reviendrons sans hésiter et nous laisserons peut-être tenter par une (URL HIDDEN) refaire le plein d'énergie.
Nicolas
July 2016
Room type
Private room
---
Property type
---
Accommodates
3
---
Bedrooms
1
Noisy-sur-École